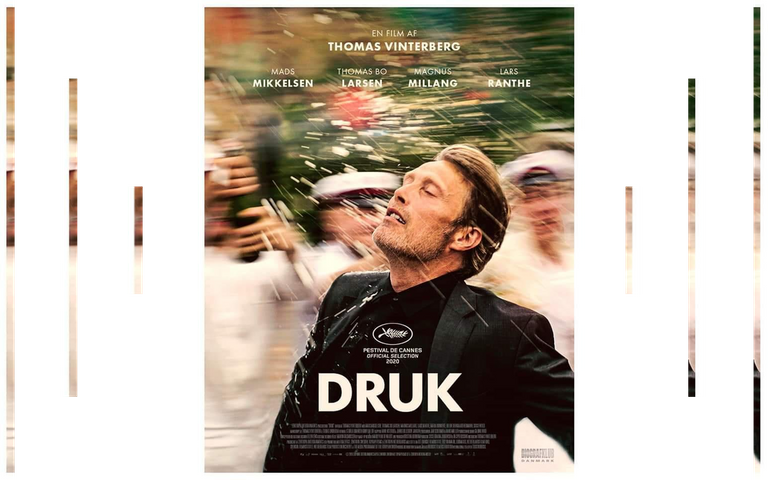 I finally got to see this movie! It was horrible, I saw how the disaster was getting closer and closer and I didn't want anything bad to happen, and when I thought I was going to cry, I didn't cry, I only cried at the end when I saw the mythical scene that everyone was talking about after watching the movie, and I'm thankful that they only talked about that scene, the final scene, because if I had found out what the movie was really about I would have never seen it, although maybe I would have seen it because of Mads Mikkelsen; but I didn't find out what it was about, I saw it, I suffered it, I loved the ending, and here I am afterward reviewing it.
I'm thankful I never saw the trailer and also never read a real review or synopsis of this movie before because since I didn't even know what it was about, I was provoked to watch it, but now I know after watching it, and I'm about to describe the plot here, and I don't want to do that. Four teachers from a school, who have been friends for many years, meet one night for a celebration, that day they discuss the fact that according to a philosopher, which I don't remember, had theorized that the human being is born with alcohol 0.05% below what it should, then it implies the fact that the human being should drink alcohol during the day, every day until they see the results by complying with the lack of alcohol that the body has. Yes, that is the excuse to normalize alcoholism and see it as something natural, even philosophical, and that is why I would not have seen the movie.

¡Finalmente pude ver esta película! Fue horrible, vi cómo el desastre estaba cada vez más cerca y no quería que sucederia nada mal, y cuando creí que iba a llorar, no lloré, solo lloré al final al ver la escena mítica de la que todo el mundo hablaba después de ver la película, y agradezco que solo hablaran de esa escena, la escena final, porque si me hubiera enterado de lo que trataba la película de verdad no la hubiera visto nunca, aunque quizás si la hubiera visto por culpa de Mads Mikkelsen; pero no me enteré de lo que trataba, la vi, la sufrí, amé el final, y aquí estoy después haciéndole la reseña.
De verdad, agradezco no haber visto nunca el trailer y tampoco haber leído una reseña verdadera o la sinopsis de esta película antes, porque como ni siquiera sabía de qué era, me provocaba verla, pero ahora lo sé después de verla, y estoy por describir la trama aquí, y no quiero hacerlo. Cuatro profesores de una escuela, que han sido amigos durante muchos años, se encuentran una noche para una celebración, ese día discuten el hecho de que según un filosofo, el cual no recuerdo, había teorizado que el ser humano nace con el alcohol 0.05% debajo de lo que debería, entonces implica el hecho de que el ser humano debería tomar alcohol durante el día, todos los días, hasta ver los resultados al cumplir con la falta de alcohol que el cuerpo tiene. Sí, esa es la excusa para normalizar el alcoholismo y verlo como algo natural, incluso filosófico, y es por eso que no hubiera visto la película.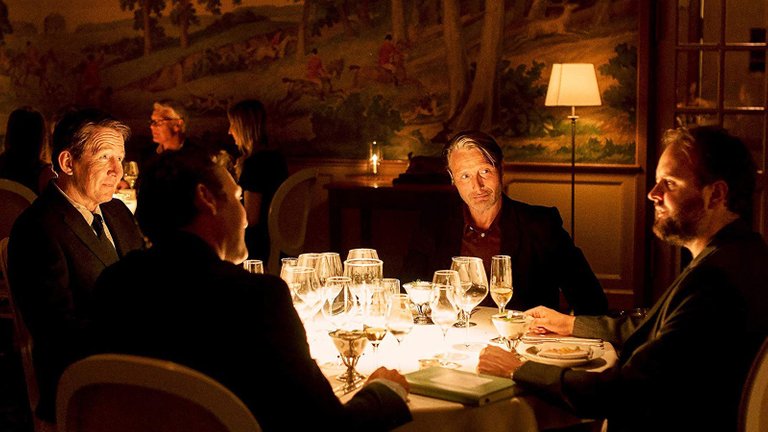 This movie is the longest commercial ever made against alcohol demonstrating the negative effects it can have on life because of its constant and normalized consumption daily. I think that sentence sums up the movie completely and I have nothing more to say, so from now on I'm going to improvise.
I could very easily turn this review into a post where I would only talk about how beautiful, delicious, exquisite and wonderful Mads is, but I won't, I will control myself and talk as much as possible about the movie. Their acting here is decent, although I should say it's amazing in the scenes where they have to play drunk, I wouldn't be surprised if they were drunk, because playing drunk while sober is very difficult, something that would be easy for them since they are actors, but anyway, those moments were as funny as they were alarming.

Esta película es el comercial más largo hecho contra el alcohol demostrando los efectos negativos que este puede tener en la vida a causa de su consumo constante y normalizado en el día a día. Creo que esa oración resume por completo la película y no tengo nada más que decir, así que a partir de ahora voy a improvisar.
Con mucha facilidad podría convertir esta reseña en una publicación donde solo hablaría de lo hermoso, delicioso, exquisito y maravilloso que es Mads, pero no lo haré, me controlaré y hablaré lo más posible de la película. Su actuación aquí es decente, aunque debería decir que es increíble en las escenas donde tienen que hacer de borrachos, pero no me sorprendería el hecho de que sí hayan estado ebrios de verdad, porque hacer de ebrio estando sobrio es algo muy difícil, cosa que les sería fáciles a ellos ya que son actores, pero en fin, esos momentos fueron tan divertidos como alarmantes.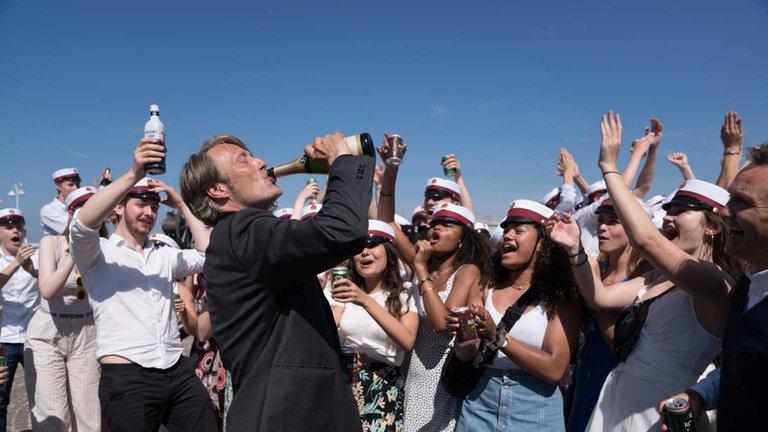 One thing I suppose, and it could be easily true, apart from the fact that I just thought about it, is that those four old men (sorry, Mads) had the existential crisis of the '40s, and that's why they started to invent drinking alcohol every day with the excuse that they were doing a psychological and social experiment, I mean, nobody would believe that story, even if it was true, but it's just an excuse when the real reason for doing it is another one.
Before they started like idiots to drink alcohol to such a degree, first they should have gone to a psychologist, I don't know, I say, to see what was wrong with their lives that they saw them as gray, lonely, abandoned, having children or not, with a partner or not; they could go to a psychologist to talk about why their classes were becoming more and more boring and there were so many complaints, I don't know, why couldn't they look for a meaning to life in something different and not in alcohol? It's just that even today people believe that coffee and alcohol are not harmful drugs for human beings, but no, since their consumption is completely normalized, some people take this movie literally, even if they haven't seen the movie, and live in a state of drunkenness every day of the week without caring that the rest of their life is going to shit. I got upset again.

Una cosa que yo supongo, y podría ser facilemnte cierta, quitando el hecho de que apenas lo acabo de pensar, es que a esos cuatro viejos (perdón, Mads) les dio la crisis existencial de los 40, y por eso se pusieron a inventar consumiendo alcohol todos los días con la excusa de que estaban haciendo un experimento psicológico y social, o sea, nadie se creería ese cuento, aunque haya sido de verdad, pero es solo una excusa cuando la verdadera razón para hacerlo es otra.
Antes de ponerse como unos idiotas a tomar alcohol a tal grado, primero deberían haber ido al psicólogo, no sé, digo yo, para ver qué era lo que estaba mal con sus vidas que las veían grises, solas, abandonadas, teniendo hijos o no, con pareja o no; podían ir al psicólogo para hablar de por qué sus clases estaban siendo cada vez más tan aburridas y había tantas quejas, no sé, ¿por qué no pudieron buscarle un sentido a la vida en algo diferente y no en el alcohol? Es que aún hoy en día la gente cree que el café y el alcohol no son drogas dañinas para el ser humano, pero no, como su consumo está completamente normalizado, hay gente que se toma esta pelñícula de una forma literal, aunque no hayan visto la película, y viven en un estado de ebriedad todos los días de la semana sin importar que el resto de su vida se esté yendo a la mierda. Me volví a alterar.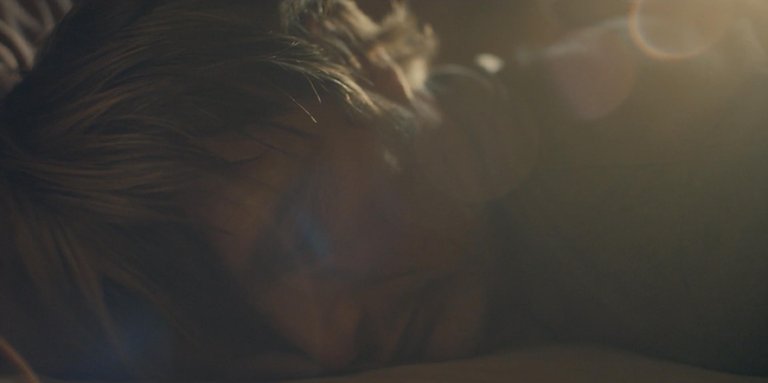 The ending, the final scene, is exquisite, it's wonderful, it's glorious, perfect, incredible, we will have our delicious Mads finally dancing, during the whole movie they insist him to dance, but he doesn't do it, only at the end, he dares to do it after many things happen, things that I won't mention because you must see the movie, but that dance is glorious, it made me cry, yes, I cried and I didn't even expect it, maybe I was just accumulating too many things while watching the movie and only by watching him dance I could relax and let it all out in the form of tears, just that I will say, no more.
I watched the trailer before putting it here, I didn't watch the trailer before watching the movie, and if you already read this review, it doesn't hurt at all to watch the trailer before watching the movie, it won't tell you more than what I told you, and if it provokes you to watch the movie after all this, I assure you that you will enjoy it, but you will also suffer it, you will suffer it a lot.

El final, la escena final, es exquisito, es maravilloso, es glorioso, perfecto, increíble, tendremos a nuestro delicioso Mads bailando finalmente, durante toda la película le insisten que baile, pero él no lo hace, solo al final, solo al final se atreve a hacerlo después de que muchas cosas suceden, cosas que no mencionaré porque deben ver la película, pero ese baila es glorioso, me hizo llorar, sí, lloré y ni siquiera lo esperaba, quizás solo estaba acumulando demasiadas cosas al ver la película y solo al verlo bailar me pude relajar y soltar todo en forma de lágrimas, solo eso diré, no más.
Vi el trailer antes de ponerlo aquí, no vi el trailer antes de ver la película, y si ya leyeron esta reseña, no hace nada de daño que vean el trailer antes de ver la película, no les dirá más de lo que yo les dije, y si les provoca ver la película después de todo esto, les aseguro que lo van a disfrutar, pero también la van a sufrir, la van a sufrir mucho.