We've all been able to read many Steemian's posts about their individual roads to Steemfest. This time @anomadsoul asked us to write a post about how and what we budget for our trip to Steemfest this year. You can read his original post here and there were even some early birds who had this finished in no time, you can read their stories here.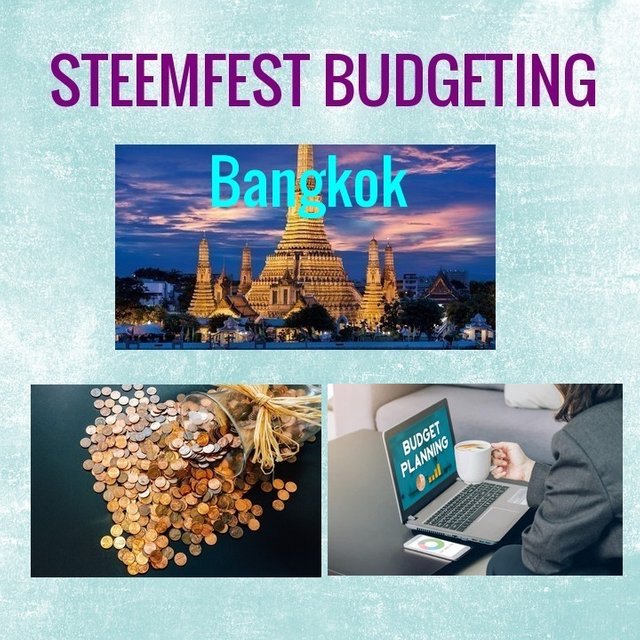 If you're interested in my budgeting efforts, please keep reading.
The road to Bangkok has many dips and bumps
It is not every day, week or even month or year, we get to go to a tropical paradise for the best event of the year. In fact, it has been more than 21 years for me since I set foot in Thailand. In my 3 years in Asia, I spent almost a year in Thailand, alternated with Singapore. The rest of my time there I spent in Japan, Hong-Kong, Malaysia, and Indonesia. I have always wanted to visit the surrounding countries and I wanted to visit more places in Indonesia since I had only lived in Java and never really left the island until I left to Singapore. So I am hoping to be able to budget some money to make the trips to some of those places, at least. The downside is that for Cambodia, Vietnam, and Laos, for instance, I'd need a visa before entering. This would be fine for just one person, but since the whole family is coming (well, almost), it will be a bit pricier. For Indonesia, we don't need the visa. But these trips will be financed as we go, so I am not calculating these in just yet.
But first, let's look at what the trip to Thailand alone will cost me and then go from there.
Depending on whether my eldest daughter and her boyfriend will come along (if they do, it's only for 2-4 weeks) I would need
4 to 6 return flights.
I have seen 'regular' return flights for around Euro 500,- each, but they quickly go up to Eur 600,- depending on which airline.
I refuse to fly with Aeroflot, so I am taking an average of Eur 550,-.
So this will be EUR 2200,- if only 4 of us are going and EUR 3300,- if all of us go.
Either way, it's A LOT.
Now, I have seen another way to fly, which is through Eurowings, and they offer REALLY cheap prices, but then you'd have to pay extra for everything, like meals, luggage etc. and I am not quite sure if this wouldn't end up being more expensive.
The only upside is that I'd be able to book a one-way ticket and then later the return (with other airlines it's often the same price for booking one way or return tickets), but if the flight sucks, then we'd be stuck with the same flight back.
Then our stay in Bangkok for the Steemfest week will be around EUR 650,-. I chose to book the SF hotel, just because it will be most convenient for us to be there. I know traffic can be hell, and since the kids will have someone to mind them, I might as well offer them some luxury.
I'm hoping to stay in SE Asia for around 3 months, so the rest of our time will be low-budget travel.
I am not really worried about costs for food just yet, since I will be taken care of at Steemfest and Euro 20 - 30,- a day for the kids will go a long way in Thailand. I'd say other than a lot of drinks, fruit, and ice-cream they won't be eating much anyway when I'm not around.
Then there are the tickets for Steemfest of course. I am a Minnow (not for long guys!) so my ticket will be 333,- Euro. If my eldest and her boyfriend come along, this will be two Plankton tickets for 222 Euro each.
So in total, my travel expenses will be anywhere between EUR 3180,- and EUR 4800,- roughly...
That's no joke! But I am still positive that I'll make it.
So how am I going to pay for all of this?
Well, with my income right now, there is no way in hell I will even get to half of that. However, I officially wouldn't have been able to afford the last two Steemfests...and I made it there, so I am not going to change my mind about going.
I have been applying for every job I could find in our area, to no avail.
One of those was for the tech support role for Shopify, however, after 4 long weeks and three stages of interviews, they finally told me that they were not going to put me through to the next stage. Probably for the best, because I thought I would have been working different shifts, including evenings, but it turned out to be anywhere between 8 a., and 6 p.m., from Monday to Friday. For some ideal, but for a homeschooling parent not so much. Also, their training would have been 6 weeks...(!!!).
Meanwhile, I am doing as much work as I can for Oracle-D and other 'side-jobs' like some work for my friend's business in Holland. I also write these posts every time, so far. Every little helps.
I hope to hear more about another job tomorrow. So keep your fingers crossed!
And then she went and bought a car...
Not a brand new car...no. But I believe in the Law of Attraction and in that a lot of 'self-help people' say that if you see an opportunity, you need to grab it. So my ex calls me and says: 'I have an opportunity here for you.' And since it's was literally 'opportunity' that he said, I took it. The price was right and I am moving up 6 years. It's my ex's friend I am buying the car from and I am paying him in 3 installments, the first one is paid. The thing was, my old car needed to go for the test, and if I am going from what I know that needs fixing, best case scenario will put me back 500,- Euro. So I chose to buy this car, then sell my old one for parts, or maybe I'll get a reasonable price for it if someone wants it. Either way, it's a win/win.
The last few months, I have been buying whatever crypto I could and Hodl. However, I have become pretty damn frustrated to see these coins go up 8%, then down 10%, then up 11% again, and down 6%, and so on.
Not much I can do with that. So I decided to go back to day-trading. It might be more stressful and needs more of my time, but to be honest that Hodl business is not for me...at least not when I try to get somewhere.
Aside from the above, I have been trying to sell as much of the stuff that we don't need. Some of it sold, most didn't. But I am going to make about 100+ listings on eBay soon to get things going. Friday my friend from Holland is coming and on the 19th we are going to see the Foo Fighters in Belfast. So before I lose my mind about the SF trip, I might as well enjoy that first.
Meanwhile, I keep breathing...and remember that the smiles in Thailand are totally free...
Thank you for reading!