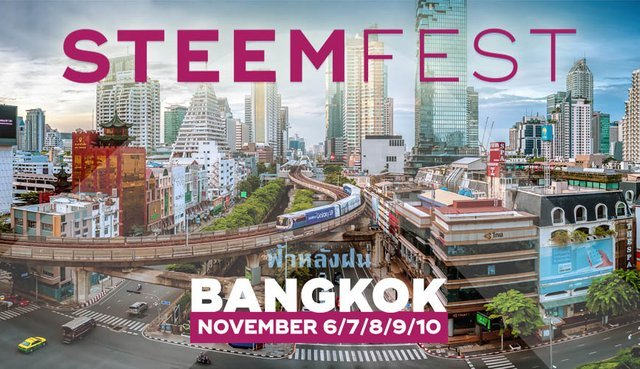 Our dear @anomadsoul has brought us another great prompt for our regular #roadtosteemfest posts.
Will our trip to Steemfest be for business or for pleasure?
You can find his original post here.
Excerpt from the post: This week's topic is... Business or Pleasure?
Are you going to Bangkok because, like me, expect to find a crypto babe wealthy as hell and win her (his) heart?
Well, that would be nice. But even this dreamer doesn't live in fairyland completely. Plus I wouldn't be able to live off someone else's pockets and I've always taken pride in doing things my way, even if it's sometimes not always the easy way. So no, the wealthy crypto babe is not what I'm looking for, although I never say never either. I wouldn't want to ruin my karma...😜 But I'd settle for just the babe, or just the crypto fan, or 'just' for new friends. Friendship is most important to me. Just don't tell that crypto babe if you see him...😘
So you want to attend Steem Fest 4 because you need funding for one of your projects?
We're getting a bit warmer now. To be completely honest, I have no project of my own (just yet). However, I would love to be able to do a bit for the project(s) I am involved with. Funding? Not sure. But maybe exposure would be a great thing. Something we've been lacking for a while and totally undeserved.
Do you want to go to Thailand so you can meet a whale who can get you out of anonymity?
No and no. I don't care about meeting whales. I care about meeting as many amazing people as possible. Minnows, Dolphins, Whales or whatever fish or sea mammal they are: I will enjoy their company all the same.
Is this trip your opportunity to go to a new country and explore its touristic spots and get to know the local culture?
This is a no again. I have been to Thailand before and even lived in Bangkok, so the country won't be 'new'. However, it will be a homecoming of sorts. Things will have changed undoubtedly, so it will be a surprise to see just how much. Of course, there have been plenty of spots that I haven't seen in Thailand, but my recent new job will unfortunately not allow me to stay for as long as I liked, so I will have to put that on the 'to do later' list.
Is jumping on a plane to this Steem massive meet up your chance to meet all those people you spend countless hours a week conversing and fooling around in the different chat rooms?
Yup. Exactly. I am looking forward to meeting those I have met before. Those I know online but haven't met before and those I've never even heard of. I can't wait to meet all those peeps!
My very long conclusion to all the above
Last year has been quite a ride for me and my family. Steemfest3 made a lot of that a whole lot better. This year has been reasonably uneventful until recently, but maybe a bit too much. I've literally been working more than overtime and most of it with nothing much to show for (at the moment). I've been glued to the PC screen 7 days a week for nearly a year, and I believe I need and deserve a break. One break is coming in the form of my new job, which I've recently started, and with this job will come the change I've wanted for some time now. But the job is not something I plan on doing forever, it will be more of a stepping stone for more and better (like buying more crypto for instance).
My visit to Steemfest2 in Lisbon has changed my life in so many ways, just by being among hundreds of creative people and the energy they bring. I can't even begin to explain how this worked, but it did. Steemfest3 in Krakow was similar, but even better because I already knew quite a few people.
I believe that this Steemfest is going to be even bigger and better, and the fact that it is going to be in Thailand will top it all of.
Unfortunately, I will have to change my plans in regards to the time we'll be staying due to my new job.
I already brought it from 3 months of travel in SE Asia to 1 month because my eldest daughter isn't going to be there for the whole time and I didn't really want to leave her for 3 months. But now I may have to change it again back to 10-14 days at the most since November will be the busiest time for the job. I can't really justify being gone for all of November, especially since I only just started. But that's OK because the job will also open doors for me to travel more, so I'll happily settle for a short trip this time around if it means that I'll be able to travel more often. Usually, I would never let something like a job stop me and my plans, but everything in me tells me it's the right thing to do, so I'm going with that.
Thank you for reading!