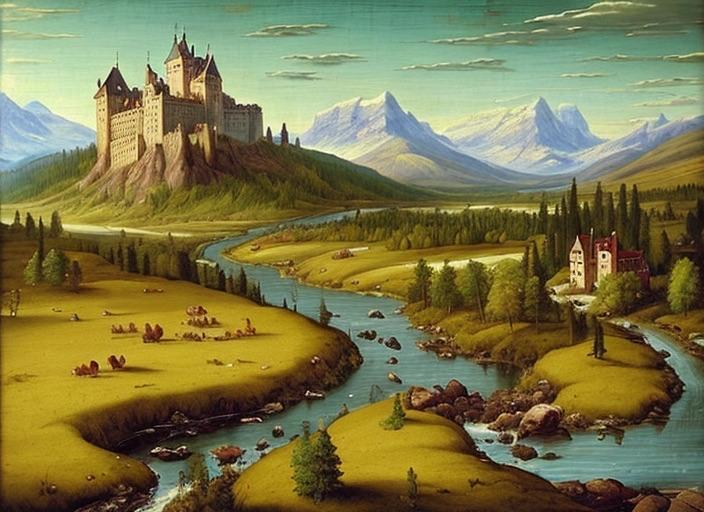 Welcome to a Serfdom & Sorcery blog, a magical space where adventurers like you can delve into the captivating world of fantasy, epic quests, and thrilling gameplay. Join us on this extraordinary journey as we unlock the secrets of Serfdom & Sorcery, a game that immerses you in a realm of wonder and adventure. Whether you're a seasoned player seeking new challenges or a curious newcomer ready to embark on an unforgettable adventure, this blog is your gateway to the enchanting world that awaits.
Game Updates:
Stay up-to-date with the latest news and developments in the realm of Serfdom & Sorcery. From major updates to content expansions, we'll bring you the most exciting announcements straight from the developers themselves. Discover new lands to explore, fearsome creatures to conquer, and powerful artifacts to wield as the realm continues to expand and evolve.
Gameplay Tips and Strategies:
Master the art of Serfdom & Sorcery with our expert gameplay tips and strategies. Whether you're looking to level up your character, conquer challenging quests, or optimize your combat skills, our guides will provide you with valuable insights and techniques to overcome any obstacle. Enhance your gameplay experience and become a formidable force within the realm.
Lore and World-Building:
Unveil the captivating lore and immersive world of Serfdom & Sorcery. Immerse yourself in the rich tapestry of history, mythology, and legends that shape this fantastical realm. Explore the origin stories of iconic characters, unravel the secrets of ancient civilizations, and delve into the depths of mysterious dungeons. Discover the depth and intricacy of the world that awaits your exploration.
Community Spotlights:
Celebrate the vibrant and passionate community that surrounds Serfdom & Sorcery. Through community spotlights, we shine a spotlight on remarkable player stories, incredible achievements, awe-inspiring fan art, and innovative creations. Engage with fellow adventurers, share your experiences, and find inspiration within the creative and supportive community that brings the realm to life.
Developer Insights:
Gain exclusive access to the minds behind Serfdom & Sorcery. In our developer insights section, we go behind the scenes and explore the intricate process of bringing this captivating world to life. Get to know the passionate individuals who pour their creativity and expertise into crafting the game, and gain a deeper understanding of their vision, challenges, and inspirations.
Step into the realm of Serfdom & Sorcery and let your imagination soar as you embark on an incredible journey that transcends reality. As a dedicated player of this magnificent world, I extend my heartfelt greetings and welcome you to a realm brimming with magic, adventure, and endless possibilities.
Prepare to be captivated by breathtaking landscapes that stretch beyond the horizon, where towering mountains, lush forests, and ancient ruins await your exploration. Brace yourself for encounters with magnificent creatures that roam the land, from majestic dragons to elusive mythical beasts. And be ready to face formidable foes that test your skills, courage, and strategic prowess.
In Serfdom & Sorcery, the choice is yours. Will you embrace the powers of Nature, harnessing the elements to heal and protect? Connect with the forces of the earth, water, air, and fire, and become a guardian of the realm's balance. Delve into the mysteries of herbalism, track rare plants, and unlock the secrets of nature's bountiful resources.
Or perhaps you are drawn to the path of the Pillager, a cunning and resourceful adventurer skilled in reconnaissance and stealth. Navigate through treacherous territories, uncover hidden passages, and infiltrate enemy strongholds to acquire valuable loot and pilfer the riches of others. Your expertise in plundering will make you a legendary figure in the annals of Serfdom & Sorcery.
If combat calls to your spirit, embrace the path of a warrior. Wield weapons with masterful precision, channel powerful spells, and become a force to be reckoned with on the battlefield. Stand against fearsome creatures, rival factions, and engage in epic PvP battles that will test your mettle. Let your skills shine and emerge as a champion of combat, leaving your enemies in awe.
But remember, the true beauty of Serfdom & Sorcery lies in the vibrant community of players who walk these hallowed lands alongside you. Connect with fellow adventurers, form alliances, and engage in cooperative endeavors that will enhance your experience. Share your knowledge, exchange strategies, and forge lasting friendships that will withstand the tests of time.
As a player, you hold the key to unlocking the secrets of this enchanting realm. Progress through quests and challenges to uncover ancient mysteries, acquire valuable treasures, and develop your character's unique abilities. Whether you choose to unravel the lore of the world or engage in thrilling PvP battles, every step you take brings you closer to becoming a legend in Serfdom & Sorcery.
Stay tuned for regular updates, new content releases, and thrilling events that keep the realm alive and ever-evolving. The realm of Serfdom & Sorcery is a dynamic entity, offering new adventures and challenges to conquer with each passing day. Immerse yourself in this living, breathing world and let your imagination run wild.
So, fellow adventurers, prepare your weapons, hone your skills, and embark on this grand adventure with unyielding determination. Choose your path from Nature, Pillager, or Combat, and let your destiny unfold in the realm of Serfdom & Sorcery.
May your journeys be filled with exhilarating encounters, epic battles, and awe-inspiring discoveries.
Embrace the wonders that await you, and may your legend be etched into the chronicles of Serfdom & Sorcery, forever to be remembered by those who tread these mystical lands.
Slot word:
Embark on an unforgettable adventure in the realm of Serfdom & Sorcery. Stay informed, empowered, and connected with the latest updates, gameplay tips, immersive lore, and vibrant community. Join us as we unlock the magic, share our adventures, and forge our legacies within this extraordinary world.
Dont wait join us today Discord
Register first in "register_here"(in discord) So may the fun begin.
Remember, the realm of Serfdom & Sorcery is yours to explore, conquer, and shape. Let your imagination soar and your courage shine as you navigate the realms of fantasy and adventure that await you. Welcome to a world where magic is real, quests are epic, and destiny is in your hands.
Farewell for now, and may fortune favor your every step!