It's been a long year since our last blog update, but rest assured that in the background @crimsonclad has been busting her ass working hard on everything HIVE. She's usually the one that people see out and about, and I do a lot of the work in the background that needs to get done with managing the books and other less fun tasks.
​
I am so proud and thankful for the way we transitioned to HIVE and are growing with a very solid foundation!
​
Now, since we've not had a update for so long and because it's usually me that does the updates, you do deserve some details about this time period. Since you guys count on us to keep chain running and we've been doing it more quietly than usual, I thought I would share that I've had some personal issues this past year and thank goodness I have crimmy as a witness partner and friend.
​
Last June (2020) My wife left me and emptied all my bank accounts which hurt me pretty bad financially and mentally. Then, to start off 2021 I was involved in a pretty bad vehicle accident that wasn't my fault and had to undergo a few surgeries and lots of rehab. I was also on tons of prescribed painkillers. Now, I have never in my life been addicted to anything but caffeine and nicotine. But I am not gonna lie, after taking the prescribed painkillers for 2 months straight,I started noticing I was taking more than I was supposed to because of how good mentally and physically they made me feel. I finally forced myself to stop taking them and asked doctor to prescribe me non-narcotic painkillers like Tramadol..etc..etc... And after few weeks I was fine with tylenol and ibroprofen :)
​
I'm sharing this with you guys as a reminder that we're all human, and that as important as Hive is to our lives, there are going to be things that come up that will take your attention. No one can do it all alone, and this is why our community is so important.
It has been a challenging year for so many people, and it's been no different for me. Now I am back with crimmy helping on the visible side of things again and updating our Followbtcnews blog.
​
With that out of the way, on to the super positive stuff!
Just quick reminder about Followbtcnews nodes and a few of our contributions to the chain:
​
Over the course of this year, outside of doing a lot of developer outreach, exchange coordination, Hive "official" comms, creating Hive live streams, helping manage community servers and gathering places, crimmy has also done a lot of public appearances related to Hive and helped run some AMAs, big and small, with a couple more scheduled for the near future. If you'd like to catch up with some of these, here are a selection of a few events:
​
​

​
She's also hosted some interviews with Dapps and devs in our ecosystem on her own radio shows/livestreams where she often focuses on Hive, philosophy and tech teaching. Just a few of those can be found below:
​
​
Finally, one of the big projects aside from being part of the PALnet crew is @NFTshowroom. Crim is one of the developers and core team working on Hive's rare art marketplace, and has done two talks at Hivefest 5 & 6 on *Digital Art in an Interconnected Ecosystem* which you can see below:
​
​
If you have suggestions for things that can make Hive better, exchange connections, developer outreach needs, or opportunities to educate, we want to hear them. We've put a lot of time, effort, and love into trying to create an ecosystem full of great projects and we're always willing to help if you need it.
Myself FollowBtcNews#0360 and crimsonclad#6006 are always available in Discord if you would like to contact us for any questions or just to say Hi!
​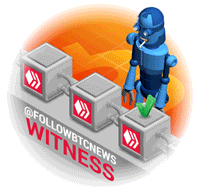 Hi, I'm Jeff. I run a top 20 Hive witness as one half of @followbtcnews. Please reach out on chain, our service OpenHive.Chat, or Discord any time! If we haven't earned your vote, please consider our extensive community work, free infrastructure and resources, and witness history —
vote for followbtcnews
if you feel I'm doing a good job.