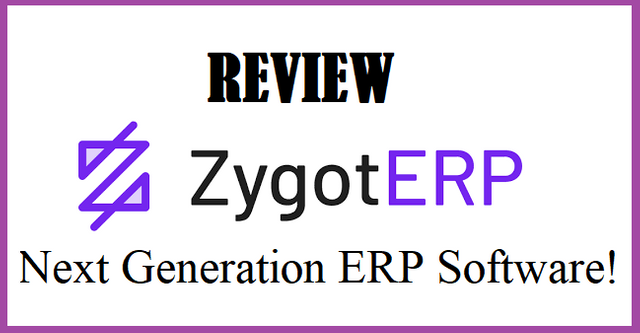 INTRODUCTION
Let's start with the question "What is Zygot?". On their website in the FAQ you can find this:
Zygot is the team that facilitates the development of ZERP enterprise solution. ZYG is the name of the token that is powering the ZERP ecosystem. Source
There is a pretty big team which you can find on the website:

The Zygot team consisting, but not limited to, the CEO, Co-founder, management, marketing director and chief of design, there are also 2 advisors 7 people in the DEV team. In total the Zygot team contains 17 people.
What is ERP?

But what's ZERP?
The ZERP platform is open source intelligent ERP software that utilises blockchain technology. ZERP has 'lightweight' character offering accessible decentralised ERP architecture available for all company sizes - micro, SME, corporate, providing the benefits of an ERP system to users and collaborators with various budgets. The foundation of the ZERP is decentralisation of actors. On one side, the users of various sizes can benefit from open-source high quality ERP modules that compose a standardized system, and participate in its continuous improvement and maintenance; while the teams of developers are again decentralised and there is no single provider, but numerous compositions (teams) of developers that address and compete through the principles of user requirements satisfaction and upward push of quality. Blockchain's peer-to-peer networking and distributed validation will provide a foundation for the ZERP initial concept, but will also represent a place to build on a future ZERP platform that will be generic enough to cover the entire supply-net of certain domains and/or businesses become the unifying ERP platform of the business ecosystems beyond tomorrow. Source
---
World's first decentralized ERP marketplace on EOS
I can see how a project like Zygot ERP will bring great possibilities for enterprises. Decentralization is the future and I think it's a smart choice to facilitate this on the EOS blockchain. It will make sure that the clients of the enterprises that use Zygot ERP can find back transactions that are made on the blockchain, meaning total transparency. Lack of transparency can be a deal breaker for clients, and bringing marketplaces to the EOS blockchain will eliminate lack of transparency.
---
ABOUT US
When you visit Zygot's website and click on about us like shown in the image below:

You will see this first:

We're building a strong, diverse team of curious, creative people who want to find a purpose in their work and support each other in the process. We work hard and we play to win and disrupt! Source

When you read the visions and missions of the Zygot team, it's clear they are aiming to bring together a powerful team that will work together to make this a successful project that brings enterprises to the EOS blockchain. That's a huge step towards onboarding businesses to blockchain technology. Once enterprises discover that other enterprises took the step to use blockchain technology, I assume that more will follow quickly after that. I think that this project is going to be successful, especially as they're using the EOS blockchain, which most people that are known to cryptocurrency already know.
---
BLOG
Although I always try to stay as positive as possible whenever I write a review, my aim is still to leave valuable feedback to improve things that might be done better. I have found a point of critique for the Zygot ERP Team, but it's one that can be fixed easily.
When I started researching Zygot ERP, I also clicked on the blog button on their website. Blogs are always a nice way to learn more about a project as sometimes they are written in a less formal way and easier to understand.
After clicking on the blog button on Zygot ERP's website I got redirected to their Medium page. Unfortunately, there were only 2 stories to be found there, and both were test stories and very outdated, July 2018. My advice is to see if you can remove these test stories, or even better, try to publish recent stories before you link your Medium page to the website. There may be some people not being interested anymore after seeing very outdated stories on Medium, thinking that the project has stopped about a year ago. That would be a shame, right? In my opinion it's only useful to link to social media pages when you're active on them, and people can find valuable content there when being redirected.
---
FAQ

If you have any questions about ZYGOT ERP, you should probably first click on the FAQ button on top of their website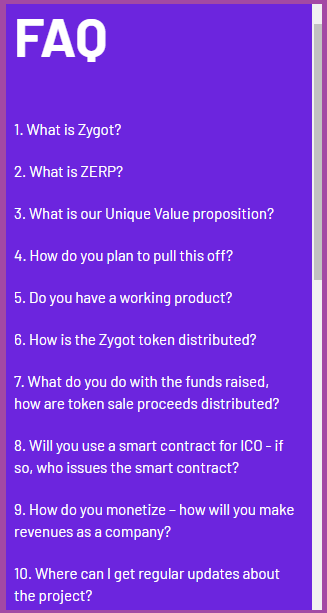 On the left side of the website you can find a list of frequently asked questions, when you click on the question, you can find the answer on the right side of the screen. If you would have any more questions after reading the FAQ, you can also download the Whitepaper or contact them via these channels:
ZygotERP: https://zygot.io/technology Medium: https://medium.com/@zygoterp Twitter: https://twitter.com/Zygot_erp Telegram: https://t.me/ZygotERP LinkedIN: https://www.linkedin.com/company/zygot
---
TECHNOLOGY

If you wish to learn more about Zygot ERP technology, you can click on the technology button on the top of the website.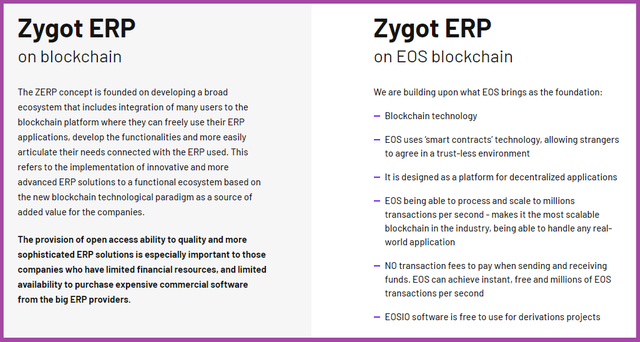 The image above shows you how Zygot ERP uses blockchain and the EOS blockchain in particular for their project. Like mentioned above, this is smart, because EOS is known to most people that are interested in cryptocurrency. And marketing-wise it's most likely a smart move as well, because other great projects that will be launched, will make people trust this project more when deciding if they are going to use Zygot ERP.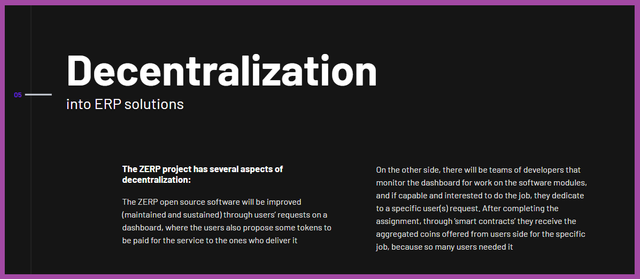 As the ZERP software will be open source, and maintained and sustained through user requests, this means people will feel connected to the project as they can give feedback on how they feel the software can be improved. When people feel connected to a project, I believe that a project can thrive best. Being rewarded for their efforts with Zygot's own tokens will definitely be something that users will appreciate.
---
CONCLUSION
I think Zygot ERP is going to be a huge game changer in the enterprise world. I can see this project grow beyond what is presented on their website at this moment. The possibilities are endless in my opinion. I'm looking forward to updates about the project, and will be following them to see the progress Zygot ERP is making. I'm also interested in following the value of the Zygot token once enterprises find out about Zygot ERP. Hopefully, the token will become more valuable over time once more enterprises made the step to us Zygo't ERP software. In my opinion, using open source software that can be improved by users, rewarding them with tokens is a great way to let the project thrive.
As a last note, I would advise the team to make sure the blog section (as mentioned above) is up to date, and make sure that one of the team members promotes the project on not only Medium, but also other social media channels to reach a bigger audience. This will definitely be helpful to make sure that new people reading about the project will stay interested to learn more about Zygot ERP.
I'm quite convinced that this project has a lot of potential, and as mentioned before, I'm excited to follow the progress of the project and make sure to share my knowledge about the project where I can. Zygot ERP will be a gamechanger for enterprises if you ask me.
---
---
Disclaimer
This is not financial advice, nor a guarantee or promise regarding any result that may be obtained from using the above content. The information provided here is for informational and entertainment purposes only. It should not be considered as financial and/or investment advice. No person should make any kind of financial decision without first consulting their own financial adviser and/or conducting their own research and due diligence.
---