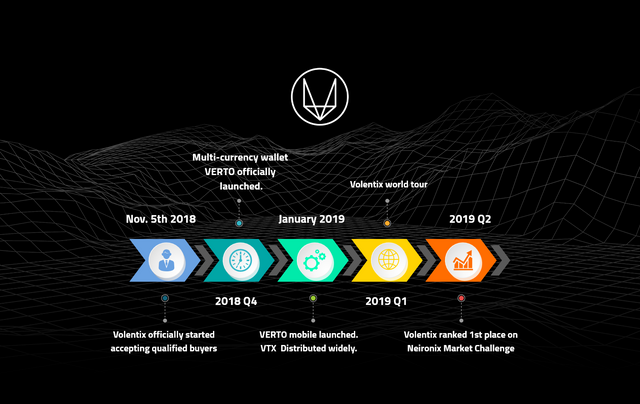 The Volentix Digital Assets Ecosystem (DAE) is in the spotlight of blockchain technology project rating services and is one of the highest rated projects of 2019.
On the 5th of November 2018, Volentix officially started accepting qualified buyers who successfully complete whitelist applications through ISO-certified third-party KYC/AML platform Blocktopus.
Also in 2018 Q4, the Volentix DAE officially launched its multi-currency wallet VERTO, building on the earlier launch of the incentives-based recruitment platform VENUE. The VESPUCCI market data analytics engine technical whitepaper was released. VERTO added a partnership with Zixipay.com, a global payment solutions provider, allowing whitelisted buyers to purchase Volextix's native digital currency VTX by using credit cards or bank transfers.
In January 2019, the downloadable VERTO wallet went mobile, and thousands of Volentix community members received VTX balance confirmations. VENUE bounty programs are growing in popularity and are continuing to distribute VTX widely. Awareness of Volentix's decentralization initiatives is growing as well, as the public becomes better informed about the importance of sustainable free markets and reliable security for individual identity and property.
Also in 2019 Q4, Volentix attended events with enthusiasts in London, Singapore, and Istanbul. The press coverage was overwhelmingly positive and resulted in massive community adoption on Telegram and Twitter. Particularly noteworthy in Istanbul was the acclaimed lecture by Volentix's own Yiannis Emiris, Chief Scientist and CTO of Pythagoras Systems in Athens and professor of Informatics at National Kapodistrian University of Athens, Prof. Emiris leads the Volentix development team dedicated to the VESPUCCI market data analytics engine engineered with artificial intelligence. Prof. Emiris is now collaborating with Ismail Polat, of Kadir Has University in Turkey. Mr. Polat is regarded by local media as a reference on blockchain technology.
The robust Volentix community voted the project number one in the Neironix Market Challenge. All of the major rating services praise Volentix, including ICOMarks, which rated Volentix as a perfect 10 out of 10.
Follow us on: