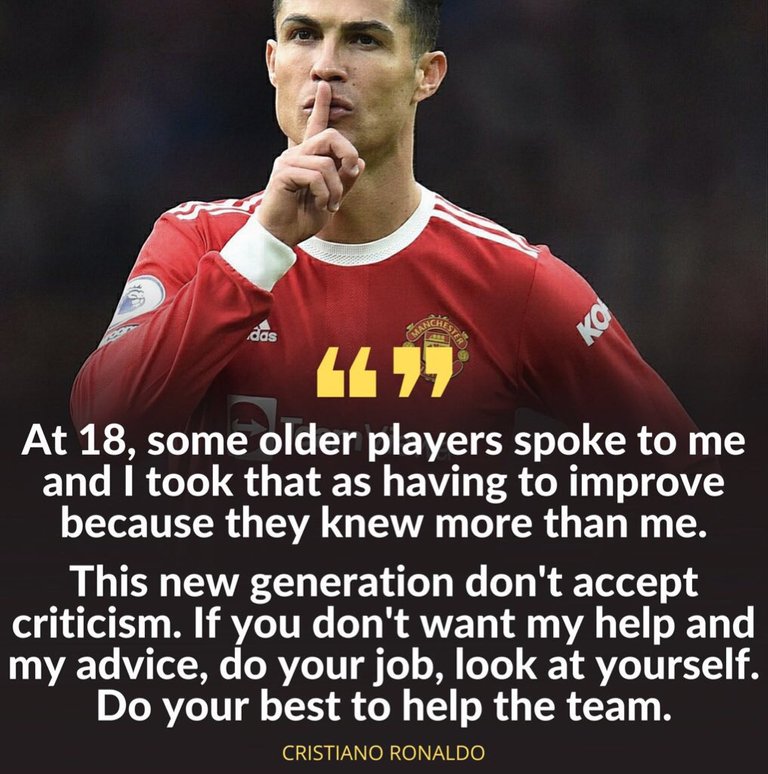 I think the right questions should be asked why especially football clubs have to put up with so much nonsense from their players? Other sports don't get this so why football? Rugby we have serious steroid abuse, but respect for other players and officials is there no matter what. I believe money and fame is an issue and possibly a lack of education.
I know Ronaldo had some sort of run in with a female early in his career as well but the wording is what caught my attention. This is more about what happens in your game and how to improve what you do. Experienced players are there to learn from so one day you can do the same passing on advice and wisdom to youngsters coming through when you are much older.
I am sure many of you are aware of the happenings of Mason Greenwood and should go out as a stern warning to all other sportsmen and "men" in general. I highlighted "men" as no man would hit a women as that is not how men are raised. Even in prison this type of crime does not sit well and is ranked only above child abuse and knowing this any women basher would be seriously worried serving time.
I do believe there is an era of entitlement around at the moment with youngsters who have never been disciplined in their lives thinking they are above the law. I experienced this on a bus trip to Paris going to watch the Rugby World Cup in 1999. I never look for trouble but don't disrespect elder people as I lose my rag quickly. That bunch was removed from the bus that day and they even appologised to the passengers on the bus for their poor behavior. I knew they were embarrassed and was the perfect ending to their ass whipping. All of them youngsters thinking they were in charge and taught a valuable life lesson which I doubt they will repeat again. They were South African youngsters who were always known for having good manners as schooling and the army did that to you. Army days have long since gone so there is a remarkable difference today.
What we have to understand is many of these professional footballers don't have the education backing them if something goes wrong. There was a player
a few years back who served his prison sentence for rape and abuse and quite rightly no club in the Premiership would sign him on. This would have sent the wrong signals to other players plus these days the fan bases of clubs have a high female percentage.
Greenwood will be tried and if convicted which looks likely his career is over for good as he knows it. The risk is just too great for clubs which could jeopardise sponsorship deals plus parents with their kids at that clubs academy wouldn't be happy either. If there was a bad influence at the club parents would move their kids to other clubs.
When we were growing up you respected your elders or you were beaten up and it was that simple. Laying a hand on a female would have resulted in dire consequences no matter who you were. Punishment was something you feared and what kept you within the law as getting hidings at school and home back then was all too common. Serious offences would mean 6 of the best at the police station depending on the offence. I am not saying that is the answer as this is abuse itself in many ways, but some individuals need to learn what is right and wrong the hard way.
I have only seen abuse first hand once whilst working in my in laws pub in England. A lady was sitting with her partner at a table in the bar area where I was serving drinks and out the corner of my eye saw a punch land on her cheek. It was a rabbit punch that landed so fast it was the movement that caught my attention. No one else witnessed this so what do you do? I couldn't help myself and flattened him whilst he was sitting there and then threw him out head first. The lady came back from the bathroom as she had swelling under her eye and was embarrassed. I think that would be the normal reaction of 99% of the men in the world or I would like to think so. Maybe the new generation would rather talk it over and work things out, but an abuser is always an abuser.
Society in general is too soft these days and in many ways has made things far worse for the abused. Apparently this was not the first altercation Greenwood has had with a female as his previous manager had to cover up the last abuse incident in 2020. If Solskjaer did that then he is a major pussy and just maybe dealt with correctly this would not be happening currently with Greenwood.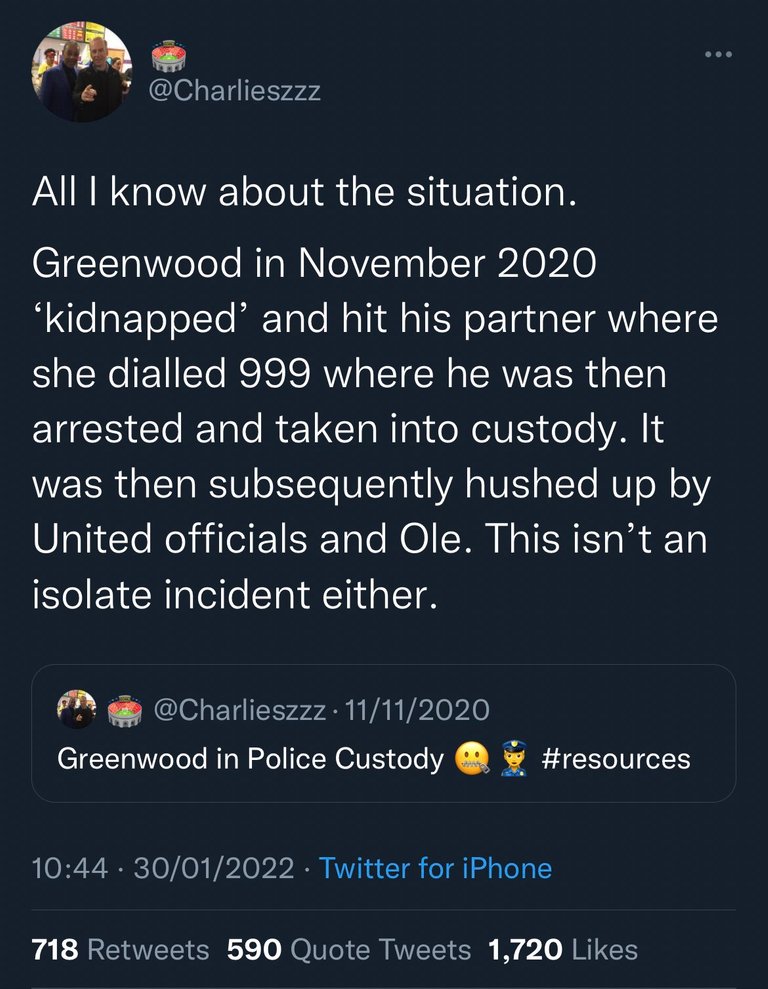 You have to wonder if this would have happened under Alex Ferguson and I doubt it. Your career would be over immediately as he was more than a dad figure to the players. He was the law at the club and you made sure you always behaved or otherwise felt his wrath.
Why is it footballers who we always see questioning the referees with verbal back chat and abuse? Questioning their managers when they are substituted which again goes back to a lack of respect. No one is bigger than the team and the team must always come first.
Many clubs have had dressing room issues lately and it is down to the players thinking they have too much power. Tottenham had some rotten eggs which they should have gotten rid of when Mourinho took charge. Manchester United we hear Pogba is an issue which is not surprising. Lukaku at Chelsea tried his luck and was lucky he wasn't transferred out. Managers deal with things so differently and in many ways they are just too soft. Ferguson would not have contract issues with players as if you don't sign you don't play and you are history.
In other sports if you lay a hand on the ref even if it is to get his attention you will be carded. If you swear at a ref you will be red carded as there is a known line that you never cross or suffer the consequences. Football needs to do more than it is doing currently as the players are ruling the game in many ways and not the officials.