Hive Fantasy Premier League Gameweek 2 is upon us. How are you feeling about your squad at this stage in the season? Are you already planning to use your free hit or are you confident that your initial picks are looking good early on?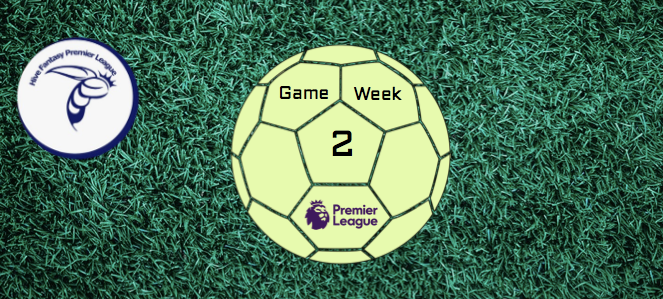 Weekend temperatures across the UK are set to remain high meaning that Premier League teams might well struggle to maintain a high pace to the game while the new 5 sub rule will undoubtedly be exploited by the majority of teams to avoid fatigue in conditions not ideal for fast, free-scoring football. Remember, a player has to complete at least 60 mins of a match to get that 2nd appearance point while for defenders and midfielders the same requirement applies for the clean sheet bonus.
Gameweek 2 Match Previews and Key Stats
Aston Villa v Everton

Neither of these sides enjoyed a memorable GWK 1. Villa huffed and puffed against newly promoted Bournemouth but struggled to really create many clear cut chances while Everton's lack of a recognised centre forward was evident against Chelsea.
Steven Gerrard will demand a much more clinical performance in this match and his Villa side have dominated this fixture since being reinstated to the top flight with 4 wins and 2 draws from their last 6 meetings with the Toffees.
In fact, Everton have failed to score in their last 441 mins of Premier League football against Aston Villa and with their current injury crisis up front it's difficult to see who is going to break that barren streak?
Any of the Villa defenders then could well be a good choice for a clean sheet bonus with Matty Cash (DEF) having also scored in this fixture last year. Meanwhile despite drawing a blank against Bournemouth, former Everton man Lucas Digne (DEF) ranked 10th overall for creativity amongst defenders in game week 1.
Managers have been quick to ditch both the above mentioned players but it's worth noting that Villa generally looked well organised in open play and conceded from 2 set pieces v Bournemouth, something they'll surely be working on in training this week. After Everton, their next 2 matches come against sides who also failed to find the back of the net in their first game (Palace and West Ham) so it might be premature to abandon your Villa picks just yet...
Anthony Gordon (MID) was thrust into an unfamiliar centre-forward role in Everton's first match but got little change from a very experienced Chelsea back 3 as evidenced by his 0.00 expected goals in that match.
Arsenal v Leicester

Arsenal looked very impressive for the first half an hour against Palace but had to wait until late in the second half to kill the game off. Gabriel Martinelli (MID) has been a popular buy already and at the time of writing over 170k more managers have signed him up for GW2. His expected goals of 0.88 against Palace was the highest of any player not listed as a forward in the Fantasy Premier League and at just £6.0 million he represents very good value for money.
Meanwhile Oleksandr Zinchenko (DEF) scored highly on all the ICT rankings on his Gunners debut including being the 5th most influential defender in the league while his expected assists were 0.59 leading to him gaining 3 value bonus points for those who had selected him. A quick look at his average position against Palace shows how high up the pitch he played (number 35) and it seems likely that he'll be involved in plenty more attacking phases of play in this game too.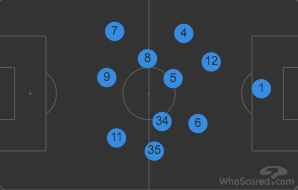 Fellow new signing Gabriel Jesus (FWD) had been selected by more Fantasy Premier League managers than any other player for GWK1. He performed well on the pitch but collected just 2 points. However, he does have 5 goals in 9 previous meetings against the Foxes and might therefore be worth sticking with for a little while longer.
We'd picked Kiernan Dewsbury-Hall (MID) as a player to watch in our preview of GWK1 and he certainly delivered against Brentford. James Maddison (MID) was equally impressive in that game and as well as setting up a goal he wasn't afraid of taking a shot with a total of 6 attempts at goal meaning that it's surely only a matter of time before he opens his tally for the season. Meanwhile veteran Jamie Vardy (FWD), once a target for the Gunners, has more career goals v Arsenal (11 in 14 games) than against any other club!
Brighton v Newcastle

Brighton were magnificent against Manchester United, particularly in the 1st half where their energy in midfield was simply too much for their opponents to handle. Meanwhile upfront, Danny Wellbeck (FWD) rolled back the years to provide a brilliant all round performance that threatened goals and provided an assist. At a cost of just 6.5 million he might be worth a second look.
Pascal Gross (MID) was a Fantasy Premier League favourite in his debut season 5 years ago. Could this be another year where the experienced German proves a good buy? He actually played largely on the right-side of midfield in the United game but drifted into the box with devastating effect.
Newcastle to Brighton is a long trip and not one that the Toon Army have traditionally enjoyed. Their previous 5 Premier League games at the Amex have ended with 2 draws and 3 defeats. However, the Magpies will be buoyed by their performance against Forest with their dominance underlined by the fact that only defending champions City delivered a higher expected points tally in the round. Chief architects of that victory were the Brazilian connection of Bruno Guimarães (MID) and Joelinton (MID).
With his Bournemouth connections, Callum Wilson (FWD) will not get a warm welcome in Brighton but he's been very effective against the Seagulls in previous meetings with 4 goals and 3 assists in 9 games. He looked sharp in the first game of the season and is ranked 13th overall in the ICT rankings, yet has only been selected by 3.8% of managers...
Manchester City v Bournemouth

Manchester City dominated West Ham in their opening game with Erling Haaland (FWD) the sharp point of their attack. The Norwegian only touched the ball 32 times, significantly fewer than any of the other City players who started the game, but it's the fact that so many of those touches were in or around the penalty area that was most promising. The fact his value has risen to £11.6 million might already put him out of range of some managers but City's next few games look very winnable I'd imagine many took the option to transfer him in before GWK1 ended to avoid the inevitable price rise.
Meanwhile Joao Cancelo (DEF) was both excellent on the ball and off it. City's bid for Cucurella suggests they'd like reinforcements in that position but at the moment the versatile Portugal international is a certainty to start and perform.
Bournemouth's primary threat against Villa was from set plays and you'd expect that if City dominate possession once again that the Cherries most likely chance of a goal will come from corners or free kicks. The bad news for them is that City conceded just once all season from set pieces in the 21/22 EPL season. If Haaland is out of your price range then shoehorning in a 2nd City defender (ideally alongside Cancello) might also be a really good option!
I'd picked out Lloyd Kelly (DEF) as a player to watch in pre-season analysis and he didn't disappoint against Villa providing an assist and being the 2nd most influential defender of GWK1. He'll have his worked cut out against this City attack though and it's worth noting that Bournemouth have lost every single one of their previous Premier League encounters with City (10 matches) conceding 30 goals in the process.
Southampton v Leeds

It was a nightmare start for Southampton and given their poor form at the end of last season there is reason for concern for the Saints even at this early stage.
Southampton had a very impressive home record last year up until March when they lost 5 of their final 6 games at St. Marys (they'd only lost once in 12 matches prior to that). A return to form at home then is an absolute must for the Saints in this game.
Southampton are primarily relying on youth to get them through the season but it was the ever reliable James Ward-Prowse (MID) who gave them the lead at Spurs. The Saints captain also scored in this fixture last season and so could continue to be a safe cheap pick.
We picked Rodrigo (MID) as a player to watch for Leeds in GWK 1 and he didn't disappoint with a goal against Wolves while Jack Harrison (MID) is another player I identified in an earlier post as a good value pick. Harrison was the highest ranked player on the ICT in regards creativity in GWK 1 and at £6.0 million is well worth a look especially against a flimsy defence in Southampton.
Wolves v Fulham

Defensively Wolves have always looked well organised since their return to the top flight 5 years ago but in their opening day defeat at Leeds they seemed unsettled with errors costing them after an early lead. Collins and Kilman may need time to settle into a new centre back partnership and it's notable that long serving defender **Conor Coady **(DEF) has been allowed to leave on loan to Everton. Having a Wolves defender in your squad used to a be a great choice, now I'm not so sure...
The Wolves defence will certainly have to improve against the in-form Aleksandar Mitrović (FWD) who gave the the likes of TAA and VVD a rough ride last weekend. There has been plenty of talk as to whether the Serbian forward is good enough for the top flight and it is of course too early to judge after just 1 game but he certainly looks fitter and more mobile than he has in previous Premier League seasons. That being said, chasing big point players in the early part of the season comes with significant risk. Remember Temu Pukki ...
While Wolves were less than convincing at the back, a few of their midfielders did rank well on the ICT in regards threat, with Pedro Neto (MID) and Leander Dendoncker (MID) in the top 12. The trouble though for Wolves continues to be a lack of a genuine goal scorer. Hwang Hee-Chan (MID) was deployed up front for their opening game but question marks remain over his pedigree at this level. If Wolves can secure the signing of a goal scorer before the window closes then some of those midfielders will certainly start to gain more points otherwise, I'm unconvinced that their performances will translate into FPL success.
Despite Fulham's heroics against Liverpool, it's worth noting that their expected goals against in that match was 2.34, the second worst of the round behind only West Ham who barely touched the ball. Their opening game felt a bit like a cup match but lets see if they can maintain that intensity and spirit away from home.
Brentford v Manchester United

What else is there to say about United's performance that hasn't already been written by the hundreds of sports journalists out there? The club is in a dire situation both on and off the pitch and despite the hole they find themselves in they seem intent on continuing to dig!
Brentford of course found themselves 2-0 down in their opening fixture too with some very average defending of their own before fighting back. Ivan Toney (FWD) scored 1 and probably should have added another against Leicester. Brentford's main man has a habit of scoring in consecutive matches and found himself on the score sheet against the same opposition last year. At £6.5 million he represents excellent value for money.
Of course all eyes will be on the returning Christian Eriksen (MID) who alongside Diogo Dalot (DEF) was probably United's best player in their defeat against Brighton. The Portuguese defender has made just 45 Premier League appearances since joining the club in 2018 but ranked as the 2nd best defender on the ICT for GWK1. At £4.5 million he looks to be a great buy until you remember just how fragile this United defence is...
The only good news for United is that they ran out convincing winners against the Bees in both fixtures last year scoring 6 goals in the process. How new manager Ten Hag would love another score line like that to take a little of the heat off him and his team!
Nottingham Forest v West Ham

Forest are having to deal with the obvious problem of having so many new additions to not just their squad but their starting XI. Their performance at Newcastle was disjointed and they'll need to improve dramatically to get 3 points here today. West Ham got a raw deal by having to play the defending champions in the first match and you would at least expect that they'll see much more of the ball in this game.
One thing that will concern the Hammers is their away form in the 2nd half of last season that saw them record just 4 points from their final 8 games with their only victory coming against an already relegated Norwich team. By contrast, only Fulham scored more goals at home than Notts Forest in the Championship last year.
The standout performer for Forest last week was undoubtedly Dean Henderson (GK) who made a total of 7 saves. His shot stopping skills could be crucial to the team's chances of staying up and he might be a decent back up option as a keeper coming in at just £4.5 million.
Chelsea v Spurs

This fixture represents the first clash amongst the big 6 clubs this season and is one that has historically favoured the West London club. Chelsea actually beat Spurs 4 times last season including across 2 legs of a League Cup semi-final with an aggregate score of 8-0. Spurs haven't beaten Chelsea in a league match since 2018 and in total have recorded just 7 league victories in the 30 years that the 2 teams have played in the Premier League.
Neither Harry Kane (FWD) nor Son Heung-Min (MID) registered goals for Spurs despite their big win against the Saints which was both a surprise and a disappointment for FPL managers given how reliant the club have been on the pair over recent years. Despite not getting on the score sheet, Son did register as the 6th best player in GWK 1 according to the ICT rankings so it's perhaps a little bit early to write him off just yet.
Meanwhile, fellow forward Dejan Kulusevki (MID) continued his brilliant form since joining in January. I wrote a blog on the best points per minute players from last year that suggested if he were able to maintain his form from Feb - May 2022 throughout the season that he would be a 200 point player this year and his performance against Southampton suggested that is a very real possibility. At just £8.1 million he is a very appealing signing who is still owned by fewer than 10% of managers.
Focusing on defenders at clubs with a high likelihood of clean sheets particularly early in the season is a key consideration. Statistics show that early season matches tend to end up with a higher number of clean sheets than expected and both these sides managed 16 of them in 2021/22. You do wonder then at this stage of the season whether this might be the kind of game that both teams are so concerned about losing that they play in a low risk manner with at least 1 of them ending with a clean sheet.
Reece James (DEF) ranked highest for creativity on the ICT for all defenders in GWK 1 with 3 key passes and a passing success rate of over 92%. At just £6.0million he is so much cheaper than a couple of the other premier wing back options. Meanwhile despite not scoring against Everton, Raheem Sterling (MID) took 3 shots and was generally the most central of Chelsea's forwards. While the Blues are without a premium striker, his chances of getting into goal scoring positions remains high, while he has been involved in 12 goals (8 goals, 4 assists) in his previous 21 matches against Spurs.
Liverpool v Crystal Palace

Liverpool will be keen to bounce back from their draw at Fulham on the opening day and even at this early stage of the season they know that giving up more points to a City team that doesn't lose many games puts them in a difficult position.
Palace used to be a bit of a bogey team for Liverpool, with Jurgen Klopp losing his first 2 matches at Anfield v the Eagles. However, since 2017 Liverpool have won 10 Premier League fixtures in a row against Palace scoring 30 goals in the process.
Mo Salah (MID) has more goal involvements (7 goals, 6 assists) v Palace in the Premier League than against any other team and it feels like managers will need to make a choice between him and Haaland as far as the captaincy is concerned for GWK2. Roberto Firmino (FWD) also has a good record against Palace with 6 goals from 13 prior encounters but surely Klopp will be tempted to start with Darwin Nunez (FWD) in this match.
The Uruguayan may only have been introduced as a 2nd half substitute but had an incredible impact in GWK 1 finishing as the number 1 ranked player on the ICT with an expected goals of 1.67 despite only playing 37 mins. Factored out across the whole 90 mins that would be an incredible expected goals of 4.07 which should certainly make FPL managers sit up and take notice especially given his £9.0 million price tag!
For Palace, Odsonne Édouard (FWD) looked their mostly likely goal threat with an expected goals of 0.52 from his 59 mins on the pitch. He scored against Liverpool last season and you can bet that Palace will be targeting a fragile looking Liverpool defence and in particular TAA at the back post with the physicality that Édouard amongst others can bring.
All logos are shared via a non-free rationale under the fair usage doctrine