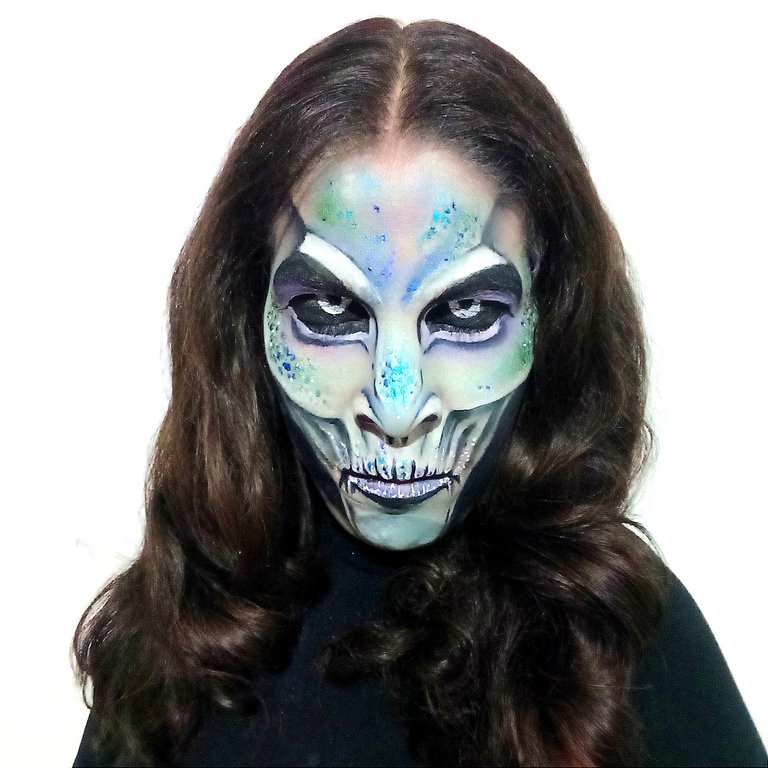 Artistic make-up The Witch
Maquillaje Artístico La Bruja.

For my beautiful community of

#makeuppower

a warm hug. It's been a year since I've been sharing my makeup works mostly artistic in this space and I thank the community for the support given not only to me but to all the artists who day after day make their best effort to share their great work. In these times I feel a great progress in the community and I think that many share my opinion. We are much more active, we interact more, we are getting to know each other better and I think that in the most difficult moments is when relationships are consolidated and we can grow more by learning from the circumstances we go through. This is a time to give it all, to be better, to take on challenges, to take the bull by the horns and prove to ourselves that we can achieve anything we set our minds to and that the only limiting factor is the lack of confidence in our abilities. Without further ado, I leave you with this little reflection and the details of this makeup, enjoy it.

Para mi hermosa comunidad de

#makeuppower

un caluroso abrazo. Hace ya un año que vengo compartiendo mis trabajos de maquillaje mayormente artístico en este espacio y agradezco a la comunidad por el apoyo brindando no solo a mi sino a todos los artistas que día tras día hacen su mayor esfuerzo para compartir sus grandes labores. En estos tiempos siento un gran avance en la comunidad y pienso que muchos comparten mi opinión. Estamos mucho más activas, interactuamos más, nos estamos conociendo mejor y soy del pensamiento que en los momentos más difíciles es cuando más se consolidan las relaciones y podemos crecer más aprendiendo de las circunstancias por las que pasamos. Este es un tiempo de darlo todo, de ser mejores, de asumir retos, de tomar el toro por los cuernos y probarnos a nosotros mismos que podemos lograr todo lo que nos propongamos y que la única limitante es la falta de confianza en nuestras capacidades. Sin más, los dejo con esta pequeña reflexión y los detalles de este maquillaje, disfrútenlo.

| Step 1 | Paso 1 |
| --- | --- |
| I applied foundation all over my face. Although I will later apply body paint and other pigments I do this first step to have an even canvas otherwise I would have to deal with my skin imperfections. Then I applied a thin layer of white body paint and to finish I made the lines of expression of the character with a brown eyeliner pencil. You can hardly see them in the photo, but they are just guide lines. You will see it better later. | Apliqué base de maquillaje en todo el rostro. Aunque posteriormente aplicaré pintura corporal y otros pigmentos hago este primer paso para tener un lienzo uniforme ya que de lo contrario tendría que lidiar con las imperfecciones de mi piel. Luego apliqué una capa delgada de pintura corporal blanca y para terminar realicé las líneas de expresión del personaje con un lápiz delineador marrón. Casi no se aprecian en la foto, pero solo son líneas de guía. Más adelante lo verán mejor. |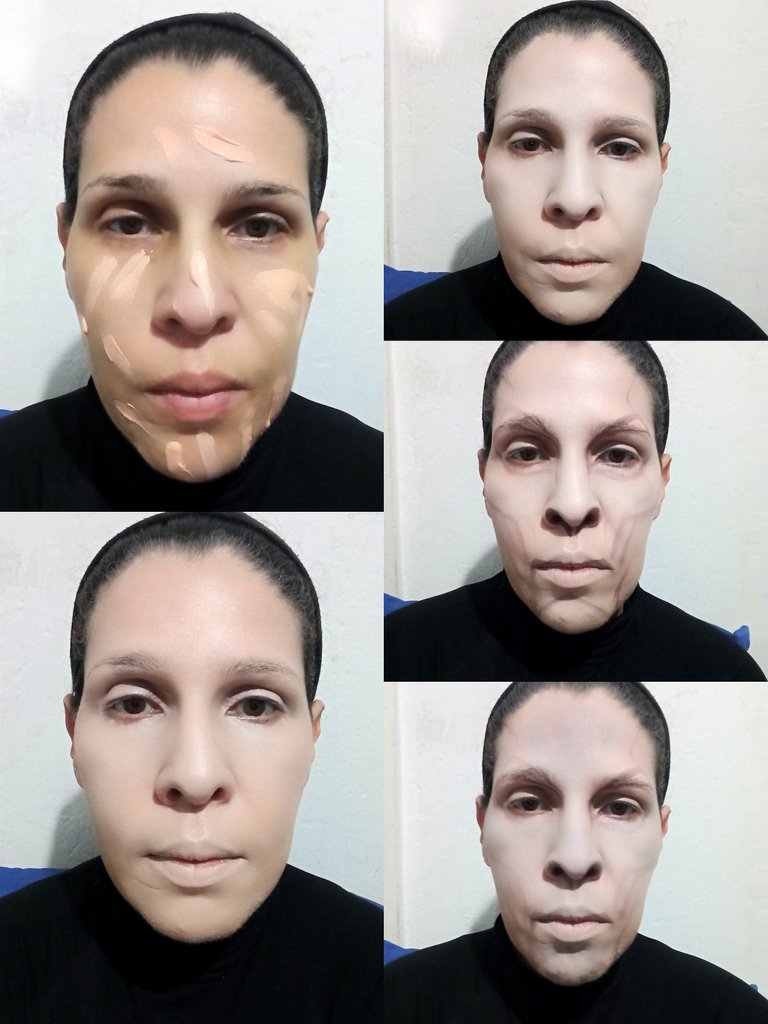 | Step 2 | Paso 2 |
| --- | --- |
| With leaf green shadow moistened with water, I worked the guide lines I mentioned in the previous step. I did the same with purple to emphasize the eyebrow area and eye contour. Then I applied green shadow in different shades all over the face. | Con sombra verde hoja humedecida con agua, trabajé las líneas de guía que les mencioné en el paso anterior. Hice lo mismo con la morada para enfatizar el área de las cejas y el contorno de los ojos. Luego apliqué sombra verde en distintos tonos en todo el rostro. |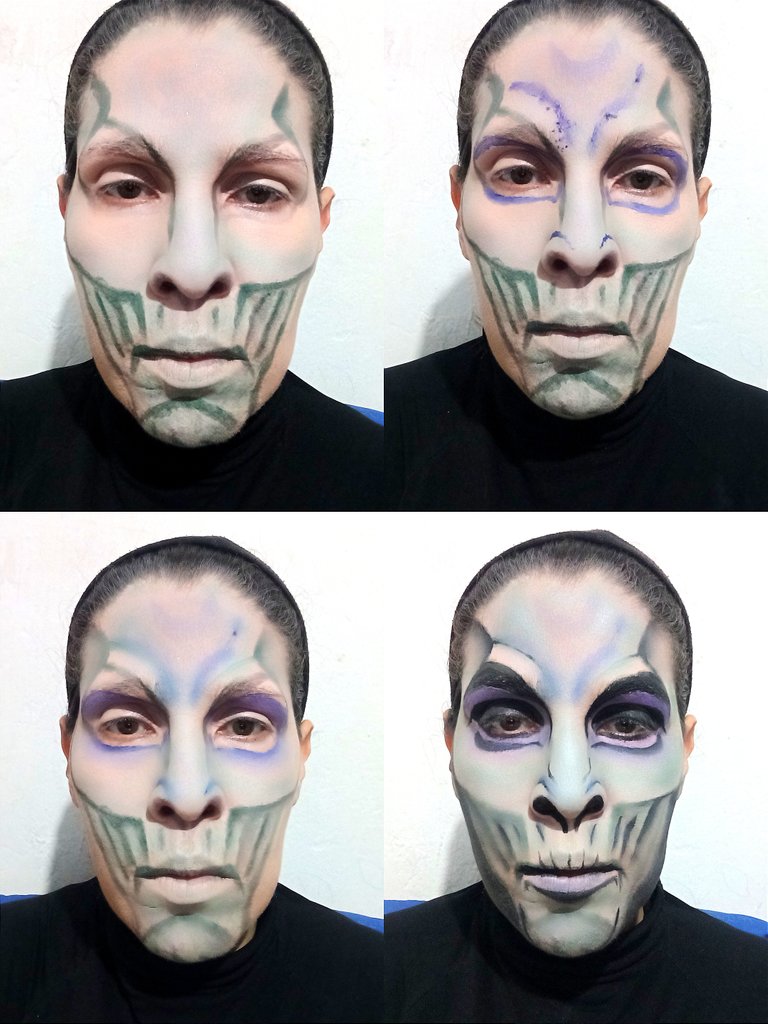 | Step 3 | Paso 3 |
| --- | --- |
| I applied black body paint on the eyelids to make the character's eyes. I worked the lines that represent the folds of the skin to give more out and presence to the work. Remember that details tend to get lost through the camera lens. I am still struggling with my shyness in applying pigments. I kept applying white body paint where I needed volume like eyebrows, eyelids and lips. | Apliqué pintura corporal negra en los párpados para realizar los ojos del personaje. Trabajé las líneas que representan los pliegues de la piel para dar más fuera y presencia al trabajo. Recordemos que los detalles tienen a perderse a través del lente de la cámara. Yo aún sigo luchando con mi timidez en la aplicación de pigmentos. Seguí aplicando pintura corporal blanca en los lugares que necesitaba volumen como cejas, párpados y labios. |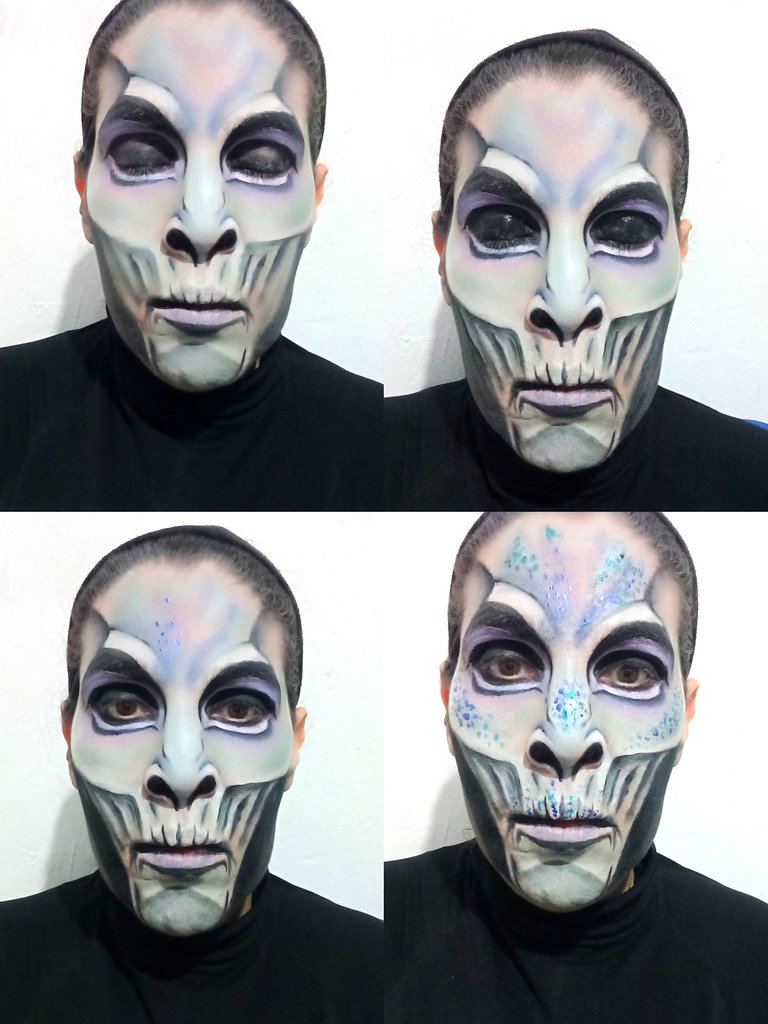 | Step 4 | Paso 4 |
| --- | --- |
| I did the pupil work with white cold paint and placed dots of and color on various areas of the skin. | Realicé el trabajo de las pupilas con pintura al frío blanco y coloqué puntos de y color en varias zonas de la piel. |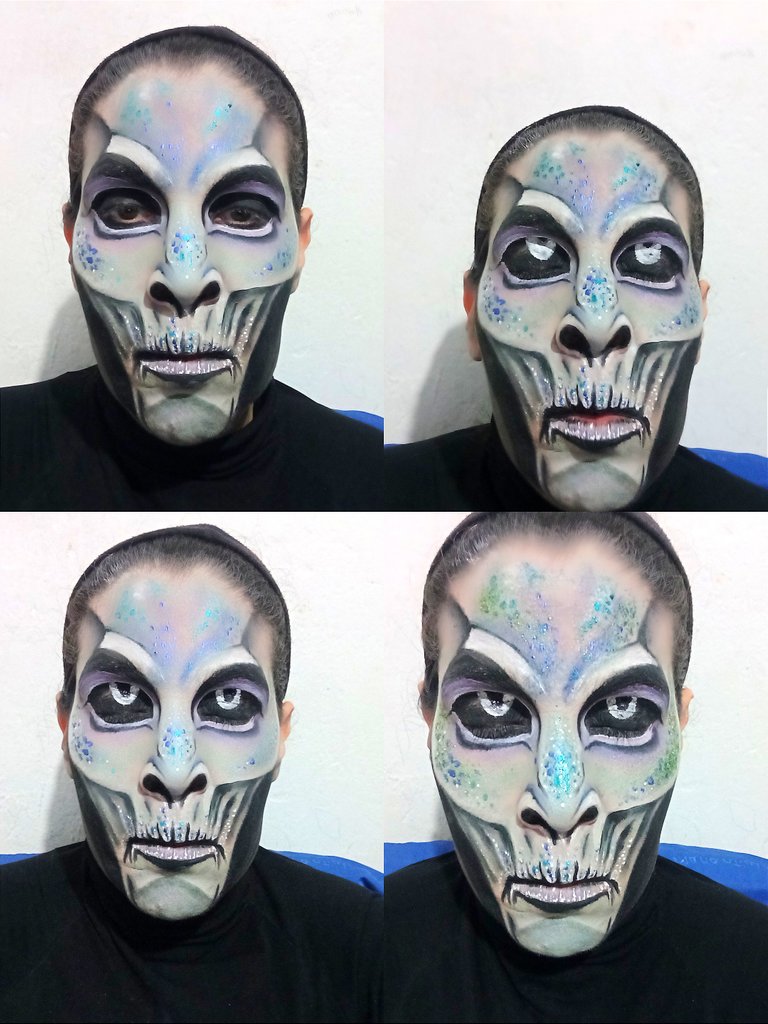 That's all for today my dear friends. I say goodbye until a next installment but not before inviting you to remain active supporting the activities of

#makeuppower

and the creations of our friends and colleagues, I have full confidence that many and better things are to come. Greetings, success and blessings.

Esto es todo por hoy mis estimados amigos. Me despido hasta una próxima entrega no sin antes invitarles a que sigan activos apoyando las actividades de

#makeuppower

y las creaciones de nuestros amigos y colegas, tengo plena confianza en que muchas y mejores cosas están por venir. Saludos, exitos y bendiciones.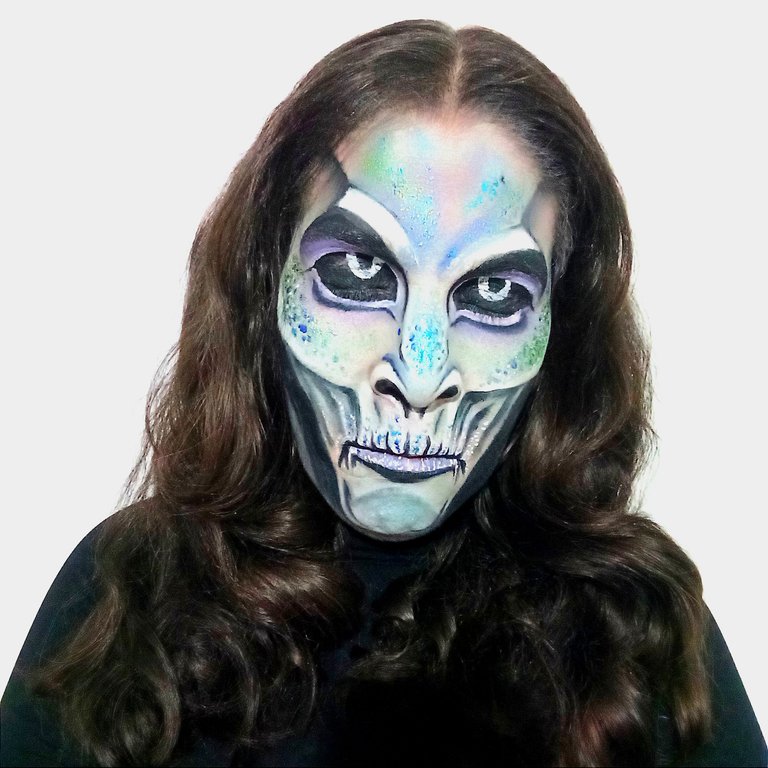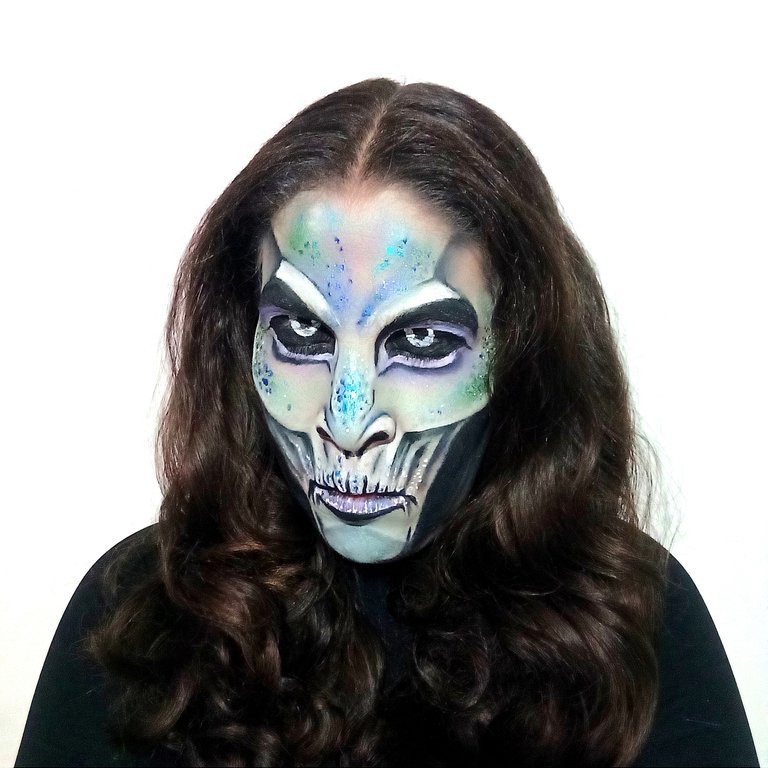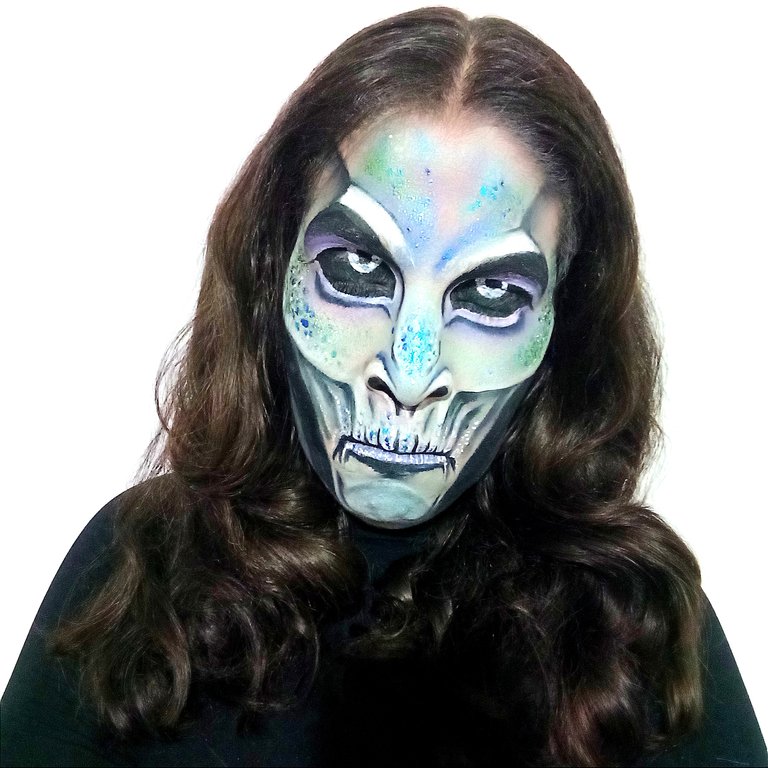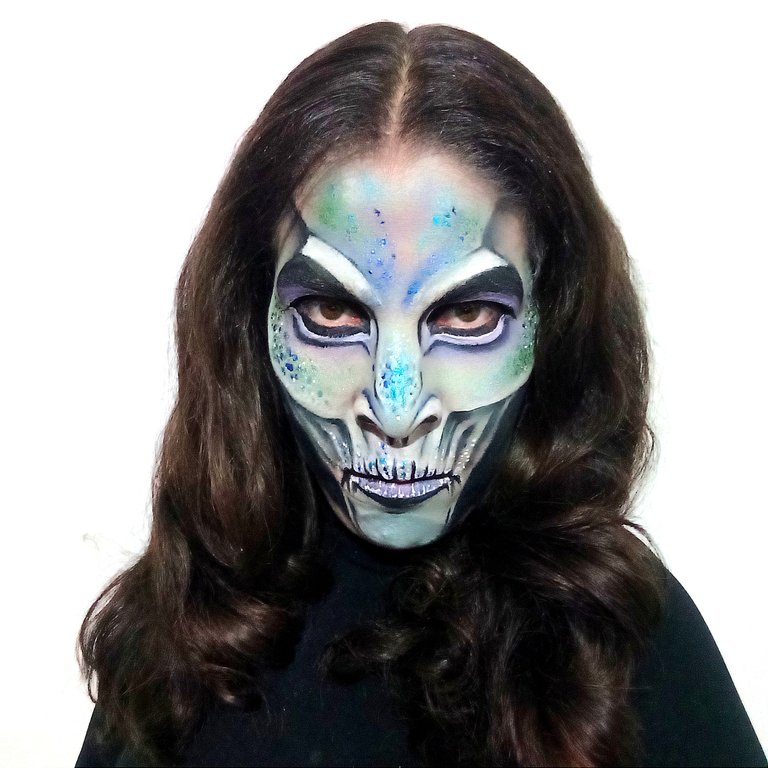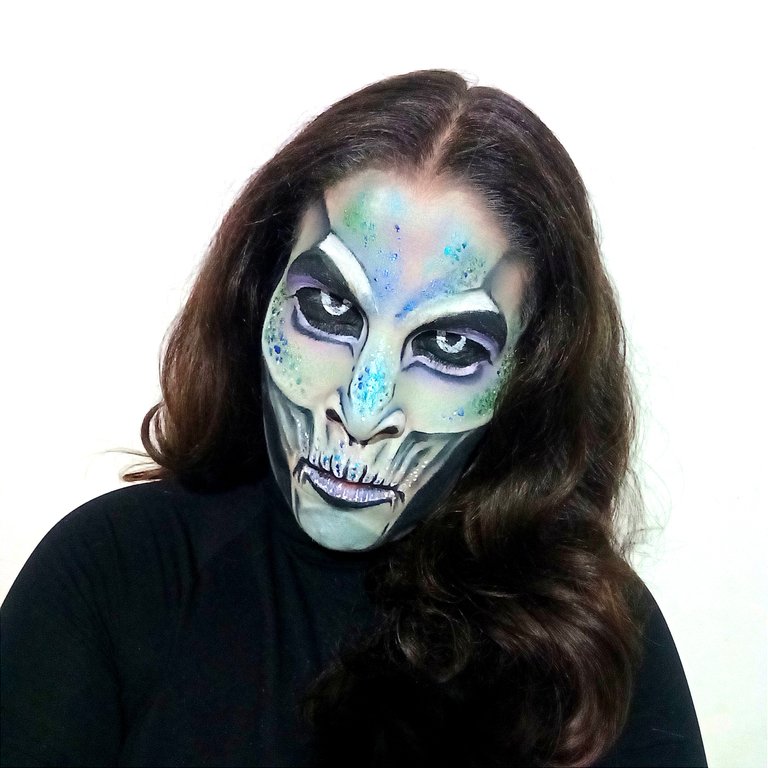 Traductor: DeepL Translate
Imágenes Editadas En : Canva
Fotos Tomadas Con Mi Teléfono Redmi 10 .

Translated in: DeepL Translate
Images edited in: Canva
Photos taken with my Redmi 10 phone.