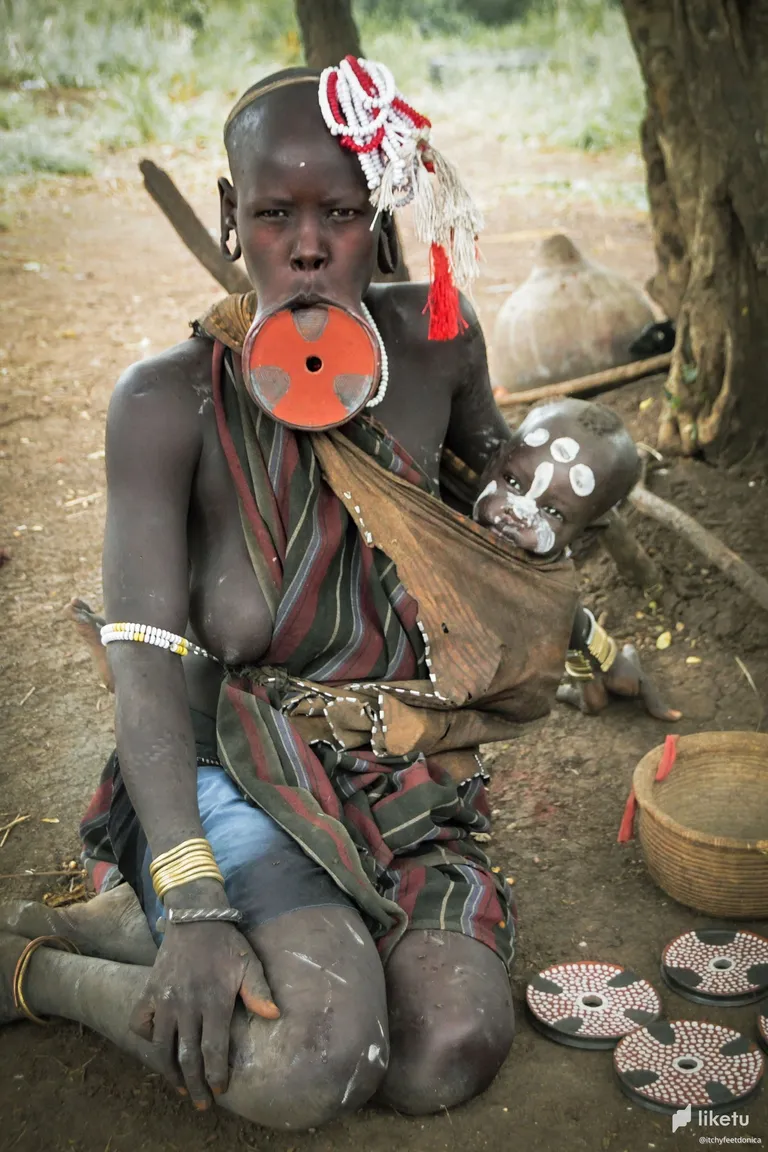 This week's Deranged Photography Contest theme is Portraits, and I missed the previous theme, Hit Me with Your Best Shot. So some tribe portraits came to mind. Instead of my Best Shots, these are among my least favorites.
Does that sound strange? It was indeed a strange experience for me, so much so that I didn't go through these photos until today. Visiting tribes sounds exotic, and most of the experiences were truly fun for me. I have previously shared some of them already on Steemit. I enjoyed those natural moments and genuine interactions when the lovely kids voluntarily posed in front of my camera, and when the friendly locals granted me permission to photograph them on their land...
However, there was a time in southern Ethiopia when I had unpleasant experiences. It's in the Mursi tribe where women traditionally wear plates at their lower lips. The discs are typically made of clay, though some are made of wood. They have patterns painted on them and vary in size, as you can see in my photos. I suppose it hurt when they first started inserting the plate into their lips as teenagers, but for the tribal women, it's a symbol of beauty and identity, so they're very proud of it.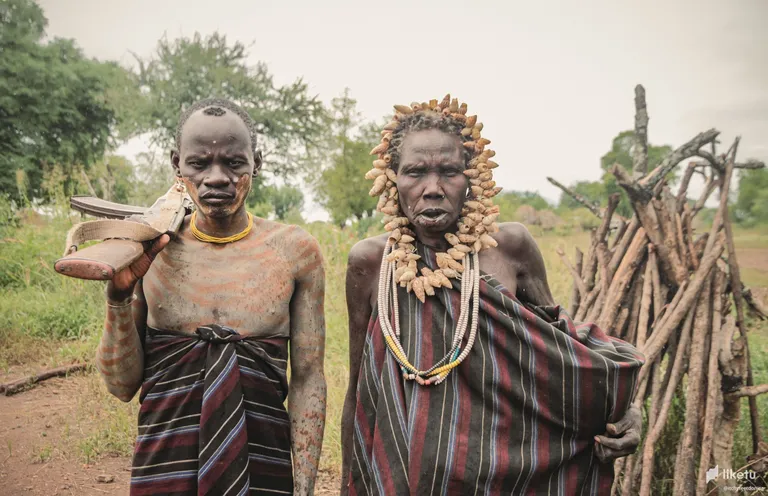 I started a road trip to the south with another solo female traveler I met in the capital, and we were escorted to this Mursi tribal village by a local guide. I recall paying an entrance fee to the Mago National Park where the village was, and as tourists, it was not surprising to see the tribe people asking again for money for photos. I saw the lip plates being removed while the women were doing chores, but they quickly put them back when visitors approached.
It became disturbing when they kept touching me to ask for tips, even when I was just walking around without photographing them. I didn't mind paying for photos, but it was getting increasingly difficult for me to simply walk around in peace. I also began to blame myself as a curious tourist who might have contributed to the over-tourism.
When the mood or vibe isn't right, I just don't feel like shooting. I was uneasy and hesitant to take pictures because they always appeared aggressive. As a result, I only took 5 photos in this village (3 portraits and 2 landscapes), which is far fewer than usual.
Since I didn't enjoy those photos, I never edited or posted them before. When I look at them now, over 5 years later, these only 3 portraits from then seem precious. Although they are not closeups focusing on the lip plates as I had intended, they captured the characters of the people there, at least to me on that day of my visit.
So, I thought it might be interesting to share this lesson and the unique tribe culture with you here. How about you? Do you have any similar travel or shooting experience?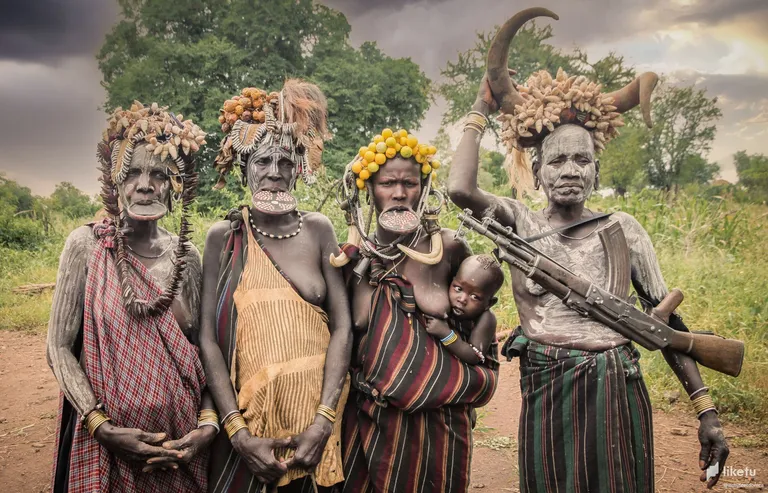 本周Deranged摄影活动的主题是肖像,我想到之前在埃塞俄比亚的唇盘族部落拍的几张人像。
虽然看起来猎奇,但那次旅行和拍摄经历并不愉快,因为不喜欢这些照片,也就没去整理发布,直到今天才再来回看。 以前分享过一些探访其他部落的照片和经历,那些都是在自然友好的互动中产生的,所以是美好的体验,而唇盘族部落之行给我留下的印象却很差。
根据这个穆尔西部落的传统,女性从十几岁开始会在下嘴唇戴上圆盘,一般由粘土或木头制成,有不同尺寸。我觉得当初刚戴时可能会痛,圆盘拿掉时下嘴唇耷拉下来也很怪异,但是对于部落的女人们来说,这是美丽和身份的象征。
当时我和另一个在首都遇到的女游客一起上路,由当地向导推介带到了这个部落。那天也就我们两个游客,本以为不会很聒噪,结果刚到村里,族人就不断上前来找我们要小费,推推搡搡地很不舒服,尽管我们大部分时间只是随便走走,并没有一直拍照的打算。被逼着付钱拍了这三张照片后,我已经没心情再拍那些唇盘了,又拍了两张风景就想赶紧逃离现场。
现在五年多过去了,再次看到这几张神情诡异的照片,也来分享下那段奇葩的经历和这个部落独特的文化。不知道大家有没有类似的旅拍经历呢?
All content by @itchyfeetdonica. Thank you for visiting!
图文 by Donica,谢谢来访!=)




For the best experience view this post on Liketu