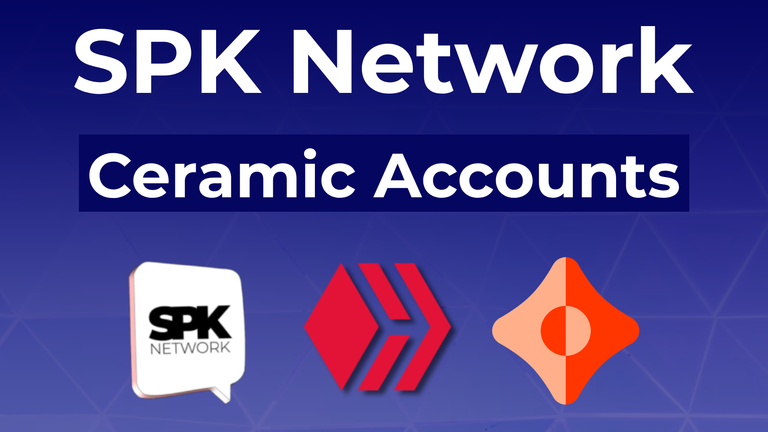 The SPK Network is going to use a lot of great technology. Besides IPFS, one of the technologies that we are developing on and are going to implement is Ceramic Network. You can read more about this here.
Ceramic is a decentralized data network that brings unlimited data composability to Web3 applications.
Off-chain indexing:
Our team has been working on a system to index content on and off the Hive blockchain. The off-chain indexer uses ceramic so that platforms can easily implement off-chain posting and pull off-chain content to display on their front ends. Some of the system features are:
Off-chain posts and comments.

Exchanging subgraphs: Nodes on the network will be able to exchange a list of comments/reactions of a root post despite not inherently storing the data, allowing for easier sharding and fewer resources per node.

Full-text search and tag search.

Automatically run your Ceramic daemon inside the docker container.

Oplog support: A simple API for querying a feed of activities occurring on the indexing node. It does not represent the entire network, but it can help applications feed new info into their DB.

A Custodian system: It will let node operators know who is responsible for each subgraph. This will allow for better scalability without pushing a ton of unnecessary data out onto open pubsub channels. In the future, with thousands of nodes, it may be a necessary implementation for sufficient scalability.
Main value proposition:
Easy onboarding. Onboarding is the same as typical web2 instant sign-ups and is not as complicated as getting a web3 account.

Content is not permanent and is posted off-chain, reducing the load on hive blockchain transactions and costs. Off-chain Upvotes and downvotes to come in the future as well.

Lower cost per node = more redundancy/scalability/decentralizartion.

Multi-Chain Posting - Ability to support Ethereum & other blockchain identities. Meaning you can go to 0x0123.... and see posts from that user. Of course, those posts will not be stored on the Ethereum blockchain but this ceramic system or Hive.
Ceramic and the SPK Network ecosystem
Other projects like DLux and DBuzz will integrate ceramic accounts as well.

3Speak has created a chain indexer as part of the SPK Network. This technology helps index content that is posted on the Hive blockchain to be used off-chain, so other apps can easily use it on their social media frontends.

Ceramic accounts will allow new users a very easy sign up to Hive and the SPK Network ecosystems without understanding complicated private keys.
Three simple phases to sign up and interoperate, cross chains:
Get a Ceramic account and post off-chain.
Get a Hive account to be able to post on-chain.
Attach Hive, Ethereum, and other blockchain accounts to your ceramic account.
Welcoming Ethereum Community to Web3 Content Posting:
We want to welcome Ethereum and other blockchain users to Hive and SPK Network. The main idea is that they can easily post on social media apps from their blockchain accounts using ceramic technology. They won't be forced to have a Hive account. They can be introduced to the ecosystem in the phases described above.
---

---
About the SPK Network:
The SPK Network is a decentralized Web 3.0 protocol that rewards value creators and infrastructure providers appropriately and autonomously by distributing reward tokens in such a way that every user, creator, and platform, will be able to earn rewards on a level playing field.