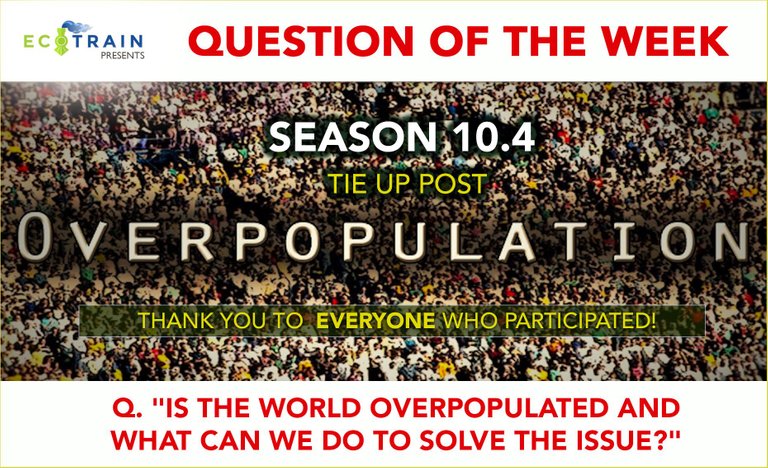 What do around 80 people from all around the world think about this!? The response this week was incredible, as always, and your posts have revealed that so many of us here on Hive are able to think out of the box and the mainstream narrative. This is a question that needs one to think past the obvious symptoms of overpopulation and to look deeper at the issue to discover the truth about whether our planet can sustain so many people and potentially many more! Whilst some of us did feel that that there are too many people on this earth, the vast majority have managed to unpack and very complex topic and reveal some deeper issues that have cause the problems that we face whether it be resources, pollution, waste etc. Whilst it may be true that with the way we do things today, and by we i mean those make the rules and provide the incentives that govern what really happens on a large scale, we cannot continue to grow in numbers. Our earth can not carry us for as long as continue to operate as we did back in the industrial age, but times are a changin, and as slow as those changes may seem, we are finally waking up to the need to do things differently. The question is, if we are able to make changes to the way our system operates, is there still room for us all to live without causing terrible consequences? Well lets see what some of you wrote and think in the hand picked posts below.
Thank you to EVERYONE who posted, and shared your opinions and ideas. It is always incredibly hard to choose posts from so many great ones, and this week i thank @esther-emmanuel for helping me choose some posts for this curation! The posts we have chosen are not necessarily the best, because how can we say what the right or wrong answer to this is, so we like to choose those posts that do stand out or are from people who have written some wise words but have not been noticed to much as they may be new on HIve etc. If you would like to check out the entire feed for this #qotw then please visit the tag or use this link: https://peakd.com/trending/qotw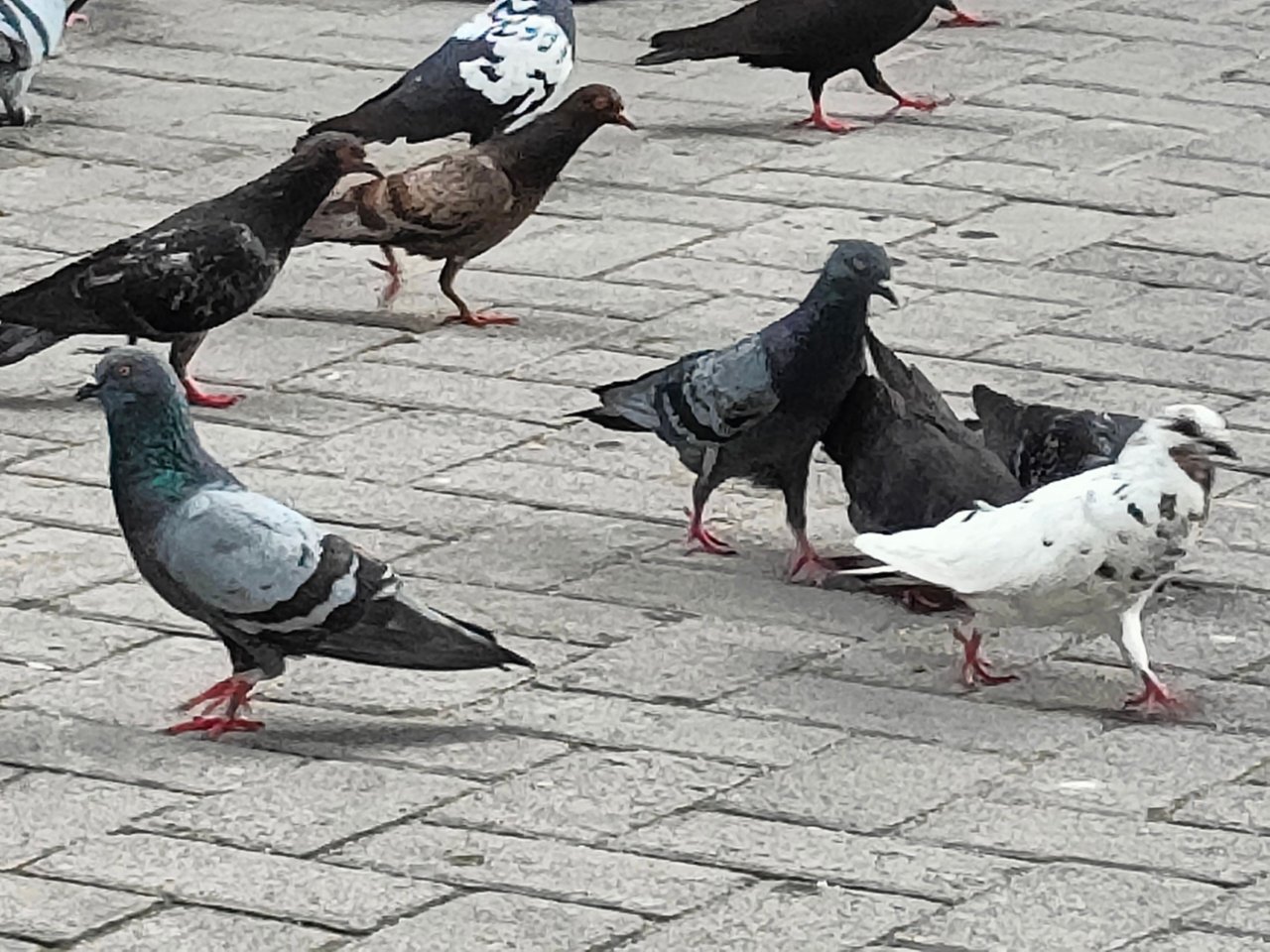 Every living thing that has the right to live in this world, without exception. Because when God created a life, God already had a plan with that living creature, all living things that God created were useful to others even though the living creature was only "a mosquito". a mosquito to humans may be useless but mosquitoes contribute to the life of other animals such as lizards. One of the characteristics of living things and is the essence of living things themselves is to reproduce, every living thing has the right to have offspring. Because reproduction is one of the essences of living things, this causes our earth to become denser with the increase in human population every day.
---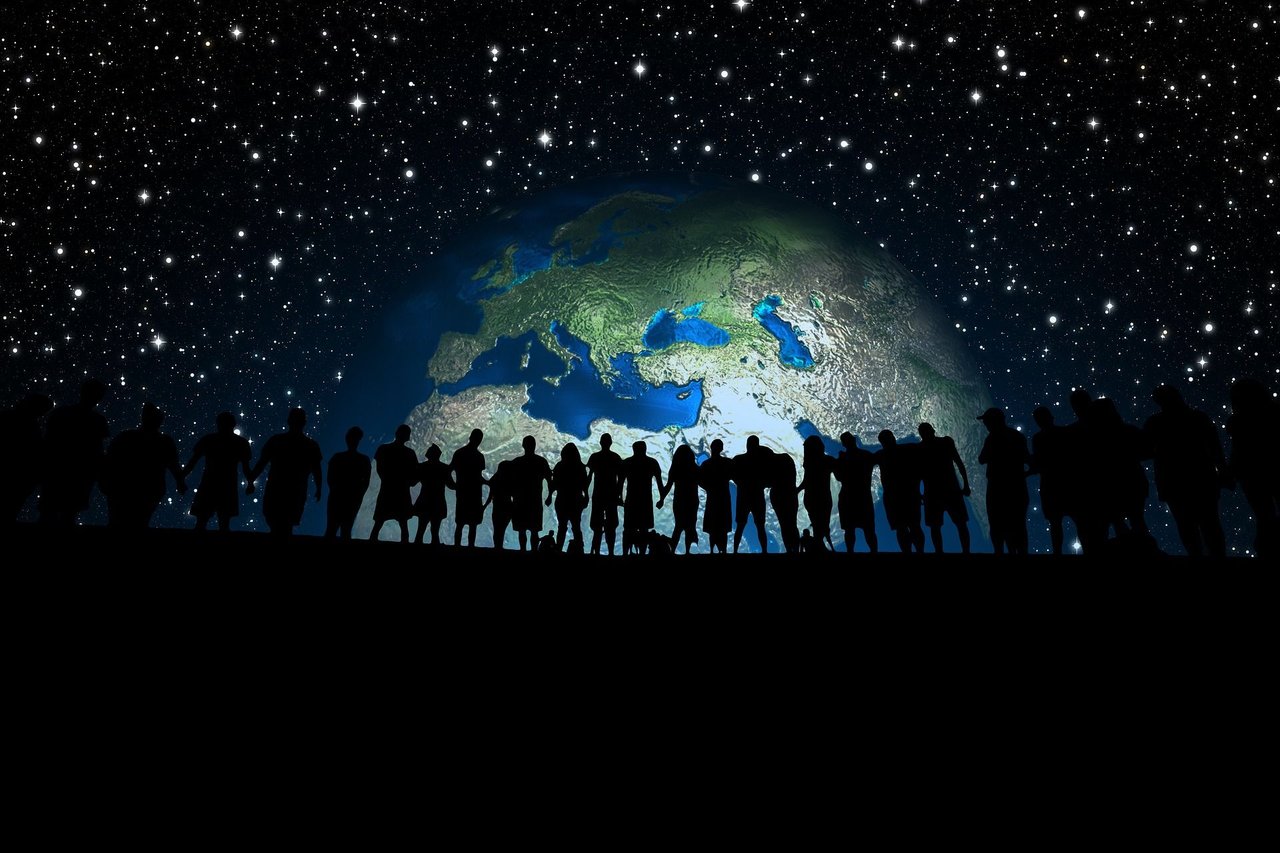 Focusing on the land factor, we already know that most of the world's land is owned by a the super rich families and the giant multinationals. It will be a problem getting them to "give-up" their ownership and redistribute it to the majority who do not own any land at all. On the other hand, limiting the number of children with a hard cap might not do it also. China did it, but at what price? I believe that if we go this route, that it should be a more lenient way with more social support and educating the public about it. Limiting the number of births might create an imbalance in the demographics of the population where there can be, possibly, be only one (1) child supporting his parents and grandparents. That alone is a 1:6 ratio. Add another mouth to feed, if he or she, chose to have one child also and the ratio becomes 1:7. If he or she has a spouse, then that ratio becomes 2:7. If the great grandparents lived a healthy life, then that adds another one to eight mouths to feed, which isn't a problem with a healthy economy and progressive social security system in place, but how many countries have that. Not every country has the Norweigan Government Pension Fund at their disposal.
---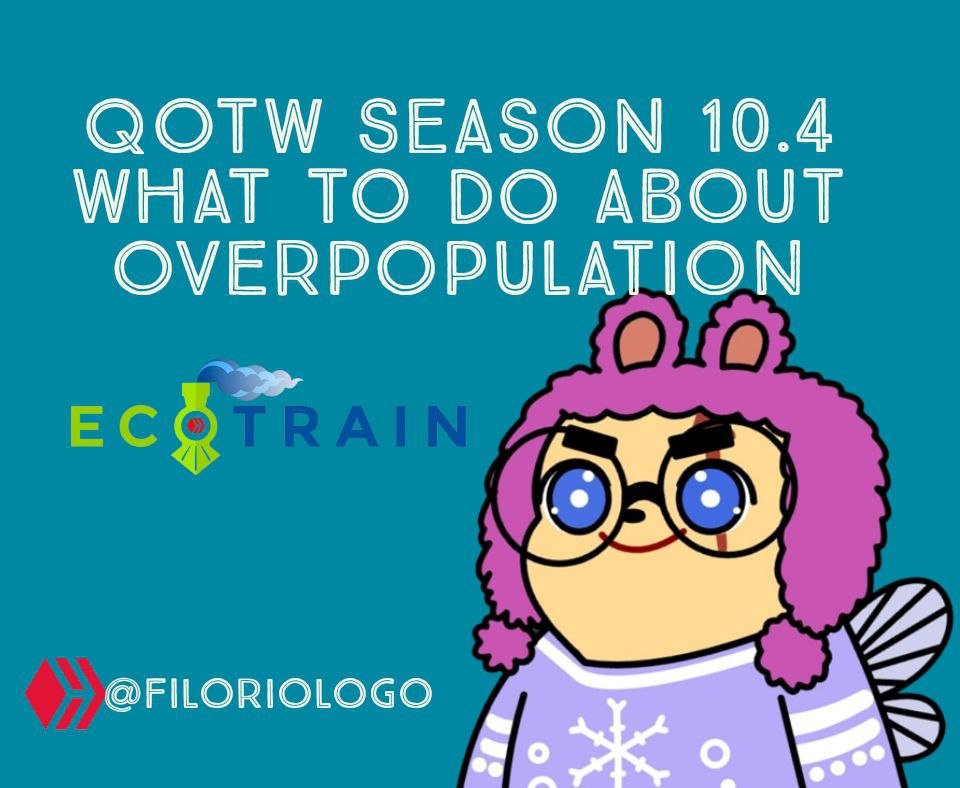 I think that the problem of overpopulation is just the surface of a bigger problem, it is just the tip of the iceberg, and as always or almost always as a society we confuse the medium with the message, that is, we think that the waves on the surface of the ocean is the whole ocean. The overpopulation of human beings reveals other social problems, which we must think about solving first, and only then the problem of overpopulation will be solved. I refuse to think that we can solve overpopulation just by addressing the birth rate issue, although it may seem logical, but it would not be attacking the real issue at its root. It is as if a patient arrives at the hospital with abdominal pain, and after a few check-ups it is concluded that what affects the patient is an appendicitis and the only thing that is decided is to give him painkillers, it is true that eventually he will stop feeling abdominal pain, but as the cause was not intervened directly, but on its effect (pain), he will end up suffering from peritonitis and that is something much more serious.
---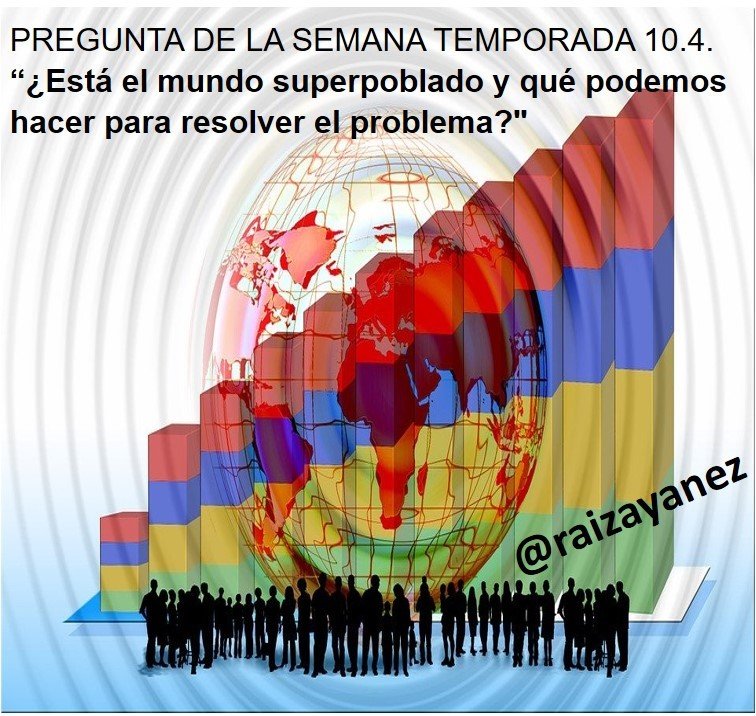 It is becoming increasingly common to see population growth, particularly in urban centres and major cities around the world. This trend has been increasing for several decades, starting with the first industrialisation revolution that drove people to migrate to cities in search of better job opportunities. However, there are other reasons involved such as the demographic explosion, increasing birth rate, decreasing mortality and life expectancy among others.
From my point of view both are relevant, but the distribution of the population is a factor that accentuates the problem, creating saturation and collapse of some cities and regions in contrast to other areas with low population density, even if they have sufficient conditions of habitability to develop population centres, in more sustainable conditions than in the cities.
---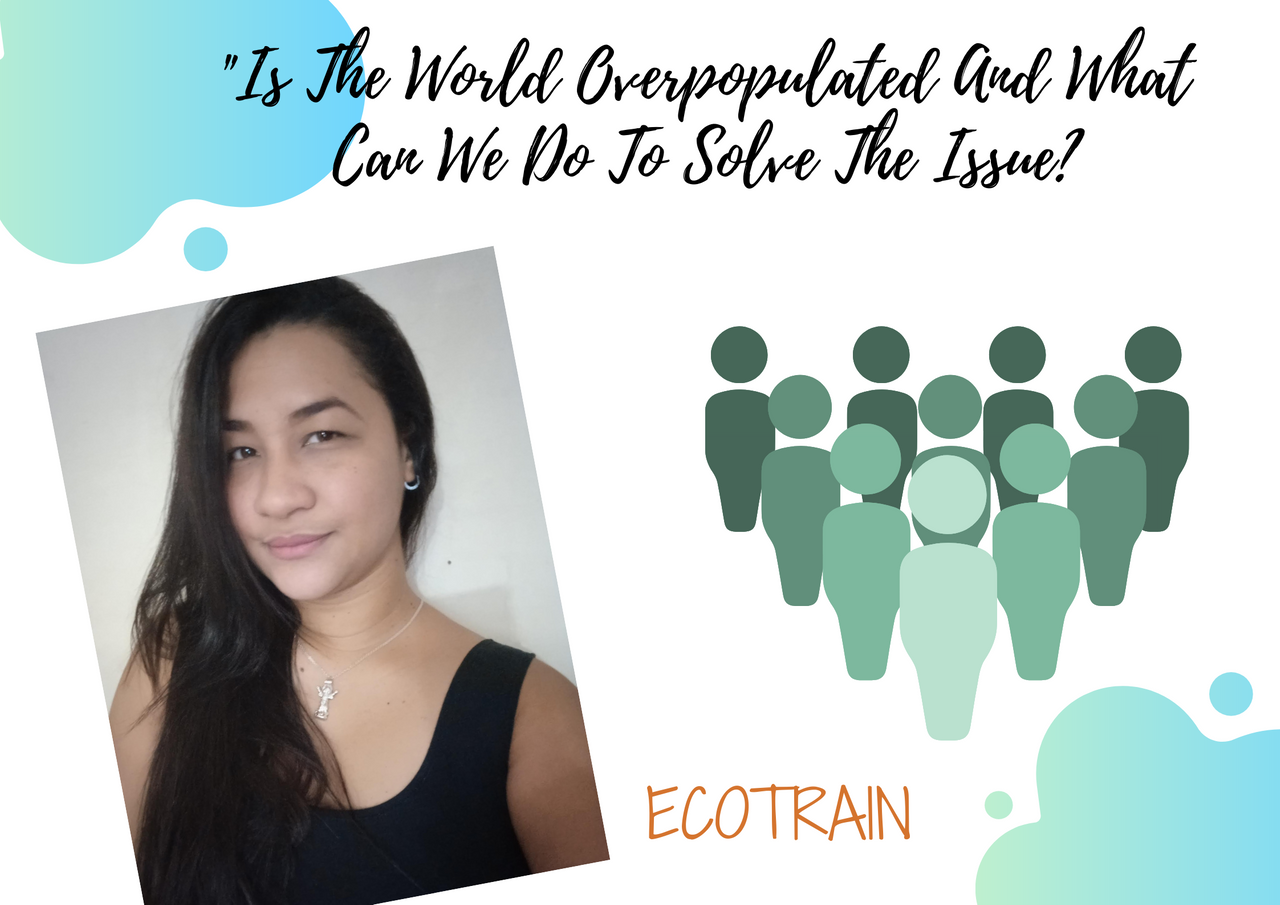 Welcome to my blog friends of Hive, especially to this dear community that asks us a very important question every now and then, it makes us analyze from a different perspective looking for the balance between 2 worlds. In this opportunity I will be talking about the world when it is overpopulated and how we can fight for this to diminish in great totality, that is why for today's publication I will be presenting my knowledge and what I think about this controversial topic for the whole world.
Currently we are in a very populated world and therefore things look different since overpopulation has generated a great impact on the agglomeration of places, schools, parks and others, that is why we must try to minimize the impact in order to have a stable control between birth and mortality, it is estimated that there is a high percentage of birth, this directly influences the work, education and family that is why we must start working on that.
---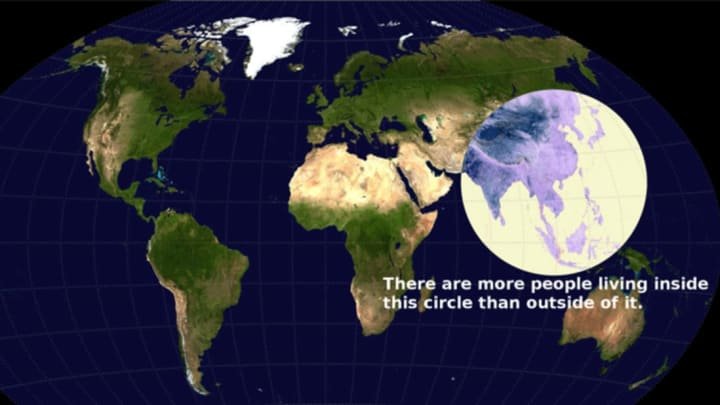 you can see my answer to this question is a definite no, I don't think the world is overpopulated, even with close to eight billion mouths to feed (and bodies needed to be washed, etc). Though before leaving it at that, there are at the same time a number of related factors to address, or else my answer could easily flip to the opposite.
Overpopulation ... Where?
When I look around myself most of the time (in most places I like to hang out), I don't see that we are overpopulated. That may be because I am naturally drawn to rural, sparsely populated places, while at the same time living on a relatively sparsely populated continent. Ironically, however, Mexico City, the place I call home and keep going back to, happens to be one of the most densely populated regions of not only the country, but in fact on the entire double continent. WOW! And it's true: whenever I am there, my immediate answer to this same question is accordingly an enthusiastic yes, we're hella overpopulated!!!
---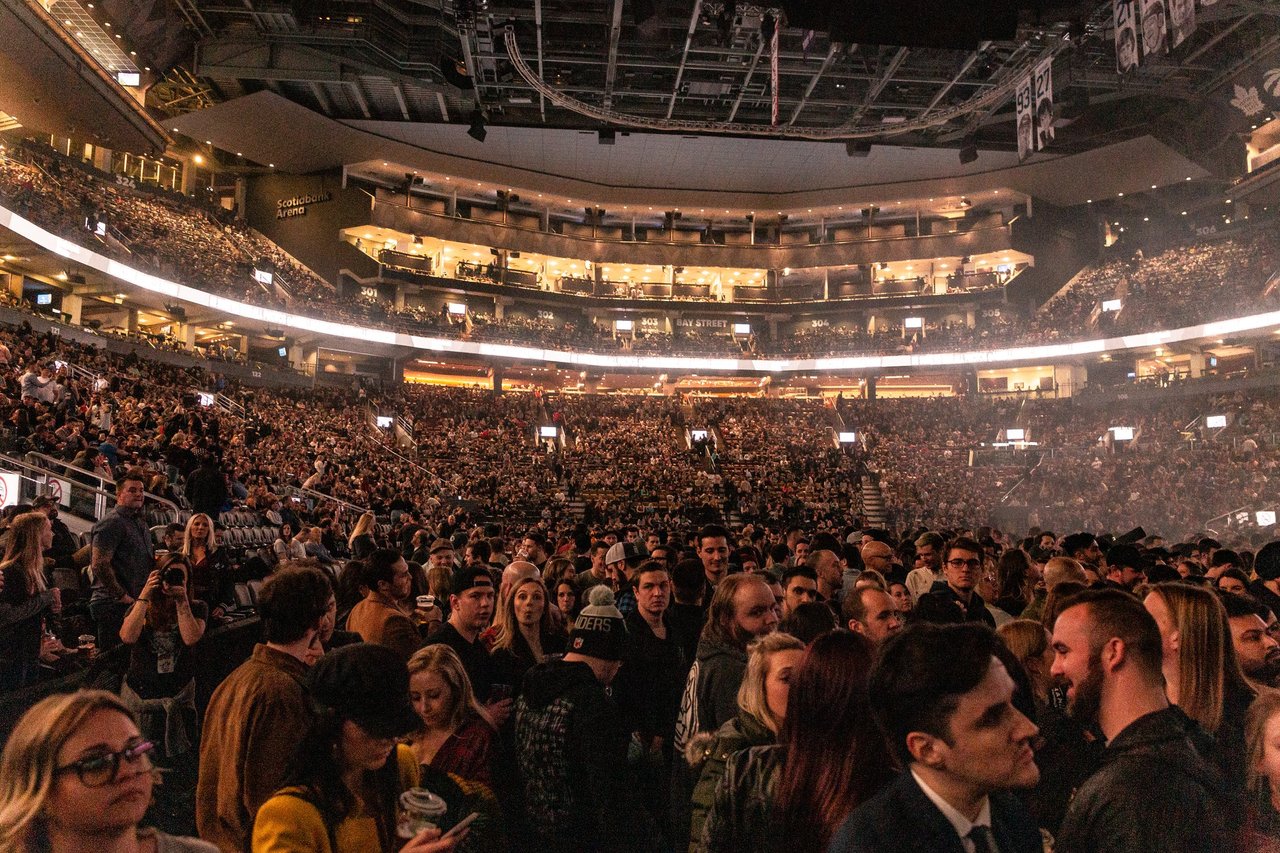 Like it was rightly mentioned in the contest post that, 95% of people occupies 10% of the land available. Seeing it from this perspective, I'll say that the world is not overpopulated but it is being underused both the land and it's resources. In my country, I've come to realize that the rich keeps buying more lands and building sophisticated houses on it and there by leaving the poor to just a little space in the society.
We find out then that, we are the root cause of overpopulation in some part of the world. The rich acquire as many space as possible and leave a very minimal space to the poor. They establish big firms and companies in them thereby dragging people to those part of the world and mind you, they've occupied these places with their huge firms and companies and even their mansions and leave those they employ to just a little space
---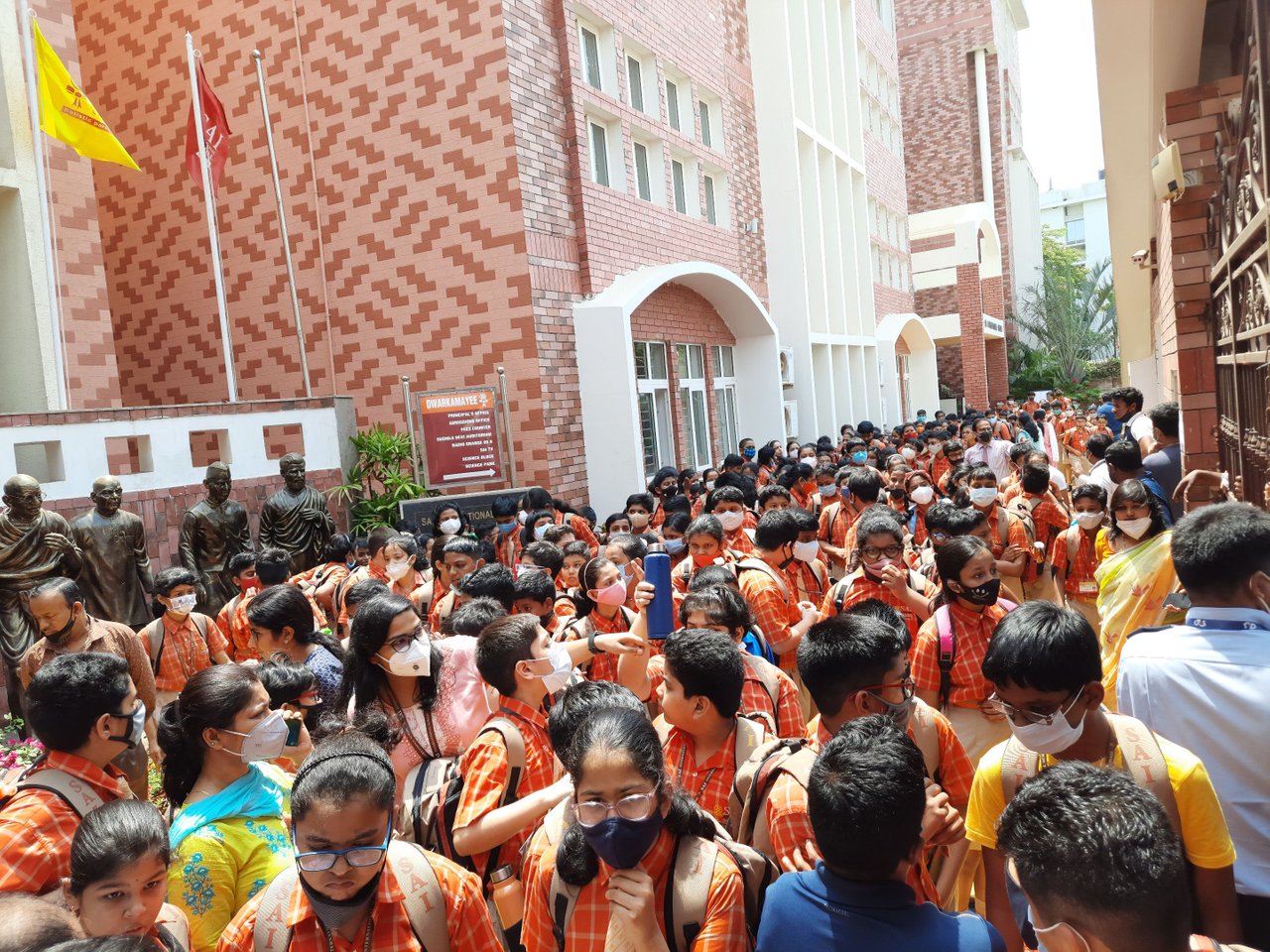 Unfortunately, India is a leading contributor to this problem with 1.4 billion people consistently putting their hard effort to claim the winner spot, but no one wants to even raise the issue, forget about solving it. There is no statistics about which sector has more power to contribute more, but I am sure, the middle class loose their stance quite soon. Before marriage, I was thinking to have a lot of kids, but then I gave up the idea after admitting my son in the play school. The cost of that admission was more than the amount spent on my entire education - how lucky our parents were. Literally, I would have needed few clones of myself to work hard to meet the need, had I not given up that idea. With two kids only, I have already conveyed them that, there is nothing left after their education - literally no asset or money. I am loosing my vision very fast working day in and out, trying to make some extra money by writing here and save it for my retirement. They have to stand on their own feet else.....
---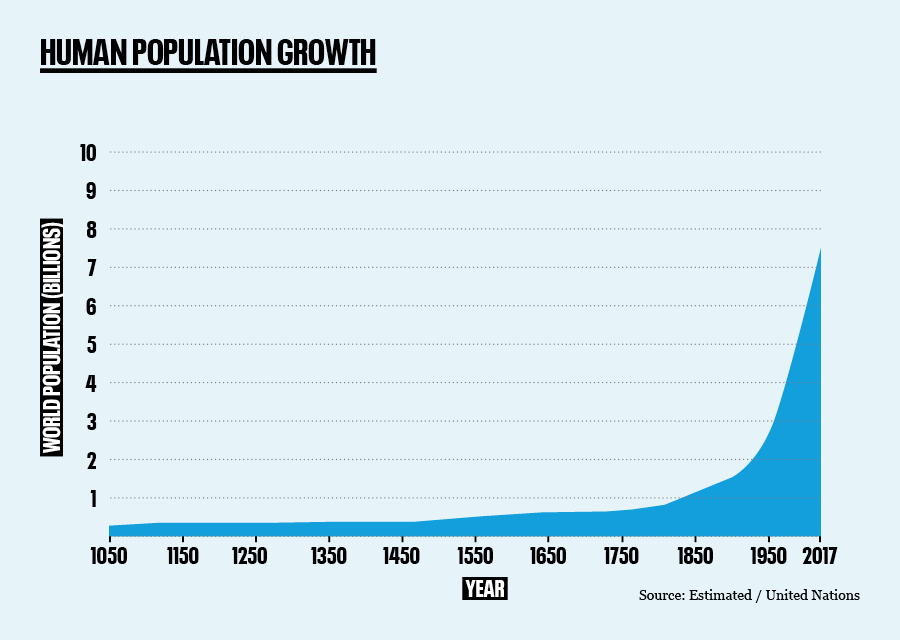 The rapid growth of the Human population in recent decades has dramatically shifted the daily experience of life on Earth. There is no way around it, life is harder for most people simply because of the sheer volume of people that currently exist and the damage being done to the surface of the planet is ever increasing. We need to understand some of the hidden parts to human history in order to find solutions to such large and all encompassing problems.
As it turns out, several groups have allegedly taken it upon themselves to covertly lower the world's population over the decades; with debatable results. Activist, Kevin Galalae wrote several books on this topic and went on a long term hunger strike to draw public attention to the situation. His data shows that certain groups have been poisoning humanity via the water supply for generations in order to lower the reproduction rate. Water fluoridation consistently has a dramatic lowering effect on reproduction rates in every country that it is introduced to. Fluoride has long been known to be an endocrine system disruptor in humans, which directly affects reproduction. Kevin's data deserves more attention.
---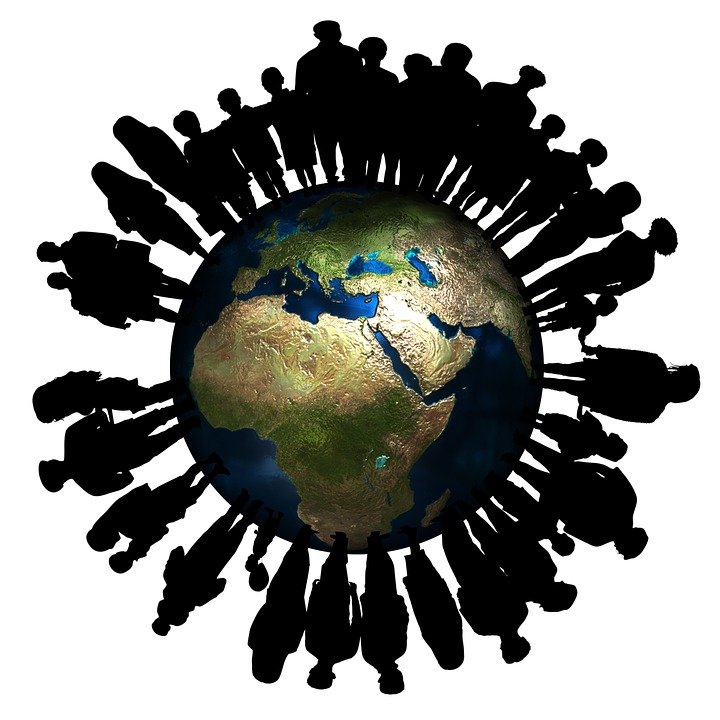 To speak of overpopulation is to speak of crowding, overcrowding, lack of space, in short. But to my way of understanding I consider that there is overpopulation, only in certain spaces, like the big cities, the big cities, because there is still land to inhabit, what there is not is the disposition to be able to inhabit them; Since for diverse factors, these populations do not have the resources with which to make them habitable, because these are destined to the big cities for many reasons.
That is why the vast majority of small populations that exist, migrate and occupy the places where there are better public services, where there is more economic activity, studies, generate much more jobs and consequently there are better opportunities to obtain an optimal quality of life and these places are the big cities, where they are focused all these qualities or benefits that we all seek in one way or another. People seek all these factors to have better opportunities for our life purposes and these opportunities are generally found in large cities, because it is here, where large investment funds are allocated, in every way, for example, for public services, for housing, for schools and universities and stop counting, causing a large number of people to migrate from their hometowns to large cities.
---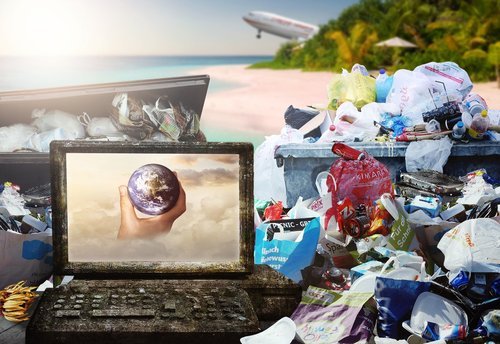 First of all, my warm greetings to the entire Ecotrain community and to the members of the QOTW initiative. Today in this new challenge we are asked a question, whose topic I touched on in my last post and which talks about the world population.
Personally, I think this topic should be treated with a lot of tact, since it touches on different positions, personal beliefs and visions of the problem and how to solve it. But personally, I also think that the topic of world overpopulation is very manipulated by the media and even more, that there is very little serious and very manipulated information on this point, so I think we must be very critical when giving our opinion on this matter and also know the information first hand.
Otherwise, we run the risk of becoming the protagonist of the novel "Inferno" by Dan Brown, whose general plot is the creation of a virus to control the world population and the struggle of the protagonist to prevent the pathogen from being released. In this science fiction book, the creator of the virus strain believes that in order to save the world, the world population must be controlled and in fact he believes he is a sort of messiah, savior of the world and has a group of followers of his theory in different countries.
Now, returning to reality, we can say that if it is true that the world population has grown exponentially since the years after the Second World War until today, it is also true that this is not the fundamental cause of the destruction of the environment, hunger and violence in the world.
---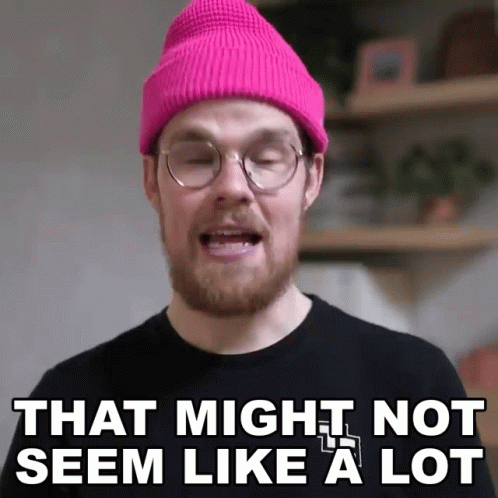 "Is The World Overpopulated And What Can We Do To Solve The Issue?" 7.9 Billion is a big number, I can't begin to think how many 0s would need to go on the end of that number, but I know it would be a lot. It's hard to think about a number like that and imagine quite how we all fit on this planet - at least not in a viable way. Now, we hear all kinds of proposals about how to fix this crisis, and how overpoluation and global warming will combine to an absolute catastrophe - and the truth is, it might. And, it's in those words, 'It might' - that perhaps, there's a solution.
Now, one of my personal challenges that my family has had, was that my wife and I couldn't have our own children. It's something that has been sad, but also, perhaps now, a source of released anxiety. You see - the climate challenge numbers that are getting put up are compelling. By 2100, we could well be stuffed. Heck! By 2050 we could be stuffed! There's some solace in knowing that when I'm gone, I'm not leaving children, grandchildren and further behind to deal with the complexities of that new, and very hot, century.
---

A SPECIAL THANK YOU TO OUR TEAM OF CURATORS AND COMMENTORS!
This post has the following beneficiaries
CHECK OUT OUR PREVIOUS QUESTIONS OF THE WEEK
SEASON 10
WHAT HABITS OR ADDICTIONS, BOTH GOOD AND BAD, HAVE YOU DEVELOPED AND WHICH YOU WOULD LIKE TO GET RID OF?
https://peakd.com/hive-123046/@ecotrain/ecotrain-qotw-tie-up-post-what-habits-or-addictions-both-good-and-bad-have-you-developed-and-which-you-would-like-to-get-rid-of
WHAT ASPECTS OF SUSTAINABILITY AND HOLISTIC LIVING ARE IMPORTANT TO YOU?
https://peakd.com/hive-123046/@ecotrain/ecotrain-qotw-tie-up-post-what-things-could-we-do-differently-to-reduce-climate-change

WHAT THINGS COULD WE DO DIFFERENTLY TO REDUCE CLIMATE CHANGE?
https://peakd.com/hive-123046/@ecotrain/question-of-the-week-tie-up-post-what-aspects-of-sustainability-and-holistic-living-are-important-to-you



SEASON 9
IF YOU COULD ASK GOD ONE QUESTION AND GOD WOULD GIVE YOU AN IMMEDIATE ANSWER WHAT WOULD THE QUESTION BE AND WHAT ANSWER WOULD YOU WANT TO HEAR?
https://peakd.com/hive-123046/@ecotrain/ecotrain-qotw-tie-up-post-season-98-if-you-could-ask-god-one-question
WHAT DOES SUCCESS LOOK LIKE FROM A SPIRITUAL PERSPECTIVE?
https://peakd.com/hive-123046/@ecotrain/ecotrain-qotw-tie-up-post-what-does-success-look-like-from-a-spiritual-perspective
WHY IS IT SO HARD TO MEDITATE?
https://peakd.com/hive-123046/@ecotrain/ecotrain-qotw-tie-up-post--why-is-it-so-hard-to-meditate
DO YOU BELIEVE IN DESTINY OR KARMA? CAN BOTH BE TRUE?
https://peakd.com/hive-123046/@ecotrain/ecotrain-qotw-tie-up-post-95-do-you-believe-in-destiny-and-karma-can-both-be-true
CAN SPIRITUALITY AND TECHNOLOGY LIVE TOGETHER?
https://peakd.com/hive-123046/@ecotrain/ecotrain-qotw-tie-up-post-can-spirituality-and-technology-live-together
HAVE YOU EVER WITNESSED A MIRACLE?
https://peakd.com/hive-123046/@ecotrain/ecotrain-qotw-tie-up-post-have-you-ever-witnessed-a-miracle
IF THERE IS A GOD WHY IS THERE SO MUCH SUFFERING IN THE WORLD?
https://peakd.com/hive-123046/@ecotrain/qotw-92-tie-up-post-wow-what-a-response-from-150-people-if-there-is-a-god-why-is-there-so-much-suffering-in-the-world
WHAT DOES SPIRITUALITY MEAN TO YOU?
https://peakd.com/hive-123046/@ecotrain/ecotrain-qotw-season-91-awards-post-what-does-spirituality-mean-to-you
---
SEASON 8

WHAT DO WE FEAR, WHY DO WE FEAR?
https://peakd.com/hive-123046/@ecotrain/ecotrain-qotw-awards-post-what-do-we-fear-why-do-we-fear
WHAT PREVENTS ACTION?
https://peakd.com/hive-123046/@ecotrain/ecotrain-qotw-awards-wowwwwwwwwww-what-a-response
WHAT IS THE BEST KIND OF ACTION?
https://peakd.com/hive-123046/@ecotrain/ecotrain-qotw-awards-post-season-85-what-is-the-best-kind-of-action
IF NOT YOU THEN WHO? IF NOT NOW THEN WHEN?
https://peakd.com/hive-123046/@ecotrain/ecotrain-qotw-awards-post-season-84-if-not-you-then-who-if-not-now-then-when
WHAT ACTION DO YOU THINK NEEDS TO BE TAKEN TO COMBAT CLIMATE CHANGE?
https://peakd.com/hive-123046/@ecotrain/ecotrain-qotw-awards-post-season-83-what-action-do-you-think-needs-to-be-taken-to-combat-climate-change
WHAT ACTIONS DO YOU THINK ARE NEEDED IN YOUR LOCAL AREA?
https://peakd.com/hive-123046/@ecotrain/awards-post-ecotrain-question-of-the-week-season-82-what-actions-do-you-think-are-needed-in-your-local-area
WHAT ACTIONS HAVE YOU TAKEN IN YOUR LIFE THAT LED TO POSITIVE CHANGES?
https://peakd.com/hive-109038/@ecotrain/ecotrain-question-of-the-week-awards-post-season-81

Supporting People Who Help
Make The World A Better Place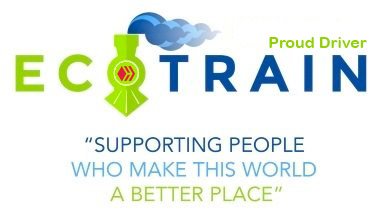 CLICK HERE TO SUBSCRIBE TO THE ECOTRAIN COMMUNITY