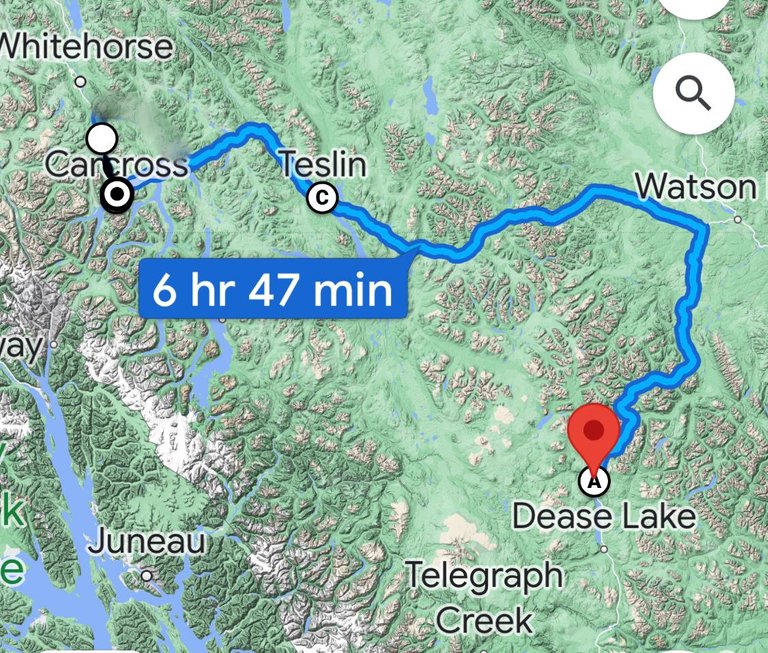 Wednesday August 3rd, 2022
I wake up in Sawmill Point to the sound of rain. All night it came down, tapping on the roof, tapping into my dreams. It subsides to a heavy drizzle by the time I get up and make coffee. I've resigned myself to the rain.
I've resigned myself to the mosquitos, too. I watch them float and bonk about in the car as the jetboil roars. They aren't so bad here as they were at Savory.
I've replaced my urban hippie scent of frankincense and rosewater with the classy aroma of Off! Deep Woods, 25% deet. It's not too bad. Scented my ass cheeks with it last night before sitting down on the pit toilet. I'm just grateful I'm not a dude and don't have to worry about a bunch of mosquitos trying to suck my dick every time I take a piss.
Andrew rumbles past my site and up the hill as I pour steaming water into my pink travel mug. I don't wave. I don't think I'll see him again. After a short walk on the along the lake, Pilot and I rumble up the hill, too. Leave Sawmill Point behind, probably forever.
Scattered along the highways are pullouts with bear-proof litter bins. I imagine the life of a garbage collector working these roads. I could see myself doing a job like that. Maybe a summer job. Maybe when I'm 65.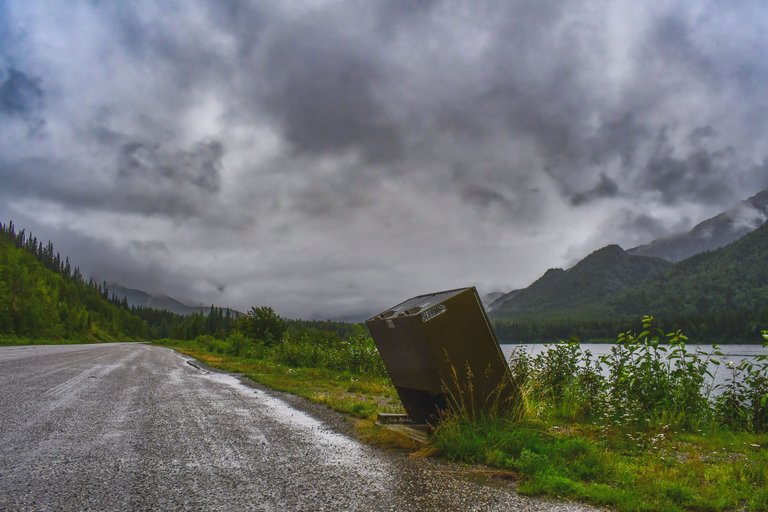 I see my first real live moose not long after I hit the highway. She crosses the road some 200 meters ahead of the car, then disappears into the brush on the other side. I slow down and look for her as I pass, but she has become invisible.
Seeing her in all of her confident and self-assured splendor makes me think of the many human cultures, including my own, that for so long have denied women awareness of and access to their own self-sufficiency. As much as I resisted it, I grew up with a mindset of weakness and a gender code I was told, and sometimes forced, to follow. If a female moose can survive and thrive out here in the wild woods of the great north, why can't a human female be trusted and allowed to take care of herself?
The moose also brings to mind the portrayal of antlers on bulls. Everyone wants to see the antlers. The big males. The status. "I'm ready to fuck and I'm ready to fight," they say. The females don't have an equivalent. They don't put a bulging deer vulva on the label of the Cazadores bottle.
I'm not hating on the male moose or the male deer, though. I'm just figuring out my own worldview, finally, at 41. The road is good for these kinds of things.
In addition to the moose I also see a black bear, and two ravens flying overhead down the highway. I think one of the ravens might be a fledgling because the flapping is very deliberate and stiff. Hard to tell, though, on a dark day through the rain-speckled windows of a moving car.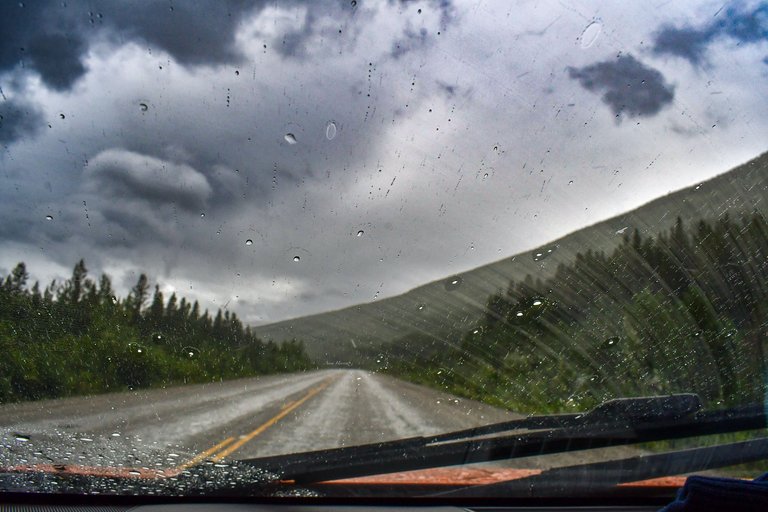 We stop at a tiny town called Jade City, where a local Native Family mines the nearby mountains for jade, and cuts and works it into beautiful things. I buy a small jade bear and small sack of scrap pieces from the workshop.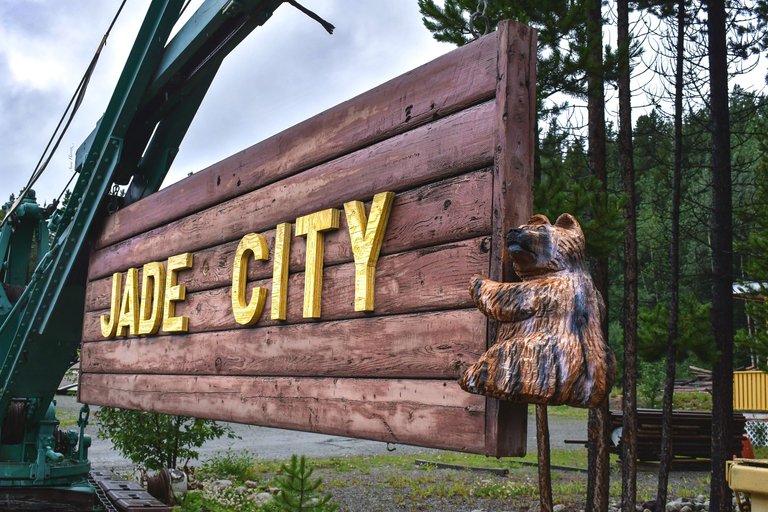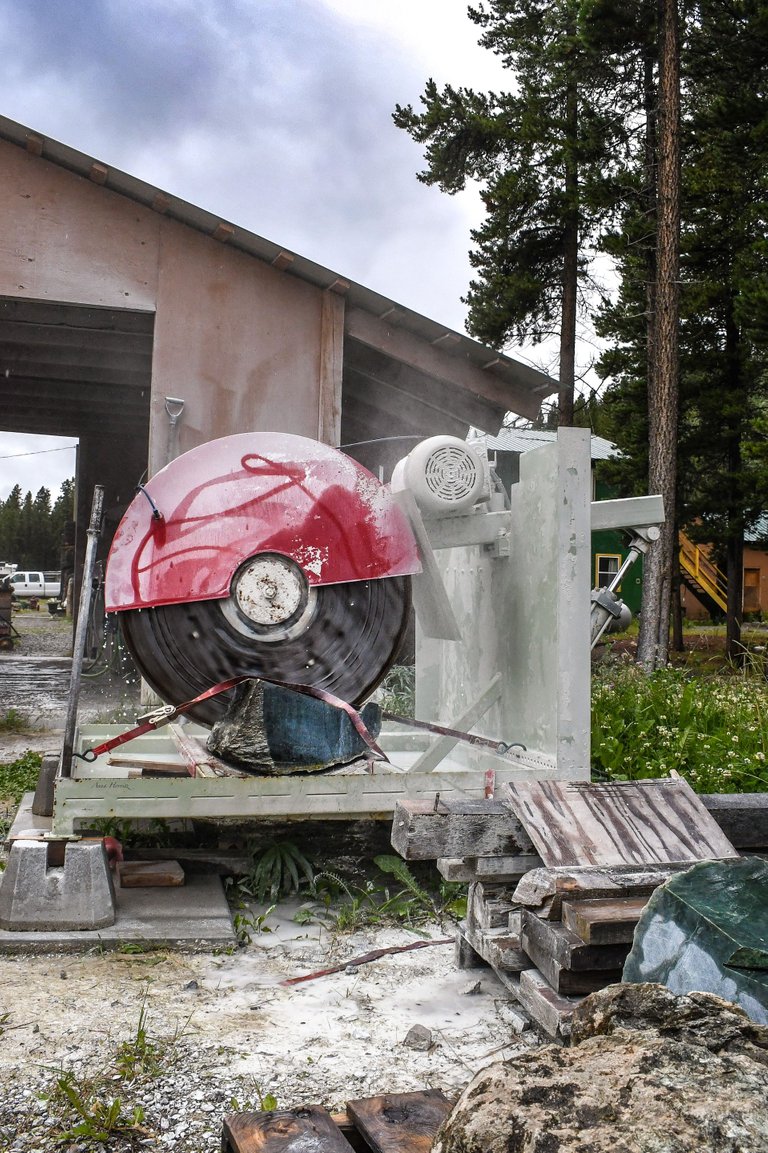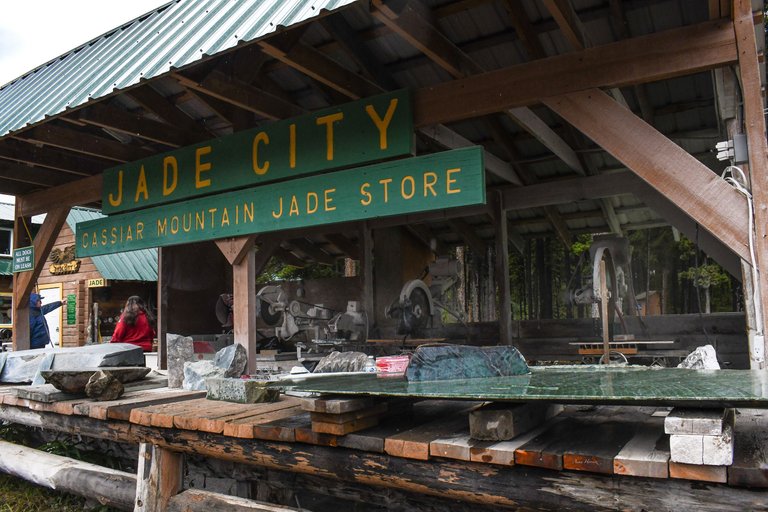 I stop in Nugget City and pay one gold nugget to top off my tank with BC gas, then cross into Yukon Territory.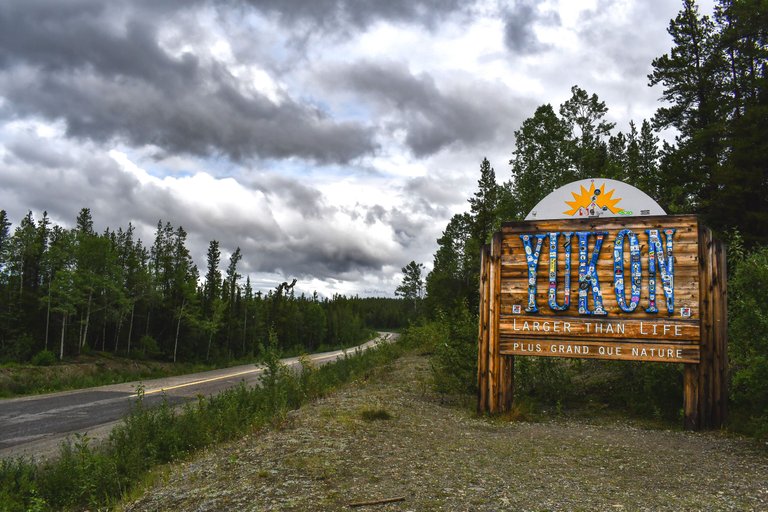 We briefly head east on the Alaska Highway to take a little break in Watson Lake, YT. There we visit the signpost village and the Northern Lights Center.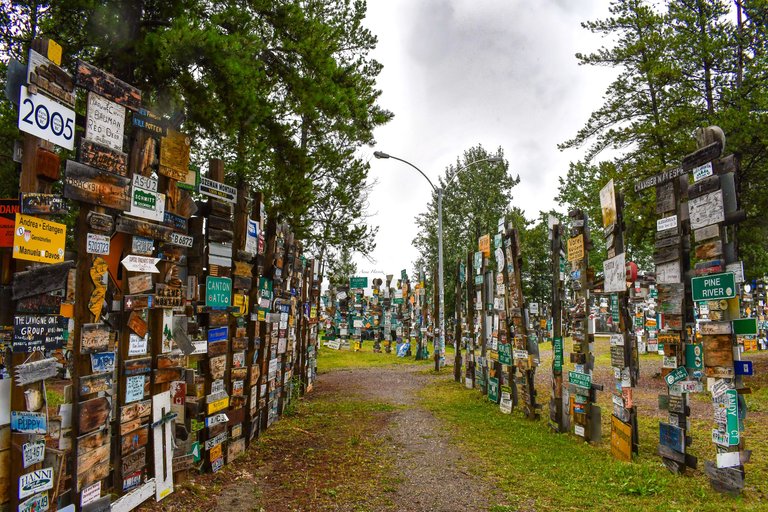 The Northern Lights Center is simple inside. Sweet. Small town. They have a theater that plays a show every 90 minutes but I'm not going to be around long enough to catch it. The man at the counter tells me in a Russian accent that I can pop into the current show, but I just wander the small gallery, the walls of which are covered in paper printouts of photographs of auroras. Glued to them are typed descriptions on colored paper.
I think the place is owned and run by his family. Something about the earnestness of the establishment makes me want to give them my money. The man I spoke to leaves on a break. I buy two greeting cards and an outdated Alaska Highway sticker from his teenage daughter.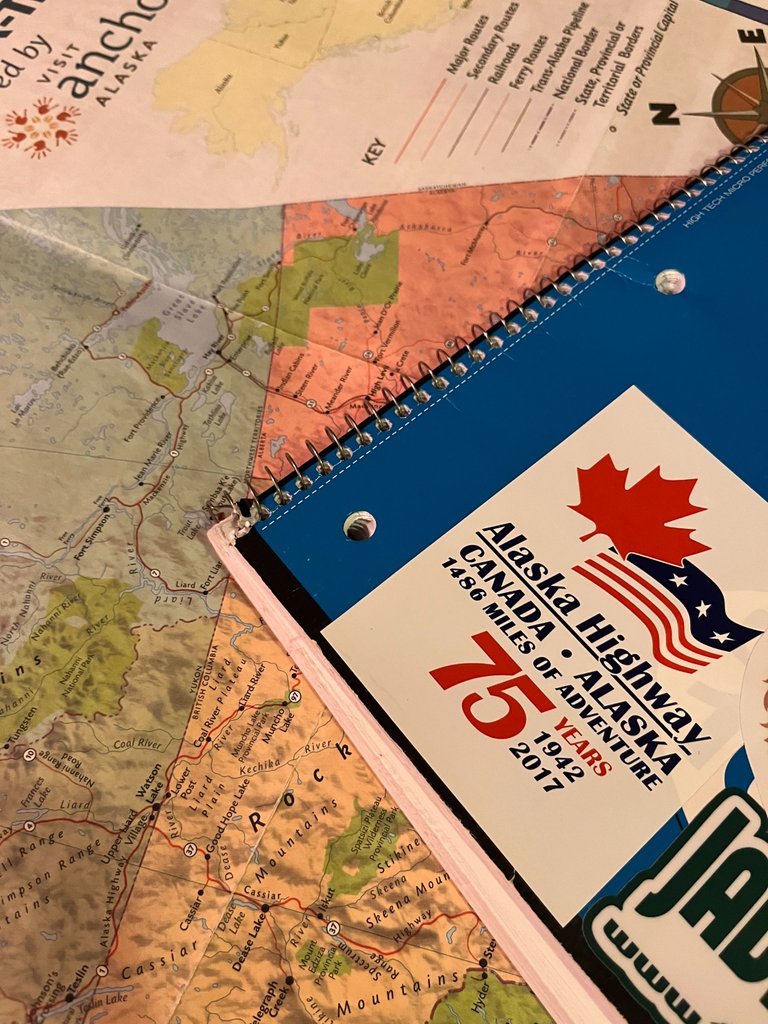 It's beautiful out here. Moody grey Pacific Northwest skies against the glowing green.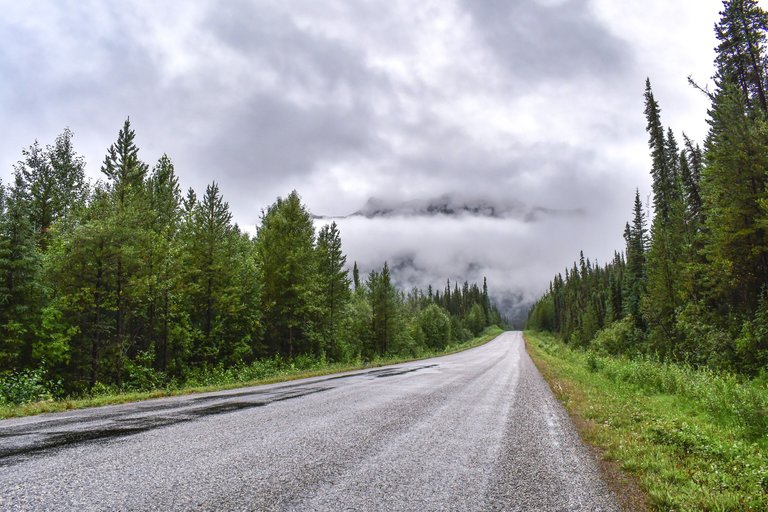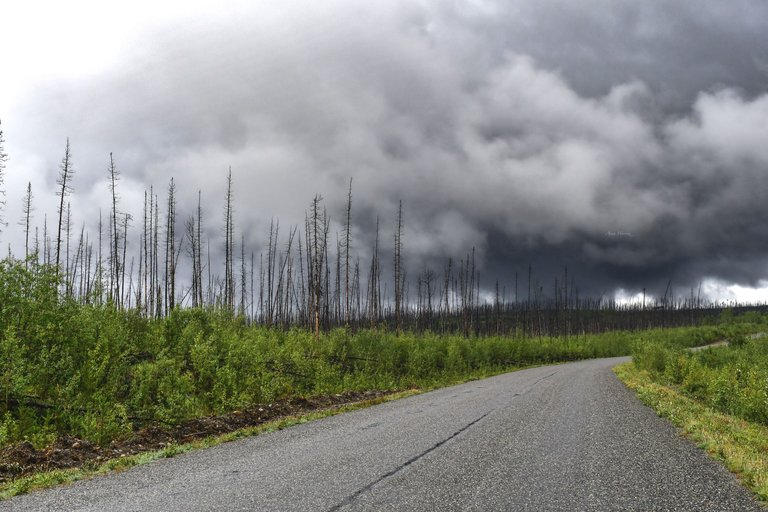 Hey Pilot, they got you your own car.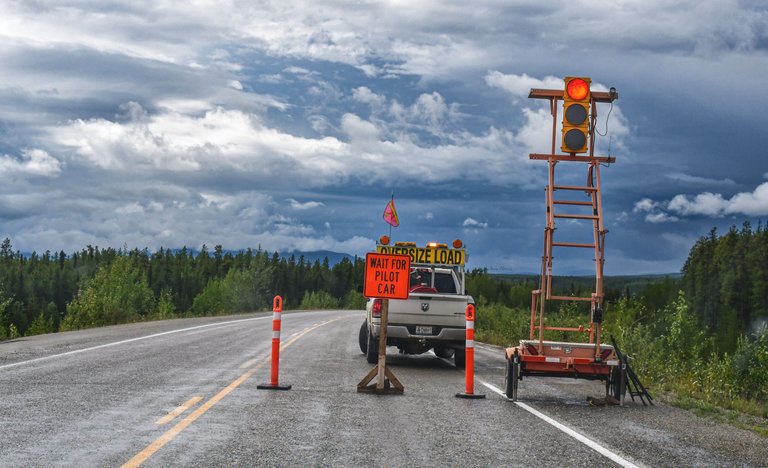 The rain lightens up as we head west. We stop at a rest area and I meet a pair of ravens.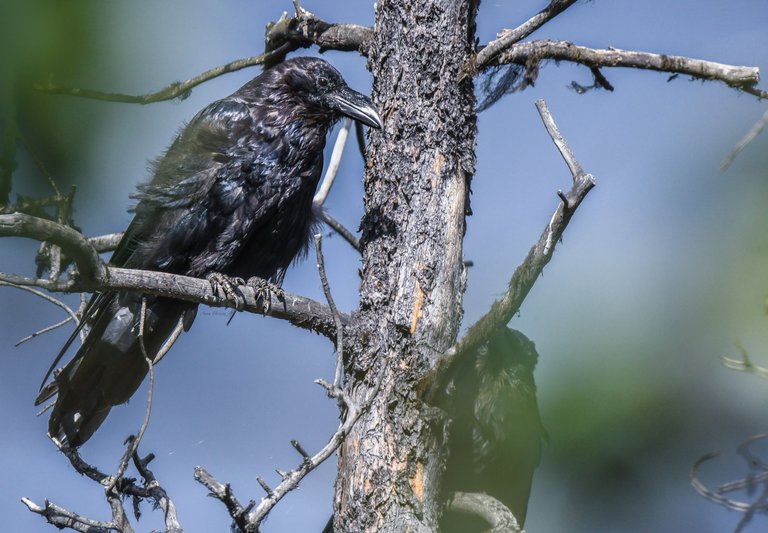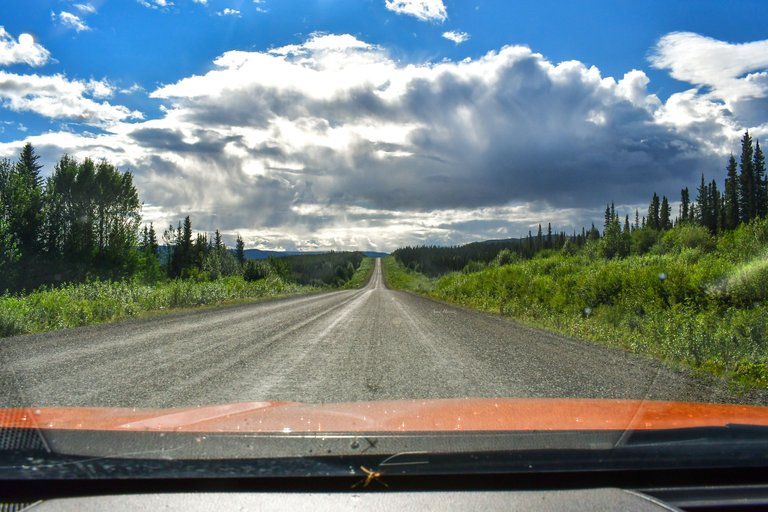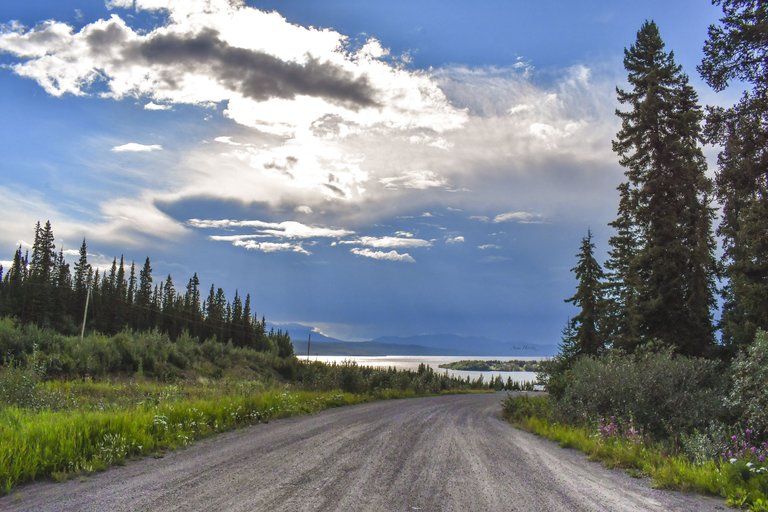 The climate becomes arid as we approach the Tagish/Carcross Loop. I head southwest toward Carcross. We stop at a lakeside park in Tagish for dinner.
As I'm making my meal a couple of old dudes roll up in a truck. They park on the boat ramp and hop out, play some metal and drink some beers. One of them, shaggy and stooped and scruffy and overalled, ambles toward me. "Can I bug you?" he asks. My body flushes with adrenaline. Fear. A woman traveling alone in a small town with a flashy orange car, I think. I'm a target, says the old voice that still creeps in from time to time, in spite of all the work I've done. I made a mistake stopping here.
He just wants to ask me about the financing on my car. Interest rates and so forth. Taxes are high up here. He tells me a lot of people go south to Portland to buy their boats.
His friend comes over and brags about his 1% interest rate. Neither of them have any clue how vulnerable I feel. They just want to talk to the pretty girl with the sporty car that's going to drive to the top of the world.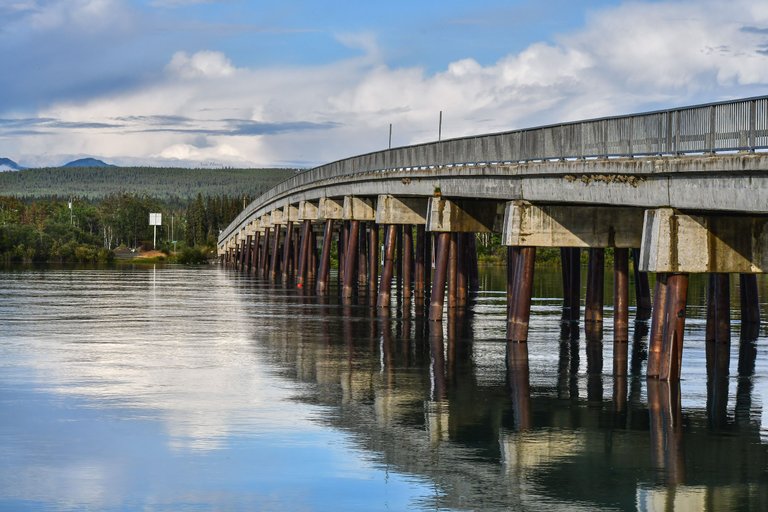 I feel ashamed of my fear.
But I accept it.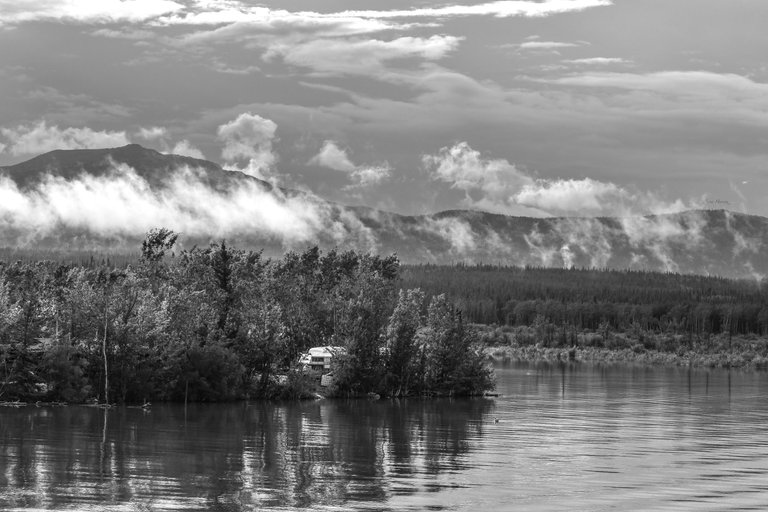 Dinner eaten, we continue down Tagish Road, down toward Carcross. I need to see the Carcross Desert because, like every desert, it calls to me.
Ahead I see a familiar shape. A creature I have not seen in a while.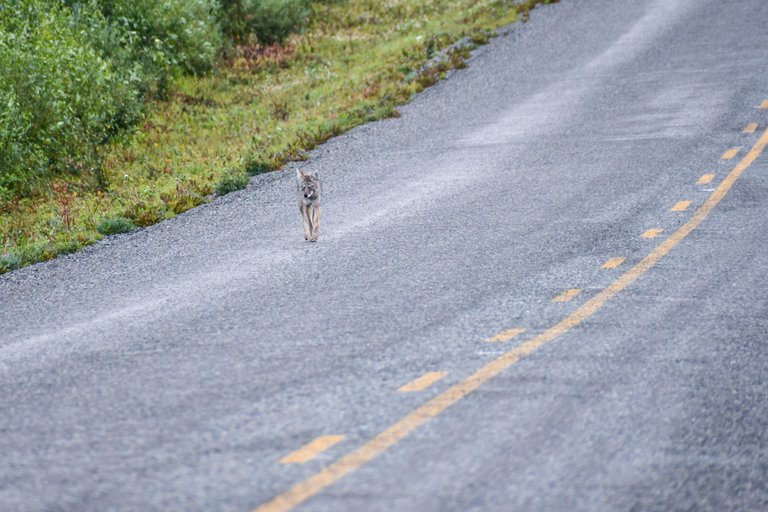 I pull over in the hopes of getting a photo. Coyote heads right toward me, because Coyote ain't afraid of nothing. I don't have the right lens or the right settings but I nonetheless I am happy with the shot because it is so very Coyote.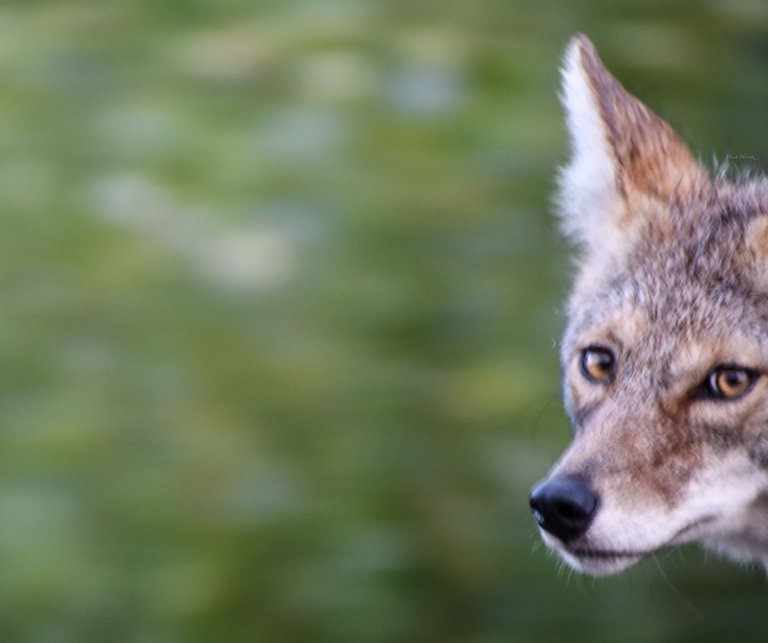 We roll into Carcross around sunset, which lasts for hours in these parts in the summer. It's late and everything is closed. I'm looking for signs that lead to the desert but I don't see them. I feel disappointed that I might not find it.
Pilot wants a walk so I take him out onto the shores of the lake, but something in the air makes us both edgy, and we cut it short. I feel bad for Pilot, and bad for me, because neither of us has had much exercise today and it's time for bed.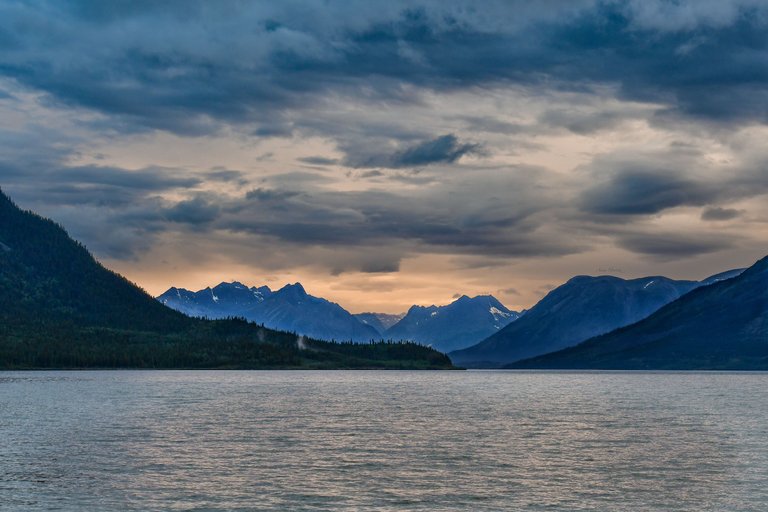 We head north on the South Klondike Loop with plans to boondock somewhere along the road before reconnecting with the Alaska Highway. And then we see the desert.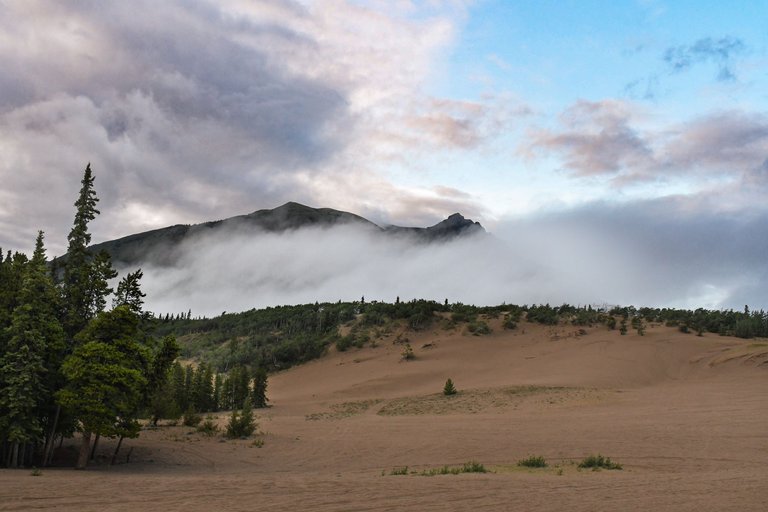 We probably still have about an hour of dusk so Pilot and I jump out of the car and romp and frolic. We're going to hike up to a ridge and back. Pilot pulls me with excitement.
In the distance we hear dogs barking. They sound agitated. Angry. We're part way up the hill, ridge still a ways away. The dogs keep barking, and then another sound comes through. Howling. But these aren't dog howls. They are too wild. Too haunting.
Wolves.
The dogs go quiet.
We stop and listen. It's beautiful. After a minute of appreciation, Pilot begins to pull me back down the hill. He's at a near run, back the way we came. Back to the car. He looks intently and repeatedly toward a group of pines. Does he see something? I'm carrying bear spray and don't feel defenseless, but I don't argue with Pilot about our new course.
Back in the car I journal for a few minutes. I don't want to forget about the ancestral fear that the howling stirred inside me.
As I write, a minivan with a cartop carrier and Oregon plates pulls into the turnout and parks by the toilets. The driver is from Portland. Comes up to Skagway every summer to work at the brewery. I wish I had done that when I was his age.
I'm so tired. Robinsons Roadhouse Rest Area is still a ways away. It's past 11pm. I don't want to make any more stops.
But I stop for Emerald Lake.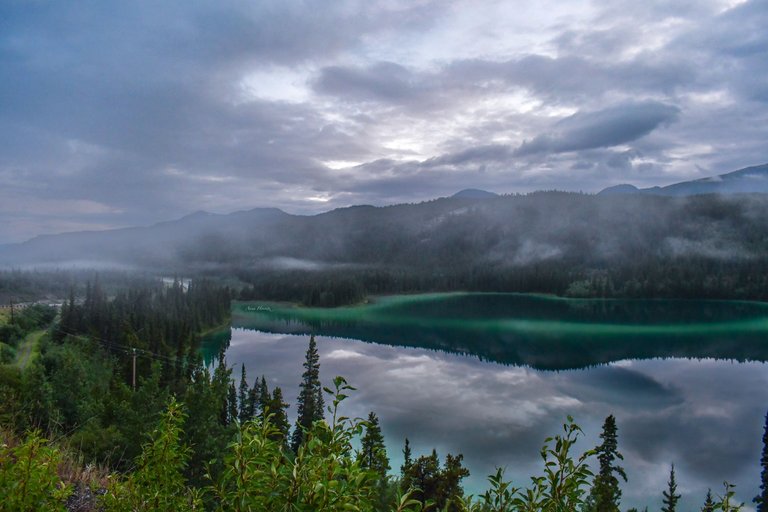 Thanks for reading! I'm on the road and will get back to comments when I can. Check out Day 4 here.
---
CrowTube Channel
Crowstagram
NFT Crowroom
A percentage of this post's rewards goes back to support the community.
All the stuff (pictures, words, etc.) I put in this post and any of my other posts is mine (unless otherwise stated) and can't be used by anyone else unless I say it's ok.