https://chat.peakd.com/ (a home prior to all apps having it on their site)
This is a project I helped work on for the @peak.open projects together with dev @mirafun
I'm hoping to see it integrated into every hive app out there some day.
But day 1 at least there's a nice testing environment at https://chat.peakd.com/
It's going well so far and people seem very excited and pretty impressed with the initial launch... I have over 3 dozen direct messages so far of people testing out the system and often sending me their first test message which is fun.
Check out the introduction post
BIG GROUP CHAT
Then i add them to a big private group to stress test the system. We've got a few dozen people there so far but we've just announced so we'll see how big it can get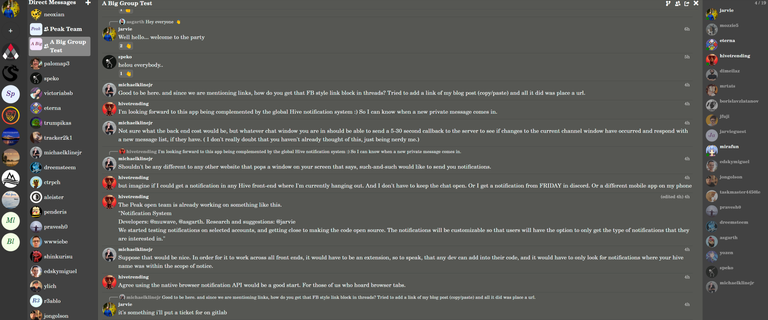 TELL YOUR FAVORITE APPS
Tell them they can integrate an already built widget into their site pretty easily.
Tell them they can build their own interface for the chat if they want
Tell them their users are already interacting over in the community chats for their own apps anyway.
Tell any programmers that they can build competing interfaces for "Sting Chat" and if they make it open source we'll send them some funds from @peak.open
Anyway see you in the chats... and I look forward to this moving directly into apps like peakd.com or peakmonsters.com where i hang out a lot already.