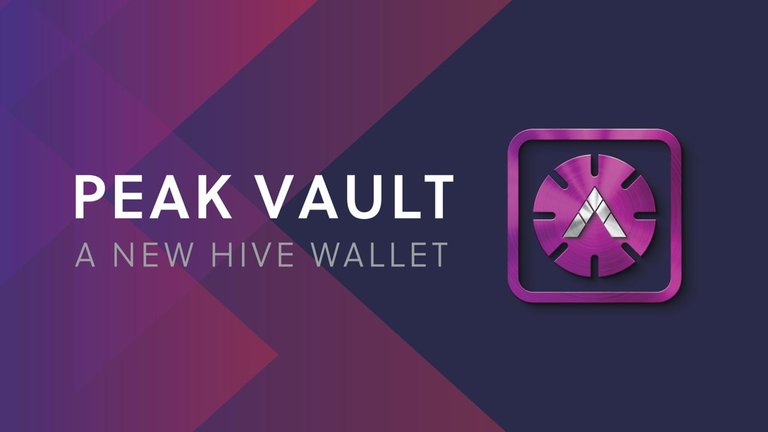 PEAK VAULT - A NEW HIVE WALLET
Yes the announcement posts are coming fast and furious and we'll have yet another one early next week about a completed feature.
INTRODUCTION
A core foundation of the Hive community is the ability to choose from multiple tools to get the job done. We have multiple block explorers, multiple content publishing platforms and multiple nodes... this is a part of the concept of decentralization.
Until now there has only been ONE wallet that could be used to safely store keys and interact with various apps throughout Hive. Our entire team uses Hive Keychain extension and are very happy it exists, however for the health of the Hive ecosystem we believe it's VERY important there is a decentralization in choice. Also we believe we have some unique ideas and UX experience to bring to the table.
And that's why today we are announcing that not only do we intend to have a fully functional wallet for Hive but that we are already well on our way with a functional prototype already working as part of the PEAK OPEN PROJECTS.
---
Let us share with you the progress of Peak Vault and what is in store for the Hive community.

Layout, Signing Basic Transactions, and Sending HIVE
The team has been laying the groundwork needed for Peak Vault. The initial layout of the wallet extension is already complete, along with some backend work needed for the project.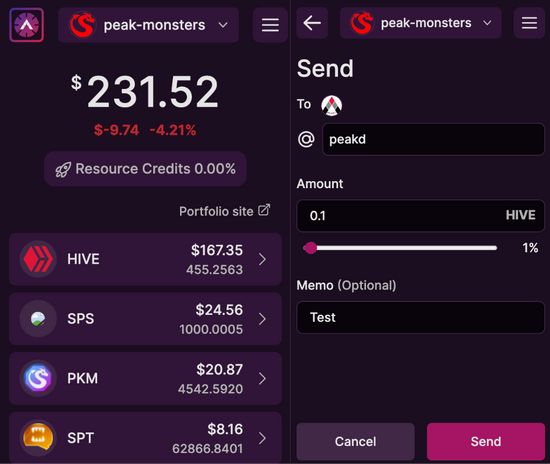 Aside from these, Peak Vault has also recently accomplished a huge development milestone.
MILESTONE: SIGNING BASIC TRANSACTIONS AND SENDING HIVE FROM THE WALLET
Peak Vault now has the functionality to sign basic transactions and send HIVE from the wallet. Check out the illustration below to see Peak Vault in action.
This is just the start of many more developments that will be done. Here is a list of things that was already added to Peak Vault.
Completed activities:
- 

Key

 encryption 

and

 log 

in


- Dark mode 

and

 light mode 

option


- Load 

and

 view tokens 

on

 the extension
- Sign basic transactions 

from

 wallet 

interface


- Send & transfer HIVE 

from

 wallet

---
WHAT'S NEXT?
There's more that will be developed on Peak Vault. We have shared an overview of various functionalities that will be added to the project moving forward.
CORE
✅ Encryption
✅ Ability to sign transactions
Account import
Integration with Hive nodes
STAGE 1
✅ Show balances
✅ Send HIVE/HBD tokens
Rework the core
Allow importing account/keys
STAGE 2
Other wallet operations (e.g., stake, unstake, claim rewards, savings, delegate, undelegate)
Account History
STAGE 3
Allow website integration with a single generic "broadcast" operation
Settings to allow users to save preferences (to not ask to verify every single transaction on the website if only posting key is used)
STAGE 4
Governance votes (witnesses/proposals)
Ledger wallet integration
STAGE 5+
There are lots more unique features that will be added to Peak Vault... stay tuned.
This is where the fun starts
LET US KNOW WHAT YOU WANT TO SEE
If you have been following the development of various Peak Open projects, you are probably already aware by now that we love hearing feedback from the Hive community. This helps us know better what the community needs. So feel free to let us know at any point of the project what you think are missing from the functionalities that we have planned.
---

How to support the @peakd project
WORK WITH US
If you're a project looking to integrate one of these tools message us.
If you're a developer looking for a part time open source project message us.
WITNESS VOTE
We have been voted as a top block producer on hive (aka "witness"). You can add your vote for us on the main witness page our "witness" account is @steempeak
VOTE HERE: https://peakd.com/witnesses
OPEN PROJECTS PROPOSAL
You can support our proposal to develop open source tools for the whole Hive community using one of the following links:
BENEFICIARY
You can donate 5% of your Hive Reward Pool earnings to @peakd to help use improve the interface: Turn on in settings
SHARE IDEAS AND FEEDBACK
We invite you to share and brainstorm some ideas with us:
---
The PeakD Team
About us: https://peakd.com/about
Discord - Blog - Twitter - LinkedIn