For our third update, we are happy to announce that we have added @muwave to the team, who will start working on the new Notification System Project. We will also be giving an update on the current funding status of Peak Open Proposal.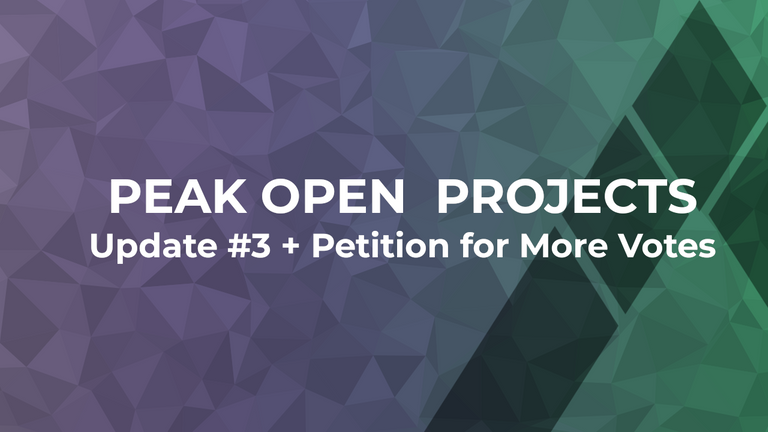 Addition of Muwave - Notification System
We found this wonderful developer from his connection to Splinterlands. He created a great website, summonerlab.com, that focused on data heavy information, which he retrieved by scouring Hive Blocks (meaning already familiar with Hive). We liked his work so much, we are working on a collaboration with PeakMonsters. We quickly realized that perhaps he may be interested in one of the Peak Open projects as well. We gave him a list of projects that didn't have a developer yet; and his skillset, time availability, and experience seemed most in line with the Notification System Project.
The hope is to create a notification system that is customizable for all users, which can track both core Hive Transactions AND transactions for some 2nd layer Hive projects like Hive-Engine and Splinterlands for example. Being an open source project, it will be easy for other projects to add their projects as well. This project could then be used by all different sorts of Hive based interfaces and we know already that PeakD.com, PeakMonsters.com, and HiveHub.dev would use the notification system to begin with... and we hope to make a system so good that other interfaces will want to use it as well and give us their input.
Why not HAF on this feature?
HAF is a very interesting framework and we truly believe it will provide the foundations for many Hive projects and more integration options for existing apps.
We like it so much that we funded @imwatsi to look into a way to provide a notification system built on it. However, there are not presently many HAF nodes running and the expense is much higher for a smaller project like this. And having multiple options is always great for a healthy decentralized ecosystem.
With this in mind we want to focus on a smaller, simpler and flexible notification system with a strong emphasis on 2nd layer apps while still being open to the idea of notifications on HAF and when the foundations are more set for smaller projects to be integrated with HAF nodes we will revisit it... options are a great thing.
The system may actually be pretty quick to get a Proof of Concept out quickly this next month

Call for More Votes on Peak Open Proposal
Just because the proposal is successfully funded, it doesn't mean we can sit back and not worry about getting any more votes...
Proudly our proposal is one of the only proposals funded without @blocktrades vote (we know he appreciates seeing the community successfully capable of funding things without his vote power, but there are few proposals capable of rallying the troops enough to be successful without his vote). Right now the Peak Open Projects proposal is only above the @hbdstabilizer proposal by 1.2million voting power and the stabilizer vote has been climbing up as well.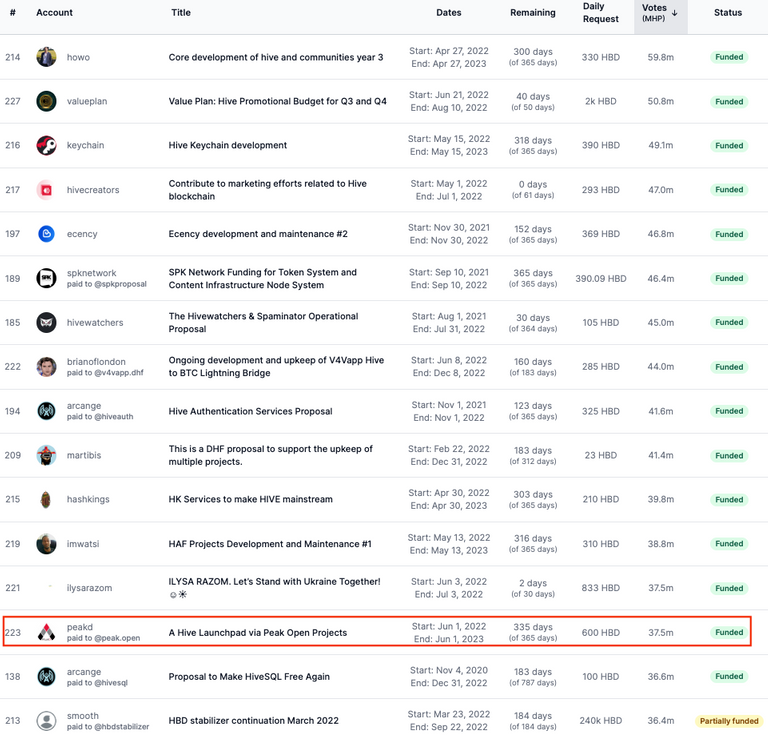 With the recent team addition, we now have a team of 7 people (5devs) working on open source features for the HIVE community -- so now our buffer is even smaller (aka total cost vs 600hbd daily)...
This means if we get unfunded that we will last less time in our ability to retain these developers until the refunding of the proposal. Getting the proposal more and more votes gives the entire operation more security and confidence to the developers we have employed and to future developers we may approach about working on other features.
You can learn more and vote on our proposal to develop open source tools for the whole Hive community here.
Expand project even more?
When we created the proposal, we decided that we could do a lower daily amount, and if we hired enough developers and we responsibly were using all the funds and we had enough projects and enough developers interested that we could then create another proposal to supplement the project and expand operations.
We didn't realize that we would find this many talented and excited developers this quickly who wanted to work on Hive based open source features. It's not yet a "need" but we should start to think about whether or not we should soon do an supplemental proposal which would allow us to hire more part time (maybe full time) developers to start on other open source UI features for Hive interfaces.
In addition, the buffer funds that help us operate and pay developers in case of temporary unfunding can get even larger with a supplemental proposal and probably of most interest gives us more financial security which is very attractive to great developers.
---

How to support the @peakd project
WORK WITH US
If you're a project looking to integrate one of these tools message us.
If you're a developer looking for a part time open source project message us.
WITNESS VOTE
We have been voted as a top block producer on hive (aka "witness"). You can add your vote for us on the main witness page our "witness" account is @steempeak
VOTE HERE: https://peakd.com/witnesses
OPEN PROJECTS PROPOSAL
You can support our proposal to develop open source tools for the whole Hive community using one of the following links:
BENEFICIARY
You can donate 5% of your Hive Reward Pool earnings to @peakd to help use improve the interface: Turn on in settings
SHARE IDEAS AND FEEDBACK
We invite you to share and brainstorm some ideas with us:
---
The PeakD Team
About us: https://peakd.com/about
Discord - Blog - Twitter - LinkedIn