The PeakD team has been active on Hive from the very beginning since before Hive was born.
Working on peakd.com, peakmonsters.com and several other projects has given us the opportunity to interact with the Hive community, understand their needs and brainstorm ideas and solutions that will help the whole ecosystem to move forward.
But we realize that some of the solutions will be much more powerful if we can launch new open accessible features and develop them in a way that will be useful to ALL Hive projects and communities, and are not limited to "PeakD only products" but instead are encouraged to be a part of many projects.
We hope that with the help of the community we'll be able to launch these ideas in a faster, decentralized and more sustainable way.
THEREFORE: For all the reasons stated above we are creating this DHF proposal to fund work on a large set of Open Source projects for the whole Hive community. (Aka a "Launchpad for Open Source Hive projects")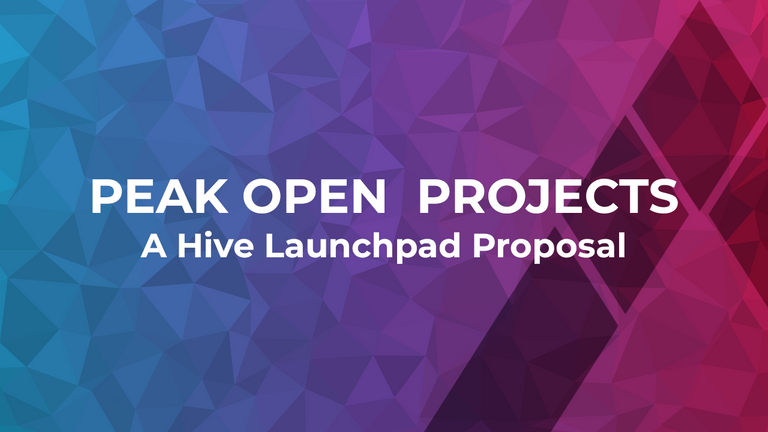 This proposal is NOT for funding the development of PeakD.com and PeakMonsters.com ...though those projects are excited to be potential users of these new tools
WHY A SINGLE PROPOSAL?
There are multiple projects on the Peak Open Projects Roadmap and some developers already working on them. Having a single proposal allow us to scale the amount of work and to keep all those projects active for a long period of time. A single proposal gives us the opportunity to work on multiple tasks at the same time, easily transition to new projects upon completion and even decide to start working on additional popular projects that we have not included in our initial list. In addition some projects are inter-connected and require both to be worked on for either one of them to function to their highest potential. Having separate proposals model the shared recurring costs are harder to handle and the time spent developing to maintaining and promoting several projects takes away from end results. Also we want to avoid creating projects that once they get unfunded seem to vanish or loose steam... we want these projects to have staying power.
HOW IS OUR TEAM POSITIONED FOR SUCCESS?
Our team has broad knowledge of the whole Hive ecosystem: side chains, user/community needs and desires, dApps interaction, ...
We can bring together multiple developers working and giving each other insights
Can guarantee that those projects will actually get used. We want to be among the first to test and integrate the new tools
We have many connections and can coordinate to get new projects utilized by different websites (too many projects are created but not implemented throughout the Hive interfaces that could benefit)
Coordinate where new talent can be of most assistance when they come in to work on projects
Make sure that the projects are maintained even if original developers move on
Assess when it's best that someone else on the team take over a project
Provide UI (User Interface) and design experience. Focus on intuitive design
Handle infrastructure costs and management
Handle economic aspect in a transparent way (set recurring HBD transfers to members of project when possible and handle bank transfers where needed). We run our other projects in a fairly thrifty way
Community Feedback coordination (community votes, feedback reviews, large user base to test etc).
WHEN WE ARE DOING IT? ... NOW
We have already started working on several features (hired a couple new developers) and our team is now 4-5 people. You can vote on the proposal right now and the funding could start beginning of June if there are enough votes.
We are already paying developers but this will allow us to pay them for longer and for us to expand the team to work on more projects at the same time.
WHAT ARE WE WORKING ON?
You should expect to see future separate posts about each project and their progress from our team and the developers that work on each.
STING MESSAGE PROTOCOL - The idea is to build a decentralized and encrypted messaging system that can be used to share messages between Hive accounts and then later-on also allow broadcasting those messages to multiple users (similar to a group chat or public channel).
We have a new developer who is passionate about this feature and we are researching technologies and creating POC (Proof of Concept) to make sure we have the best tech for an encrypted messaging system that can be utilized by all Hive based interfaces.
We hope to see this integrated into every blog interface (that wants it) and also wallets, games and financial sites...

NEXT GEN. HIVE BLOCK EXPLORER - There are multiple block explorers on Hive, but most of them have been built some time ago and only focus on showing the Layer 1 transactions. Nowadays Hive is much more than that with 2nd layer applications comprising the bulk of transactions. So we are building a new block explorer that can beautifully and intuitively display all block transactions AND can validate even 2nd layer Hive based transactions such as Hive-Engine, Splinterlands, Dlux etc.
A simple MVP foundation of this new explorer is already being created and will be shared soon, stay tuned :)

HIVE NODE BEACON - This is an open source tool that was created a while back to check the health status of Hive API nodes. The tool is already working, but should continuously be maintained and upgraded.

HIVEMIND PLUGIN UPGRADES - This is an open source plugin that provides additional features and API to Hivemind. The plugin is a read-only addon and there are already multiple API nodes using it to provide PeakD.com with some specific endpoints to render part of the UI. As Hivemind is going to be migrated to HAF technology soon this plugin will required some work to be upgraded and improved. We hope that other interfaces will be able to benefit from this open source plugin as well.

HAF TOOLS - We want to fund several new HAF based tools and look forward to working with multiple developers who can use this great new technology created by the @blocktrades team.

EXAMPLE: We assisted and pushed the start of work on a new Global Notification System which can do customized Hive notifications and also provide notifications for 2nd layer apps such as Hive-Engine or Splinterlands as well. Though we helped with initial funding this particular project is now requesting support through it's own HDF proposal by @imwatsi.

We plan to back work on similar projects or support teams like the one led by @imwatsi and @blocktrades
One example candidate is an open source system that tracks TIPS made to posts and that can support more 2nd layer tokens as well.

NEW HIVE WALLET - We believe it's important for Hive to have multiple options for intuitive wallet software which can be used to do transactions on Hive via various interfaces or stand alone software. We are big users and supporters of Hive Keychain and will continue to support their product and hope they continue to progress. This is a centralization issue and a push to make sure users have options. We also hope that this will result in teams pushing each other to provide the best for the Hive community.
We are just now starting this project and so there will be a lot of information/details about this project that we'll share in a dedicated post soon.
... NEXT
Above are what we are able start work on with the developers at our disposal (though more developers would make it faster)
Below are what we want to begin as soon as there is bandwidth (finishing of projects or onboarding of new developers)
HIVE BADGE DECENTRALIZATION AND UPGRADES - The badge system created by our team needs more upgrades and should be a decentralized open source project available for all user interfaces. Upgrades include but are not limited to: Easier tools to help create badges, user suggestion/application system for badge holders, stats and sorting mechanisms, display tools, badge feed page upgrades and potentially automated badge tools... etc

NEW INTERNAL MARKET INTERFACE - A new HBD-HIVE market interface that not only has more features but is also more intuitive to use and can be more easily integrated into other projects and markets. This post by @edicted indicates some of the issues of the old system that hasn't been updated in 4-5 years.

RC DELEGATION INTERFACE - With the upcoming release of RC delegation we know that an open source tool that interfaces can use to help users will be very important. We plan to make one for PeakD.com so it will be good to work on a system that multiple interfaces can input on and benefit from. The basic idea is that interfaces could decide to cover the RC cost of new users who do not have much HP yet.

TOKEN ROUTES - A tool that can be used to understand not just the cheapest route from one token to another but how many steps, estimate length of time, price drop estimates and educate on the pain points of token swaps in different exchange routes ... in particular for HIVE tokens and Hive 2nd layer tokens. Routes will encompass centralized and decentralized exchange/swap options.

"BLOCKCHAIN BOOTCAMP" aka Educational Tool that will help users get familiar with many different (or perhaps any) blockchain tools or Hive based projects. We envision this being used by many different interfaces to help educate their users about their features.
OTHER PROJECTS??
We have a big list already but we are open to adding more as we grow more capable.
Either new projects that are suggested and heavily voted by users OR older projects that never quite finished or want to be under this open source umbrella and stay maintained and integrated into other projects.
The community will have a heavy say in the features however ultimately you are trusting the Peak Open Projects team to make the final decision which we will base on the following:
Do we have the manpower to do these projects? Are there developers capable and wanting to work on new projects?
Do we have use cases for these features? Can they be integrated with other existing projects and websites? Is there interest by these websites?
Will there be a long term interest in the feature and in it's continued development? Perhaps even self-sustainment after initial development?
And of course... How much interest is there from the community? What are users saying on the feedback page https://feedback.peakd.com , Hive posts and on our discord?
JOIN THE CONVERSATION
We are obviously focusing on projects that our team knows can be easily integrated into other sites (such as PeakD.com and others) and these may take a lot of work but in the meantime we want to hear your ideas. We invite you to brainstorm some ideas with us... maybe it will help inspire a developer to work on them either separately or with us.
OUR QUALIFICATIONS TO RUN THIS PROJECT
We have built on this blockchain (both Steem and Hive) for 4+ years and have 2 of the most used user interfaces on the chain with peakd.com and peakmonsters.com, both of which have tens of thousands of visitors a day. We have also built smaller open source features.
We have already had a proposal funded for the PeakD.com project. It still has the record for the most voted Proposal in Hive history based on number of accounts that voted for it. We believe we were great stewards of the funds and have been able to extend the life of the funds to sill be able to operate and develop on PeakD.com (through bear and bull market cycles).
This time around we are excited to propose an Open Source funding proposal that can help lots of different projects save time and money while creating great features for Hive users.
We have a great relationship with the users of our products and they know they can make suggestions get responses and more importantly get results which often are very fast. This communication will be vital as we develop the tools that help the community.
ECONOMICS
We are asking for 600 HBD/DAY with this proposal
This covers the present expenses of the projects we are working on and will allow us to expand to a few of the other projects on our list as well (This includes starting now the Wallet software for example) and a couple of the other smaller projects in the Next Up list.
IF we find a lot of capable developers/team members and grow even larger we can expand the project with an addendum proposal (assuming users are happy with our work). But we will wait to do an addendum when we have a team large enough to justify it.
Funds will be stored on a dedicated account so it's easy for everyone to see the recurring transfers to pay the expenses of this project which primarily includes developers but may expand beyond that to tech costs, designers and management costs.
At the start of the proposal the incoming funds will be greater than the outgoing expenses and this gives us the wonderful opportunity to save up to have longevity on the project and also to handle the potential increase of new projects IF we find the right people or simply extend the length of time for the developers we have.
What is obvious is that the full scope of projects we want to do would not be all done simultaneously at the 600 HBD rate however we hope to complete some projects before starting on others and expect developers will be happy and request to move to new projects.
FAQ
Q. Why one proposal instead of multiple?
Already explained above, but a short recap is that a single proposal gives us the opportunity to work on multiple tasks at the same time, easily transition to new projects and even decide to start working on additional projects that we have not included in our initial list. Also there are several projects that will not be quite as good (and perhaps not worth doing) if only one of them gets funded.
Q. Where do you plan to host the code?
All code will be hosted here: https://gitlab.com/peakd
Q. Will you accept suggestions and pull requests?
Of course, and we may even compensate external developers if they provide "easy to merge" PR with useful features.
Q. Will you use funds to pay the PeakD team members?
Yes, but only for the hours spent by those team members working on the open source projects funded by this proposal.
(When PeakD team members work on projects their funds are sent to @PeakD to distribute.)
Q. What if you find that the funds are more than you really need?
If it's decided that the funds are more than what is needed long term we will give back funds to the Funding Pool. (In fact in our previous proposal we did return thousands of dollars to the fund when HBD spiked.) The hope is that we increase the list of things we work on so that this is less of a potential issue.
Q. How can I support this proposal?
You can vote and support this proposal using one of the following links:
We invite you to ask more questions.
---

The PeakD Team
About us: https://peakd.com/about
Discord - Blog - Twitter - LinkedIn
---
Support the @peakd project
BLOCK PRODUCER VOTE
We have been voted as a top block producer on hive (aka "witness"). You can add your vote for us on the main witness page our "witness" account is @steempeak
VOTE HERE: https://peakd.com/witnesses
OPEN PROJECTS PROPOSAL
You can support our proposal to develop open source tools for the whole Hive community here: https://peakd.com/proposals/223
BENEFICIARY
You can donate 5% of your Hive Reward Pool earnings to @peakd to help use improve the interface. Turn on in settings
FEEDBACK
You can share suggestions for the site and vote on existing suggestions.
Also you can interact with us on Discord