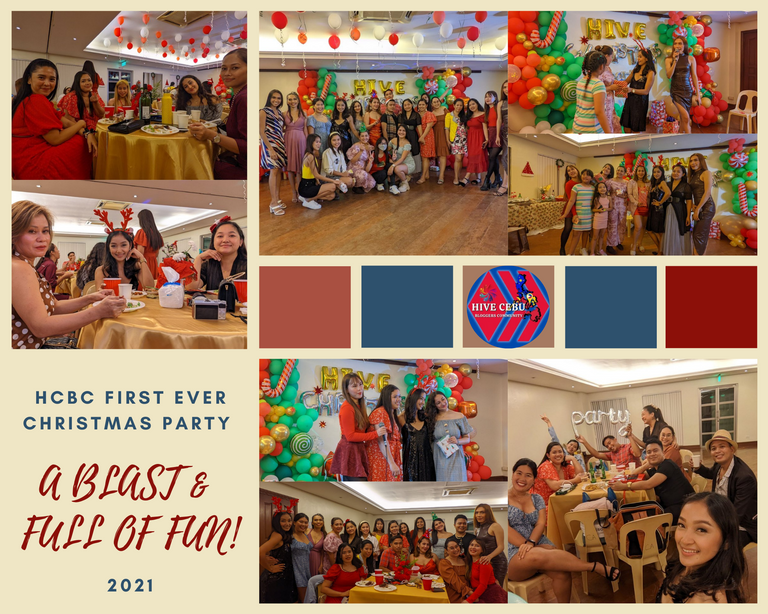 Hey everyone! Due of the super typhoon that hit Cebu and most places in the Visayas and Mindanao, HCBC wasn't able to post its Christmas Party
last December 11, 2021.

And now that we're back, (well, almost,) we're gonna show you how we celebrated a family Holiday as a Hive Cebu Bloggers Community. 😉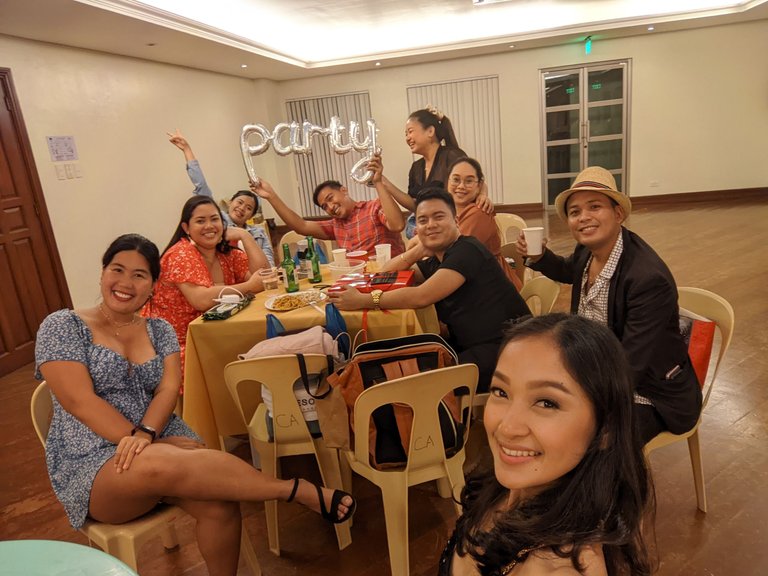 As Filipinos, and as a people full of tradition and culture, it will always be a great thing to celebrate Christmas with family. In Hive, we're family! So we celebrated it together last December 11!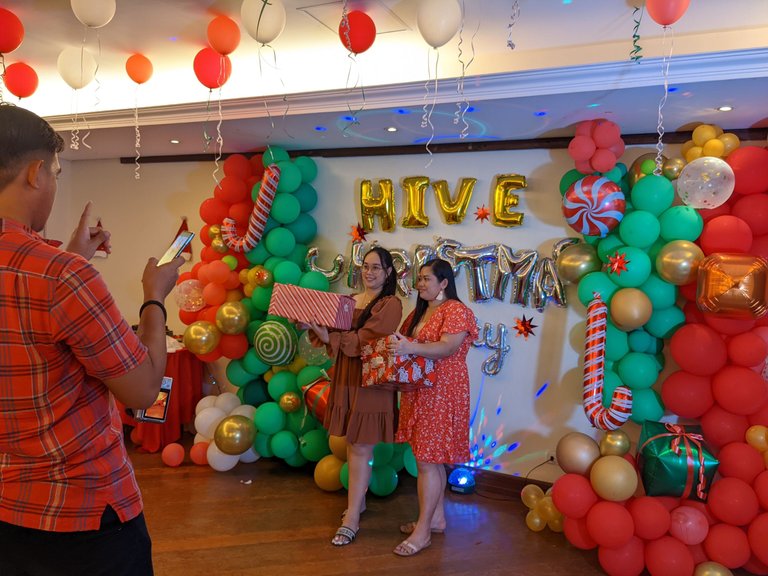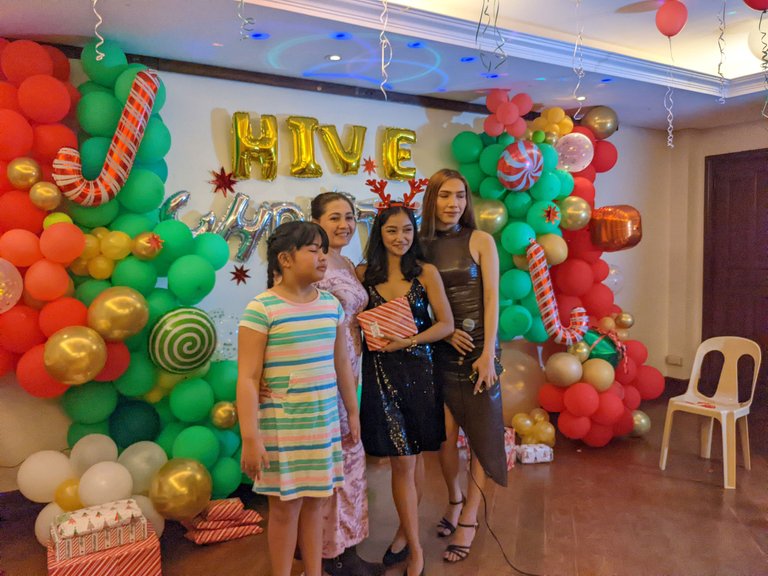 A couple of days before our city was devastated by a Super Typhoon, we were able to get together and celebrate Christmas in our own little way.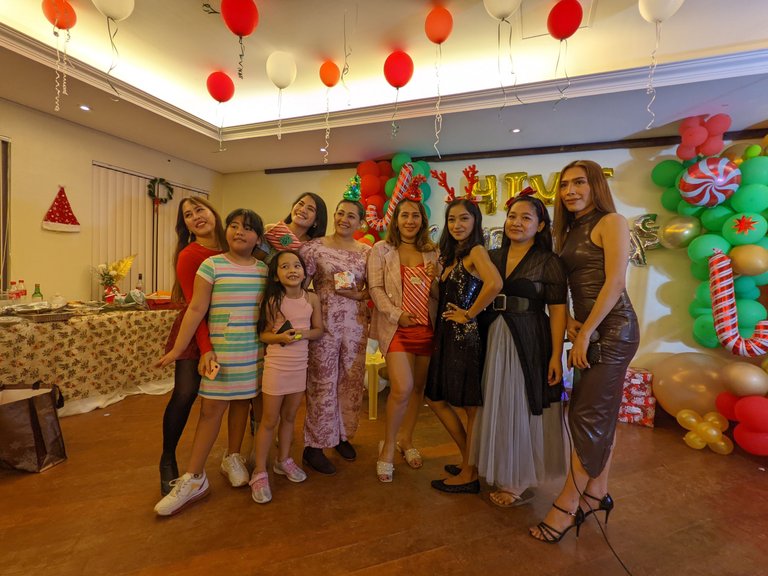 We were extremely grateful for all the blessings and friendships we have created this year through Hive and it's best for us to celebrate it despite our busy schedule and tight budgets.

Well, a party will not be a remarkable one if it's messy, right? So here we go!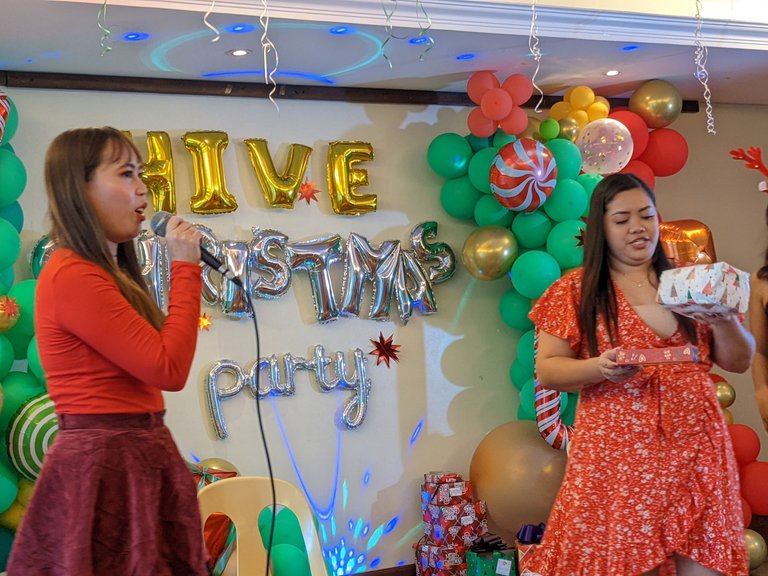 The celebration started with a registration of members (which was used for the raffle) then followed by the prayer led by @jongcl.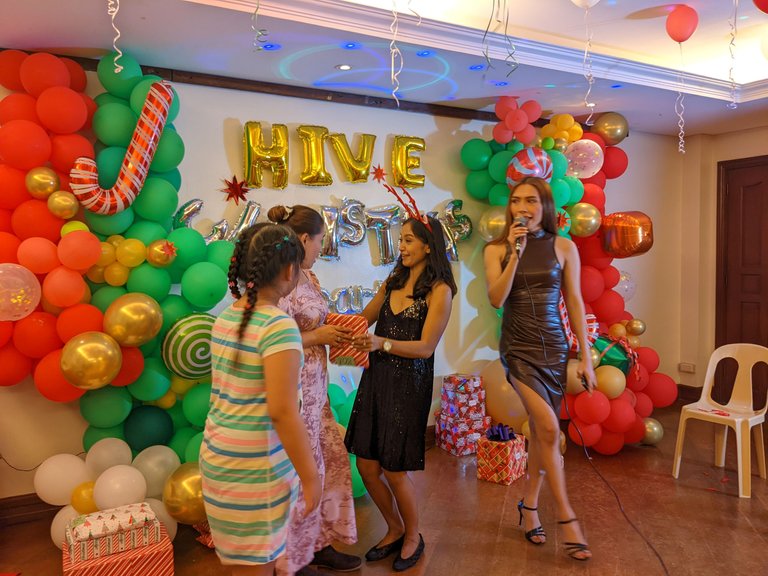 And can you see the gorgeous lady there in such a killing dress? Right! That's @swaycanete as a host for our little program. However, due to some reason, @jongcl has to cover for her for a while.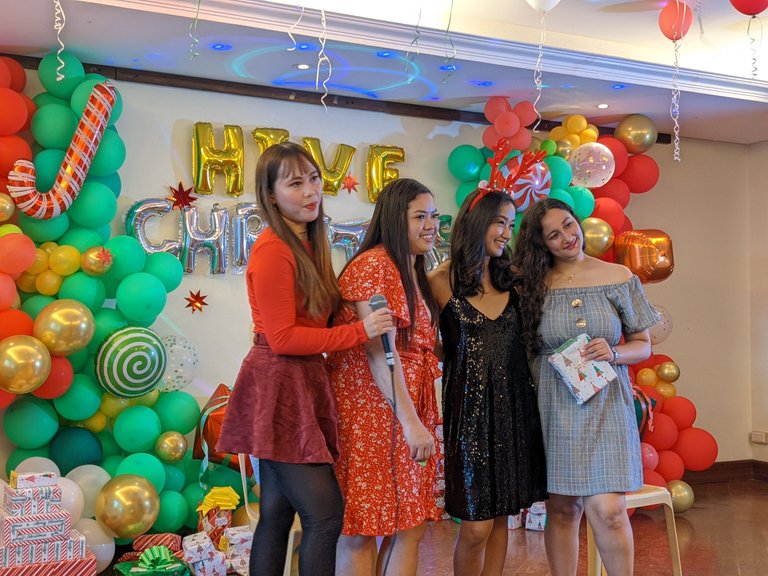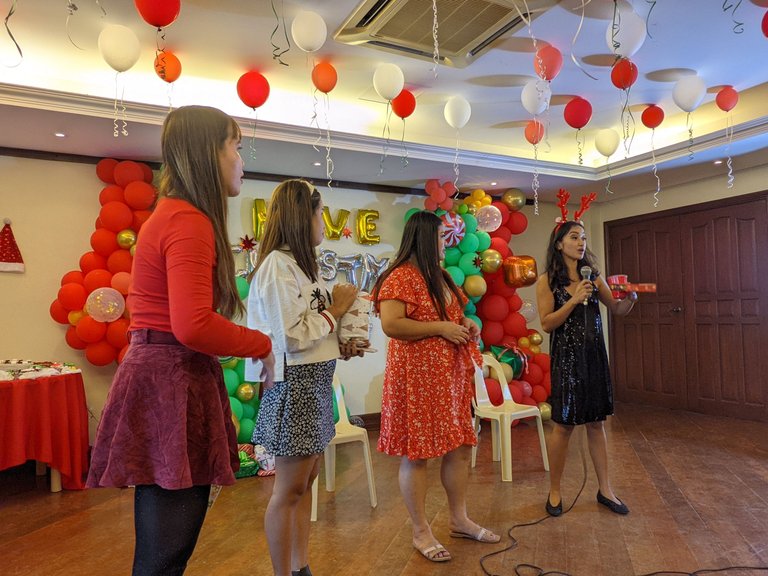 Then, @purepinay did the opening remarks for the party and ask the members to introduce themselves for a little get-together.
To give you a background, some of the members just met each other for the first time at the party. 😊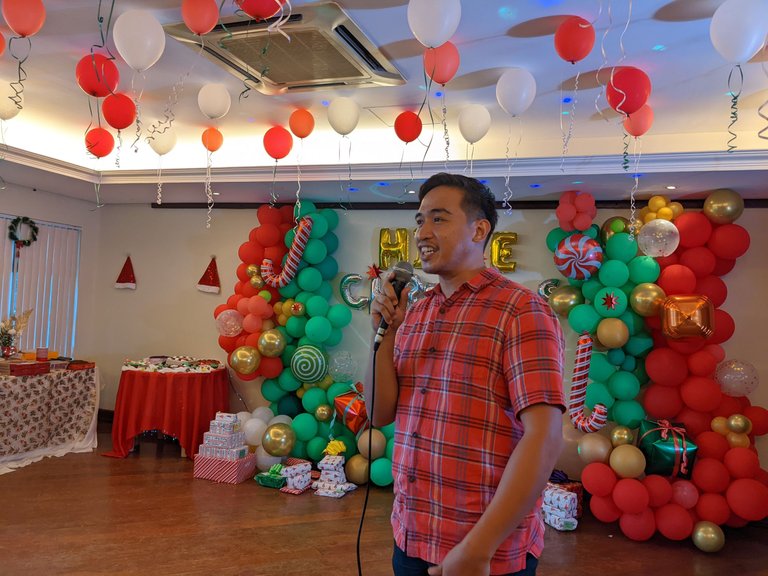 Then, Hive is about engagement, right? So, @purepinay made a surprise and unexpected award to @asasiklause as the Hiver with Most Engagement. He was given a cash prize as mentioned in our Hive Cebu Bloggers Community Engager for the Month of November,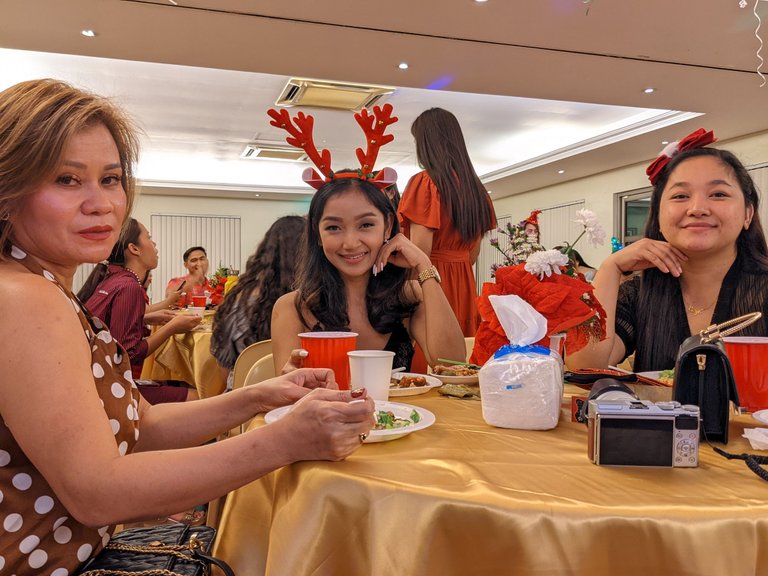 Also, to keep up with our finances, everyone is encouraged to bring food for every one share. We're glad that there are even excess foods that we managed to brought home to our family, hehe.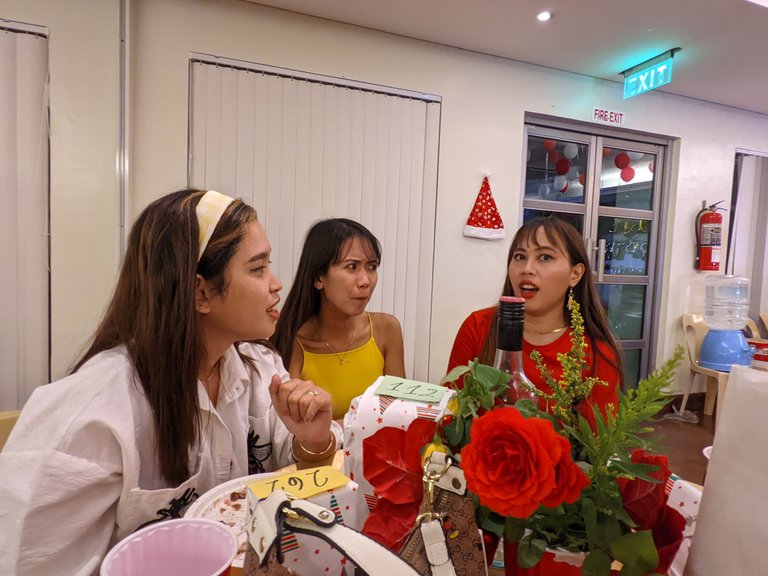 We then devoured the amazing food everyone brought. It was honestly too much but the members were able to bring some home for themselves and their families.
Along with the food, our members also bring some "kwentos," which means "stories" in Filipino. But, we tell stories in a good way! These stories are essential for to have fun. We usually tell stories about our funny moments and such 😍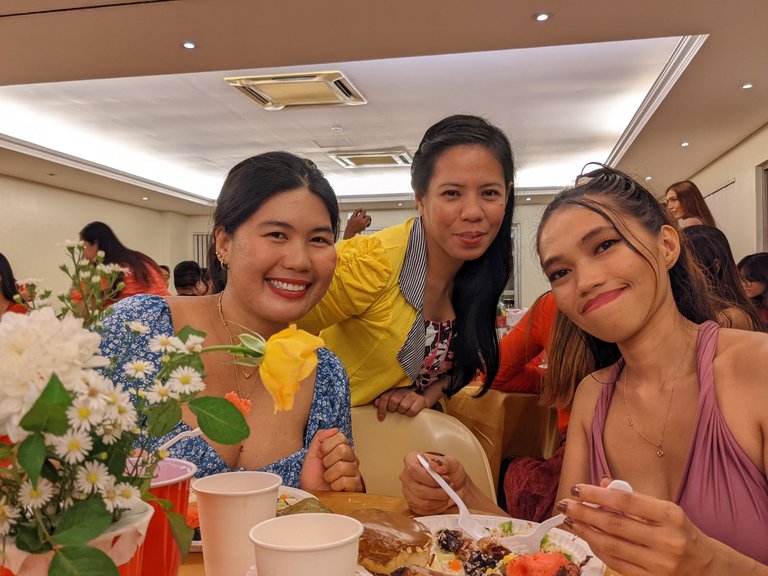 After eating, we did some games. It was so fun to see everyone else participate and receive gifts and prizes!
Everyone enjoy the games, nibble some food from time to time, and drink a little wine.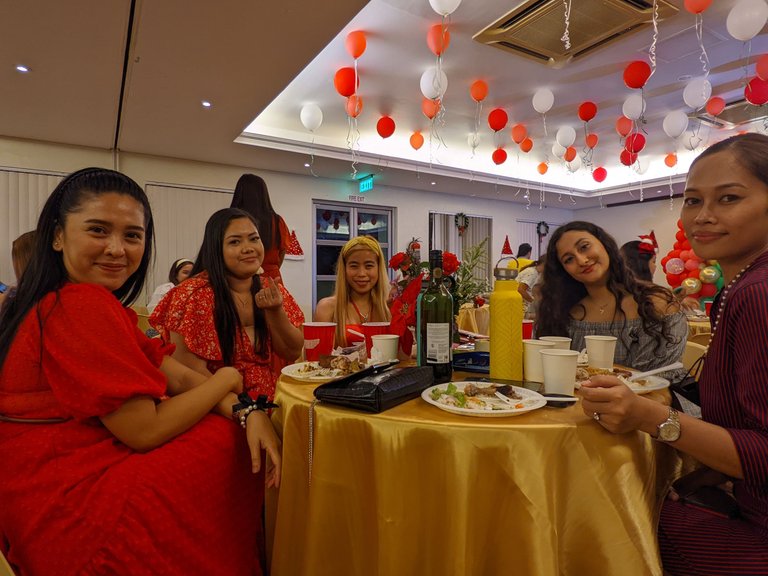 Of course, a party wouldn't be complete with so many selfies, group photos, and solo portraits! That's why you're able to see a core memory of our community. 😍
Also, thank you so much for @gerel for making our backdrop extra special which everyone took photos of.
---
Also, @purepinay's friends who live in the area joined and share some fun with everyone. Because of @purepinay's and @explorewithsasha's partner generosity, we have so many prizes for the raffle. Everyone went home with a gift or prize which brought a smile to their face.
You can also check some posts our members and invited guests created about our party.
MATERIALS THAT I USED DURING THE HIVE CHRISTMAS PARTY ( DEC 11,2021) AND PEOPLE BEHIND THE SUCCESSFUL SET-UP OF THE VENUE by @gerel
Hive Christmas Weekend Party!/ The day Has come with Full of Laughter and Fun! by @filipinajourney
HIVEMAZING WONDERLAND CHRISTMAS PARTY WITH MY HIVE CEBU BLOGGERS FAMILY by @sassycebuana
My Christmas Memories With Hive Cebu Bloggers Community : Forever Grateful & Blessed For the Friendship and Shared Laughter by @gerel
A Day on the Busy Street of Colon, Cebu City : Gift Shopping + Buying Decoration for the Hive Christmas Party + Gift Wrapping by @gerel
HAPPY 1ST HIVE CHRISTMAS PARTY HIVE CEBU BLOGGERS COMMUNITY! 🥰🥰❤️❤️ by @shikika
Hive Wonderland Xmas Party: Hive Cebu Bloggers Christmas Party by @queenmeiko22
The long wait is over its the Hive Wonderland Christmas Party 🎉 🎉 by @explorewithsasha
My Best Experience In Hive : The Hive Cebu Bloggers Community And ASEAN Hive Community Give More Colors In My Hive Journey! 🥰🥰 by @shikika

We can't wait to be able to do this again, hopefully with more members. Do you want to join us next time?
We, the HCBC have been for each other for the past 6 months. It wasn't a perfect journey of how we get all together but we are finding our way in making our community even better.
It was a heartbreaking year-ender for some of our members who have been affected by Super Typhoon Odette, and we are extremely grateful for each other, and for Hive for the support.

It might be too late but from the bottom of our hearts, from the HCBC Family, Merry Christmas and a Happy New Year!

You can also support Hive Cebu Bloggers Community by Delegating to us any amount. 😉
For pre-formed delegation, you can click below.
---
You can also reblog this post and follow our Curation trail.
---
Again, we're HCBC! Hopefully, you can continue supporting us as we start our 2022 with more initiatives. ❤️
---
Note: Beneficiaries are added to the members of HCBC for their roles and contribution.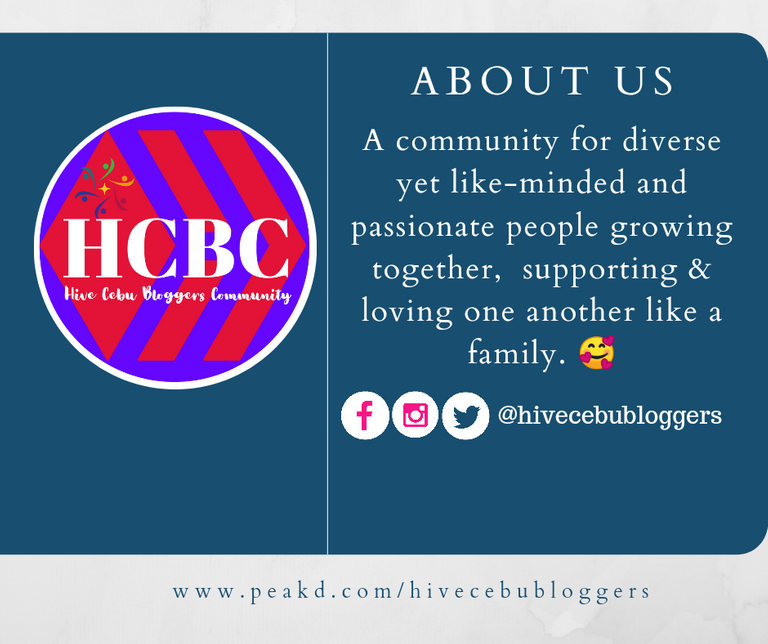 Hive Cebu Bloggers Community - A community for diverse yet like-minded and passionate people growing together, supporting & loving one another like a family.👪

Every upvote is much appreciated🥰. For future blog collaborations or inquiries, feel free to contact us on our social media channels or email us @ [email protected]