Hello everyone!
Hope all are safe and well!
I have here another Filipino recipe that you may try. 🤗 The simple recipe for squid dish. My favourite Adobong Pusit.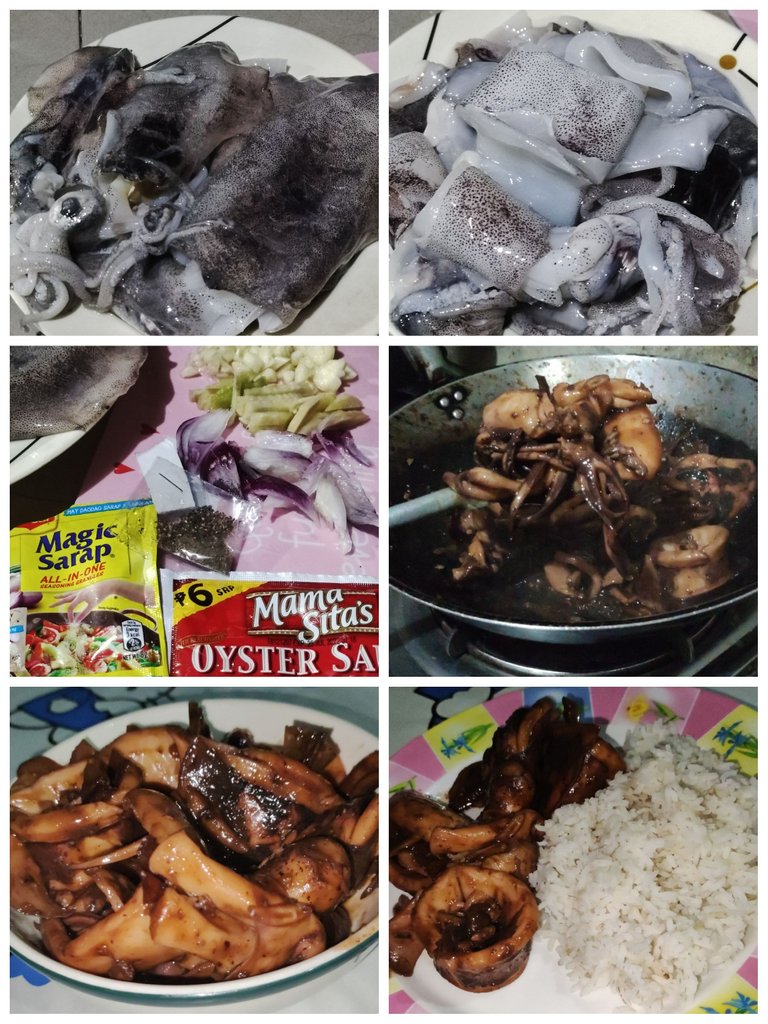 Ingredients:
Squids
Onion
Garlic
Ginger
Ground Black Pepper
Soy Sauce
Vinegar
Oyster Sauce
Magic Sarap
A glass of water
Cooking oil
Procedures:
Prepare all the ingredients.
Wash and clean the Squids. You may remove the squid ink or it's up to you if you gonna remove it or not. While here, the squid ink was removed because, I am about to put it in fridge. But, I cook it instead. 😁 Actually, squid ink adds to the dish more flavorful.

Cut the squids to your desired size.

Peel the onion, ginger and garlic and chop.

Prepare the stove. Put the squid in an empty pan and let it cook until soften.



When the squid is cool, transfer in a clean plate and set aside. Set aside also the squid broth.

Using same pan, saute the onion, garlic, ginger.


Add the cooked squids. Add soy sauce and vinegar.

Add water or the squid broth. But, in this cooking I forgot to add the squid broth. I only add water. 😁

Mix well and simmer for a minute.
After a minute, add the oyster sauce, magic sarap and ground black pepper. And let it cook. Note: You may add salt according to your taste. But, I didn't add salt to this dish because the taste is okay with me without salt. 😀

When cooked, transfer in a bowl. And ready to serve the Adobong Pusit. 😋

Pair it with rice and enjoy! 🤗

That's how I cooked the Squid Dish when I was at home.
Have a Blessed Saturday everyone! 😀😀😀💖💖💖
---
Thank You Lord for the blessings and love!
Be grateful in every little/simple things and you'll find happiness you ever wanted! 😀😀😀
Everyday is worth to be grateful of!
Praying for the safety and wellness of all.
Heal Our Land Oh God!
Lovelots,
@shikika