ENG

---
It starts in Italian immediately after the English one - Parte in italiano subito dopo quella inglese
---
Hello to all friends of the PGM token community, today we are here to announce a new collaboration with a project that I personally respect very much.
This project is that of @youarealive created by @flaxz whom I thank for all the time dedicated to the collaboration.
First of all I want to leave you the link of their post here where they talk about the collaboration between these two projects.
---
First we explain what the ALIVE token is and see its trend.
THE ALIVE PROJECT is a very solid and concrete project where you will find many interesting functions inside.
first you can earn with the tag #alive or you can participate in the challeng #IAmAliveChallenge or even #AliveAndThriving
In addition, there is Alive Engagement
In addition, there is also the command !ALIVE
---
TOKEN ALIVE TREND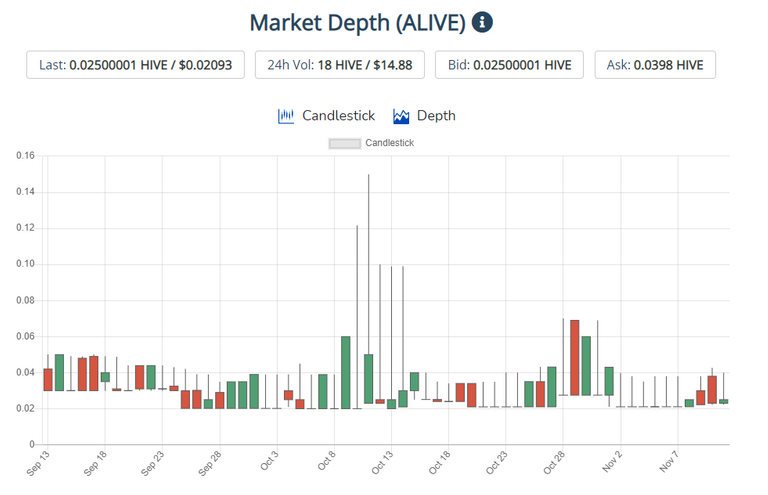 This is the trend of their ALIVE token which on October 28 reached very high peaks at 0.06 HIVE = $ 0.05 while now the value is 0.025 HIVE = $ 0.02, a trend that is still quite stable at the same pace. except for a few pumps that are followed by a dump.
---
And now let's see what the collaboration consists of
Currently the @aliveprojects account sends 0.43 BRO tokens per day for all those who stake ALIVEs
FROM NOW ON ANYONE WHO HAS ALIVES IN STAKE WILL RECEIVE PGM TOKENS
In fact, from now on, the ALIVE project will send 5 PGMs per day which will be sorted among all those who stake the ALIVE token.
The supply we sent to support the ALIVE project is 1825 PGM which should be enough for 1 year of token delivery!
---
Obviously both we of the PGM group and all the members of the ALIVE project hope that you will enjoy this collaboration and we hope to lend a hand to all the accounts that want to participate in this wonderful initiative.
---
TOKEN PGM TREND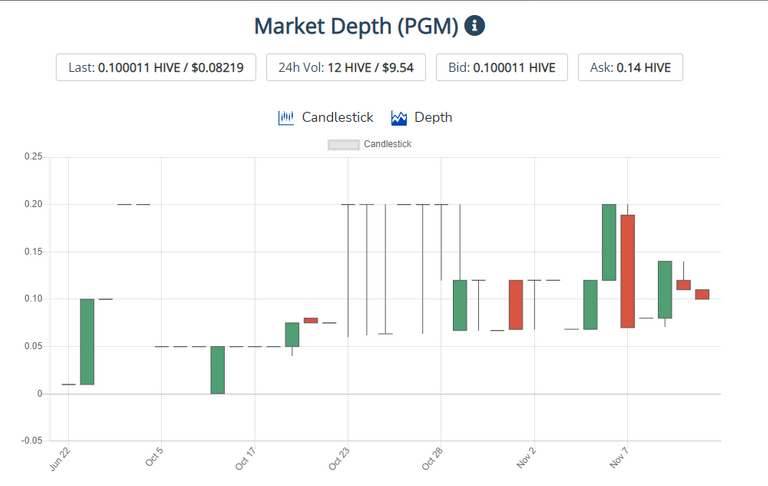 This is the trend of the PGM token in the last two days, now it is exactly 31 days, so exactly 1 month that the PGM token does not have the volumes at 0 in 24h, something incredible for a project that has just been born if we can. say, since the actual project started with the pre-sale.
In addition, the bid and offer price is getting closer and closer, as expected...
---
Bid: 0,1 HIVE = 1 PGM
Ask: 0,14 HIVE = 1 PGM
1 HIVE = 7,15 PGM
1 PGM = $ 0,08
Server discord ALIVE
Server discord PGM
---

---
ITA

Ciao a tutti amici e amiche della community del PGM token , oggi siamo qui per annunciare una nuova collaborazione con un progetto che io personalmente stimo davvero tanto.
Questo progetto è quello di @youarealive creato da @flaxz che ringrazio per tutto il tempo dedicato nella collaborazione.
Per prima costa vi voglio lasciare il link del loro post qui dove parlano appunto della collaborazione tra questi due progetti.
---
Per prima cosa spieghiamo cos'è il token ALIVE e vediamo il suo andamento.
IL PROGETTO ALIVE è un progetto davvero molto solido e concreto dove al suo interno trovate tante funzioni interessante.
per prima cosa si può guadagnare con il tag #alive oppure si può partecipare alla challeng #IAmAliveChallenge o anche #AliveAndThriving
Inoltre esiste l'Alive Engagement
Inoltre esiste anche il comando !ALIVE
---
ANDAMENTO DEL TOKEN ALIVE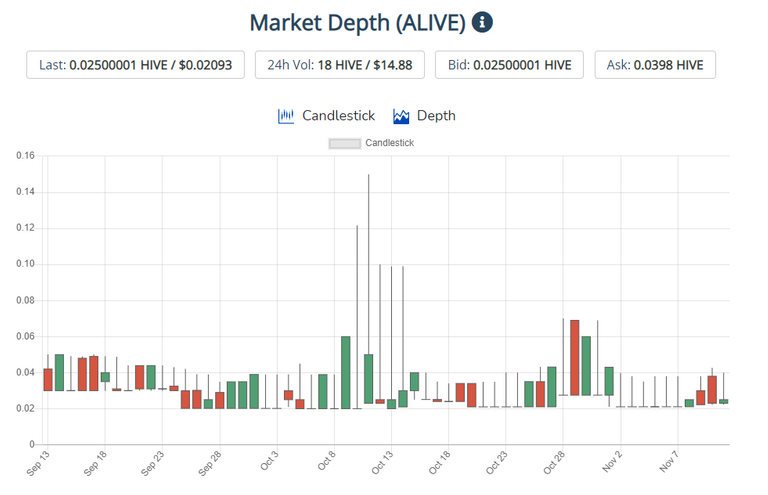 Questo è l'andamento del loro token ALIVE che il 28 di ottobre ha toccato picchi altissimi a 0,06 HIVE = $ 0,05 mentre ora il valore è di 0,025 HIVE = $ 0,02 , andamento comunque abbastanza stabile sempre sugli stessi ritmi salvo qualche pump che viene seguito da un dump.
---
E ora andiamo a vedere al collaborazione in cosa consiste
Attualmente l'account @aliveprojects invia 0,43 BRO token al giorno per tutti coloro che hanno in stake degli ALIVE
DA ORA IN POI CHIUNQUE AVRA IN STAKE GLI ALIVE RICEVERA DEI PGM TOKEN
Infatti da ora in poi il progetto di ALIVE invierà 5 PGM al giorno che andranno smistati tra tutti coloro che hanno in stake il token ALIVE.
La fornitura che abbiamo inviato per supportare il progetto di ALIVE è di 1825 PGM che dovrebbero bastare per ben 1 anno di erogazione del token!
---
Ovviamente sia noi del gruppo PGM sia tutti i membri del progetto ALIVE speriamo che questa collaborazione vi possa piacere e speriamo di dare una mano a tutti gli account che vorranno partecipare a questa bellissima iniziativa.
---
ANDAMENTO DEL PGM TOKEN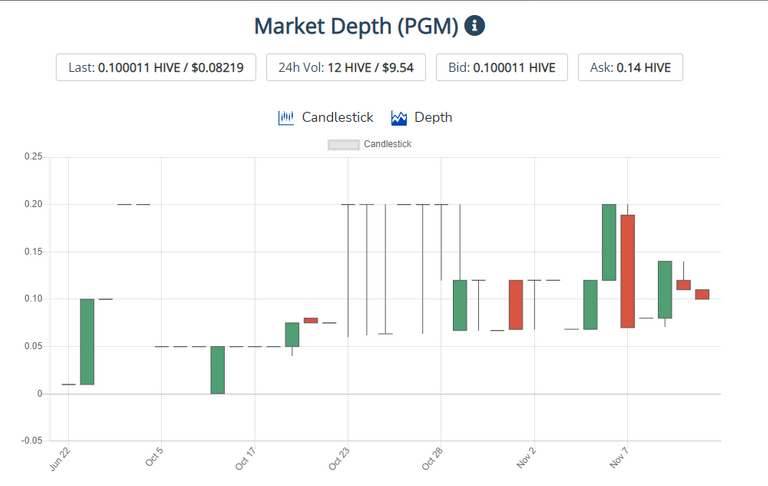 Questo è l'andamento del token PGM negli ultimi due giorni , adesso sono esattamente 31 giorni , quindi 1 mese esatto che il PGM token non ha i volumi a 0 in 24h , qualcosa di incredibile per essere un progetto che è appena nato se cosi possiamo dire , visto che il progetto effettivo è partito con la pre-sale.
Inoltre il prezzo di domanda e offerta si avvicina sempre di più , come previsto...
---
Bid: 0,1 HIVE = 1 PGM
Ask: 0,14 HIVE = 1 PGM
1 HIVE = 7,15 PGM
1 PGM = $ 0,08
Server discord ALIVE
Server discord PGM
---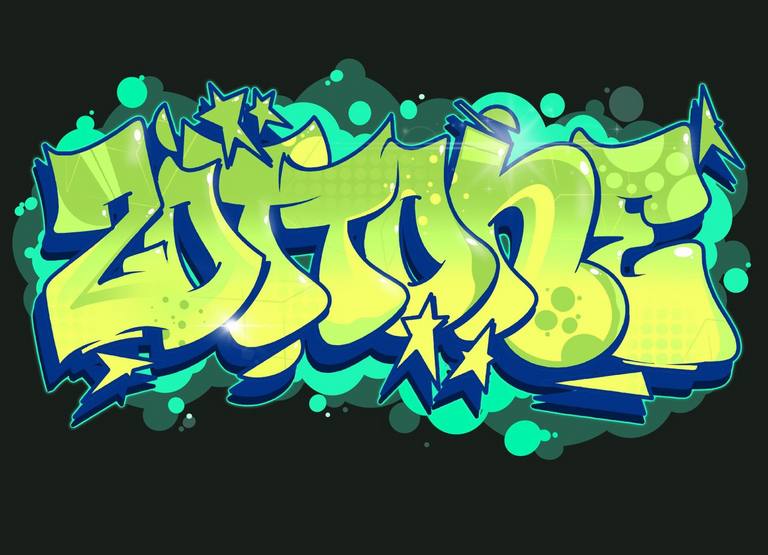 If you want to speak for some collaboration write me on discord zottone#6726
---
Follow me on
TWITTER ---> https://twitter.com/zottone444
TORUM ---> https://www.torum.com/u/zottone444
HYPPER ---> https://hyprr.com/profile/zottone444
NOISECASH ---> https://noise.cash/u/Zottone444
READCASH ---> https://read.cash/@Zottone444
BLURT ---> https://blurt.world/@zottone444
JOIN ON TELEGRAM ITALIAN GROUP ---> https://t.me/hiveitaly
FOLLOW HIVE ITALIA ON ---> Twitter -- Instagram -- Fecebook
photo by @rankoree / @darkflame / @astrocreator / @finguru / hive-engine .
My private socials
Instagram---> ale_zotta_
---
Links that may be useful to you for the PGM token
Buy it here
If you don't know how to buy the PGM token click here
If you want to know what projects we collaborate with, click here and here
If you want to become a sponsor of the project click here
joins the PGM discord server
Buy games by paying with hive-HDB-Pizza Token here @thebeardflex
To buy my microphone click here
To join my fortnite community click here
---