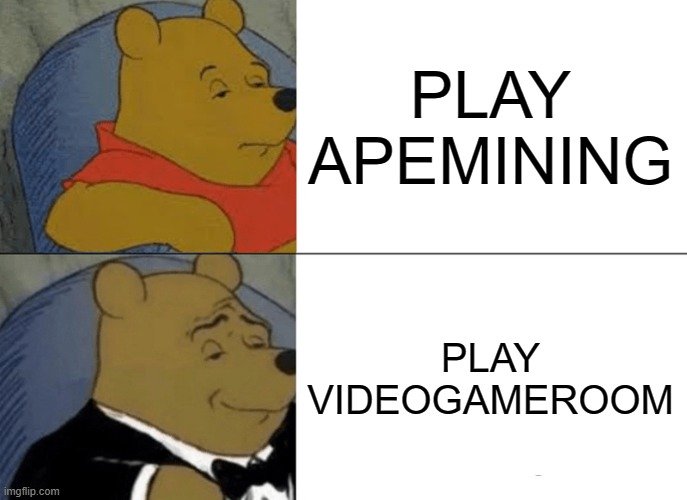 I wanted to start by beginning this post in English and conclude it in Italian by saying that it is a meme and how it should be taken, I am not offending those who play APE mining but am simply making a joke! I invite you to evaluate your investment and see which one suits you best!
Ok dopo un piccolo avvertimento per tutti i videogiocatori di ape mining che si potevano agitare posso iniziare a parlare del nulla cosmico , anzi , più nello specifico solo dei miei fatti AHAH
PSYBERX
Ho iniziato a giocare a @psyberx oggi e mi sto trovando molto bene , il gioco gira bene , non ci sono molti player ma è normale e soprattutto siamo in alpha e quindi è giustificato il numero di player cosi basso.
Se volete installarlo dove andare su steem e andare in basso a sinistra e inserire uno di questi codici:
JLZZD-ZP4TD-LHBED
ENET3-XKBAV-FPT7F
3Z3FK-6BZ4P-NDM9W
A3ETH-AI26Z-JARIZ
6K0HK-YB0R4-D9XR2
7T62V-X7NI3-QZ248
Una volta usato dove scrivermi e dirmi quale avete usato cosi da poterli togliere dalla lista presente su discord di psyberx (questi codici potrebbero andare off da un momento all'altro)
Tralasciando questo gioco molto carino fatto bene , siamo nella versione 0.0.4 quindi tutto sommato nulla di che.
Il gioco pesa circa 60 GIGA e dovete avere un pc un minimo decente , tipo io ho un computer con un I 3 di settima generazione e una scheda video 1650 , un computer decente , quasi scarso per il gaming , anzi togliamo il quasi , ma comunque me lo regge senza problemi con tutte le impostazioni low , cosa che vi consiglio.
Se riusciamo a raggiungere un bel numero di giocatori italiani con questi codici sarebbe bello fare un torneo in collaborazione con psyberx e farci sponsorizzare per bene i nostri account! Oltre che a vincere anche qualche premio!
Ora contatto quelli di psyberx per vedere come funziona il tutto e organizzare un mega evento!!
---
DERBY
Mamma mia , fra poco c'è il derby della mole , mamma mia gobbi stiamo arrivando a torino infuocati come non mai , anche se gli ultras disertano la trasferta , noi all'allenamento abbiamo fatto il doppio del tifo che farete voi durante il match!
---
VIDEOGAMEROOM
Il gioco di PGM è uscito , guadagni passivi , e se volete , @nftfrappe , possiamo fare una collaborazione per far comprare i vostri NFT da videogameroom e far guadagnare HIVE e PGM ai vostri utenti (ho visto che avete iniziato a distribuire come ricompense gli HIVE) lasciandomi 0 commissioni , ma semplicemente facendo pubblicità al progetto di VIDEOGAMEROOM e viceversa , cosi da supportarci a vicenda e dare una ricompensa extra alla vostra community , tanto a me non pesa e a voi nemmeno! Quindi fatemi sapere!
---