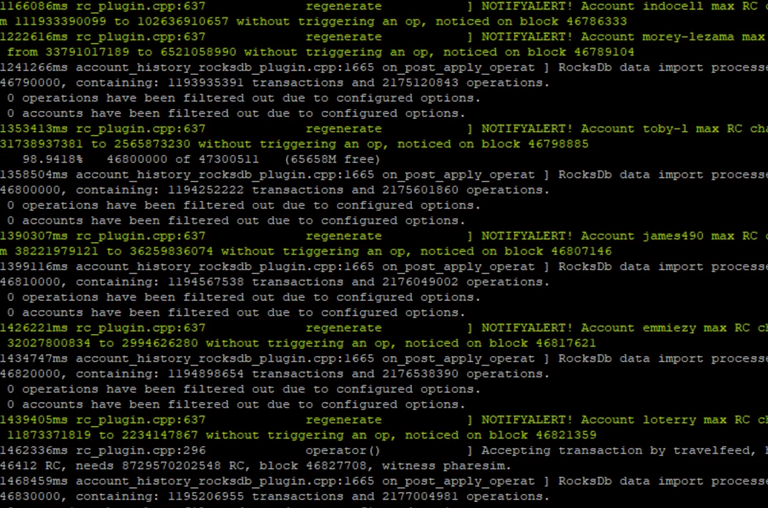 By now you should all be aware that the Hive Blockchain will undergo major changes when HF24 is deployed on October 6th 2020, this Hard Fork is the culmination of an incredible amount of hard work put in by many of our Top 30 Witnesses - and not only rebranding the blockchain running software for Hive and HBD, it introduces ./hived as the main running code for the blockchain but also introduces major improvements to how the blockchain runs. ./hived now allows replays to be resumed if the process is stopped for any reason (except server reboot) plus snapshots to be taken and resumed from rather then waiting days for a replay, but also major background work primarily done by @blocktrades code team has moved a large amount of non consensus transactions into HiveMind - reducing the amount of RAM needed to run a Witness Server or API Node. This is a massive improvement that will make it more affordable for out user base to run an active Witness, and also will mean Exchanges who need to run an API node as part of their business will be able to do so at considerably less cost - which should see Hive available on many more exchanges making it even easier to trade.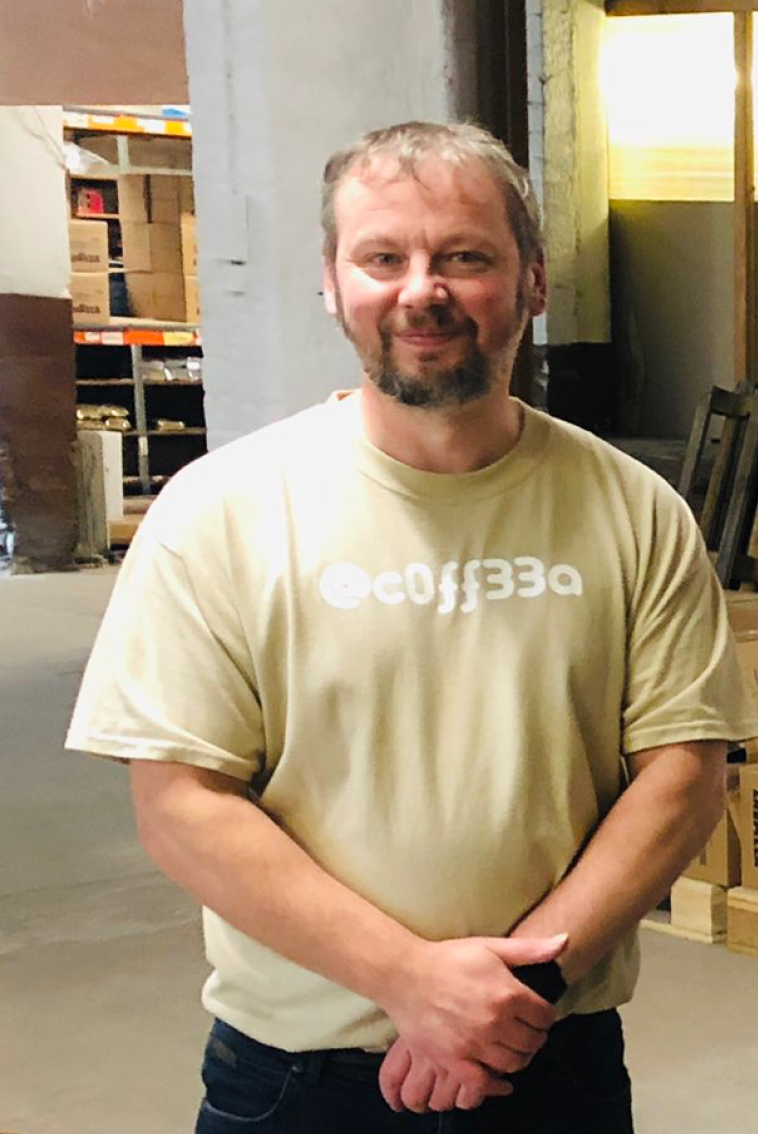 To prepare for the HardFork @c0ff33a and @derangedvisions have been making use of the code change to upgrade our 4 Hive Servers increasing SSD storage and doing general maintenance updates - which requires reboots so replays will be required. https://api.c0ff33a.uk and https://hiveblog.c0ff33a.uk will show intermittent outage while the nodes update, but the Witness should not be affected and will be showing approval of v1.24.2 before the hard fork date.
A common misconception when Hard Forks occur is that Witnesses signalling the new code version are producing blocks with the new code. When new code is released it can not be deployed until a super majority of the Top Twenty Witnesses approve it, they approve it by running a version of the new code - which produces blocks using the current code (v0.23) but when they are signed it signals the new version (v1.24.2) to show they accept the new code changes. The new v1.24.2 code will only activate and start running when the Hard Fork date and time is reached IF the super majority of Top 20 Witnesses have adopted it. Thanks to the decentralisation of DPOS - if stake holders do not approve of the new code they can choose to only vote Witnesses running v0.23 and ensure enough of those stay in the top twenty to prevent the new version being adopted. I can not think why anyone would dislike the massive enhancements HF24 brings - but the option is there because that is an essential part of an decentralised blockchain.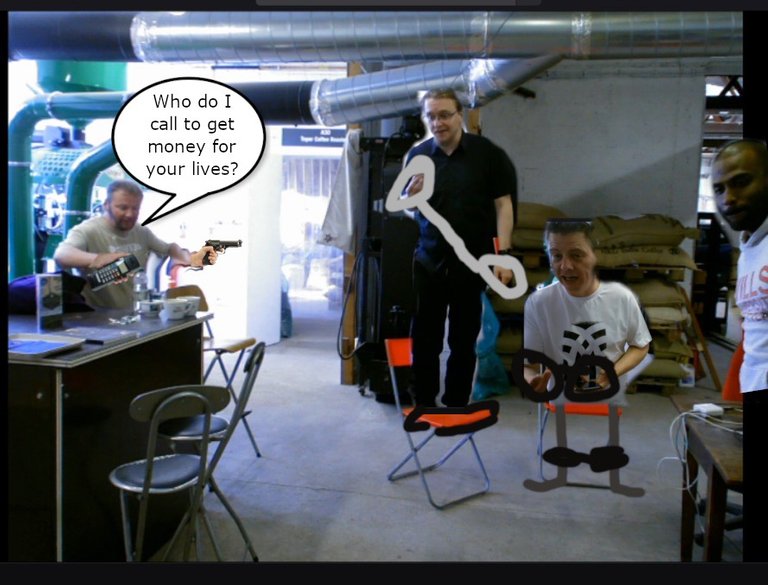 What is @c0ff33a Witness doing to deserve a Witness Vote
It's a question every voter should ask themselves regularly - what do the Witnesses I vote actually do to improve the Hive Blockchain?
For @c0ff33a I run four servers dedicated to Hive, a full node https://api.c0ff33a.uk plus my Witness @c0ff33a and Witness @whiterosecoffee which will become more active as I roll out Hive Blockchain Coffee.
In my limited spare time I am trying to co-ordinate our UK based Hive accounts, we have a Brits discord, Team UK Community the curation account @teamuksupport tracking #teamuk tagged posts to help support our new onboarded accounts. I also hosted the Hive UK meet up on 19th September 2020 (see the livestream meme above) which I hope to grow to an annual event.
I have organised and paid for in association with @hivebuzz the Hive UK meet up badge which can be applied to all accounts attending meet ups in the future. (I also just realised I have not given myself a badge yet!)
I have recently pledged 200 Hive in prize fund to the @brovest Monster Raffle
and I have just agreed to pledge 250 Hive in prize funds to The next Hive Music festival on 5th October 2020 organised by @edwardstobia , @drakernoise and @oscorps I think it is important to promote and support our talented Hive user base because they are a big attraction for users from the outside.
Plus @derangedvisons runs his own schedule of contests and curation, we both are now Orca + Stakeholders so have a respectable stake in Hive.
The Cold Wallet situation
As I have previously discussed in posts, @c0ff33a has powered down most of the Hive Power it holds to a cold wallet account which then delegates it back to @c0ff33a. This is purely for security of the Hive I hold, my @c0ff33a account is extremely active utilising many daps and games, plus various services and also server requirements - all this requires my keys to be in constant use. Just changing them would stop the different services I use working, by moving most of my Stake to a cold wallet it is safe because the only time I access it is to delegate Hive Power back to @c0ff33a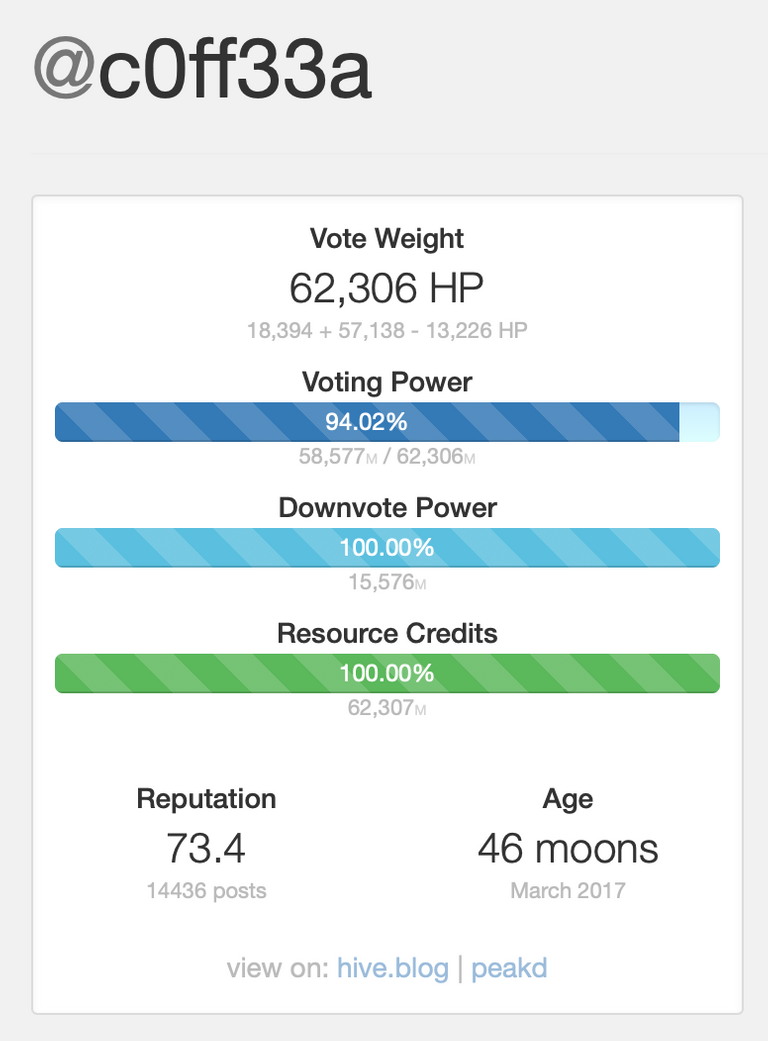 This has now been completed, I'm holding 18394 Hive Power on @c0ff33a, 13226 of which Hive Power is delegated back out to community projects and individual accounts.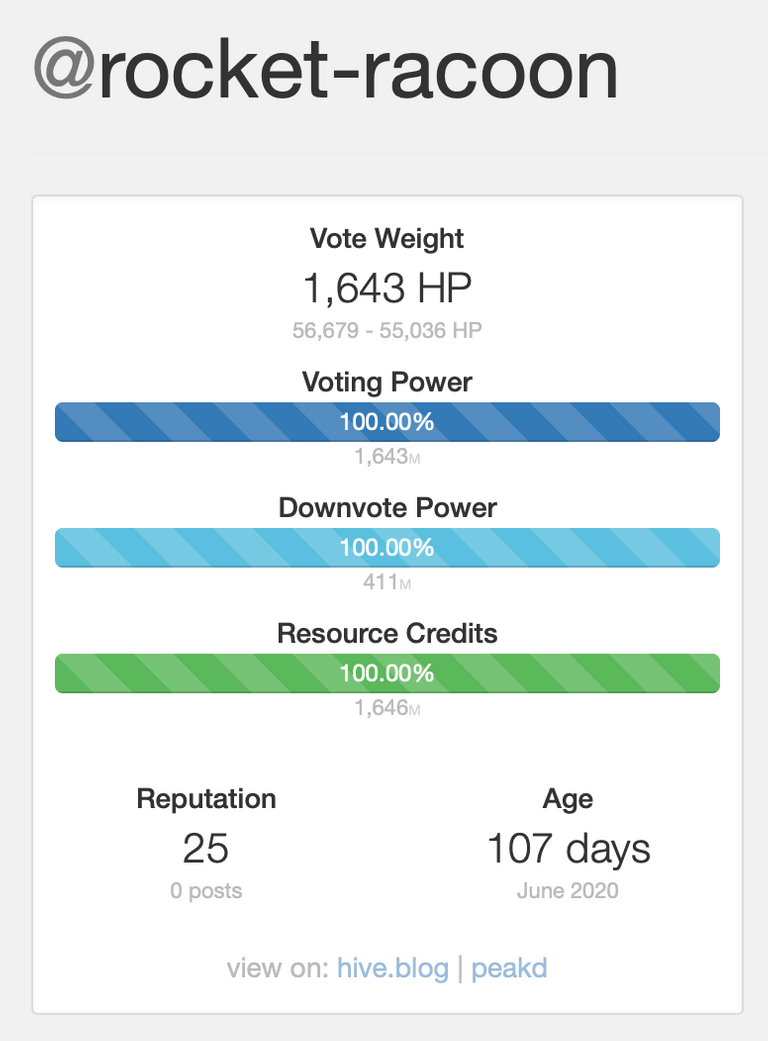 And my cold wallet is now Orca Level, although it never posts so will not get the @hivebuzz badge. And I lost the badge because my account is no longer Orca level except for delegation.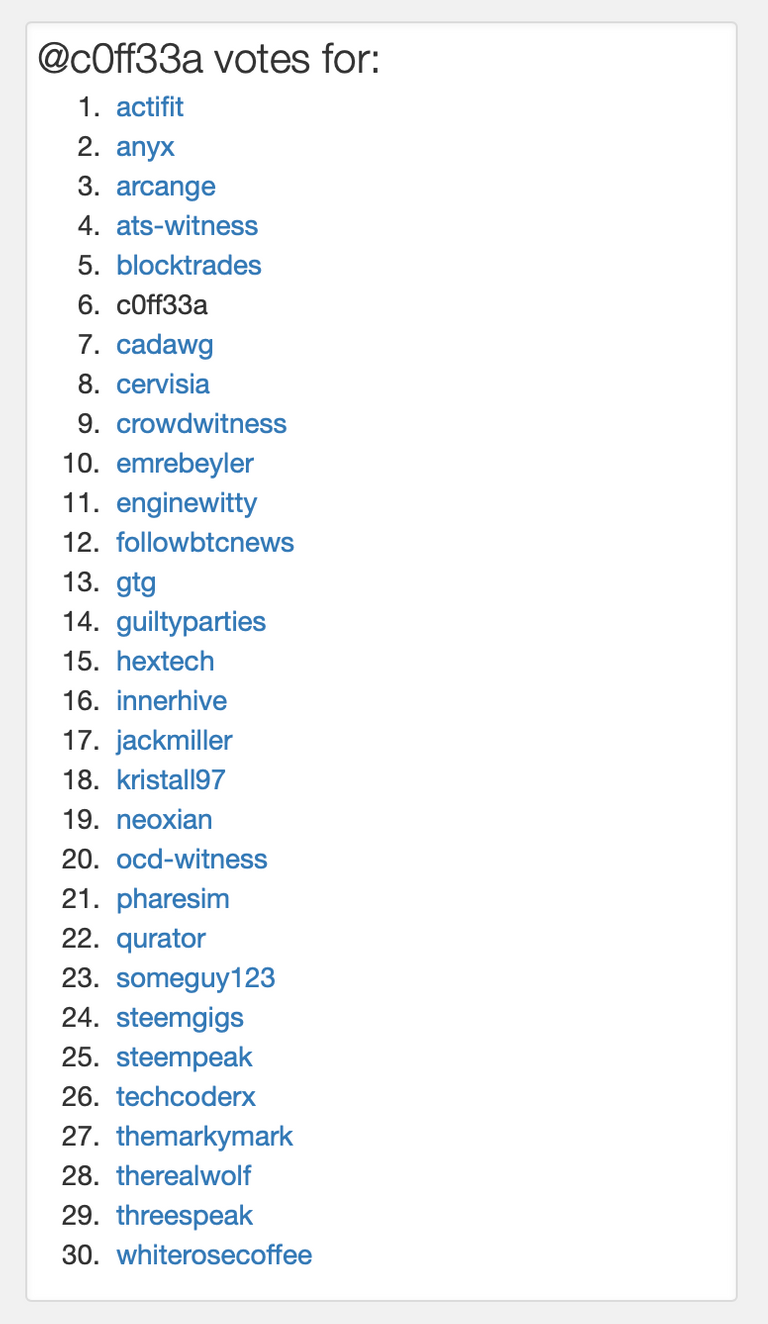 That is my current Witness vote list, I try to keep on top of what each one is doing to support Hive - and I try to spread my vote throughout the ranks while it is important to support our Top Witnesses- I also feel supporting lower ranking Witnesses encourages them and others that running a Witness is a worthwhile challenge - and we have some really active and passionate Witnesses in the 100 to 50 rank - so go spread your vote about I think the the 100 to 50 rank Witnesses are actually currently doing far more then then most of the 49 to 30 rank - a little vote adjustment might just wake them up a little.

Active HIVE Witness alongside @derangedvisions, if you appreciate the effort and work we put into the HIVE blockchain please consider giving us a Witness vote.
We run four Hive servers, two Witness Servers, Hivemind Instance, Full Account History Node, FAT Node
https://api.c0ff33a.uk our full API server to use with your dapps and front end
https://hiveblog.c0ff33a.uk Our own condenser front end, exclusively using our own API server to access the Hive Blockchain.

Proud sponsor with @derangedcontests of @brosino , free to play and cash out HIVE rewards, head to Brosino Website now and start playing.
Visit #brits Discord Channel Join #teamuk and make your posts easily found, post with the tag or create a post in teamuk community so your fellow Brits can easily find and support your work. Let's work together to make #hiveuk an active community on the Hive Blockchain.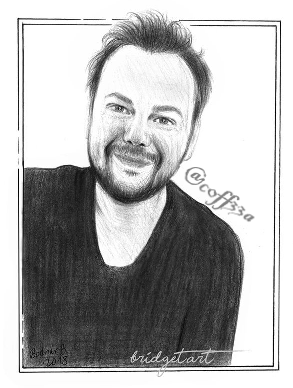 I distribute coffee roasting machines and also espresso coffee machines and roast my own Speciality Coffee Range. being one of the premium coffee suppliers Yorkshire including a wide range of filter coffee sachets. Finally I have a dedicated website to my Artisan small batch roasted coffee featuring roast and post packs and super easy coffee subscriptions.
Become a White Rose Coffee Roasters affiliate and earn a percentage of the sales you bring in for sharing your affiliate page links Become A White Rose Coffee Roasters Affiliate now payout available via Pay Pal or HIVE based on the current exchange rate.

The Coffee Break Discord Voice Chat Show, in @thealliance Mondays 10pm UTC hosted by @c0ff33a and @enginewitty
[//]:# (!pinmapple 53.811481 lat -1.789255 long c0ff33a d3scr)
Catch me live and unleashed every week on @threespeak with my c0ff33 vlogs
Vote for my Witness