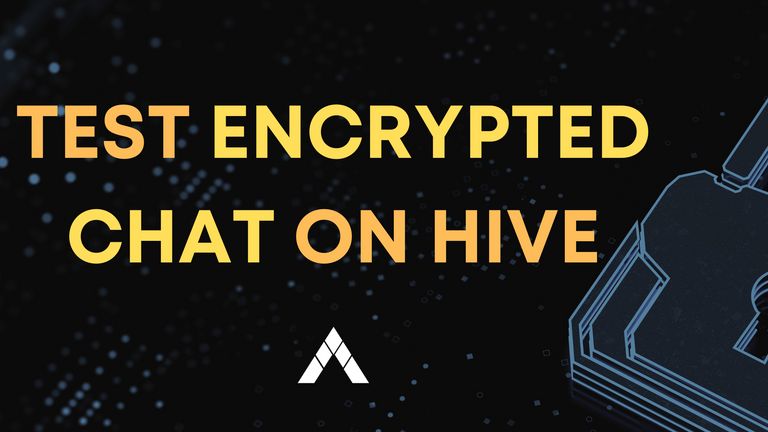 ENCRYPTED CHAT ON HIVE
This was funded by the hive community as an open source project.
YOU ARE ALL INVITED TO TEST ENCRYPTED CHAT ON HIVE
@peak.open Projects has spent several months working on an encrypted messaging system for HIVE users we call it "STING CHAT"
It also has a discord style format for communities.
TESTING STARTED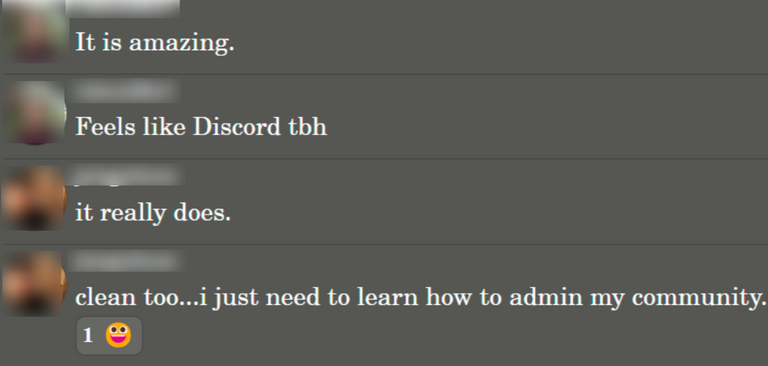 Yesterday we opened up the alpha test site
Lots of action already even during this testing phase.
Tons of great feedback
Yes we did have a lot of inspiration from discord
Yes there is a dark mode
A VIEW OF COMMUNITY CHAT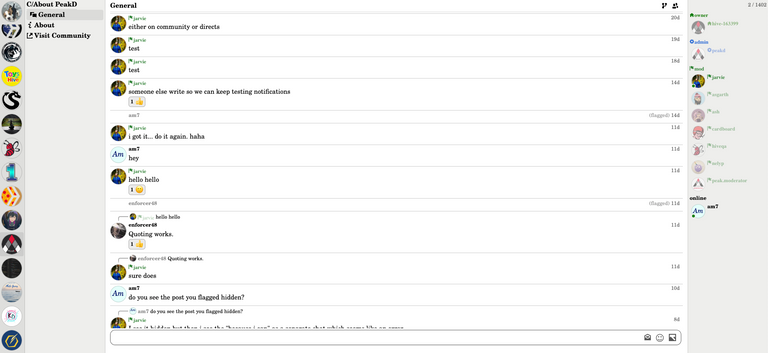 THE GOAL FOR HIVE
The goal is to have this open source software integrated into ALL Hive dapps.
Depending on your feedback, we will soon integrate a widget into PeakD and PeakMonsters.
We encourage other apps to join in the party.
Note that each website can change the look and style of the messenger on their site according to their desires or brand.
PeakD and PeakMonsters will polish our version to fit our website.
This test environment has lots of options and settings so that different dapps can play with it and see what's possible.
WHERE TO GO
BUT FIRST... We invite you to an ALPHA release on a testing environment.
---
WHAT TO DO
Login (keychain only)
Message someone who is using it (including me @jarvie or programmer @mirafun)
... this is encrypted using a keychain transaction
Go to a community such as the "C/About PeakD" community (https://chat.peakd.com/t/hive-163399/0) and test out that discord style non-encrypted chat
DM @jarvie there and ask to be added to a huge group test and give your feedback there. (Let's stress test private groups)
---
IMPORTANT NOTE
Sting Protocol relies heavily on using Hive keys to decode messages which means Keychain has to be consistently involved. You must be willing to select "DO NOT PROMPT AGAIN" on keychain in order to have a enjoyable/usable experience on this site. These are not hive blockchain transactions and will not cost you any RC.
---
Brief introduction to the app
After opening the app, you will be welcomed with a screen similar to the one below. In the left sidebar, you can find a list of communities you have added or subscribed to. The middle sidebar shows a list of direct and group messages or community text channels.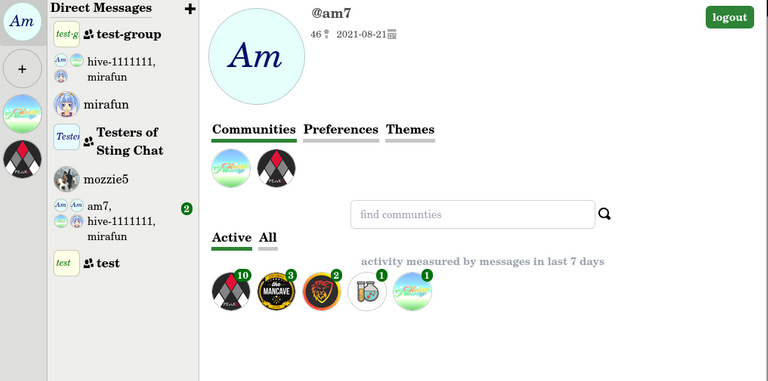 Adding, Hiding, Removing Communities
To add a community to the left sidebar, click on the '+' button. A popup similar to the one below will open. Find a community from the list of Active communities or if the one you are looking for is not present, switch to all to find it.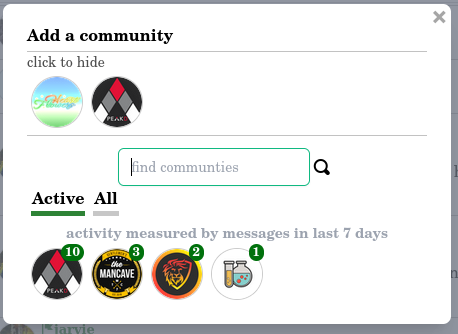 If you do have too many communities shown in the left sidebar, you can hide them and add them back later.
NOTE: You do not need to add a community or even subscribe to a community to be able to chat in open chat channels on that community.
Starting a Direct Message (encrypted)
To start a new direct message click on the '+' button next to 'Direct Messages'. Enter from one to three usernames (comma or space separated; including yourself 4 users is the limit).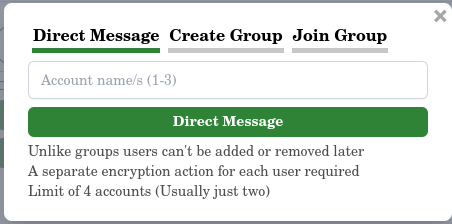 Each direct message is encrypted with keychain. Similarly, reading encrypted messages requires the decryption by using keychain as well. Due to this, it might be convenient to use the "Do Not Prompt" checkbox option on keychain for decryption.
Starting Group Message (encrypted)
If you would like to communicate with more than 3 other people you can create an encrypted group. You can specify a group name and enter a group password. Anyone with this password will be able to read and write to the group. Similarly, by using the 'Invite a user' feature, this group key will be sent to the invited user via an encrypted direct message.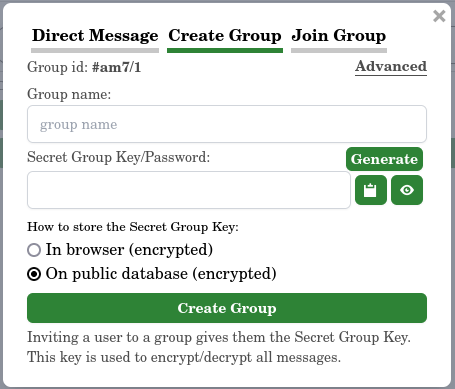 Customizing community space (for Admins/Owners of hive communities)
Admins and owners can customize their community space. This includes:
adding, removing, renaming text channels
setting channel write or visibility permissions based on user roles and titles. (Note: setting a visibility permission affects the UI only, the content of the channel is still public, for private community channels add an encrypted text channel).
adding info page, link to posts, or URL link
custom community emotes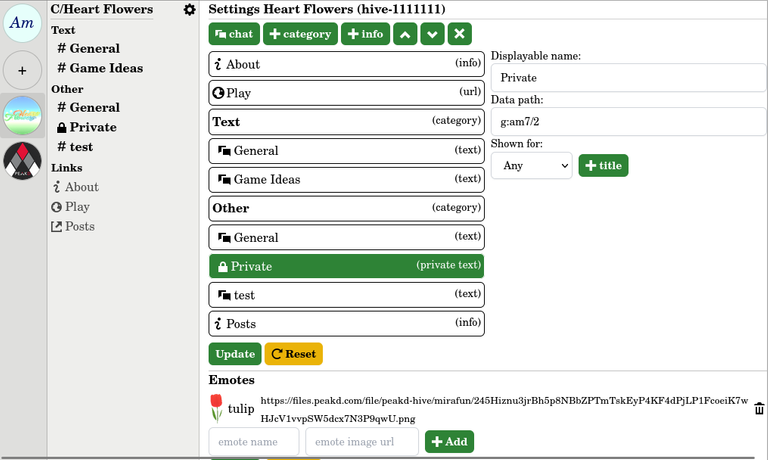 To customize a community login with admin or owner account and visit the community. Then click on the cog-wheel icon or on the community name to open a right-click menu and select 'Settings'. You can drag and drop the existing items to reorder them. (Note: currently the UI is set to show text channels on top and link on bottom.) Updating these settings will post an actual hive transaction which will update the community settings which are stored on hive.
Updating User Preferences & Themes
You can update the user preferences and pick or create a custom theme. Some of the currently present preferences include options to toggle:
who can directly message you
whether to show online status
placement of messaging box: message box on bottom with scroll to top to show older messages (default) or message box on top with scroll down to show older messages.
The following screenshot shows the effect of changing the user preferences by changing the message box to be on top, with older messages on bottom.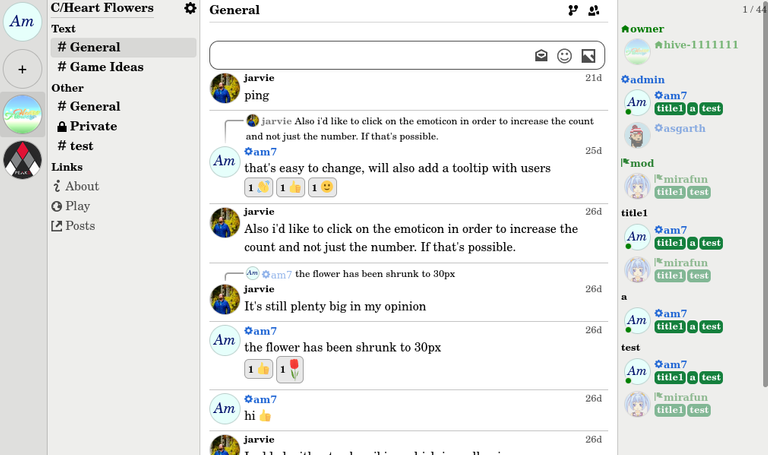 NOTE: It is important to remember that some of these are settings that specifically apply to this test environment and other apps may have fewer or more settings to choose from.
---

How to support the @peakd project
WORK WITH US
If you're a project looking to integrate one of these tools message us.
If you're a developer looking for a part time open source project message us.
WITNESS VOTE
We have been voted as a top block producer on hive (aka "witness"). You can add your vote for us on the main witness page our "witness" account is @steempeak
VOTE HERE: https://peakd.com/witnesses
OPEN PROJECTS PROPOSAL
You can support our proposal to develop open source tools for the whole Hive community using one of the following links:
BENEFICIARY
You can donate 5% of your Hive Reward Pool earnings to @peakd to help use improve the interface: Turn on in settings
SHARE IDEAS AND FEEDBACK
We invite you to share and brainstorm some ideas with us:
---
The PeakD Team
About us: https://peakd.com/about
Discord - Blog - Twitter - LinkedIn