All In On Coffee
NICHING DOWN IN THE BEAR MARKET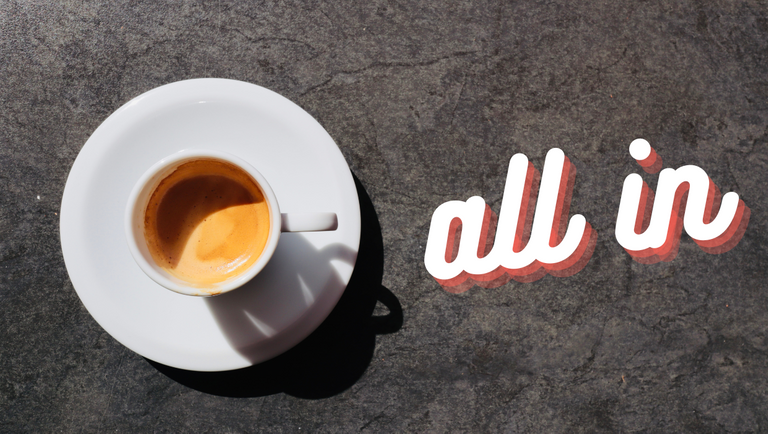 I haven't been very productive lately, in terms of content creation, because I've been dealing with a lot of things in real life (as they say). I've actually had a lot of "coffee content" to blog about, but I just didn't have the time to sit down and type into a computer, gather images and videos, and engage in the community. If anything, I have more content now than ever before.
Now that we're in the bear market, there's not that much happening in the various crypto things I was doing daily. In fact, many of them have either shut down, gone bust, or are about to. It's a bloodbath out there folks.
At such times, I tend to hunker down and build in anticipation of the next up cycle. When I was an Amazon FBA entrepreneur, it worked in cycles too. During the summer months, sales would be dire. Those where the times to build; get new product ideas, get them shipped, prepared and sent off to the warehouse in anticipation for the mighty Q4 when life returned to retail.
I also tend to focus more on things that are important, which are different for everyone of course, such as family, friends and things I'm passionate about. Two of such passions, for me, are photography and (you guessed it) coffee! Yup.
Such is my passion for coffee that I've decided to geek out on it more. I deleted all my videos (that were earning money by the way) on YouTube and rebranded the channel into a coffee interest channel. It's a kind of coffee lifestyle channel based around my daily intake of it.
I found that there are many, many, people like me that would be interested in watching the videos. I used to upload very regularly to a film photography channel a couple of years ago and I know how geeky communities like that are. Those videos are still up and get a lot of engagement still, even though I haven't uploaded anything in over a year.
So far I only have three or four videos on there , but I'm about to ramp up the volume. I've been setting up a coffee station at home to make the videos easier to churn out :). I've also finally received my home coffee machine, the Nespresso Inissia (affiliate link), and a bunch of espresso pods of different kinds. I did a little unboxing, which is one of the videos on the channel so far.
If this coffee machine seems familiar, it is because I already made a video about it here. No, not this exact one, but another Inissia that was in the hotel room I stayed in on Fuerteventura. In that video I was a little confused by the machine, but once I figured it out, I fell in love with it and vowed to get one when I got home. Even though there are better machines than this one, at a similar price or even cheaper, but this gem, in this particular colour, stole my heart in the Canary Islands, so there you go :)
Better believe that I'll also be shilling Hive on that channel to get some external eyes on our blockchain. Awesome communities like ours, #CinnamonCupCoffee, are perfect for drawing new eyeballs. Many coffee lovers are geeks and tend to already be into other geekery like photography and crypto. It's a natural fit :). ☕️
Peace & Love,
Adé