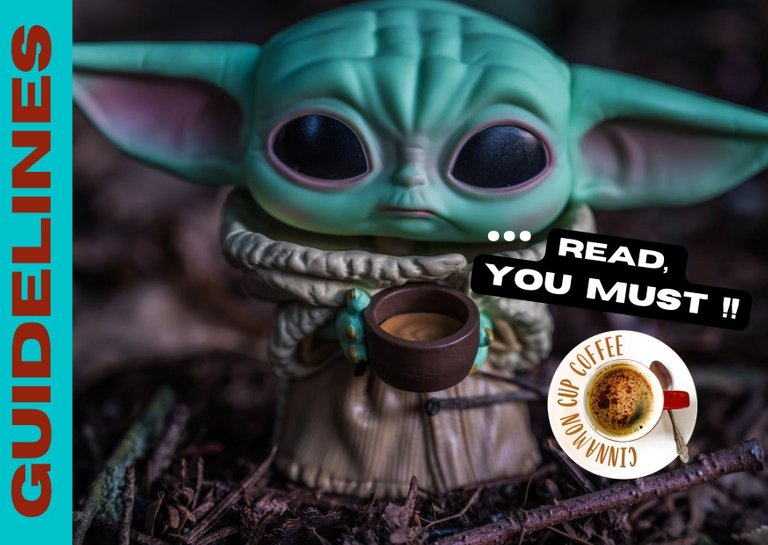 Coffee, a common commodity, is fast becoming the language of love. So, I created Cinnamon Cup Coffee community, a virtual coffee shop; as a creative space within the blockchain to facilitate the sharing of all content relating to this elixir of life -- coffee, and it's many uses.
The community model is to foster and facilitate an interactive and personable atmosphere, whilst maintaining a high level of pride in presentation to the community, and to the blockchain.
As such, the quality of posts should be comparable to workshops, on our preferred topics: coffee-beverages, coffeeshop reviews, coffee appliances usage and care, alternative uses of coffee such as art, and cooking.
Being an inclusive social hub, we understand that not everyone loves coffee, so tea lovers, and drinkers of other warm beverages are welcome too.
---
A Guideline for Posting In Community
Of course, your topic should be about coffee, or tea;
Coffee beverages you had, coffee shops you've visited, coffee machines and brewing methods, crockery, coffee art, coffee for cooking and baking, and other alternative uses of coffee.
👉Stories about your life with coffee, gives readers the chance to connect and see your personality, and passion for coffee; this is a great way to connect and increase your visibility in the community and on the blockchain.
Speaks volume, as it's your mien!
(A) Photos & Images - a blurred photo is as good as no photo.
A cup of hot or cold coffee can be tempting and pleasing to the eyes. Same for the meals that compliment your coffee.
Therefore, make an effort to include clear, sharp images.
(B) Vlogs: informative, entertaining, and educational vlogs are a useful tool, as we all learn and process information differently.
A Vlog is an effective way to connect voices to the faces of readers, achieving the feeling of a real virtual coffee shop. It's a good idea to add text and additional images to your vlogs, and the verbal communication must be in English to be of value to all members within the community and across the blockchain.
Imagine the task it would be to physically count each word?
Luckily, the computer does it for us.
There is no word-count specification, however, post over 250 English words are more likely to be promoted, as you get the chance to creatively write your stories in a detailed, comprehensible, and relatable fashion.
Meaningful content matters.
Being bi/multi-lingual is a great asset!
However, hostess, @millycf1976 takes the time to read every post, and only reads and comprehends English.
Please, write in English, and comment in English.
However, feel free to add your native or other languages.
Comments in English fosters interaction amongst community members and across the blockchain.
---
Community Guidelines
Written publication and comments to posts, must be in English.

Tell us a story behind the photos you present, and add photos to enhance your story.

Please be respectful and courteous to everyone, a general rule of the blockchain and no different here in Cinnamon Cup Coffee community.

All initiatives and posting topics must be coordinated and approved by the community admin.

Original content only, no plagiarism, or recycled content. Zero Tolerance for these offenses.
Originality is the best way to put your stamp on your post. It shows your personality, which is a great way to attract others to read and possibly upvote and reblog your post.

Please cite relevant sources for all coffee facts and claims, including images.

Spam and unethical online behaviour is prohibited; however, it's a sure way to get muted, if that's your aim.

Post directly to the community and do not double post, or separate a vlog to make separate post about the same thing.

Recycled content will be disregarded in general (including from other platforms such as Steemit)

Posting directly to the community increases the chances of your post being promoted for upvotes from the @OCD team, as part of the OCD Community Incubation Program.
Quality content might attract higher votes.

There's a loyalty membership program within the community: The three categories are:
(1) 3Cs Coffee "Purist" - the dedicated Black Coffee Drinker
(2) 3Cs Coffee "Holic" - the coffee explorer who likes the lattes and cappuccinos, and any coffee concoctions.
(3) 3Cs Coffee "Big Shot" - a contributor/sponsor, someone of high value to the community...(of course every subscriber is valuable;-).
Weekly, two randomly selected Loyalty Members earn 5% each from our community curation rewards.
Criteria to qualify for loyalty-membership:
a) Author must contribute quality posts, regularly
b) Author must engage with other community members, regularly and/or
c) Anyone who sponsors or donates to the community.
Occasionally, there's a community contest(s), wherein the specific rules will be stated. However, general community rules are always applicable.

A weekly curation publication is a way to highlight and showcase some of the weeks's highest quality stories and images.
Cinnamon Cup Coffee is a thriving, vibrant community under the OCD incubation program which facilitates commensurate rewards to the efforts and work of active members. Therefore, the aim is to keep the community's standard high, amongst others on the blockchain.
If you're new to the community, a warm welcome on behalf of all members! If you're still just lurking; please, feel free to subscribe right here.
---
Thank you,
Discord: millycf1976#9956
Cinnamon Cup Coffee community
---