A while back SuperRare released the ability to create a series, if I am understanding correctly it mints to your own designated contract instead of the general SUPR contract.
I finally created mine today, not sure if series names can be duplicated but I wanted to grab the ticker $ALIEN lol.
Title: MADNESS WAS IN THE AIR
This is an ode to my love for blend modes! I was working on a collage / paint mix piece and kept switching all the layers around and adjusting blend modes and occasionally adding or modifying layers. I couldn't decide which one I liked best so I arranged them into a gif and the result quite pleased me.
There is also now the ability to add attributes, there is really no explanation of what it does so idk if I did this right but there it is: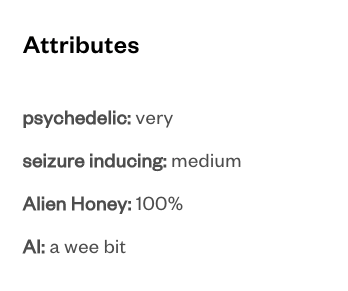 See it on SR:
https://superrare.com/0xcbc6897a366a19a94274f97c12b31d7ccf2ddea5/madness-was-in-the-air-1
>>>>>>>>>>>>>₳ⱠłɆ₦ ⱧØ₦ɆɎ<<<<<<<<<<<<<
Visit my gallery on NFT Showroom
Find all my social and gallery links here: https://linktr.ee/juliakponsford
Join the Alien Art Hive community and come get some Alien Honey!

To follow on twitter, personal account, Alien Community account <3