The awesome team over at PeakD is always looking for more great content that helps the Hive community better use their tools!
As such, they've Powered Up enough Hive to have some powerful votes available for great content!
Right now, a 100% Vote from the PeakD team is worth $9 and they have 10 available each day (and often can't find enough posts to use them!)
Want to help the Hive Community learn about their great projects, help PeakD, and help yourself earn some great rewards?
It's simple! Here's what you got to do:
Create some great content about PeakD projects (ideas and topics below)
In the PeakD Discord, add the link to your post in either #helpful-posts or #user-posts-peakmonsters (whichever is most relevant to your post)
Help Hive users in the comments of posts, point them toward PeakD.com or PeakMonsters.com, and tag @peakd to alert them so they can say thanks with a vote!
Here's the kind of content they're looking for and some ideas for what you could write about:
---
Do you love PeakD as much as I do? Write about it!
There's a ton of content to be created about PeakD.
Here are some ideas for what you could write or create videos about:
Instructions or tutorials showing how to do key things on PeakD

Examples: How to Create a Template on PeakD, How to Add a Template to a Community on PeakD, How to Check your Pending Rewards on PeakD, How to Create Great Curated Collections of Posts, etc.

Tips/Hacks - Have a great way to save time or be more effective with PeakD? Create some content about it!
Reviews - Love PeakD? Share what you love about it! What makes it great to you? What makes you choose to use it over other front-ends?
Feature Deep Dive - Love a specific feature on PeakD? Create some content on it and talk about why!
---
Another of my favorite PeakD projects is PeakMonsters. If you're a Splinterlands player and love to use PeakMonsters to manage your collection and acquire more cards at great deals, share your expertise with the Hive community through your content.
Here are some content ideas to get your juices flowing:
Instructions & Tutorials on using PeakMonster's features.

Examples: How to Cancel Your Bids, How to List Your Cards for Sale in Bulk, etc...

Tutorials geared toward Strategies or Tactics that PeakMonsters allows you to use to score great deals

Examples: How to Optimize Your Bid Pricing on PeakMonsters to win the best deals, How to Easily Increase Your Collection Power for Cheap Using PeakMonsters, etc...

Do you Love using PeakMonsters? Write a review about the site or highlight your favorite features!
---
3. Create Curated Collections of Posts on Any Topic
Curated Collections are an awesome way to bring together related Hive posts to show them in a cohesive context. This is a feature that PeakD uniquely developed on their platform so they love seeing people make use of it in useful and creative ways.
Here are some ideas @peakd previously shared for both topic ideas (though anything you can imagine is game!) and ideas about what makes for a great curated collection:
View Examples of Curated Collections
Get some inspiration and view previously made collections over at #c-c-c or C/Curated Collections
Collection Ideas to Get You Going
"Posts that help users understand Hive"
"Posts about Bitcoin"
"About the power of positive thinking"
"My posts about Decentralization"
"My favorite posts of the month about..."
"My process renovating my house"
"How to play Splinterlands" Or "How to play DCity"
"How to use Tribaldex.com"
"My travels in Antarctica"
"The top posts in the C/Hive Gaming community"
"Interesting ideas for the Hive Blockchain"
"Ideas on how to market your Hive posts"
"Best posts about Bolivia"
"Posts about DEFI and AMMs"
"Hive in the News"
Considerations For Making a Great Curated Collection:
Think about these things when making your Curated Collection ensure the most helpful collection possible:
Order of the posts
Name of the collection
Descriptions of the posts to help new users decide which posts will benefit them the most
Use of beneficiaries to reward authors whose posts you've highlighted
---
4. Comments on posts that help educate people about PeakD.com or Peakmonsters.com (Be sure to tag @peakd to alert them when you do this)
When you're browsing your favorite communities, checking your favorite tags, or reading your following feed, sometimes you come across a Post or Comment that could use your help explaining a feature in PeakD or PeakMonsters or showing how these tools could make someone's life easier on Hive.
Whenever you find these kinds of scenarios, do your best to help that person, and be sure to tag @PeakD in the comment so they can drop a vote on your comment for sending users their way and helping the community!
---
5. Create fun Photogames in c/Photogames (PeakD sponsors these games)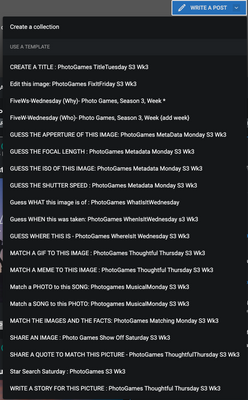 PeakD sponsors the posts in c/Photogames. This community is dedicated to fun interactive Hive-based games involving Photos & the photography community.
The games run in Seasons where hive users compete to win not only individual games but also the season rankings as well.
There are also plenty of "for-fun" games that are community-generated to keep the fun going out of season.
To dive in and get started, you needn't be a photographer yourself (though some of the games are greatly benefitted by this skillset), you just need to have a passion for great photos and having fun with the community!
Visit the c/Photogames community to see examples of current and previous games. You can even use a community template by clicking "Write a Post" while in the community to see the templates and get ideas of games you can create for the community.
---
6. Posts that are generally useful about Hive
Finally, the PeakD team also loves to support posts that uplift and help the Hive Community in general.
Here are some ideas for some great educational Hive Posts:
Understanding How the Hive Blockchain Works
Hive Guide for Newbies
How to Write Great Content People will Love on Hive
Understanding the Hive Debt Ratio (great post by @arcange btw)
Ultimate Guide to Formatting Post on Hive Using Markdown
---
Wrap-Up
There you have it!
There are so many great ways to create content about the great projects from the PeakD team like: PeakD.com, PeakMonsters.com, Curated Collections, & c/Photogames.
If you're looking for a great way to get some consistent high-value votes and help the community at the same time, I highly encourage you to look at creating some content about these awesome PeakD projects!