HOW IT STARTED
When I started hiking or climbing mountains, my initial plan was just to enjoy myself and make new friends. Going on a major climb was not really on my list because I initially thought that I wouldn't be able to do it. However, as I continued to hike and gain more experience, I began to realize that the only thing holding me back was my own fear and self-doubt. I made the decision to challenge myself and attempt a major climb, and to my surprise, I was able to complete it.
MT. TALINIS
There are different stories about how Mt. Talinis got its name, but I am not really sure which one is true. Some say that its name was derived from the word "talinis", a Bisaya word that translates to English as sharp-pointed. When viewed from afar, Mt. Talinis appears to be pointy. Others suggest that it got its name from a type of grass that grows on the slopes of the mountain, which is characterized by its long, pointed leaves that resemble the shape of a knife or a blade.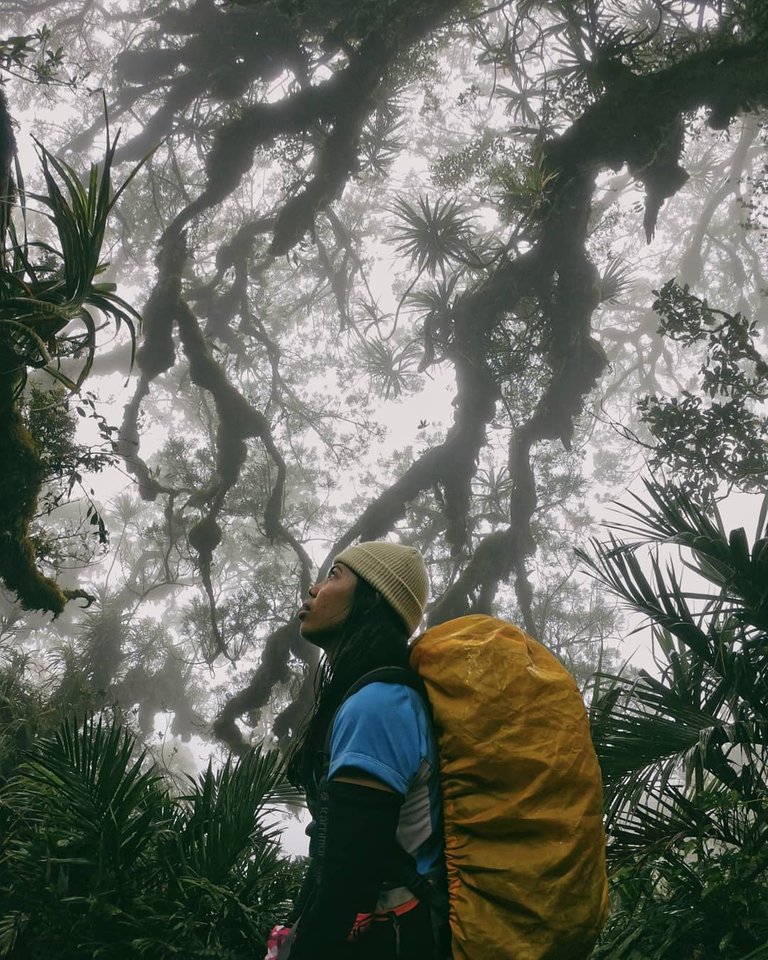 Mt. Talinis, also known as Cuernos de Negros (Horns of Negros), is located in the province of Negros Oriental, which is part of the Central Visayas region in the Philippines. It is considered one of the tallest peaks on Negros Island, with an elevation of 1,903 meters above sea level. The mountain is known for its lush vegetation, natural hot springs, and panoramic views of the surrounding landscapes, making it a popular destination for hikers and nature enthusiasts.
THE ASCENT
Our group arrived at Dumaguete port just as the sun was about to come out. The jeepney that was supposed to pick us up was waiting just outside the port in Dumaguete to transport us to the jump-off place near Casaroro Falls in Valencia, Negros Oriental.
At the jump-off, we had a meeting with our guide and made some final preparations before starting the hike. We then bowed our heads to ask for guidance for a safe journey along the way. There were 17 of us with three guides/porters. We were going to scale the Apolong trail, which is notorious for its hours of knee-breaking ascent to the campsite at Lake Nailig.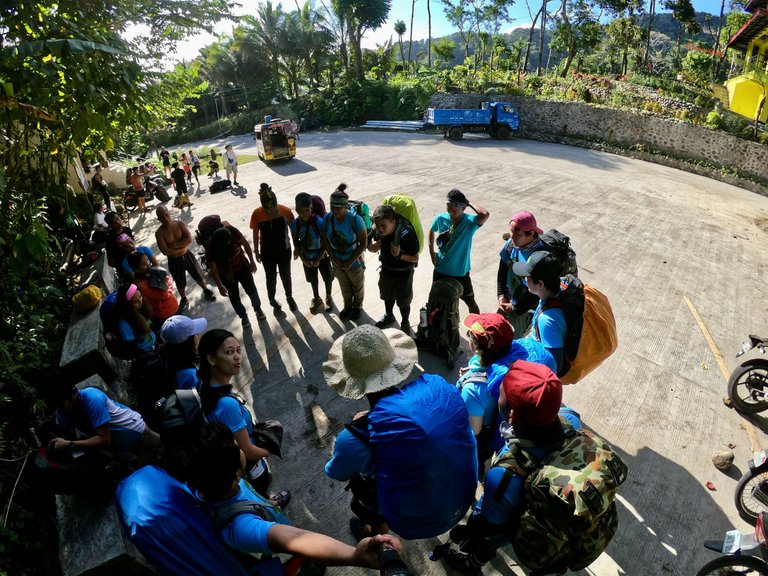 The first part of the trail was a subtle ascent under the thick forest on a ridge. For me, the first part was the hardest, but once I got warmed up, the rest was easy.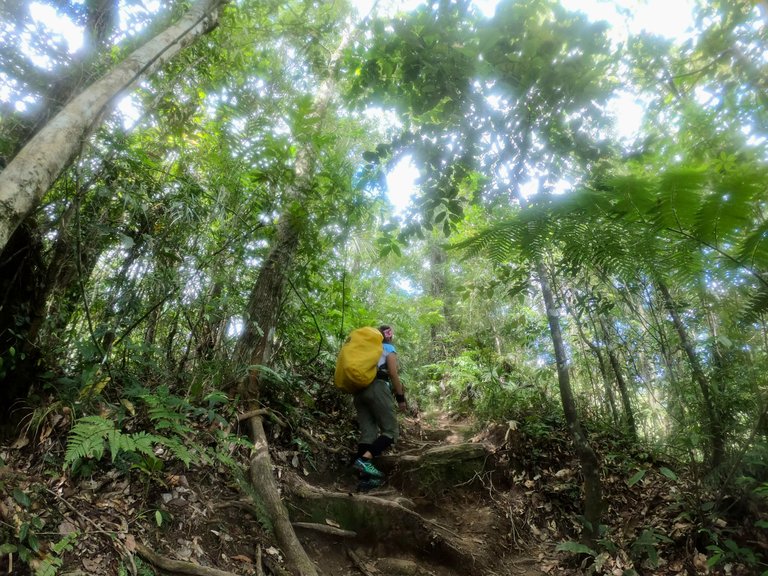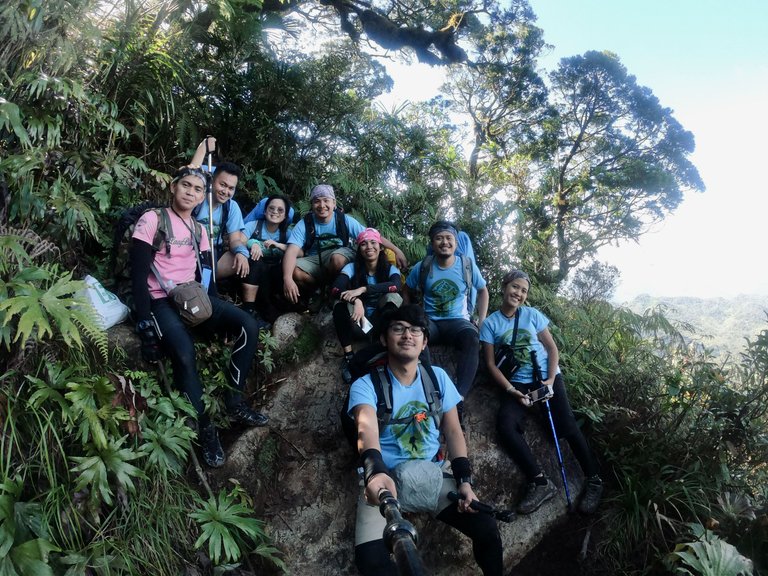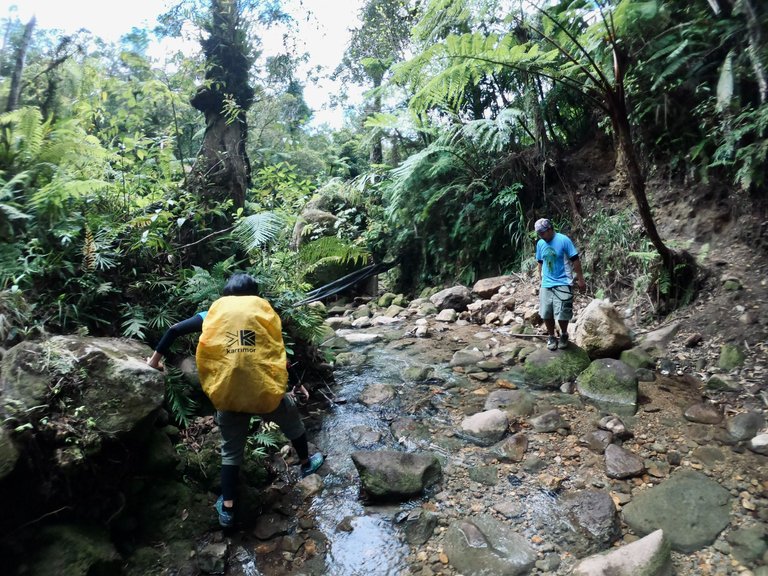 FUN FACT: Just follow the water pipes and you will never get lost. LOL
After hours of spirit-breaking ascent, we arrived at the Ranger Station, a small hut where forest rangers spend the night and which also serves as a resting area for hikers. It is also a sign that you are near Twin Falls. Unfortunately, we were unable to visit the falls due to the rain, and we decided not to go for safety reasons. In addition, one of our companions, Shiekinah, was injured while descending to the Ranger Station, so we had to help her.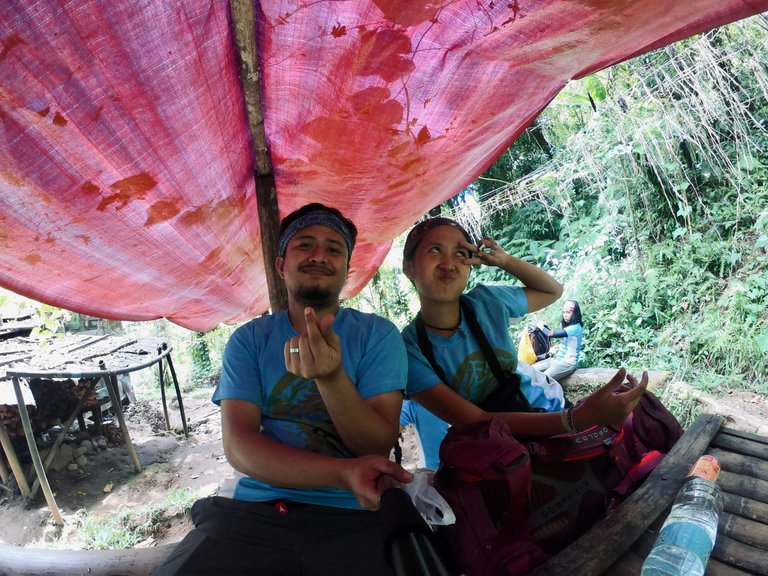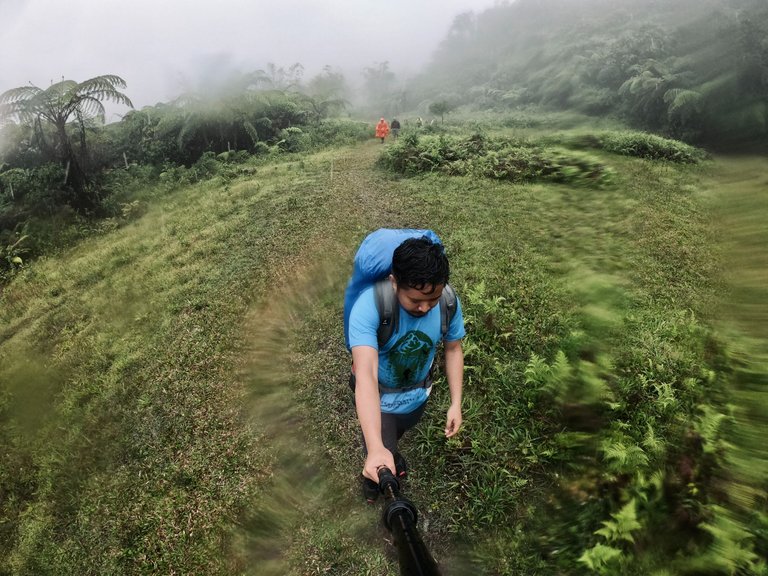 One of our companions decided to carry Shiekinah's bag up to the campsite, while the others helped her walk, which was not an easy feat. We also skipped the Kaipohan Sulfur Vents, one of the landmarks along the trail, so we could catch up with our itinerary. Despite these setbacks, we managed to reach the campsite early. The first group that reached the campsite decided to ascend to the peak first, while we set up our tents. After setting up, we immediately followed them.
At the summit of Mt. Talinis, dubbed as Nacolon Peak, we took turns taking pictures at the amazing Maribuhok tree, which is one of the landmarks of Mt. Talinis.
The Maribuhok Tree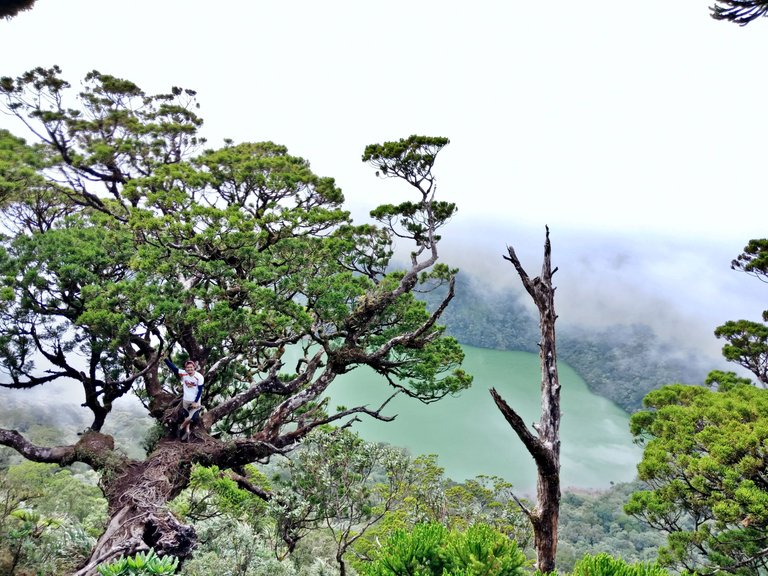 The Maribuhok tree in Mt. Talinis peak is a unique and fascinating sight to behold. It is a perfectly slanted tree that stands out from the surrounding trees and vegetation. The tree's trunk appears to be twisted and entwined with other branches and vines, giving it an almost surreal appearance.
The Maribuhok tree has become a popular landmark for hikers and mountaineers who visit Mt. Talinis. It is said to have been around for hundreds of years, and its unique shape is due to the strong winds that sweep through the area.
From the top of the Maribuhok tree, hikers can enjoy stunning views of Lake Nailig and the surrounding mountains. However, the weather was not in our favor, so we had to wait until the thick, grayish-white mist that blankets the landscape and obscures the views of the landscape below, disappeared.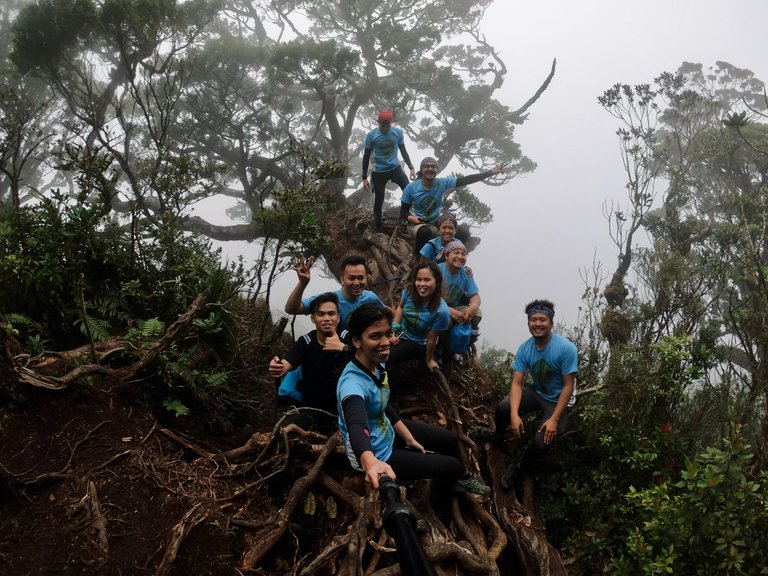 It is a perfect spot to take a break, relax, and soak in the natural beauty of the area.
As we descended, it was almost dark and the trail became very creepy. It felt like someone was watching us from every corner. We hiked as fast as we could down to the campsite, but Shiekinah was struggling due to her injuries. Two of my male hiking buddies accompanied her while the rest of us went ahead. We reached the campsite first, but then we heard Shiekinah scream loudly because of what she saw. We were already aware that she could see things that normal people couldn't. Being in the forest at night, we knew that something was lurking in the shadows, but we didn't pay attention to it because we couldn't see it.
At the campsite, we had dinner. It was a cold night, so we decided to call it a night because we couldn't have socials outside, shivering even with our jackets on.
THE NEXT DAY..
The sound of people laughing woke me up, and I discovered that they were already busy preparing breakfast and lunch. Some were capturing photos near the lake, so I joined them as well. Afterward, we had breakfast and packed our lunch to eat somewhere on the trail.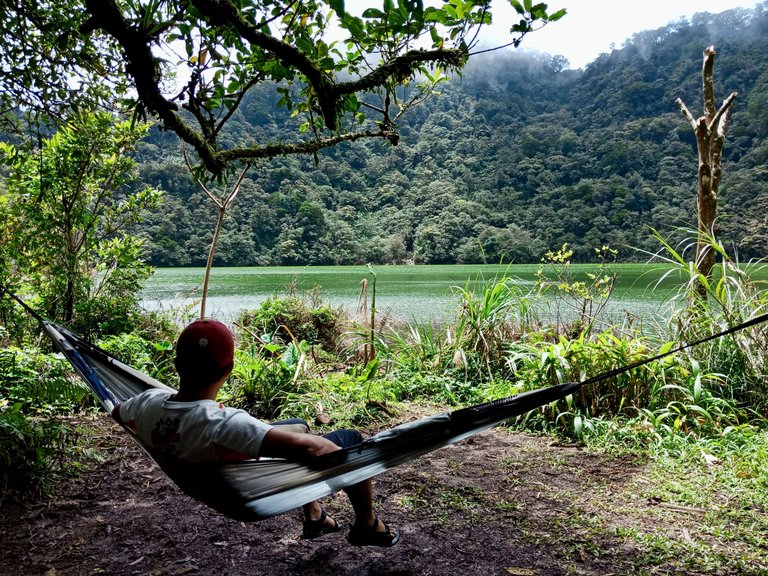 Ah, there's nothing like the satisfaction of pairing dried fish, scrambled eggs, and beef loaf with rice. As you can see in the picture, below the scrambled eggs, there was supposed to be a tuna patty included in our lunch, but we couldn't find it when it was time to eat. It's a mystery who took it and put it in their bag, LOL.
THE DESCENT
We did a back trail, entering and exiting through Apolong, which allowed us to visit the spots we skipped the previous day.
Kaipohan Sulfur Vents
You'll know when you're near the sulfur vents because you'll smell something like rotten eggs. These vents are characterized by steam and gas emissions that come from the ground, creating a distinct sulfuric odor in the area. They are situated in a lush, forested area, and visitors can observe yellowish sulfur deposits on the surrounding rocks and soil.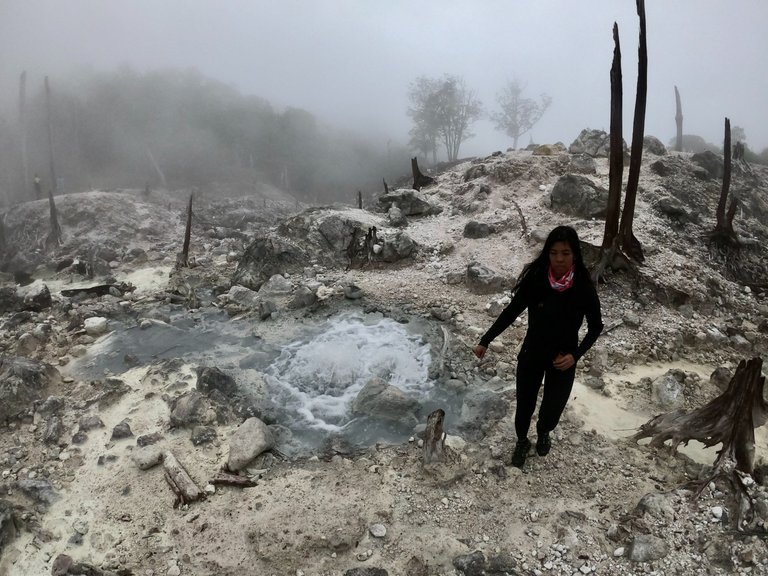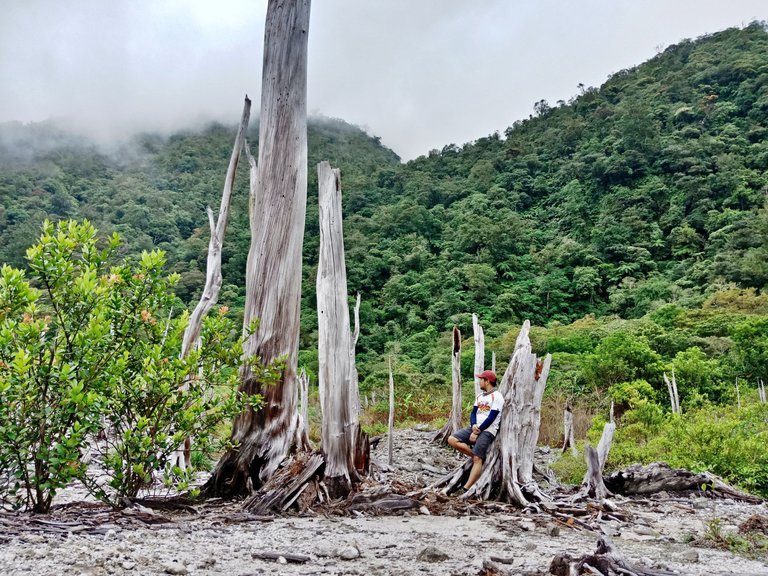 The landscape around the vents is surreal, with steam and gas rising from the ground, and the sound of bubbling and hissing adding to the otherworldly ambiance. However, due to the potentially hazardous nature of the gases emitted from the vents, visitors are advised to exercise caution and not stay too close for extended periods.
Twin Falls
The waterfalls are about 20 meters high and surrounded by lush vegetation and rock formations. They are fed by a cool, clear stream that flows down from the mountain, providing a refreshing spot for hikers to take a dip after a long trek. The falls are a beautiful sight to behold, with the sound of rushing water creating a calming ambiance in the midst of the forest. Sadly, we weren't able to visit again due to the rain. Maybe we'll make it next time, haha.
POST CLIMB
Past noon, we arrived at the exit point, which was the same place we entered. After cleaning ourselves, we rushed to Dumaguete City to rest and celebrate our climb. We had our celebratory dinner at a restaurant near the port for accessibility.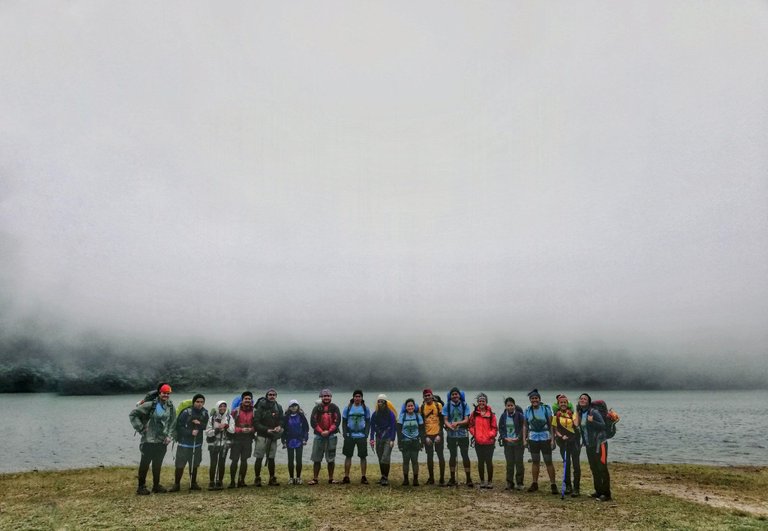 The journey of climbing Mt. Talinis has ended, but it left me with valuable lessons. It reminded me that often, our biggest obstacles are the ones we create for ourselves, and that by pushing past our limitations, we can achieve things we never thought possible. This climb was a test of my physical and mental strength, and it taught me the importance of perseverance and determination. Moreover, it allowed me to appreciate the beauty of nature and the power of teamwork. The shared experience of overcoming challenges together has created a strong bond among us, and I am grateful for the opportunity to have climbed Mt. Talinis with such an incredible group of people.
---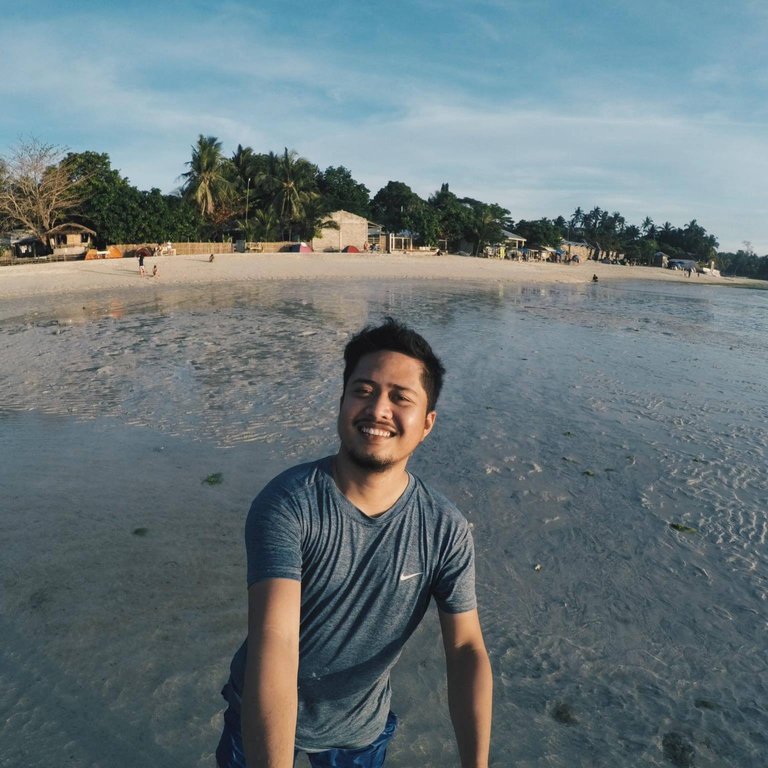 About the Author
Meet Kevin de Arca, a Data Analyst by profession and an adventurous wanderer at heart. With a passion for exploring new places and cultures, he uses traveling as a way of distressing and making unforgettable memories. He is always wondering where to wander next.✈️ 🏖 🌅