Pinmapple
Pinmapple.com is a collection of the best travel content on the Hive blockchain shown on a map.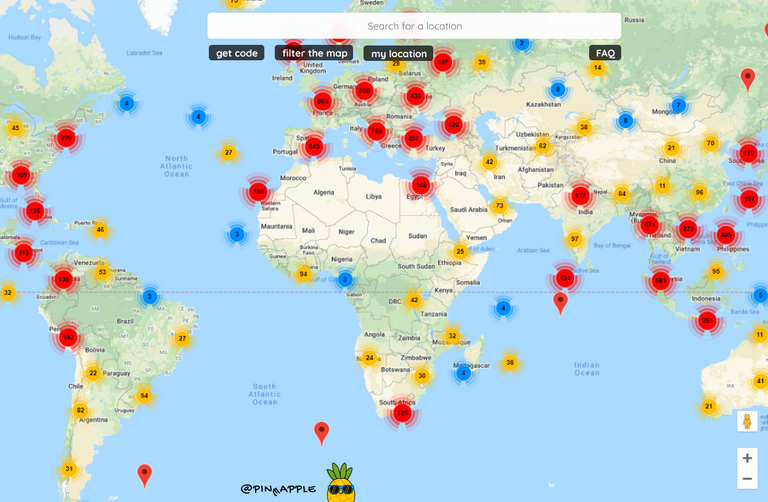 How does it work?
As an author on Hive, you can get an auto generated code snippet containing the location of your post on Pinmapple. By adding this code snippet to your post (it will be hidden using markdown), our crawler can find the location of your post and pin it on the map within minutes. This works on any front-end for Hive!
How do we guarantee quality?
We have a team of curators (@livinguktaiwan, @choogirl, @itchyfeetdonica and @lizanomadsoul) who read through every post pinned to Pinmapple. After the curation process, they make a post with a summary of the best travel content of the day from the @pinmapple account. Only the posts selected by the team show up on the default interface of Pinmapple. Of course we do allow the option to view all posts as well!
What's in it for travel authors?
The posts selected by the curation team are guaranteed an upvote from @pinmapple. The top three posts of the day receive a 100% upvote, the remaining voting power is spread out over the honorable mentions. We also have voting support from @blocktrades and @theycallmedan among many others. We are also supported by OCD under the Community Incubation Program, the only travel community to be included. On top of all that we received 20k+ HP in delegations and a strong voting trail.
What's in it for Hive?
Before being one of the first projects to fully migrate to Hive we were running Steemitworldmap on Steem. The project has been up and running for over 3 years now with close to 55,000 posts pinned to the map and over 11,000 rewarded. Proving that @pinmapple is a staple for travelers on Hive. Over the years we have been one of the key factors in keeping travelers around and making sure that their content on average is way higher quality than other topics. Next to this we have more and more travelers unrelated to Hive visiting Pinmapple and using it as place to find travel blogs. This way we create awareness around Hive for the large travel audience.
---
Haveyoubeenhere
Haveyoubeenhere is the social media app for travelers.
How does it work?
Using a photo at a location, you can check in and review places (we call these waypoints). From these waypoints you create posts for your followers and you can automatically summarize your entire trip on a map. All waypoints you create also show up on a map on your profile. In summary: Haveyoubeenhere can save your travel memories, share your travel memories and help you discover new places!
Who can use Haveyoubeenhere?
Here comes the best part. You do not need to have a Hive account to log in to Haveyoubeenhere. There are three options to log in: Hivesigner, Facebook Login or Apple Sign In. So until you are able to convince your friends and family to get a Hive account (which you should), they can still use Haveyoubeenhere with more traditional ways of logging in! 🥳
Haveyoubeenhere is available for iOS and Android.
Posting from Haveyoubeenhere to Hive?
The content on Haveyoubeenhere is not automatically stored on the Hive blockchain. However if you are logged in with Hivesigner, you will have the option to share your post on Hive. Every post shared from Hive will be automatically pinned to Pinmapple and curated by our awesome Pinmapple-team! 🍍
If you are curious on what a post shared from Haveyoubeenhere looks like on Hive. You can check out this post, it was made on Haveyoubeenhere.
Why is the whole app not on the Hive chain?
Haveyoubeenhere was made for all travelers. Whilst I dream of a world where the entire world has a Hive account, we are not there yet. In a few years here is what I hope a common conversation between travelers that just met in a random hostel looks like:
😎: "Hey you awesome travel person, let me follow you on Haveyoubeenhere! What is your username?"
😇: "Oh yay, thanks! It's angelface!"
😎: "Awesome! What did you do with your Hive? I just booked my room here with it!"
😇: "Hive? What's that?"
😎: "Ooooh, are you in for a treat!"
What is in it for travelers?
They get one application on which they can find incredible places near them, share their experiences there and save all of these to look back at it later. Every traveler has their own map, an overview of there trips and a feed that they can share with the world.
What is in it for Hive?
Our ambition with Haveyoubeenhere is to be THE go to social media app for travelers. While this is not an easy task, if we can succeed it will boost adoption and visibility of the Hive chain a lot. The options are endless, from getting more users, to press coverage to wider acceptance of Hive as a currency in the travel sector. That is the goal.
---
Hive Proposal details
We are asking for 75 HBD (p/d) for the duration of 60 days. Afterwards we will create a second proposal for 10 months at 65 HBD (p/d) The HBD will be used to cover costs until we are cashflow positive. If we are cashflow positive before the end of the proposal, we will cancel the proposal the moment we are. Vote for our proposal The following is the breakdown of what we will deliver and what the HBD will mainly be used for:
Pinmapple: entirely open sourced + clean up of code base
Haveyoubeenhere: continuous improvements to both iOS and Android apps
Haveyoubeenhere: become cashflow positive (integration with accomodation booking providers)
Outreach: set up and maintain channels to raise awareness about Hive, Pinmapple and Haveyoubeenhere
Help cover server costs until the cashflow is positive
At least 30 hours / week of work will be done
Each month the proposal is funded we will post an update with what has been done
From the initial proposal the cost to create the second proposal will be funded as well
Other ways to support?
Delegations
A big part of what we do is curation, delegations are the lifeblood to support our curation effort. We would also like to ask all users who delegated to @steemitworldmap to retract those delegations (and preferably delegate to @pinmapple after of course)!
Voting trail
Go to hive.vote and follow the @pinmapple curation trail and add us to your fanbase.
---
Massive shout out to @livinguktaiwan, @choogirl, @itchyfeetdonica, @lizanomadsoul, @oroger, @sjennon, @fynemiene @roelandp, @theycallmedan, @acidyo, @ocd and @blocktrades. Seriously ❤️ you guys and everything you have done to help Pinmapple and Haveyoubeenhere.
Yours truly,
@martibis