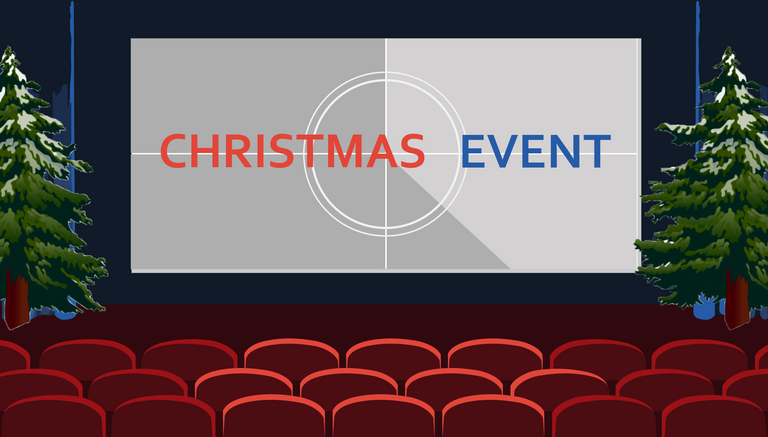 It has been a long time since we conducted an event over in the Movies & TV Shows Community. Months have gone by as our moderators have worked each day to curate and report the content you all put so much effort into producing. During that time, this particular question has popped up a few times: should we start running contests again?
Ultimately, the answer is absolutely! These events are wonderful. They allow for all to enter, share their thoughts with the community, engage with others and find new friends, and get rewarded for doing so. And as the community has continued to grow into something massive over the last few months, there's no better time to kickstart community events again than now, during the month of Christmas! So let's get into it.
Welcome to the Movies & TV Shows Community Christmas Event

Given the time of the year, we felt Christmas was a great theme to introduce. Where the community of Hive can share some Christmas spirit around in the form of watching and sharing some of their favourite Christmas movies. There's no limit to the number of entries one can submit, so feel free to write as many posts as you'd like, about any topic related to Christmas in movies or reviews of Christmas movies themselves.
Here are the rules:
You must write about at least 500 words in each post. Videos are also accepted.
Bilingual posts must reach a word count of at least 1000 Words.
You must use the tag #xmasmovies in your post.
You must post your submission(s) by January 1, 2022. Winners will be chosen shortly after.
Your post must be published in the Movies & TV Shows Community.
No reposts/plagiarism/off-topic posts in the Community or #xmasmovies tag.
The prize:
Ultimately we intend on curating your submissions all through the event, ensuring great content is rewarded. This means we'll be compiling and publishing reports on daily content we believe deserves recognition. With this, we'll be distributing a portion of the rewards to those submissions in addition to their curation. This will be similar to the reports we already conduct on a near day-to-day basis. In addition, there will be a cash prize: 35 HBD.
1st place: 20 HBD.
2nd place: 10 HBD.
3rd place: 5 HBD.
We will distribute these earnings after the January 1, 2022 date, where the three winners will be announced, again with a post distributing a portion of the rewards.

Criteria for Exceptional Content
Throughout the event, the moderators will be searching through the #xmasmovies tag and reading your submissions daily. As we are part of the OCD Communities Incubation Program, we'll be submitting your posts for OCD curation as we usually do. Not only will we ensure great content gets curated, focusing on creating great content will increase your likeliness of winning part of the prize pool. So, what do we consider exceptional content, you may ask?
Films extend beyond simple entertainment. They can teach us lessons of life. They can be entirely up to interpretation. They can make us feel a wide range of emotions and connections to the characters and events that take place within. It can be quite easy to simply write the plot of a film, but much more difficult to write about why you liked or disliked it. This makes your posts so much more engaging to read, given they add depth and personality. We love this!
Words are not everything, however. You may write a very engaging piece that takes you hours to write, but forgot to give your post presentation. Without good presentation, your post might not be an engaging as you'd like. To avoid this, split your posts up with good formatting and add images when necessary. Images are great and can give your readers a visual connection to your words, giving them more context to what they're reading!
If you are to create a video review, consider your editing techniques, addition of images, and structure instead. This makes your videos more appealing and again brings context to what you're discussing.

Support Others
Lastly, we encourage you to support the posts of others. That means we would love to see you all interacting with each other. Comment, discuss, and curate. This will be something we consider as we approach choosing our winners.
You all have until the end of January 1st, 2022 to submit at least one post. Good luck!
Join the Movies and TV Shows Community Discord.
Follow us on Twitter!
Feel Free To Delegate To The Community @moviesonhive