Hey Jessatoshis
Every four years, Bitcoin makes its majestic move up into the next phase of adoption, and every four years, scammers create news coins to piggyback off of the idea that it's "too late" to own a "whole Bitcoin" and play off peoples unit biases. That's all shitcoins really are; they're a Bitcoin test for people who are bad at math; it's so laughable.
I am often amazed at how people defend shit like chain dicks or whatever the cheap hot new altcoin of the season happens, yet none of them does anything. In the case of chain link and band in the oracle play, lol, you can get discrete log contracts to do that shit on Bitcoin, so where's the value in their business model?
Hand me a shitcoin, and I'll blow holes in it for you. But you don't want to hear that; you want to hear to the moon; I want to be a millionaire in 3 days after buying something Mr YouTube Hype man or crypto-chick was shilling.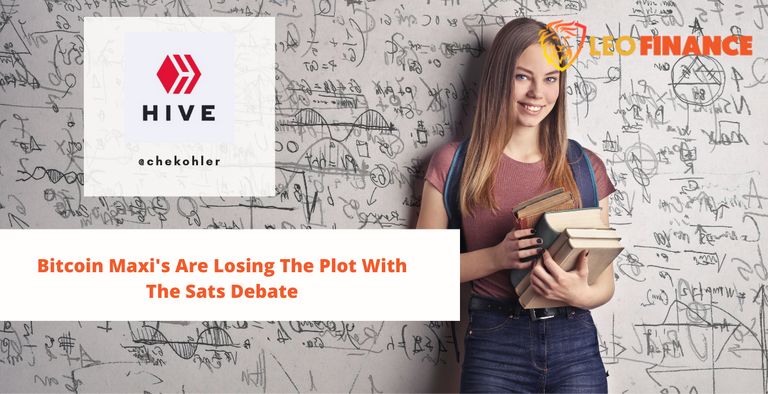 The sats debate
Since retail is clearly falling for the unit bias, I've seen these debates about getting exchanges to set Bitcoin in sats. The theory is if people see how cheap sats are, their unit bias will fomo them into satoshis instead of dicks and doge.
I'm afraid I have to disagree with that; what happened to the hardcore libertarian Bitcoiner? It's a free market, don't try to force things on people; let them decide for themselves.
It all seems like some Bitcoin maxis are losing conviction and wanting to turn into Bernie and Eli Warrens of Bitcoin. If you're butt hurt no one wants to buy Bitcoin, lol, then maybe you don't believe in Bitcoin, and YOU should buy shitcoins.
If you don't understand it, I don't have the time to explain it to you - Satoshi Nakamoto
Punish you for not being prudent
To me, I see Bitcoin as an idiot test; if you can't understand math, scarcity, first principles, laws of thermodynamics, economics and cryptography, you won't get why Bitcoin is superior. I get that; who the fuck is going to be able to grasp all these things?
It's a big ask.
The whole point of Bitcoin is to reward those who are patient, prudent, and are willing to do the research. Once they reach the end of the rabbit hole, they come out renewed and will be stacking Bitcoin like the rest of us.
Everyone's journey is different, and we shouldn't try to rob people of that. If they want to shitcoin, let them shitcoin; if they want to come over to Bitcoin, it should be of their own volition.
Have your say
What do you good people of HIVE think?
So have at it, my Jessies! If you don't have something to comment, "I am a Jessie."
Let's connect
If you liked this post, sprinkle it with an upvote or esteem, and if you don't already, consider following me @chekohler and subscribe to my fanbase
| Safely Store Your Crypto | Deposit $100 & Earn $10 | Earn Interest On Crypto |
| --- | --- | --- |
| | | |
---

Posted Using LeoFinance Beta