Hey Jessavers
As someone who feels they were screwed by the fiat system and having more of my purchasing power robbed from me than those who held assets, those in government, those close to the money printer and those whose countries benefit from the way the debt-based economy works, you can tell where my biases lie.
For years I felt something was not right, I searched for answers, and this eventually leads me down a rabbit hole of history, consumer behaviour, game theory, incentive structures and, of course, economics.
One of the resources that really opened my eyes was this website https://wtfhappenedin1971.com/ which centres around the effects of moving off the gold standard. The gold standard was by no means perfect, but it did put the breaks on governments ability to manipulate the money multiplier, something they have unrestricted access to today and even have people calling for more, in the form of MMT.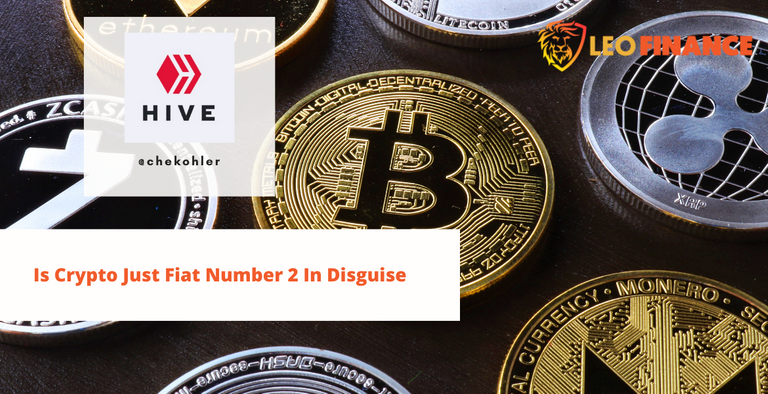 Having found Bitcoin, I made my way down the rabbit hole to other coins and eventually found my way back into Bitcoin. Since then, I've been called a lot of things.
Close-minded
Bitcoin maxi
Fudster
Hater
This leads me to believe that I am asking the right questions when it stirs up such an unsettling response. I am voicing my opinion on the information I am given and calling things as I see them. Is that so wrong?
Having come from a system where the wool was always pulled over our eyes, I see no reason why I shouldn't be overly critical of any so-called solutions.
Bitcoin trying to establish a monetary peg
When fiat left the gold standard, it was a boom time, and we only saw the after-effects and cracks in the later years. As is the case when you remove yourself from a hard money standard, we saw this with Weimar Germany, The Spanish Empire, The Roman Empire, The British Empire; I don't know how many more times this has to be repeated, but okay.
Bitcoins goal is to try and bring back the monetary peg, to have a way to measure shitfuckery in the system and expose it early on so people can make decisions on where they want to store their wealth and who they trust.
Bitcoin is trying to re-establish the risk-free rate that gold offered back when the monetary system was formed.
I was hopeful; I like the idea, it resonates with me. Then I look a the wider crypto space, and coins are made every day with a new promise. Now that's fine if these coins were a representation of equity that I get; you own a piece of the protocol or business like you would as a stock holder.
I'd get it if these coins were bonds that financed a project to be repaid as the project grows, but most of these tokens are trying to be some money replacement. Even if they don't explicitly state it, that's what people are doing with it and how the founders are profiting from this behaviour.
Crypto is basically private fiat
Many of these coins don't take many resources to make and can be spun up and allocated at will. Sound familiar? The fiat money system is itself a Ponzi scheme, so surely anything with similar attributes or tries to mirror itself on fiat is by definition a Ponzi.
Proof of stake is basically the same inflation attribution system as we have in fiat so how is this different other than who the people are who profit from it?
I get it's hard to see past the promise of more dollars for nothing and we all want something for nothing. I get others have been profiting from this system for years. However, if we perpetuate the same systems in crypto then we are no better than the so-called financial system we wanted to escape.
You don't have to convince me, you don't have to listen to me. All I ask is, that you ask yourself these questions and see if this all sits right with you.
Have your say
What do you good people of HIVE think?
So have at it, my Jessies! If you don't have something to comment, "I am a Jessie."
Let's connect
If you liked this post, sprinkle it with an upvote or esteem, and if you don't already, consider following me @chekohler and subscribe to my fanbase
| Safely Store Your Crypto | Deposit $100 & Earn $10 | Earn Interest On Crypto |
| --- | --- | --- |
| | | |
---

Posted Using LeoFinance Beta