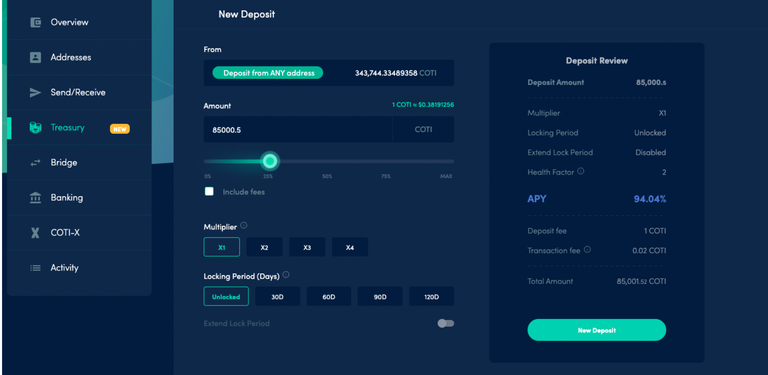 I am sure of those that have COTI or have been following my posts know about the imminent launch of their treasury. Today the COTI team shared the treasury interface which makes things far more interesting.
As you can see there is various locking periods which was only offered to the larger stake holders before. The multiplier is being offered which I think is a neat idea as who doesn't like the idea of locking up and earning more.
The APR is the unknown factor as this is all dependent on the earnings yielded from the various partnerships COTI has. The obvious one being ADA and their DeFI program that is also kicking off soon. DJED is the COTI stable coin that will be used and this will generate fees which all end back in the COTI treasury.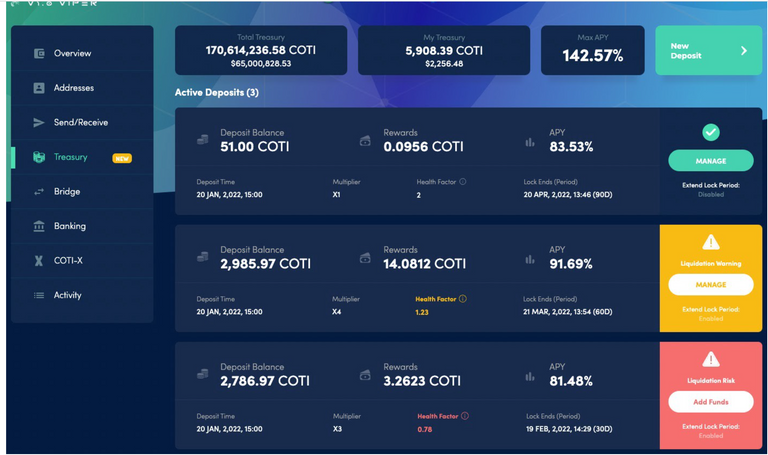 This looks like a CUB pool on Kingdoms or am I mistaken as I cannot see the risk.
Obviously having seen the second picture of the interface things don't look straight forward and simple. This is looking more like a game front with health risks and liquidations throwing a spanner in the works. Maybe going for maximum returns has certain risk factors attached and have no idea what the reason or factors involved are with this.
Updates will surely follow explaining how this treasury will work but it will have risks attached. Any ideas as the @leofinance community is sharper than most and possibly see what I don't see. Where and how could liquidations come into play as this is more than just staking and reaping the rewards. I am thinking it is price related but that shouldn't affect this so it has to be somehting totally different from where my head is thinking. If we can work this out then earning a huge APR shouldn't be too difficult and can make this a team type effort. Is this a type of DeFI staking or is it something totally new we haven't seen before and a new way of doing staking?
Posted Using LeoFinance Beta