Hello Splinterland warriors!
How are you all guys hope you will be blessed and fine. In today's post, I will be sharing the two summoners from the untamed & Chaos legion edition along with market prices and focus rewards.
---
MIMOSA NIGHTSHADE
---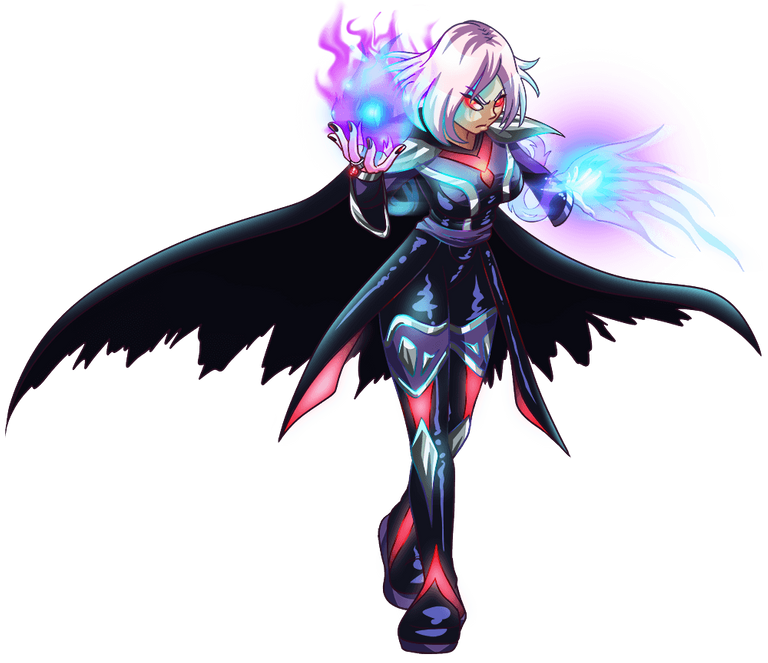 Of course, beating mimosa is not easy if you have this card even at level 2 it is hard to beat this legendary untamed edition summoner but why i sold this summoner for buying the chaos legion edition death summoner it is because of having beta, and untamed edition summoner but they are in level 3 which is not enough to play for you in gold leagues so i decide to upgrade the THADDIUS BROOD summoner which is good from the untamed and beta edition because it can give you two abilities to reduce the health and magic by costing 1 extra mana compared to both of them.

---
SELLING PRICE
---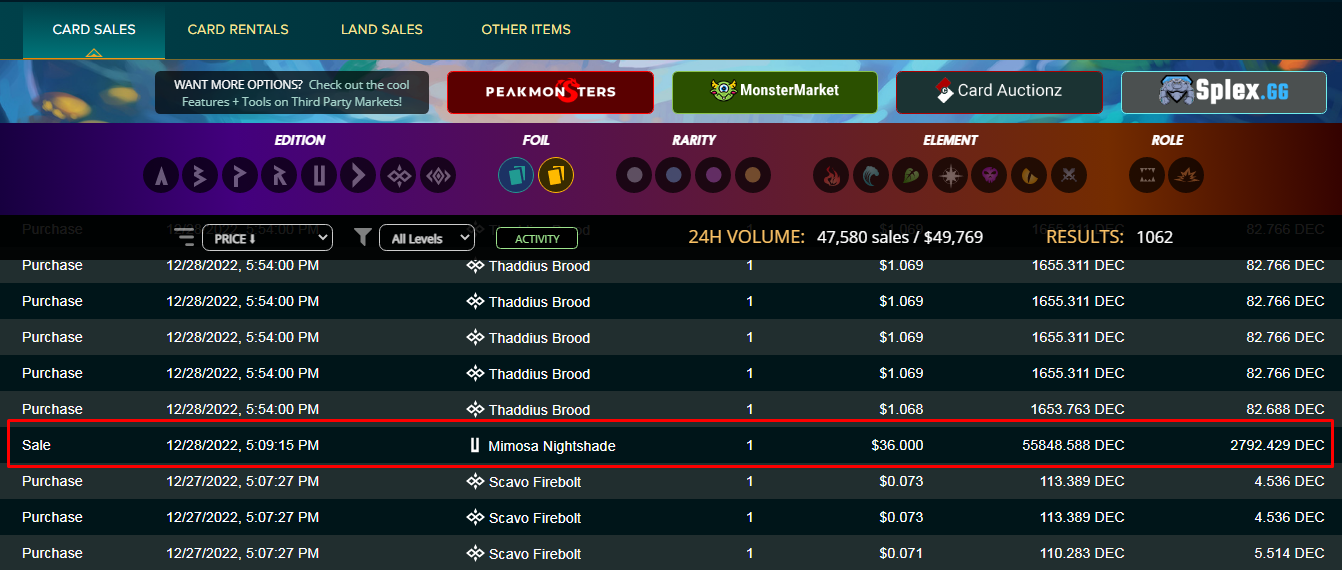 Well, the reason i explained that why i sold this summoner for upgrading the chaos legion summoner is because i do not have an upgraded summoner of death as water, fire, and earth splinter so i sold one extra BCX of MIMOSA summoner at a cheap price that you can see for $36 in the market and the current price is $48 so almost $12 loss if i was selling this at the current price i will get 80k DEC while i got 52k almost 28k DEC in loss but it's ok because i have already level 2 MIMOSA SUMMONER IN GOLD FOIL which i got for the first time during the untamed edition and it was my first GFL in the history of Splinterlands.

---
BOUGHT THADDIUS BROOD FOR $35
---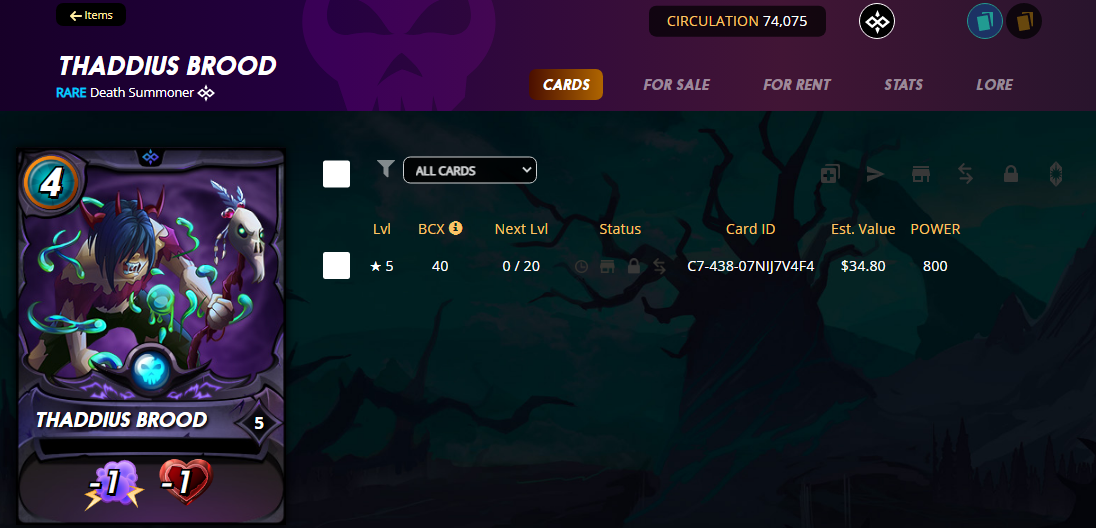 Selling legendary untamed summoner gave me a level 5 summoner of chaos legion edition as i have level 5 and level 6 upgraded cards in the death splinter now i can easily use all upgraded monsters in this summoner and even i upgraded lots of cards in the death splinter from the chaos legion and rewards edition i invested the earned DEC from rental income all of them were invested in the DEATH splinter as i upgraded some cards i am going to mention HARKLAW, LIRA THE DARK, REVEALER, SOUL STRANGER AND SHADOW SNITCH to enough levels for next abilities.

---
GOLD MIMOSA NIGHTSHADE
---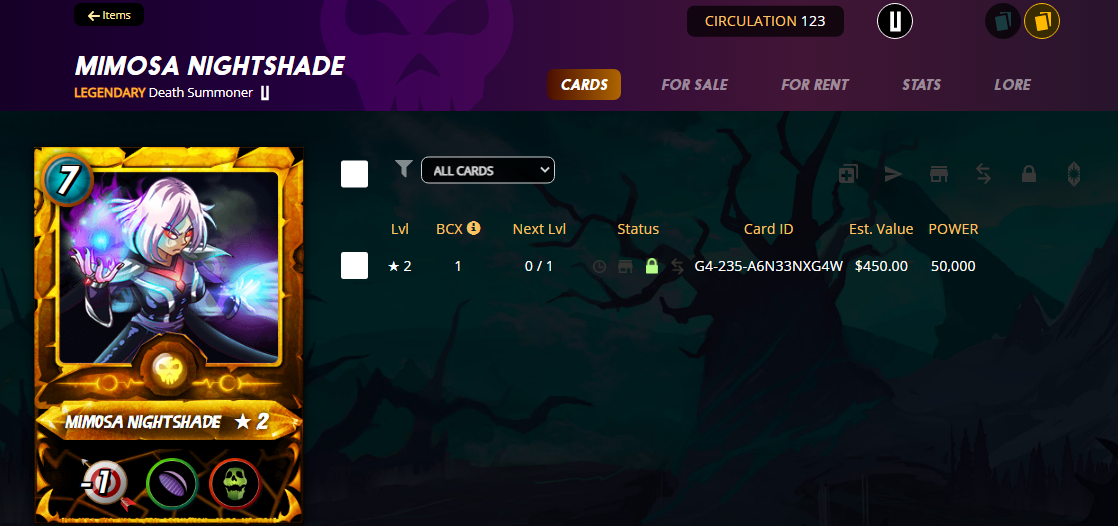 Well, you guys will think that i sold the legendary untamed edition summoner at a cheap price yes i did but that time the price was $40 and i placed it for 39, 38 and then Sold it for $36 to urgently i upgrade the chaos legion summoner but here you can see that i still have the beast which i am using in high mana and i will never ever sell this one i remember the day when i got this one it was worth $12 at that time and then i placed this card for sale at $90 but i am lucky that i removed this card before the prices of all cards were getting high and now it is worth $450. Also, i have one other BCX in a regular edition which i am playing in my alt account and will never sell that one also i am lucky that i have all the legendary summoners of untamed edition Zaku, mimosa, lama, chensus, kitty and swimmer.

---
FOCUS REWARDS
---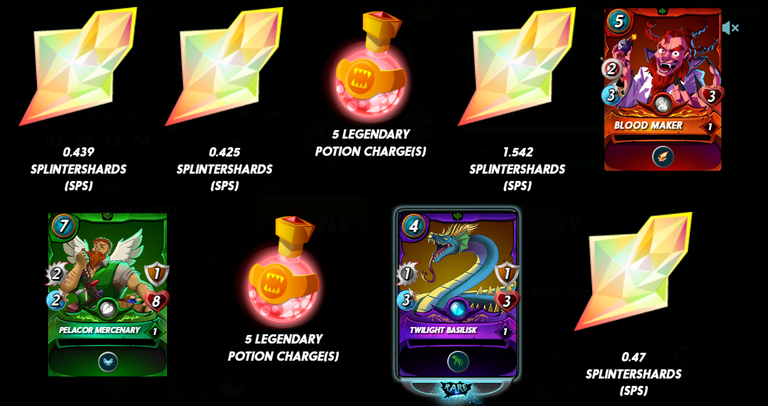 Not worthy but still sharing the focus rewards of my gold league are here which is not good as i did not get any good cards like legendary and epic from the last few days but hope to get the good rewards that are waiting for us in the season-end and trying to touch the diamond league this time then definitely will be getting good rewards in the diamond league after this season.

All images are from the Splinterlands website

If you are new to this game then signup here to play the game click here for signup
---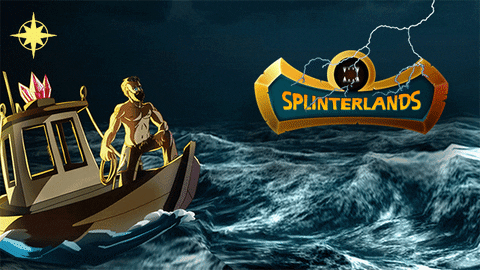 ---
Thanks For visiting my Blog
Best Regards @moeenali
Posted Using LeoFinance Beta