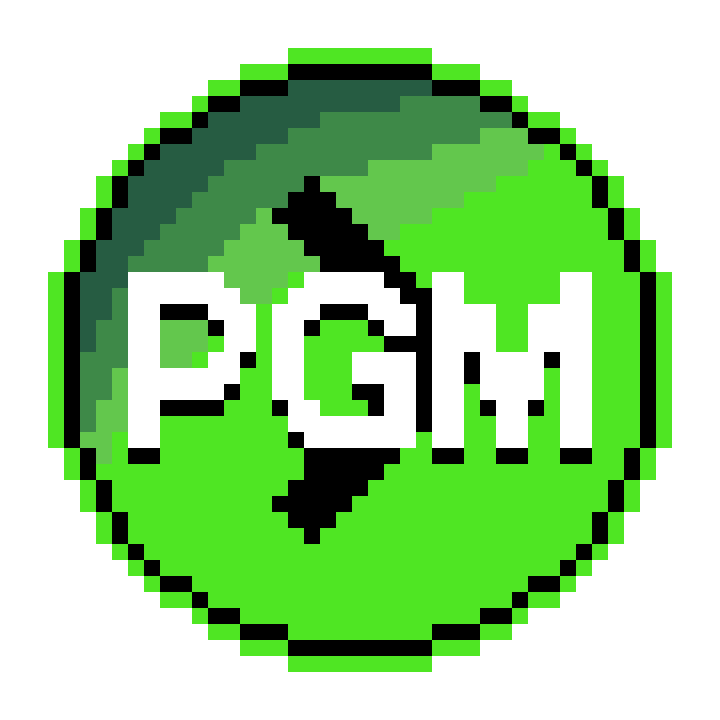 Hello all friends of the PGM community , after the small problem with the servers the !PGM command and the @pgm-curator account are working normally again , as far as the site is concerned there will soon be an update and we will soon be able to tell you for sure that you will be able to get back to boosting your posts burning rewards and especially buying PGM to take advantage of all that PGM offers!
Also, the VideoGameRoom game will soon be back online, so this will all be fixed very soon.
We ask for a few more days of patience to give us time to fix the last few things and everything will be ONLINE!
@badpupper
@qoogohome
@nahueldare3627
@bot-bdbhueso
@engilhramn
@amaari
@hurtlocker
@benthomaswwd
@bokica80
@trentonlundy1
@pedrobrito2004
@mad-runner
@libertycrypto27
@lolz.pgm
@candnpg
@underlock
@c3r34lk1ll3r
@eijibr
@synergized
@lozio71
@noroi
@tokutaro22
@tinyputerboy
@arpuch
@bencwarmer
@flaxz
@beststart
@coquicoin
@splinter100dedos
@timehacker
@atma.love
@kryptofire
@bechibenner
@arc7icwolf
@fun.farms
@operahoser
@freed99
@servelle
@nftfrappe
@dk1trade
@aliveprojects
@valentin86
@lordshah
@edgerik
@neoxvoter
@heartbeatonhive
@imno
@vaynard86
@hive-117778
@ahmadmangazap
@krueger053
@crazyphantombr
@moeenali
@yeckingo1
@jdike
@hankanon
@luislrt
@davot
@gondek
@emaxisonline
@stea90
@noctury
@kvinna
@mvl2304
@pousinha
@uveee
@uthantzin
@elgringoviejo2
@florenceboens
@arkasz
@krakonos
@quekery
@rtonline
@mizuosemla
@enginewitty
@felixgarciap
@svanbo
@pregosauce
@myothuzar
@miketr
@danideuder
@savvytester
@ricardoeloy
@stefano.massari
@ydaiznfts
@darmst5339
@tengolotodo
@lipe100dedos
@hive-103505
@mein-senf-dazu
@acgalarza
@callmemaungthan
@kaibagt
@maurojd
@zottone444
@naythan
@itharagaian
@reiseamateur
@isiksenpalvoja
@middle-earthling
@elikast
@mypathtofire
@ivanslait
@dstampede
@kryptogeier
@bananofarmer
@kryptodenno
@mehmetfix
@thoth442
@dewabrata
@mario89
@jfang003
@drunksamurai
@thgaming
@genming
@rocinanteprimo
@azj26
@davidxxl
@xykorlz
@web-gnar
@ianballantine
@entrepidus
@salamera
@osomar357
@suhlaing
@alicia2022
@cpol
@blitzzzz
@ladymisa
@from-mars
@thisisawesome
@flaxz.alive
@kojiri
@spryquasar
@memess
@pero82
@gregory-f
@ynwa.andree
@circlebubble
@steem-holder
@daje10
@solairitas
@hoosie
@shiftrox
@familiadare
@lorddiablo
@mxm0unite
@serhotest
@hannes-stoffel
@new.things
@luizeba
@beeminer
@vocup
@asynckronism
@hhayweaver
@barmbo
@bigtakosensei
@javivisan
@davidthompson57
@nilarwin
@hive-143869
@lotto-de
@astrocreator
@valdiva
@splinterob
@cursephantom
@iamraincrystal
@thedoc07
@atnazo
@sonyared
@princekham
@skuration
@skgcrypto
@chaosbug
@mv-curacion
@stewie.wieno
@adysscheryl
@thealliance
@dragon-ti
@prinzvalium
@chapelle
@guurry123
@invest-time
@hive-135941
@pirulito.zoado
@caracol32
@siphon
@elkingplayer
@cantfoldaces
@michupa
@bitcoinflood
@assassyn
@splintercell-01
@chechostreet
@bilidrg
@ternizator
@daniarc
@egistar
@kirstin
@bobthebuilder2
@tampilyne
@curator50
@galdor100max
@misterc
@kqaosphreak
@jim-crypto
@manuvert
@jimmy.adames
@dynamicrypto
@splinternews
@solymi
@rzc24-nftbbg
@healjoal
@definethedollar
@heruvim1978
@tawadak24
@rachaeldwatson
@chubb149
@eddwood
@shawnmichael-gt
@ironshield
@dagz
@metronet
@bitandi
@robibasa
@andy-vibes
@quotidien
@chuiiiiiiii
@karmaa13
@torran
@indiebandguru
@nane-qts
@dracozauberer
@sonaker
@cryptochroma