A Not so cliche self-improvement book
"This is not a how-to book. You won't find "seven steps to an error free life here"— Rolf Dobelli
---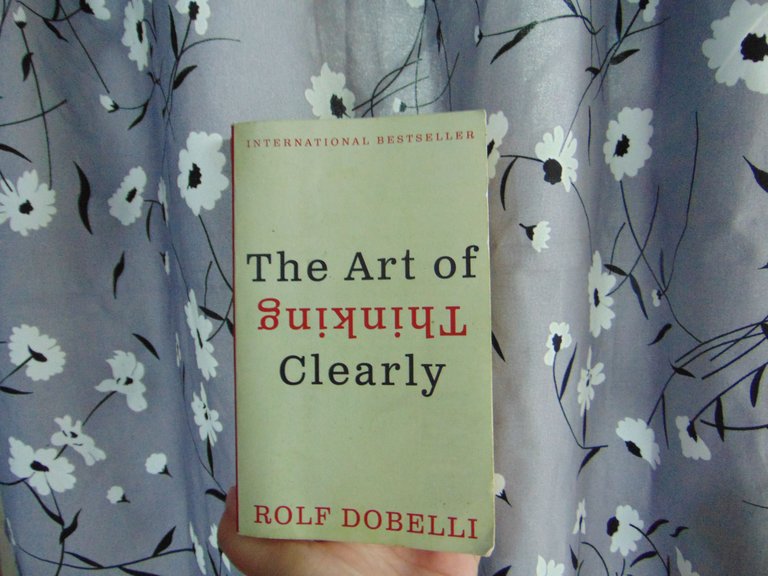 So, things have been even more hectic in my life lately. Balancing things out has been a challenge but I still get to read in those times. I mix classic literature and self-improvement in between because those are the types of books that I enjoy reading. When I set my reading list, I also anticipated that my life can be a roller coaster ride so, I also set the book based on those unexpected events that may occur. Much like the previous book, this book is something I have personally reviewed and read in the past. The Art of Thinking Clearly by Rolf Dobelli is a must read for anyone who wants to learn how to minimize cognitive biases and how to look at common societal problems in a new light. As the book also argues that our cognitive biases sometimes can cost us dearly in either our individual relationship or as a part of society.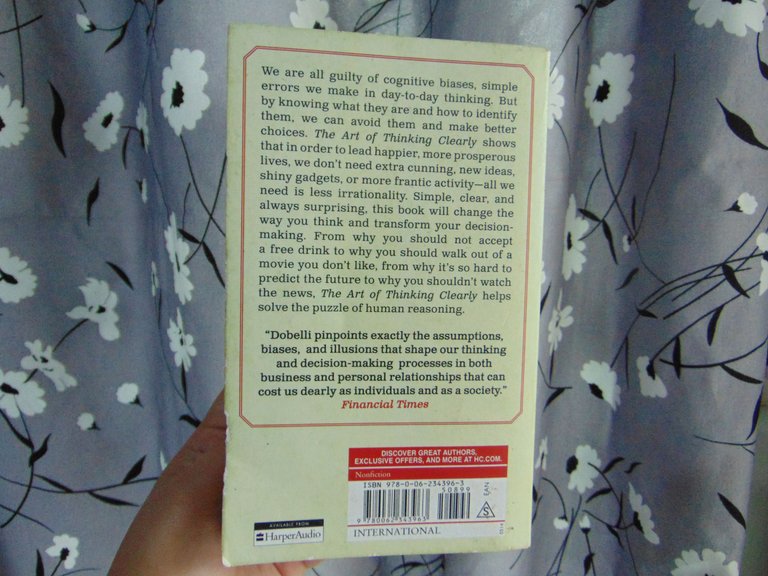 This book has more than 30 essays that discuss in-depth about some of our common misconceptions and cognitive biases that will make you experience an AHA moment. Personally, I think that resonates the most would be his essay about " Why New Year's Resolutions Don't Work". Dobelli argues that even a new year's resolution won't help you achieve anything or start anything if you procrastinate. But fixing procrastination alone isn't gonna help either. He mentioned a combining approach that includes setting a fixed date and making a commitment to erase distraction. All these make sense because for example, last year Ray and I decided that we both go to the gym and lose weight. I had no external pressure to lose it all but Ray was given a time because he wanted to apply for the military academy. We both worked at the same time but because Ray was having a fixed time, he ended up having more willingness to watch what he eats and exercised more. In the end, Ray lost more than me even though he did not end up going to the military because his body proportion wasn't fit enough for it. Meanwhile I lose only about 26 pounds. But the result that Ray has achieved helped him get fit and made his life easier to apply to jobs and in the end, he works at a national bank.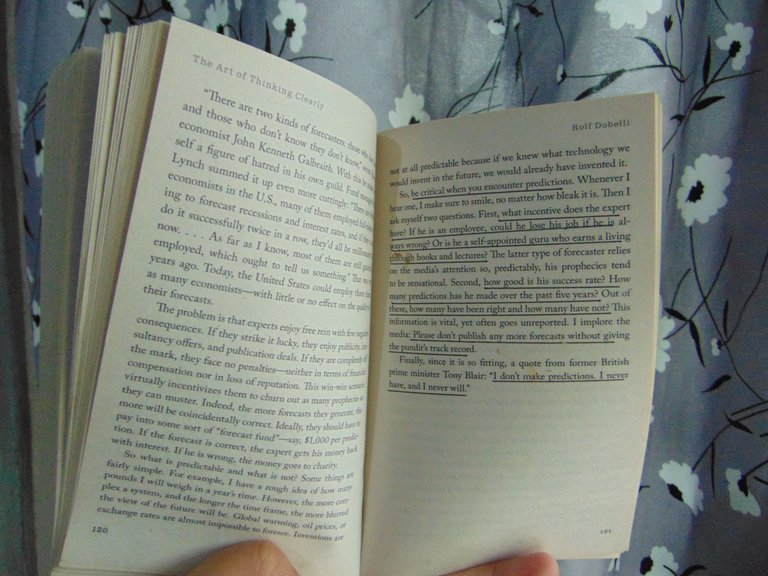 Another one that I re-read a couple of times is " Why You Go With The Status Quo". Status quo can be anything in your life. It's that convenience that according to Dobelli, despite having disadvantage, you still go with it because it just works. Perhaps you experienced this moment in your life that, like Dobelli said, you have a default phone setting rather than modifying the ROM and customizing it. But much like him, I agree that questioning the status quo, perhaps we can change some things around us.
This book makes you think and do not expect any how-to's but you learn from the story and deduce the ideas on it. It can be worth reading and a week actually isn't enough because one essay in this book will make you think over and over especially if you are young and don't have that many experiences with life. This book is also fitting to read for anyone below 20's just to learn some of cognitive biases early and I am certain, it would help nurture critical thinking at an early age. But either way, I do recommend this for all ages, just in case you want to learn or finally find more examples about why your life happens the way it is or why some things happen. Just like I have found Why New Year's Resolutions Don't Work and in goal setting, it helped me redefine the way I look at it.
Anyway, week 3 is closer than I'd like to expect and I am halfway reading pride and prejudice. If you want to read my previous book journal, you can check it out here Book Journal Week 1 : Brave New World or see my reading list over hereReading List 2023 .

Don't hesitate to upvote for more content like this ! You can also support me below!

---
𝘔𝘢𝘤 𝘪𝘴 𝘢 𝘴𝘦𝘭𝘧-𝘦𝘮𝘱𝘭𝘰𝘺𝘦𝘥 𝘯𝘪𝘯𝘫𝘢 & 𝘤𝘰𝘧𝘧𝘦𝘦 𝘤𝘰𝘯𝘯𝘰𝘪𝘴𝘴𝘦𝘶𝘳 . 𝘈 𝘵𝘺𝘱𝘪𝘤𝘢𝘭 𝘪𝘯𝘵𝘳𝘰𝘷𝘦𝘳𝘵 𝘪𝘯 𝘭𝘰𝘷𝘦 𝘸𝘪𝘵𝘩 𝘭𝘪𝘵𝘦𝘳𝘢𝘵𝘶𝘳𝘦, 𝘣𝘰𝘰𝘬𝘴, 𝘵𝘦𝘤𝘩𝘯𝘰𝘭𝘰𝘨𝘺 𝘢𝘯𝘥 𝘱𝘩𝘪𝘭𝘰𝘴𝘰𝘱𝘩𝘺. 𝘛𝘩𝘪𝘴 𝘪𝘴 𝘩𝘦𝘳 𝘱𝘦𝘳𝘴𝘰𝘯𝘢𝘭 𝘣𝘭𝘰𝘨, 𝘢 𝘳𝘦𝘧𝘭𝘦𝘤𝘵𝘪𝘰𝘯 𝘰𝘧 𝘩𝘦𝘳 𝘸𝘢𝘯𝘥𝘦𝘳𝘭𝘶𝘴𝘵 𝘢𝘯𝘥 𝘵𝘩𝘪𝘳𝘴𝘵 𝘧𝘰𝘳 𝘬𝘯𝘰𝘸𝘭𝘦𝘥𝘨𝘦. 𝘚𝘩𝘦 𝘰𝘧𝘵𝘦𝘯 𝘤𝘰𝘷𝘦𝘳𝘴 𝘣𝘰𝘰𝘬𝘴, 𝘮𝘰𝘷𝘪𝘦 𝘢𝘯𝘥 𝘴𝘦𝘳𝘪𝘦𝘴 𝘳𝘦𝘷𝘪𝘦𝘸𝘴, 𝘵𝘦𝘤𝘩 𝘳𝘦𝘷𝘪𝘦𝘸𝘴 𝘢𝘯𝘥 𝘵𝘳𝘦𝘯𝘥𝘴, 𝘱𝘩𝘰𝘵𝘰𝘨𝘳𝘢𝘱𝘩𝘺, 𝘢𝘯𝘥 𝘱𝘦𝘳𝘴𝘰𝘯𝘢𝘭 𝘥𝘦𝘷𝘦𝘭𝘰𝘱𝘮𝘦𝘯𝘵. 𝘖𝘯𝘤𝘦 𝘪𝘯 𝘢 𝘣𝘭𝘶𝘦 𝘮𝘰𝘰𝘯, 𝘺𝘰𝘶 𝘤𝘢𝘯 𝘧𝘪𝘯𝘥 𝘩𝘦𝘳 𝘵𝘳𝘢𝘷𝘦𝘭𝘪𝘯𝘨, 𝘪𝘮𝘮𝘦𝘳𝘴𝘪𝘯𝘨 𝘩𝘦𝘳𝘴𝘦𝘭𝘧 𝘪𝘯 𝘭𝘰𝘤𝘢𝘭 𝘤𝘶𝘭𝘵𝘶𝘳𝘦𝘴 𝘢𝘯𝘥 𝘵𝘳𝘢𝘥𝘪𝘵𝘪𝘰𝘯𝘴, 𝘢𝘯𝘥 𝘵𝘢𝘬𝘪𝘯𝘨 𝘱𝘪𝘤𝘵𝘶𝘳𝘦𝘴 𝘰𝘧 𝘵𝘩𝘦 𝘣𝘦𝘢𝘶𝘵𝘪𝘧𝘶𝘭 𝘴𝘪𝘨𝘩𝘵𝘴 𝘴𝘩𝘦 𝘦𝘯𝘤𝘰𝘶𝘯𝘵𝘦𝘳𝘴 𝘢𝘭𝘰𝘯𝘨 𝘵𝘩𝘦 𝘸𝘢𝘺. 𝘚𝘩𝘦'𝘴 𝘢𝘯 𝘰𝘤𝘤𝘢𝘴𝘪𝘰𝘯𝘢𝘭 𝘧𝘰𝘰𝘥𝘪𝘦 𝘢𝘯𝘥 𝘭𝘰𝘷𝘦𝘴 𝘵𝘰 𝘦𝘹𝘱𝘭𝘰𝘳𝘦 𝘯𝘦𝘸 𝘢𝘯𝘥 𝘥𝘦𝘭𝘪𝘤𝘪𝘰𝘶𝘴 𝘤𝘶𝘭𝘪𝘯𝘢𝘳𝘺 𝘦𝘹𝘱𝘦𝘳𝘪𝘦𝘯𝘤𝘦𝘴. 𝘍𝘰𝘭𝘭𝘰𝘸 𝘢𝘭𝘰𝘯𝘨 𝘰𝘯 𝘩𝘦𝘳 𝘢𝘥𝘷𝘦𝘯𝘵𝘶𝘳𝘦𝘴 𝘢𝘯𝘥 𝘫𝘰𝘪𝘯 𝘵𝘩𝘦 𝘤𝘰𝘯𝘷𝘦𝘳𝘴𝘢𝘵𝘪𝘰𝘯! 𝘋𝘰𝘯'𝘵 𝘩𝘦𝘴𝘪𝘵𝘢𝘵𝘦 𝘵𝘰 𝘶𝘱𝘷𝘰𝘵𝘦, 𝘭𝘦𝘢𝘷𝘦 𝘢 𝘤𝘰𝘮𝘮𝘦𝘯𝘵 𝘰𝘳 𝘢 𝘧𝘦𝘦𝘥𝘣𝘢𝘤𝘬. 𝘈 𝘳𝘦-𝘣𝘭𝘰𝘨 𝘪𝘴 𝘢𝘭𝘴𝘰 𝘢𝘱𝘱𝘳𝘦𝘤𝘪𝘢𝘵𝘦𝘥 𝘵𝘰𝘰.