My ideas flow so rapidly that I have no time to express them, which means my letters sometimes convey no ideas at all to my correspondents. — Jane Austen from Pride and Prejudice
---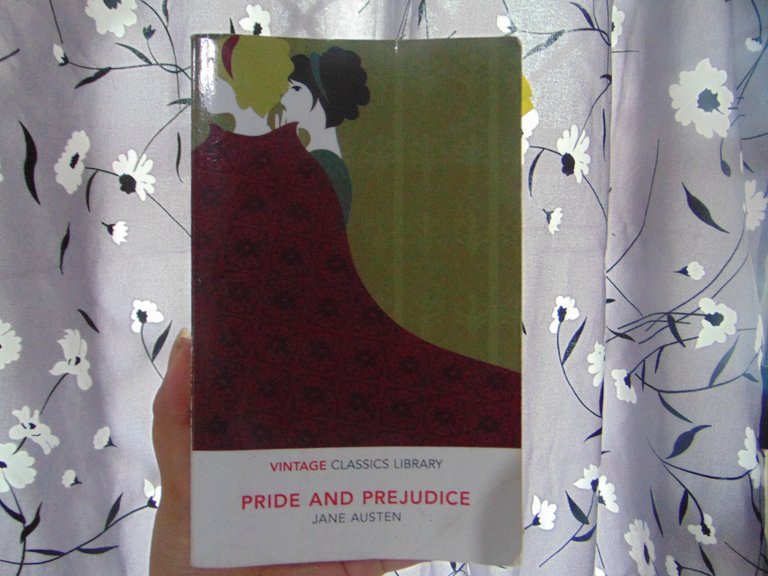 Pride and Prejudice has been the classic novel that I managed to read a couple of times. It's witty, engaging and explores the slices of life such as family, marriages and friendship. Enjoying this novel without being too analytical and just as a nice evening read was refreshing and fun. From my experience, this novel is often presented in classes as a feminist novel that shines light on female independence of thoughts and will. However, if reflected in current society, it certainly doesn't fit the third wave feminism. When put into the context of first wave feminism, this novel would have made more sense. And when you just enjoy the novel as is, it may not be everyone's cup of tea. Jane Austen wrote the novel when she was only twenty-years old and did revisions on them before being published[1]. I find that admirable, especially the choice of words and her ways of conveying the ideas that I think she was wise beyond her age.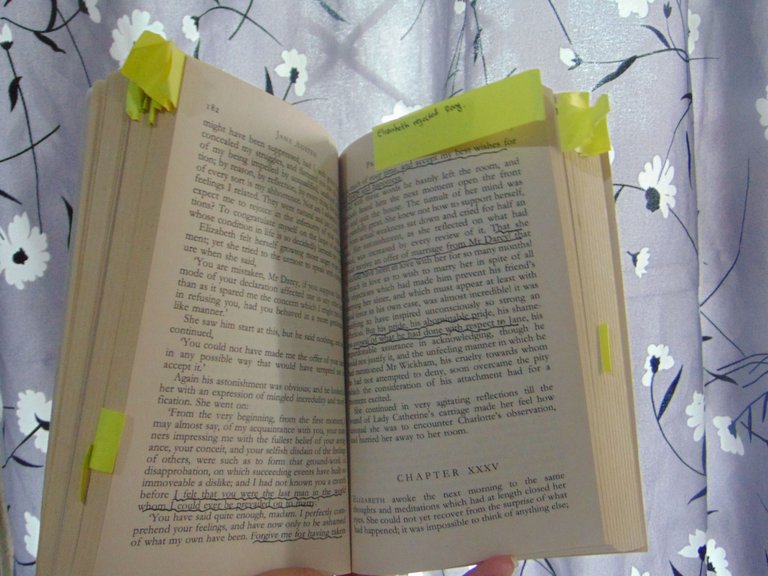 The dialogues that she's choosing still certainly fits to be used even in 2023. Imagine rejecting someone and classily doing that like she wrote below ;
"I felt that you were the last man in the world whom I could ever be prevailed on to marry"- Elizabeth — Jane Austen
That sentence above has been phrased and written in so many ways that with an overstatement, I think that's where it originates from. That just goes to reaffirm the idea that there's really nothing new under the sun which originates from the bible. Apart from that alone, the overall story itself is certainly a delight and if you are a sucker for romance, that is what I'd recommend reading. There have been many variations of this story throughout the years with films made with alternate stories based on the novel. One that I watched was the Pride and Prejudice and Zombies which I think was utterly horrendous. I bet Austen was like, "Why do you all treat me with such a lack of respect and decorum!".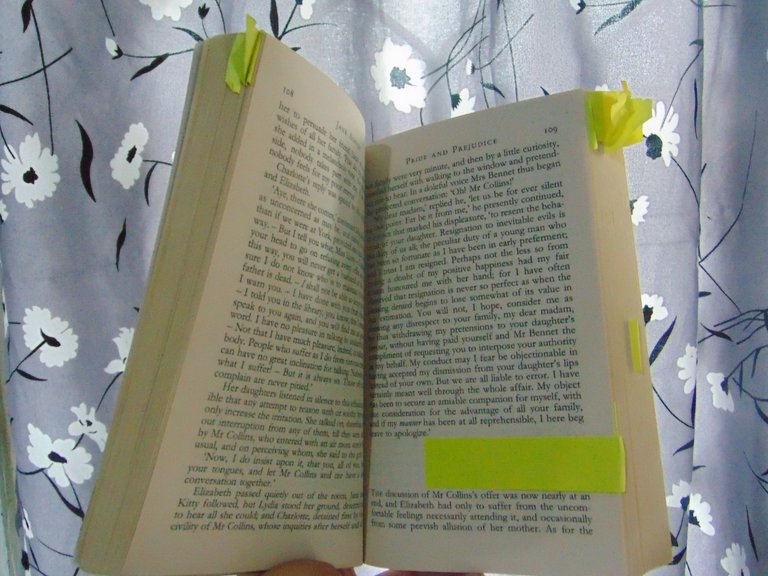 However, overall this was a good easy week as this one was a light fun read and restores my reading experience especially when it comes to Austen as she's often used in the subject at my classes. And that's all about it, we'll be moving on Fahrenheit451. If you're interested in following my journey, here's the list to my book journal:
Or see my reading list over here Reading List 2023 .
[1] information of Jane Austen and the book was available on the first page of the book.

Don't hesitate to upvote for more content like this ! You can also support me below!

---
𝘔𝘢𝘤 𝘪𝘴 𝘢 𝘴𝘦𝘭𝘧-𝘦𝘮𝘱𝘭𝘰𝘺𝘦𝘥 𝘯𝘪𝘯𝘫𝘢 & 𝘤𝘰𝘧𝘧𝘦𝘦 𝘤𝘰𝘯𝘯𝘰𝘪𝘴𝘴𝘦𝘶𝘳 . 𝘈 𝘵𝘺𝘱𝘪𝘤𝘢𝘭 𝘪𝘯𝘵𝘳𝘰𝘷𝘦𝘳𝘵 𝘪𝘯 𝘭𝘰𝘷𝘦 𝘸𝘪𝘵𝘩 𝘭𝘪𝘵𝘦𝘳𝘢𝘵𝘶𝘳𝘦, 𝘣𝘰𝘰𝘬𝘴, 𝘵𝘦𝘤𝘩𝘯𝘰𝘭𝘰𝘨𝘺 𝘢𝘯𝘥 𝘱𝘩𝘪𝘭𝘰𝘴𝘰𝘱𝘩𝘺. 𝘛𝘩𝘪𝘴 𝘪𝘴 𝘩𝘦𝘳 𝘱𝘦𝘳𝘴𝘰𝘯𝘢𝘭 𝘣𝘭𝘰𝘨, 𝘢 𝘳𝘦𝘧𝘭𝘦𝘤𝘵𝘪𝘰𝘯 𝘰𝘧 𝘩𝘦𝘳 𝘸𝘢𝘯𝘥𝘦𝘳𝘭𝘶𝘴𝘵 𝘢𝘯𝘥 𝘵𝘩𝘪𝘳𝘴𝘵 𝘧𝘰𝘳 𝘬𝘯𝘰𝘸𝘭𝘦𝘥𝘨𝘦. 𝘚𝘩𝘦 𝘰𝘧𝘵𝘦𝘯 𝘤𝘰𝘷𝘦𝘳𝘴 𝘣𝘰𝘰𝘬𝘴, 𝘮𝘰𝘷𝘪𝘦 𝘢𝘯𝘥 𝘴𝘦𝘳𝘪𝘦𝘴 𝘳𝘦𝘷𝘪𝘦𝘸𝘴, 𝘵𝘦𝘤𝘩 𝘳𝘦𝘷𝘪𝘦𝘸𝘴 𝘢𝘯𝘥 𝘵𝘳𝘦𝘯𝘥𝘴, 𝘱𝘩𝘰𝘵𝘰𝘨𝘳𝘢𝘱𝘩𝘺, 𝘢𝘯𝘥 𝘱𝘦𝘳𝘴𝘰𝘯𝘢𝘭 𝘥𝘦𝘷𝘦𝘭𝘰𝘱𝘮𝘦𝘯𝘵. 𝘖𝘯𝘤𝘦 𝘪𝘯 𝘢 𝘣𝘭𝘶𝘦 𝘮𝘰𝘰𝘯, 𝘺𝘰𝘶 𝘤𝘢𝘯 𝘧𝘪𝘯𝘥 𝘩𝘦𝘳 𝘵𝘳𝘢𝘷𝘦𝘭𝘪𝘯𝘨, 𝘪𝘮𝘮𝘦𝘳𝘴𝘪𝘯𝘨 𝘩𝘦𝘳𝘴𝘦𝘭𝘧 𝘪𝘯 𝘭𝘰𝘤𝘢𝘭 𝘤𝘶𝘭𝘵𝘶𝘳𝘦𝘴 𝘢𝘯𝘥 𝘵𝘳𝘢𝘥𝘪𝘵𝘪𝘰𝘯𝘴, 𝘢𝘯𝘥 𝘵𝘢𝘬𝘪𝘯𝘨 𝘱𝘪𝘤𝘵𝘶𝘳𝘦𝘴 𝘰𝘧 𝘵𝘩𝘦 𝘣𝘦𝘢𝘶𝘵𝘪𝘧𝘶𝘭 𝘴𝘪𝘨𝘩𝘵𝘴 𝘴𝘩𝘦 𝘦𝘯𝘤𝘰𝘶𝘯𝘵𝘦𝘳𝘴 𝘢𝘭𝘰𝘯𝘨 𝘵𝘩𝘦 𝘸𝘢𝘺. 𝘚𝘩𝘦'𝘴 𝘢𝘯 𝘰𝘤𝘤𝘢𝘴𝘪𝘰𝘯𝘢𝘭 𝘧𝘰𝘰𝘥𝘪𝘦 𝘢𝘯𝘥 𝘭𝘰𝘷𝘦𝘴 𝘵𝘰 𝘦𝘹𝘱𝘭𝘰𝘳𝘦 𝘯𝘦𝘸 𝘢𝘯𝘥 𝘥𝘦𝘭𝘪𝘤𝘪𝘰𝘶𝘴 𝘤𝘶𝘭𝘪𝘯𝘢𝘳𝘺 𝘦𝘹𝘱𝘦𝘳𝘪𝘦𝘯𝘤𝘦𝘴. 𝘍𝘰𝘭𝘭𝘰𝘸 𝘢𝘭𝘰𝘯𝘨 𝘰𝘯 𝘩𝘦𝘳 𝘢𝘥𝘷𝘦𝘯𝘵𝘶𝘳𝘦𝘴 𝘢𝘯𝘥 𝘫𝘰𝘪𝘯 𝘵𝘩𝘦 𝘤𝘰𝘯𝘷𝘦𝘳𝘴𝘢𝘵𝘪𝘰𝘯! 𝘋𝘰𝘯'𝘵 𝘩𝘦𝘴𝘪𝘵𝘢𝘵𝘦 𝘵𝘰 𝘶𝘱𝘷𝘰𝘵𝘦, 𝘭𝘦𝘢𝘷𝘦 𝘢 𝘤𝘰𝘮𝘮𝘦𝘯𝘵 𝘰𝘳 𝘢 𝘧𝘦𝘦𝘥𝘣𝘢𝘤𝘬. 𝘈 𝘳𝘦-𝘣𝘭𝘰𝘨 𝘪𝘴 𝘢𝘭𝘴𝘰 𝘢𝘱𝘱𝘳𝘦𝘤𝘪𝘢𝘵𝘦𝘥 𝘵𝘰𝘰.