Do you ever read any of the books you burn?
He laughed. That's against the law! ― Ray Bradbury via Fahreinheit 451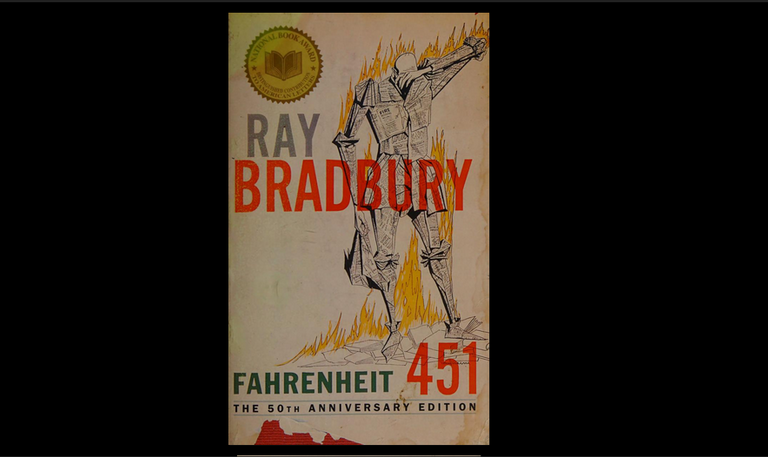 ---
Meet Montag, The fireman whose task was to burn books, who ended up meeting a curious young girl named Clarisse. Through their initial conversation we will be taken into the world where books were considered to be the source of unhappiness. And even in the first few pages, Clarisse made Montag think whether he's happy or not. After that initial conversation, we soon will discover that Montag wasn't quite happy with his life. He questioned his own happiness and considered himself wearing a mask, appearing to be happy just for the sake of it. The journey soon follows to the scene where Montag meets other characters in the novel including Faber, another protagonist in the novel that opens Montag's eyes about the book that he kept hidden and wasn't unable to burn. Will Montag eventually realize the importance of preserving books and the wisdom it carries? Will he be able to find happiness?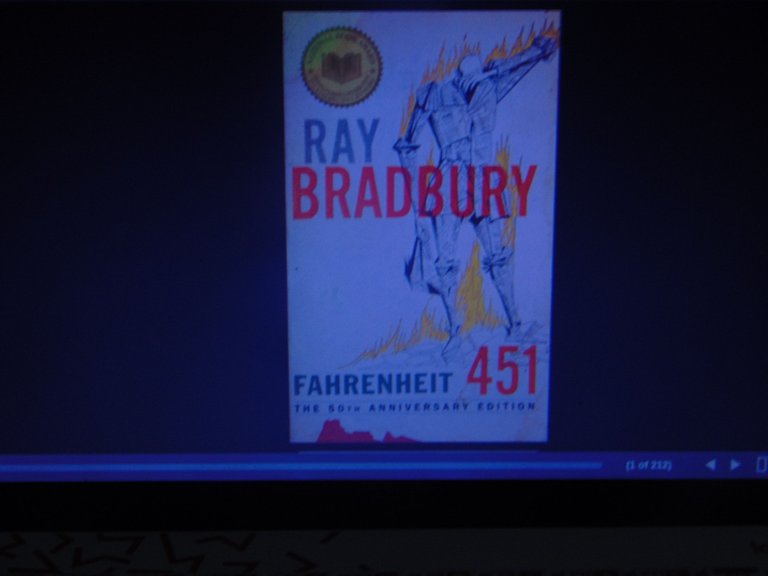 If you have not read this book, I definitely recommend you to read it at least once in a lifetime. However what is most intriguing is Ray Bradburry's interview that is available at the end of the book. Prior to this, I had not paid attention to the interview but looking at it in today's perspective, what he said is still relevant and applicable. The interviewer argued that Fahrenheit 451 is better than Orwell because Fahrenheit 451 is even more prophetic than nineteen eighty four. And in that review, Bradbury explained that his novel focuses on the social aspect instead the political aspect of society. He wondered about the impact of TV, Radio and the lack of education. He said that " in the coming events, schoolteachers not teaching reading anymore. The less they taught, the more you wouldn't need books." And as you all can observe, this has happened and will even be more prominent in the future as people are not reliant on reading information rather have information fed by AI or artificial super assistants that could help you think and react to things even faster. In this conversation, though I agree with Bradburry that "you're either love in love with what you do, or you're not in love" but these days, I recognize that teachers get paid less to make bigger efforts in their job and even more in American society, there are layers of problems when it comes to schooling that it's not just about the underpaid teachers. It's the same where I live though and I'd like to think the challenge would be similar in other countries. Another aspect of the interview that intrigued me is Bradbury's opinion on journalism and TV news where he said, " We bombard people with sensation. That substitutes for thinking". Nowadays, it's not that different and I bet some of us can get carried away with some drama from Tv, internet, and social media without taking a step back and thinking it through.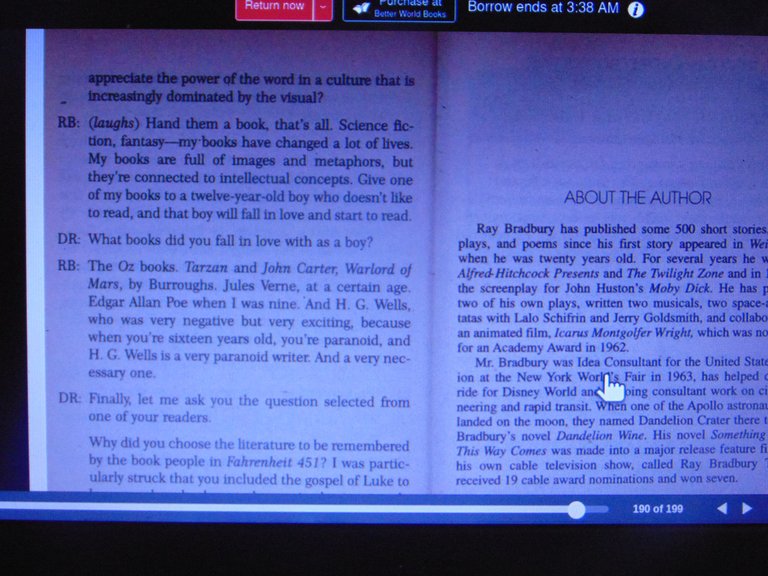 Since I have read this book a couple of times by now, it was the Ray Bradbury interview that got to me the most. I think that he was beyond his years, quite prophetic and the TV that he referred to in the interview could be substituted by social media these days. From the interview, you can tell that he is pretty adamant about keeping reading alive and that writing must be done because of passion and not because of monetary rewards. I do agree but that is such an old school thought because these days, commercial writing is what gets us to do our passion especially if you're in arts.Anyway, you can find this book on archive.org. I actually have a copy of it but because I am on the move and only bring three of my January week, I ended up relying there and borrowing from it. It's nice that they also have a timer for borrowing that was so helpful with timing my reading. The conversation can be found from page 180-190 and if you are not into the novel, the conversation is really worth reading too. You'd get to know behind the scenes of the novel and why it was made and some details that Bradbury tries to clear up. This is the link to Fahrenheit 451 in Archive.org
Extra Notes
[1] cover from archive.org

[2] quotable bradburry from interview/conversation can be found from page 180-190 in the book

Or see my reading list over here Reading List 2023 .

Don't hesitate to upvote for more content like this ! You can also support me below!

---
𝘔𝘢𝘤 𝘪𝘴 𝘢 𝘴𝘦𝘭𝘧-𝘦𝘮𝘱𝘭𝘰𝘺𝘦𝘥 𝘯𝘪𝘯𝘫𝘢 & 𝘤𝘰𝘧𝘧𝘦𝘦 𝘤𝘰𝘯𝘯𝘰𝘪𝘴𝘴𝘦𝘶𝘳 . 𝘈 𝘵𝘺𝘱𝘪𝘤𝘢𝘭 𝘪𝘯𝘵𝘳𝘰𝘷𝘦𝘳𝘵 𝘪𝘯 𝘭𝘰𝘷𝘦 𝘸𝘪𝘵𝘩 𝘭𝘪𝘵𝘦𝘳𝘢𝘵𝘶𝘳𝘦, 𝘣𝘰𝘰𝘬𝘴, 𝘵𝘦𝘤𝘩𝘯𝘰𝘭𝘰𝘨𝘺 𝘢𝘯𝘥 𝘱𝘩𝘪𝘭𝘰𝘴𝘰𝘱𝘩𝘺. 𝘛𝘩𝘪𝘴 𝘪𝘴 𝘩𝘦𝘳 𝘱𝘦𝘳𝘴𝘰𝘯𝘢𝘭 𝘣𝘭𝘰𝘨, 𝘢 𝘳𝘦𝘧𝘭𝘦𝘤𝘵𝘪𝘰𝘯 𝘰𝘧 𝘩𝘦𝘳 𝘸𝘢𝘯𝘥𝘦𝘳𝘭𝘶𝘴𝘵 𝘢𝘯𝘥 𝘵𝘩𝘪𝘳𝘴𝘵 𝘧𝘰𝘳 𝘬𝘯𝘰𝘸𝘭𝘦𝘥𝘨𝘦. 𝘚𝘩𝘦 𝘰𝘧𝘵𝘦𝘯 𝘤𝘰𝘷𝘦𝘳𝘴 𝘣𝘰𝘰𝘬𝘴, 𝘮𝘰𝘷𝘪𝘦 𝘢𝘯𝘥 𝘴𝘦𝘳𝘪𝘦𝘴 𝘳𝘦𝘷𝘪𝘦𝘸𝘴, 𝘵𝘦𝘤𝘩 𝘳𝘦𝘷𝘪𝘦𝘸𝘴 𝘢𝘯𝘥 𝘵𝘳𝘦𝘯𝘥𝘴, 𝘱𝘩𝘰𝘵𝘰𝘨𝘳𝘢𝘱𝘩𝘺, 𝘢𝘯𝘥 𝘱𝘦𝘳𝘴𝘰𝘯𝘢𝘭 𝘥𝘦𝘷𝘦𝘭𝘰𝘱𝘮𝘦𝘯𝘵. 𝘖𝘯𝘤𝘦 𝘪𝘯 𝘢 𝘣𝘭𝘶𝘦 𝘮𝘰𝘰𝘯, 𝘺𝘰𝘶 𝘤𝘢𝘯 𝘧𝘪𝘯𝘥 𝘩𝘦𝘳 𝘵𝘳𝘢𝘷𝘦𝘭𝘪𝘯𝘨, 𝘪𝘮𝘮𝘦𝘳𝘴𝘪𝘯𝘨 𝘩𝘦𝘳𝘴𝘦𝘭𝘧 𝘪𝘯 𝘭𝘰𝘤𝘢𝘭 𝘤𝘶𝘭𝘵𝘶𝘳𝘦𝘴 𝘢𝘯𝘥 𝘵𝘳𝘢𝘥𝘪𝘵𝘪𝘰𝘯𝘴, 𝘢𝘯𝘥 𝘵𝘢𝘬𝘪𝘯𝘨 𝘱𝘪𝘤𝘵𝘶𝘳𝘦𝘴 𝘰𝘧 𝘵𝘩𝘦 𝘣𝘦𝘢𝘶𝘵𝘪𝘧𝘶𝘭 𝘴𝘪𝘨𝘩𝘵𝘴 𝘴𝘩𝘦 𝘦𝘯𝘤𝘰𝘶𝘯𝘵𝘦𝘳𝘴 𝘢𝘭𝘰𝘯𝘨 𝘵𝘩𝘦 𝘸𝘢𝘺. 𝘚𝘩𝘦'𝘴 𝘢𝘯 𝘰𝘤𝘤𝘢𝘴𝘪𝘰𝘯𝘢𝘭 𝘧𝘰𝘰𝘥𝘪𝘦 𝘢𝘯𝘥 𝘭𝘰𝘷𝘦𝘴 𝘵𝘰 𝘦𝘹𝘱𝘭𝘰𝘳𝘦 𝘯𝘦𝘸 𝘢𝘯𝘥 𝘥𝘦𝘭𝘪𝘤𝘪𝘰𝘶𝘴 𝘤𝘶𝘭𝘪𝘯𝘢𝘳𝘺 𝘦𝘹𝘱𝘦𝘳𝘪𝘦𝘯𝘤𝘦𝘴. 𝘍𝘰𝘭𝘭𝘰𝘸 𝘢𝘭𝘰𝘯𝘨 𝘰𝘯 𝘩𝘦𝘳 𝘢𝘥𝘷𝘦𝘯𝘵𝘶𝘳𝘦𝘴 𝘢𝘯𝘥 𝘫𝘰𝘪𝘯 𝘵𝘩𝘦 𝘤𝘰𝘯𝘷𝘦𝘳𝘴𝘢𝘵𝘪𝘰𝘯! 𝘋𝘰𝘯'𝘵 𝘩𝘦𝘴𝘪𝘵𝘢𝘵𝘦 𝘵𝘰 𝘶𝘱𝘷𝘰𝘵𝘦, 𝘭𝘦𝘢𝘷𝘦 𝘢 𝘤𝘰𝘮𝘮𝘦𝘯𝘵 𝘰𝘳 𝘢 𝘧𝘦𝘦𝘥𝘣𝘢𝘤𝘬. 𝘈 𝘳𝘦-𝘣𝘭𝘰𝘨 𝘪𝘴 𝘢𝘭𝘴𝘰 𝘢𝘱𝘱𝘳𝘦𝘤𝘪𝘢𝘵𝘦𝘥 𝘵𝘰𝘰.