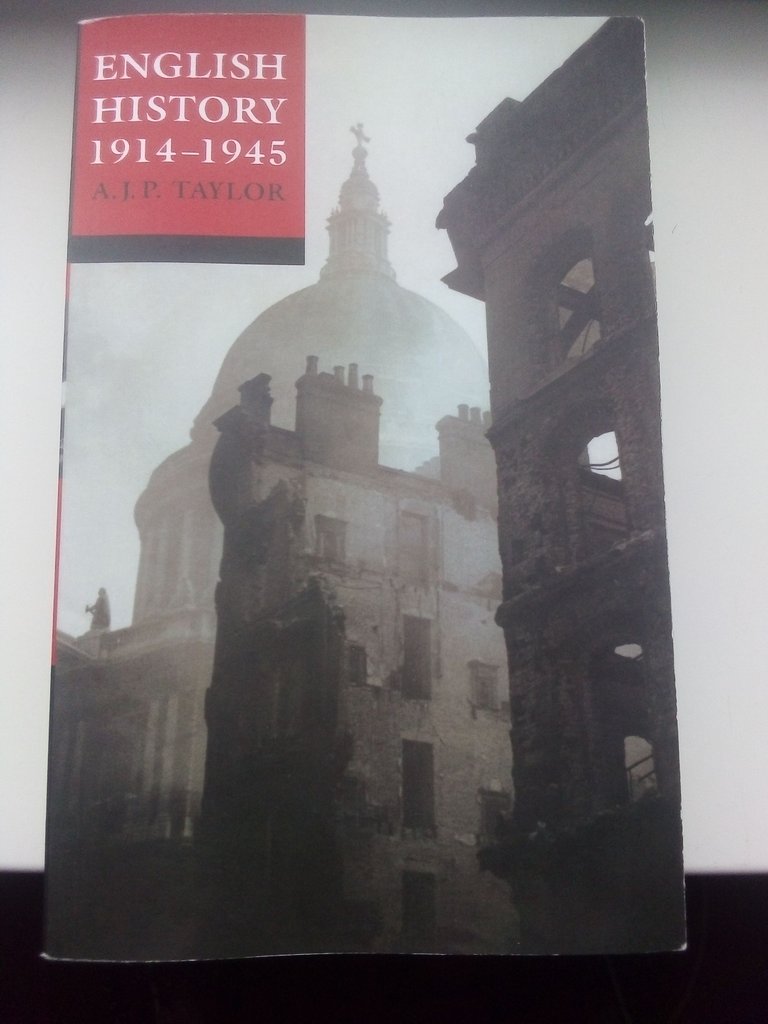 Hello Hivers and Book Clubbers,
High time for the first actual book review of the year. I looked back in my feed and saw that the last review was in October, and while I did do a lot of reading in between then and now, not much has come of writing about it. So let's change that right now. Also, my thanks to the mods at @hivebookclub to make me a member; it's much appreciated.
The book I'm reviewing here is titled 'English History 1914-1945'. A more straightforward title couldn't be possible. Written by A.J.P Taylor, one of my favorite authors on history, I bought it a couple of months ago off Amazon. The price was quite steep though, about 42 Euro's.
But since the story itself numbers slightly over 600 pages of quite dense history and politics, it's completely worth it to me. First published in 1965, World War 2 was still pretty fresh in the memory of many Englishmen. This re-release is from 2001, at which point the period could be seen as proper 'history'.
As mentioned, this book is DENSE. Taylor's expertise is quite wide, and he shows it often; references to all times and places in history, many of which I can't really place, though I consider myself pretty well-versed in history. A motivation to read more, one can say. In this review, I'll focus more on World War One and the years after it, more specifically on three topics. Let's get into it.
A Volunteer Army
What do you think of, when you think of the British military? Probably. like me, your mind first goes towards the navy. Britannia Rules the Waves, etc. When World War One got underway, this was the only military the British needed; both their Empire and their security at home depended completely on the strength of their navy. Building ships had become an expensive endeavour in the early 20th century, especially since from 1904 onwards the English became involved in a shipbuilding-arms race with the German Empire.
Where did this leave the army? There were troops in almost every colony, of course, and these totals numbered in the hundreds of thousands. But for the defence of Britain itself, the British Expeditionary Force numbered just slightly over 200.000 in 1914.
Compared to the other two armies on what would become the Western Front of WW1, this was a remarkably small force. The British ruling class realized that they would have to do more in terms of numbers, to support the French, or they might lose the Western Front, and thus the war.
Their solution was both simple and remarkable; instead of using conscription, as every other country in WW1 did, they called for volunteers. And they came in droves; 175.000 in just the first week, with a total that would rise to over 2 million.
The problem for the British army would soon not be the amount of men under arms, but the arms themselves; the amount of industry in Britain for the weapons and munitions for 2 million men was woefully inadequate. So a Ministry of Munitions was formed, just for the purpose of supplying this now-enlarged army. It was led for a short while by Winston Churchill, who became more known as prime minister during WW2.
Old Tactics, disastrous results
World War One is often correctly described as a war in which technology was leaps ahead of military tactics. The common use of machine guns, mortars and grenades was the death of the old school ideas of mass attacks. Yet the generals and marshals did not realize this, and did not learn from each other's mistakes.
Kitchener and Joffre, the English and French marshalls, had often tried offensives with very little results, and mass casualties. When Kitchener died en route to Russia in 1916, effective command of the English stretch of the front was left to general Douglas Haig. Did Haig learn of his predecessor's mistake with the frontal attacks? Of course not; he just assumed that the English hadn't attacked hard enough! The Flanders offensive (Passchendaele) led by Haig racked up another 300.000 casualties, on top of two years of hard fighting and offensives at, among others, the Somme and Verdun.
The rise of Labour
When one picks up a text on English history, you know that the English have almost always had a two-party political system. These days, it is the Conservatives (also named Tories) against Labour. When you go to the 19th century or earlier, it is the Conservatives against the Whigs. The Whigs were classical liberals, and there is nothing left of their political legacy today.
Their death can be traced in the early decades of the 20th century. Socialism was on the rise in Europe. Their ideals of a redistribution of wealth, the seizure of the means of production and the emancipation of the working class led to a plethora of political and non-political activity.
This activity could be purely revolutionary, i.e. the complete overthrowing of the old system, or a more constructive and evolutionary approach. The former was clearly realized in Soviet Russia by the Bolsheviks. The latter is, among others, symbolized by the Labour movement in Britain. The Labour party started off as a very one-issue, non-national party. It was deeply embedded in the trade unions; one could not become a politician for the party without being member of a trade union, and working in one too.
This changed during the early 1920s. All people in Britain could become a member, and this also led to an influx of middle-class and upper-class people who became politicians too. Though still clearly a leftist party, the program morphed into one of taking power within the system, by winning seats in elections, and changing the country by making and effecting laws the old, constitutional way.
The liberals at this same time were completely losing their step. Classical liberalism had always done well when the franchise was limited, i.e. when fewer people could vote. Their ideas, focused around 19th century ideals of laissez-faire and free trade, were popular amongst the upper-class and sometimes middle-class, who were over-represented in the strict franchise.
So when it was decided that all men were eligible to vote from 1916 onwards (women's vote did not lag far behind), and all of these new voters almost all went to either Labour or the Conservatives, the writing was on the wall for the liberals; in a winner-take-all system, they were doomed to fade away. This left English politics in the two-party race between the Conservatives and Labour, as it still is today.
Conclusion
Just treating three issues, mentioned in not too many pages in the book, has already made for a full-length review. Taylor's scope in the book is massive; he switches so effortlessly from foreign affairs to domestic issues, back to politics to the everyday lives of Englishmen that it leaves you baffeld as to how he knows it all.
It is a dense read, but one filled with so much knowledge that I haven't been able to put it down, same as with other books of is that I've read earlier. I hope you've enjoyed reading, and I can recommend looking into Taylor's catalogue to see if there's a subject you're interested in. I'll see you all in the next one, let's hope it doesn't take me three months this time. Until then,
-Pieter Nijmeijer
(Top image; self-made photo of book cover)