The little Book Club we have been running for a year likes to try new things. During the recent May sitting, we did not discuss a novel or short story, as usual, but a rather unique piece of historical non-fiction literature.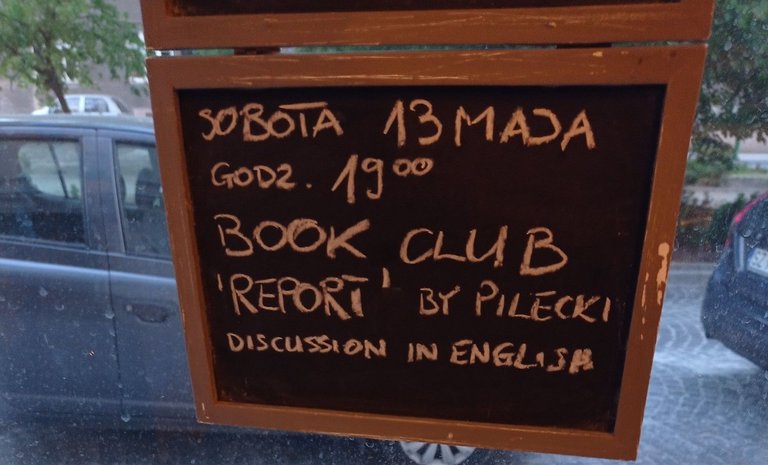 Witold Pilecki, a veteran of the Polish independence movement during World War One and the later war against Bolshevik Russia, took an active part in the defence of Poland in 1939 as a second lieutenant commanding a platoon. Following the defeat and occupation of the country by the Nazis and Soviets, he became a member of a clandestine organisation named the Secret Polish Army. In August 1940, its leadership made a decision to infiltrate the Auschwitz concentration camp. Pilecki volunteered for the mission and on 19 September let the Germans arrest him during a street roundup in the Żoliborz district of Warsaw. Soon, he became an inmate in the camp.
Shortly after his arrival at Auschwitz, he began to create a secret network made of other Polish prisoners. Its members were supposed to provide mutual aid by procuring additional food and medicine, or getting convenient jobs in the camp. Their other tasks included maintaining contact with their superiors staying outside the camp and sending them reliable information on the everyday functioning of the Auschwitz camp. Their long-term goal was a liberation of the camp and saving as many inmates as possible.
The information gathered by Pilecki during his imprisonment was included in a special report that he compiled following his escape. Shortly after the end of the war and after leaving a German POW camp in Italy, he created another report which provided additional reflections and commentary about his experiences as a concentration camp prisoner.
Shortly after the meeting started, one of us asked our resident Italian Lorenzo if anything felt surprising during reading the Report. The person who came up with this question was assuming that the history of the Holocaust and Germand death camps must be common knowledge among Poles — after all, they all learned about it during history classes or from books assigned as required reading — while this might not be the case in Italy. Lorenzo revealed that quite a few things in the book did surprise him greatly, even though he wasn't entirely ignorant on the subject because shortly after moving a Poland he visited the Auschwitz camp museum. The other participants commented that generally speaking, Pilecki's book didn't fundamentally change their view on the genocide committed by the Nazis. However, one of them added that the value of the Report is built upon the tiny details one finds on almost every page which are surprising, after all, and add to the general picture of the daily operation of the camp.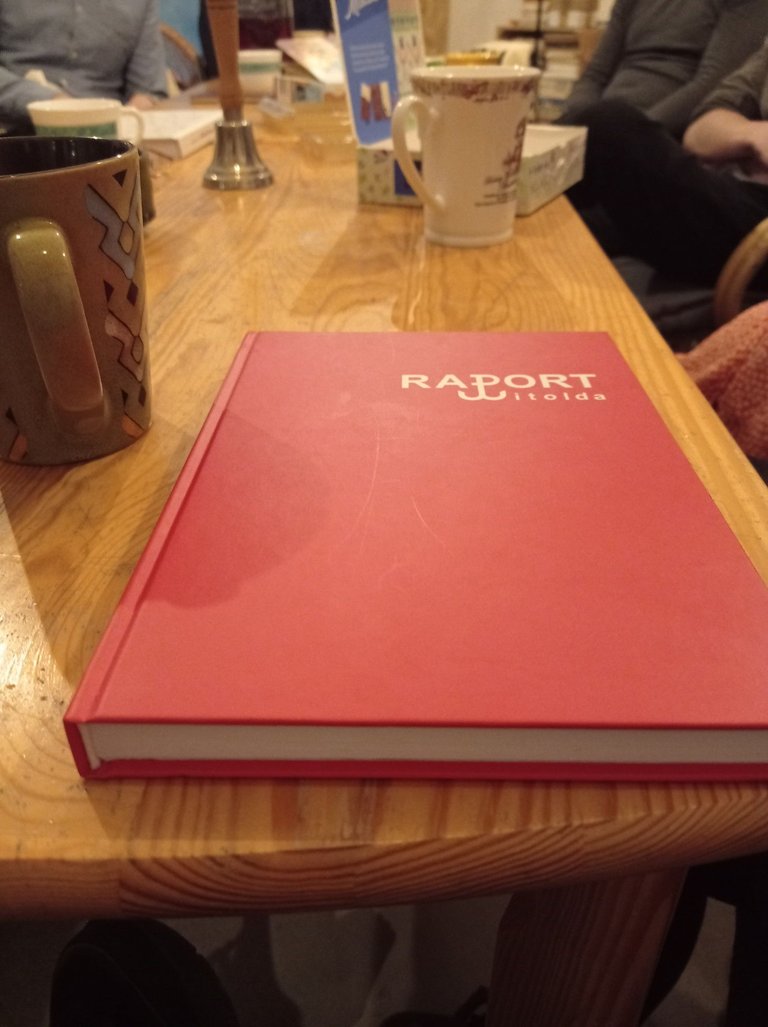 The term "Muslim" often used by the author turned out to be somewhat problematic to us. That word was commonly used by the people present in the camp in reference to those inmates who had been broken by the tragic situation of captivity, lost the will to live and perished very quickly. We couldn't find any explanation about the origins of the term. One participant tried to answer the question by recalling the race theory making the foundation of Hitler's totalitarian state. According to that theory, most Muslims (mainly Arabs, but also Turks and other groups) were to be classified as the so-called Oriental racial group. The stereotypes made up by the German version of scientific racism claimed that said group had such inherent traits as fatalism, passivity, and an unhealthy acceptance of suffering. The short glossary of German terms attached to our copies of the Report did confirm that the word did appear among the German crew of the camp (in German: der Musselmann), but we failed to find further confirmation of our friend's theory.
Usually for a Book Club meeting, there were comparisons to other literary works. Justyna mentioned reading The Women of Block 10 by Hans-Joachim Lang, a historical book describing the medical experiments forced upon the titular female inmates of the Auschwitz camp. For myself, I compared Pilecki's Report with the German novel Die Prüfung (The Test). The author, Willie Bredel, was one of the leaders of the pre-WW2 German Communist Party. The Nazis imprisoned him in a concentration camp shortly after their rise to power. Soon, he managed to escape captivity and flee the country, and his novel, first published in 1934 in London, is probably one of the earlier literary testimonies of a camp prisoner's experience. As I commented, in comparison with the inhumanity of Auschwitz, Bredel's account surprises the reader with the relatively mild treatment of the prisoners — and it should be noted that the author was a Communist fanatic who had no reason to whitewash his oppressors. In conclusion, the comparison between the accounts made by the German writer and Pilecki illustrates the rash development of the Nazi German machinery of terror which became truly terrifying within mere ten years.
When the meeting was coming to its inevitable end, someone asked a question which summarizes the worth of Pilecki's Report and how we all felt about it: "Why didn't Hollywood make a movie adaptation?" Indeed, the content of the book appears to have the potential to become an award-winning blockbuster movie, but that never happened. For a moment, we ponder about possible reasons and the only theory someone came up with was that it would be quite difficult to find people who would be ready to fund it. On the other hand, one of us said that if he watched that hypothetical film adaptation, he'd be tempted to think that the story of Pilecki was exaggerated to the point of being absurd. A veteran of two conflicts, not a young man anymore, willingly goes to the hell of Auschwitz, survives for more than two years avoiding death from disease, exhaustion caused by gruelling work, or just from being executed, and then manages to escape — well, that doesn't look very plausible, but the story really happened
Eighty years after Pilecki's death, his name remains relatively unknown outside Poland. What remains, however, is his report, an exceptional, shocking account of the tragedy of the World War two.
Wersja polska
Nasz istniejący od ponad roku klub miłośników dobrej książki lubi od czasu do czasu próbować czegoś nowego. Tak też stało się podczas majowego spotkania, ponieważ nie rozmawialiśmy o literaturze pięknej, ale raczej o tzw. literaturze faktu, do tego wyjątkowej w formie i treści.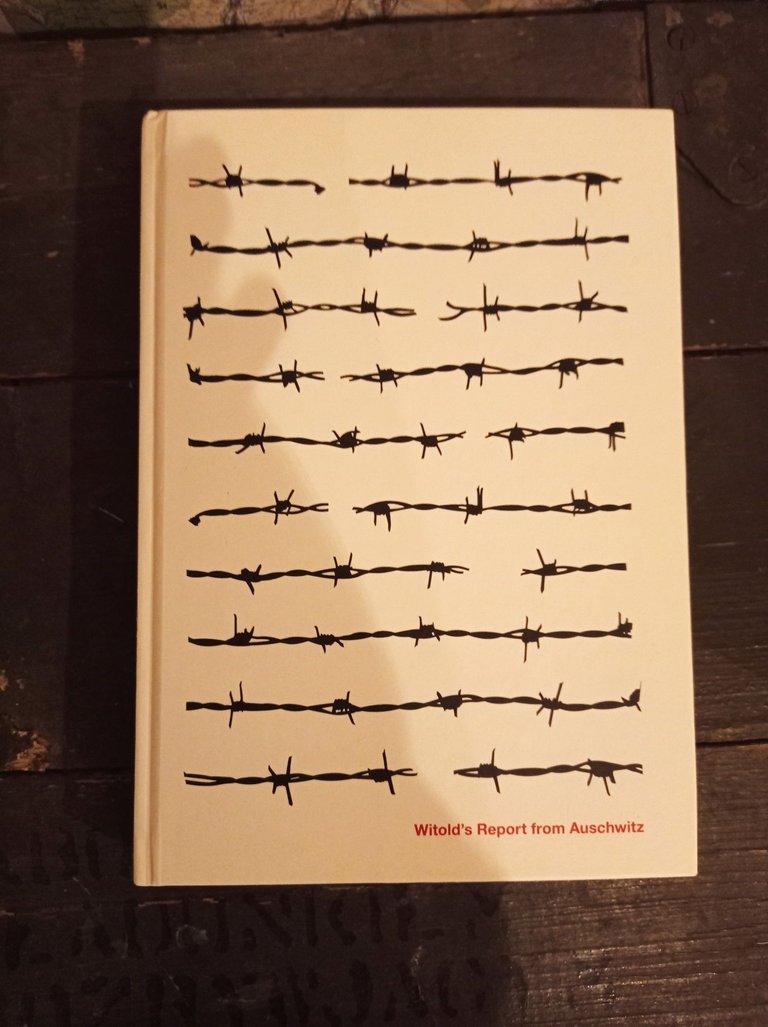 Witold Pilecki, weteran konspiracji niepodległościowej w czasie Pierwszej Wojny Światowej i późniejszej wojny z bolszewikami, wziął udział w wojnie obronnej 1939 roku w stopniu podporucznika jako dowódca plutonu. Po klęsce i zajęciu kraju przez hitlerowców i bolszewików działał jako członek podziemnej organizacji o nazwie Tajna Armia Polska. W sierpniu 1940 roku kierownictwo TAP-u zdecydowało się na przeprowadzenie infiltracji obozu koncentracyjnego w Oświęcimiu. Pilecki zgłosił się na ochotnika i w dniu 19 września dobrowolnie dał się schwytać podczas ulicznej łapanki zorganizowanej przez okupanta na Żoliborzu. Niedługo później został więźniem kacetu.
Niemalże od początku pobytu w KL Auschwitz zajmował się organizowaniem złożonej z więźniów konspiracyjnej organizacji działającej wewnątrz obozu. Jej członkowie zajmowali się wzajemną pomocą przez załatwianie żywności, leków lub zdobywanie pożądanych stanowisk pracy, ale ich zadaniem było także utrzymywanie łączności z pozostającym na wolności dowództwem i przekazywaniem sprawdzonych informacji, które mają przedstawić realia życia w obozie. Dalekosiężnym celem jest przeprowadzenie akcji wyswobodzenia Auschwitz i uwolnienia jak największej liczby więźniów.
Informacje zebrane przez Pileckiego w trakcie pobytu w Auschwitz zostały zawarte w specjalnym raporcie, który sporządził na potrzeby dowództwa krótko po swojej ucieczce. Później, niedługo po zakończeniu wojny i opuszczeniu niemieckiego obozu jenieckiego we Włoszech, sporządził kolejny raport stanowiący podsumowanie opisu jego doświadczeń z okresu uwięzienia.
Prawie na początku spotkania nasz dyżurny Włoch (@lpa) otrzymał pytanie, czy podczas lektury Reportu czuł zaskoczenie jego treścią. Pytający wyszedł z założenia, że tematyka Holokaustu i obozów śmierci jest w Polsce powszechnie znana — choćby z lekcji historii czy szkolnych lektur — natomiast we Włoszech może być już inaczej. W odpowiedzi L. stwierdził, że owszem, kilka rzeczy mocno go zaskoczyło podczas lektury, chociaż wcale nie jest ignorantem w temacie, bo już na początku pobytu w Polsce zwiedził muzeum w byłym obozie Auschwitz. Pozostali uczestnicy również zgodnie stwierdzili, że Raport Pileckiego nie był dla nich jakimś wielkim odkryciem diametralnie zmieniającym ogólny obraz hitlerowskich zbrodni. Zaraz potem jeden z nich dodał jednak, że dużą wartością dzieła Rotmistrza jest wyłapywanie drobnych szczegółów w opisie życia obozowego, które, owszem, potrafią być zaskakujące.
Pewien kłopot sprawiło nam przewijające się przez tekst określenie "muzułmanin". W obozie powszechnie używano go w odniesieniu do tych więźniów, którzy zostali złamani przez tragiczną egzystencję w niewoli, tracili całą chęć do życia i szybko umierali. Żadne z nas nie mogło zrozumieć, dlaczego nazywano ich właśnie muzułmanami. Pewien uczestnik spróbował wyjaśnić tę zagadkę niemieckimi teoriami rasowymi, stanowiącymi istotną podporę hitlerowskiego totalitaryzmu, które klasyfikowały większość wyznawców islamu (przede wszystkich Arabów, ale też np. Turków) jako rasę, czy grupę rasową, określaną mianem "orientalnej". Zgodnie ze stereotypami niemieckiej odmiany naukowego rasizmu, miał ich cechować wrodzony fatalizm, bierność i przywiązanie do cierpienia. Rzeczywiście, ze spisu niemieckojęzycznych słów pojawiających się w Raporcie wynika, że wspomniane określenie wyszło od niemieckiej załogi obozu (słowo "Musselmann"), ale nie udało nam się znaleźć jednoznacznego potwierdzenia teorii naszego kolegi.
Jak zwykle podczas naszych książkowych rozmów, pojawiły się porównania do innych dzieł literatury. Justyna (@justynao) wspomniała o książce Kobiety z bloku 10 autorstwa Hansa Joachima Langa, która traktuje o przymusowych eksperymentach medycznych przeprowadzanych na tytułowych więźniarkach oświęcimskiego obozu. Piszący z te słowa spróbował porównać treść Raportu Pileckiego z niemiecką powieścią Die Prüfung. Jej autor, Willie Bredel, był jednym z czołowych działaczy Niemieckiej Partii Komunistycznej, za co został uwięziony przez hitlerowców wkrótce po przejęciu przez nich władzy. Dosyć szybko udało mu się zresztą zbiec za granicę, a jego powieść, wydana w 1934 roku w Londynie, stanowi prawdopodobnie najwcześniejszy literacki zapis doświadczeń z pobytu w kacecie. W dyskusji stwierdziłem zresztą, że w porównaniu z nieludzką rzeczywistością Auschwitz, opis Bredla zaskakuje stosunkowo łagodnymi warunkami traktowania więźniów — a trzeba pamiętać, że autor był fanatycznym komunistą i trudno go podejrzewać o chęć wybielenia oprawców. Tak więc zestawienie świadectw niemieckiego autora i Pileckiego dobrze obrazuje, że niemiecka machina terroru rozwinęła się gwałtownie szybko, bo w ciągu zaledwie dziesięciu lat.
Już przy końcu spotkania ktoś zadał pytanie, które chyba dobrze podsumowuje nasze wrażenia po lekturze Raportu: "Dlaczego Hollywood jeszcze nie zrobiło o tym filmu?" Rzeczywiście, treść tej książki wydaje się być doskonałym materiałem na scenariusz do hitowej produkcji godnej Oskarów, ale taki film nigdy nie powstał. Przez chwilę zastanawialiśmy się nad przyczynami i nie doszliśmy do żadnych konkretnych wniosków, oprócz podejrzenia o to, że trudno byłoby znaleźć ludzi z odpowiednim kapitałem gotowych sfinansować produkcję. Z drugiej strony, pewien uczestnik stwierdził, że przy oglądaniu hipotetycznej ekranizacji Raportu kręciłby głową nad nieprawdopodobieństwem losów jego bohatera. Mamy tu w końcu wspomnienia weterana dwóch zbrojnych konfliktów, człowieka już wcale nie tak młodego, który z własnej woli wkracza do piekła Auschwitz, przeżywa w obozie prawie dwa lata unikając śmierc z powodu choroby, wycieńczenia katorżniczą pracą czy egzekucji, aż w końcu udaje mu się uciec — rzeczywiście, taka opowieść wydaje się nieprawdopodobna, a przecież naprawdę się wydarzyła.
Od śmierci Pileckiego minęło osiemdziesiąt lat i jego imię wciąż pozostaje zasadniczo nieznane poza granicami Polski. Pozostaje jednak jego Raport, niezwykłe i wstrząsające świadectwo tragedii drugiej wojny światowej.