Attention all Category 1 Commanders!
👨‍🚀 👩‍🚀 👨‍🚀 👩‍🚀 👨‍🚀 👩‍🚀 👨‍🚀 👩‍🚀 👨‍🚀 👩‍🚀 👨‍🚀 👩‍🚀 👨‍🚀 👩‍🚀 👨‍🚀 👩‍🚀
Operation #Ping is now LIVE in...
5...4...3...2...1... AND LAUNCH! 🚀
...
...
...
All ships #Ping Portals are now ACTIVE!
🌀___ 🌀___ 🌀___ 🌀___ 🌀___ 🌀___ 🌀___ 🌀
Commence with engagement protocols!
---
Welcome to @Comet.Ranker HQ!
Here is where you leave your mark Commander!
Report all #Ping Missions to this post!
Remember! Only 1 mission report per. comment!
As well! Once this posts reward cycle expires (7 days from the publication.) it will be no longer possible to register your #Ping Missions for Category 1! Make sure that you have all your Mission Reports in by that time!
A.O.K.?
AND! Always remember... should you need support or have any questions please notify us bellow in the comments!
We are 100% here for you! If you require any assistance let us know!
When your winning we are all winning!
Over and out,

---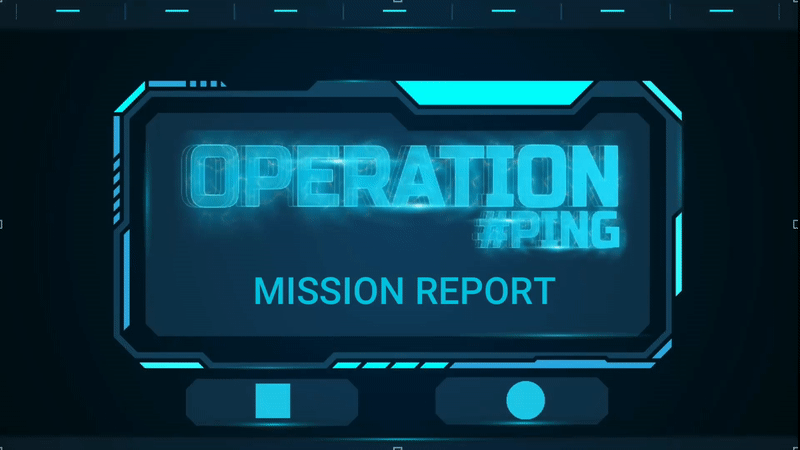 STEP BY STEP - MISSION REPORTING
Once your Operation Ping category launches, the following are steps to add a 'ping' to your ping score:
1. Copy your entire follower list into a document or spreadsheet such as Google Spreadsheets, Microsoft Excel, or even just 'notepad.' The @Ecency front-end is the easiest platform to copy your follower-list from: https://ecency.com . (These followers are people who chose to follow you, fearless leader, so let's treat 'em right!)
2. Visit each of your follower's Hive Blogs, then take the time to read their most recent post & leave a well-thought-out personal comment. (This is what it means to 'ping' someone, simple, right?) Your followers / passengers have likely been in stasis for awhile, so here's your opportunity to warm up those connections one 'ping' at a time! Do NOT copy & paste a cookie-cutter response or 'phone it in.' That is NOT the point of Operation Ping.

3. Record each 'ping' on your Follower-List Document that you created earlier using ONE of the following four methods:
🟥 = 1 ping from you, but no 'ping' back or response from them.
🟥🟥 = 2 pings total, one from you, and one in response from them.
🔴 = 1 ping from you, but no 'ping' back or response from them.
🔴🔴 = 2 pings total, one from you, and one in response from them.
(Note: An 'inactive follower' means that your follower's most recent post is older than 14 days. An 'active follower' means that your follower's most recent post is 14 days or newer.)
⚠️ AND you'll also want to copy a 'link' to each post that you comment on.
4. Report your 'ping results' to the @Comet.Ranker Mission Report post for your category before it concludes it's 7 day reward cycle. This is done as a comment and is called your 'Ping Mission Report' and should consist of only one 'ping result' per. comment. Make sure you include the appropriate red symbols and a link to each follower's post that you 'pinged'.
⚠️ If you don't receive an immediate 'ping back' from a follower, remember to report your initial 'ping' to @Comet.Ranker before the Mission Report Post for your category's 7-day reward countdown expires. Once the 7-day reward cycle is completed 'Ping Missions' may no longer be registered within your category.
Whoever gets the most ping back responses (points/symbols) in their category, wins!
As Operation Ping progresses, you (the initiating commander) will ping as many of your followers as possible in the week allotted for your specified category.
Each ping report will result in one of four possible outcomes [🔴 or 🟥] and [🔴🔴 or 🟥🟥].
The Commander able to score the most ping backs (replies) [🔴🔴 or 🟥🟥] will have accumulated the highest number of pings on his / her Ping Badge and Ping Console (dashboard.)
This is how the winners for each category will be determined.
EXAMPLE WINNINGS
Let's say the commander with the highest Ping Score for mission category one converted 71% of their followers into ping backs [🔴🔴 or 🟥🟥]...
...This means that they will win a total of 71% of the tier one prize pool. That's 355 Hive to the winner, not counting the extra that will be awarded from the sign-up fees from their category.
SCORING
Once the @Comet.Ranker crew receives your 'Ping Mission Report' we'll update your total 'ping score' to your 'badge.'
⚠️ WATCH FOR YOUR UPDATED BADGE! WITH EVERY MISSION REPORT REGISTERED HERE YOUR NUMBERS AND STATS WILL AUTOMATICLY CHANGE WITH EVERY CONFERMATION! THIS IS A DYNAMIC FEEDBACK LOOP!
---
© Comet.Ranker 2022