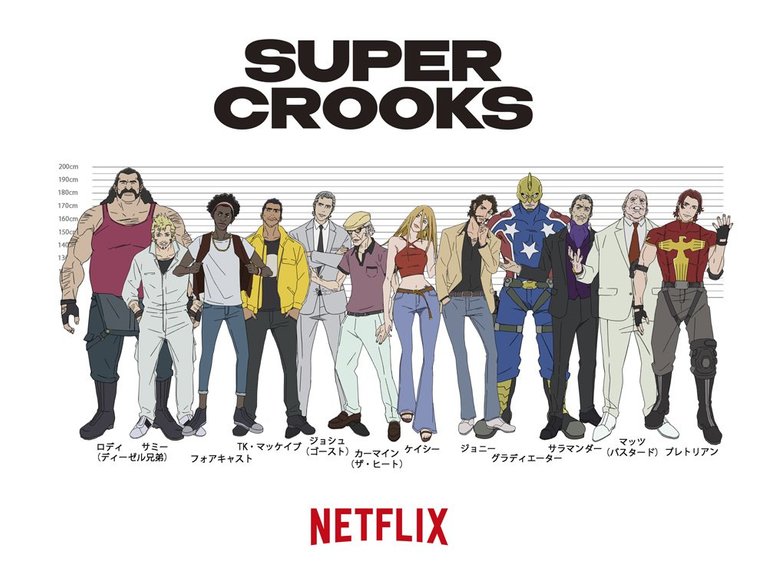 Okay, the fifth episode of Euphoria has already premiered and I haven't seen it, so let's do this fast, fingers, the best way we know-how. Super Crooks was a very pleasant surprise and the best thing about not expecting it is that I watched the series as if it were a new drug that again gives me the feeling of being on cloud nine after having been used for a long time to the same old shit, although it doesn't necessarily have to be shit, if not that it stops having a good effect after consuming it so much for so long, an unfortunate event, we know.
Super Crooks is set in a world where people can get superpowers at any time, but it happens more during childhood, but we already know that having a superpower doesn't make you a superhero, which is the case of Johnny Bolt, a man who has the power to control electricity at will; Johnny is tired of the life of a supervillain, so he tries to retire from that life in a very wrong way, and before he knows it, he and his group of friends are involved in a job that none of them imagined possible.

Vale, ya se estrenó el quinto capítulo de Euphoria y no lo he visto, así que hagamos esto rápido, dedos, de la mejor manera que sabemos hacerlo. Super Crooks fue una muy grata sorpresa y lo mejor de no esperarlo es que vi la serie como si fuera una nueva droga que vuelve a darme la sensación de estar por las nubes después de haberme acostumbrado por mucho tiempo a la misma mierda de siempre, aunque no necesariamente tiene que ser mierda, si no que deja de tener un buen efecto después de consumirla tanto por tanto tiempo, un evento desafortunado, ya sabemos.
Super Crooks está localizado en un mundo donde las personas pueden obtener superpoderes en cualquier momento, pero sucede más durante la infancia, pero ya sabemos que tener un superpoder no te convierte en un superheroe, lo que es el caso de Johnny Bolt, un hombre que tiene el poder de controlar la electricidad a su antojo; Johnny está cansado de la vida de un supervillano, así que trata de retirarse de esa vida de una forma muy equivocada, y antes de que se de cuenta, él y su grupo de amigos se ven envueltos en un trabajo que ninguno se imaginaba posible.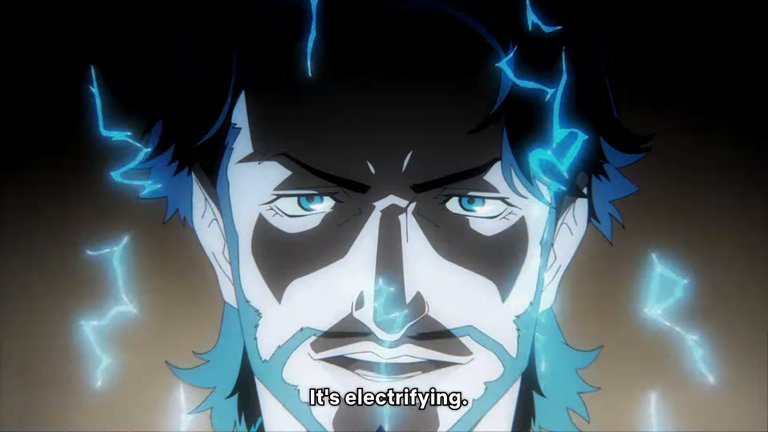 One of my favorite things about the series is the animation, it has styles used in many other series that are also good, and even though they could have abused that, they didn't, they looked for the perfect balance and left it like that, they didn't spoil it by overusing them or saturating them by using too many styles at the same time, it has very good things ahead.
"Alpha" by Towa Tei & Taprikk Sweezee is the intro song, and I loved it, not only the song, but the intro as well, because seeing the characters dancing is very contagious, and the song even more so, something that reminds me of Peacemaker, their intro specifically, that intro watching the characters dancing is one of the things that made me feel more embarrassed in my life, and it's something that doesn't happen here with Super Crooks, because I never skipped the intro, and it's something I do without hesitation with Peacemaker, it's horrible, even though everybody loves it.

Una de mis cosas favoritas de la serie es la animación, tiene estilos usados en muchas otras series que también son buenas, y aunque pudieron haber abusado de eso, no lo hicieron, si no que buscaron el equilibrio perfecto y lo dejaron así, no la malograron al usarlos en exceso o saturarlos usando demasiados estilos a la vez, ya por ahí, tiene muy cosas buenas por delante.
"Alpha" de Towa Tei & Taprikk Sweezee es la canción del intro, y la amé, no solo la canción, si no el intro también, porque ver a los personajes bailando es muy contagioso, y la canción más aún, cosa que me recuerda a Peacemaker, a su intro en específico, esa intro viendo a los personajes bailando es de las cosas que más pena ajena me ha dado en la vida, y es algo que no sucede aquí con Super Crooks, pues nunca me salté la intro, y es algo que hago sin dudarlo con Peacemaker, es horrible, aunque todo el mundo lo ame.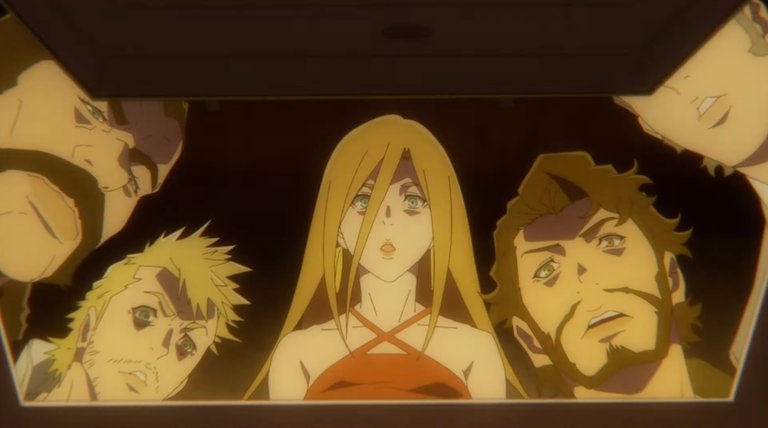 The first chapter is in my favorites because it's the birth of Johnny's powers and his first attempt to appear to society as a new superhero, fuck, I watched like three times or more that scene, it was taken from the best of The Boys and Invincible, fuck, everything that could go wrong, went wrong, and only because of that first unfortunate event in Johnny's life is that he ends up becoming a villain, many things would change if people had the right guidance at the right time, if not, things like that happen. You must see it to understand my obsession.
Another of my favorite things, and although I understand it, but I don't defend it, is that Johnny's group of villains are only villains because their powers got them in trouble at the worst possible time, like the first time Johnny uses them in public and almost half the city ends up dead, and because they don't get jobs because of it, and they are too lazy to really work, which seems ridiculous to me, because taking into account all the work they have to do to escape from the police, they could well direct that energy and an excessive amount of creative thinking to use it in good and productive things that do not lead them to fall in jail, like Kasey, for example.

El primer capítulo está en mis favoritos porque es el nacimiento de los poderes de Johnny y su primer intento de aparecer ante la sociedad como un nuevo superheore, joder, vi como tres veces o más esa escena, fue sacada de lo mejor de The Boys y Invincible, joder, todo lo que podía salir mal, salió mal, y solo por ese primer evento desafortunado en la vida de Johnny es que termina convirtiéndose en villano, muchas cosas cambiarían si las personas tuvieran la guía correcta en el tiempo correcto, si no, cosas como esas pasan. Deben verlo para que entiendan mi obsesión.
Otra de mis cosas favoritas, y aunque lo entiendo, mas no lo defiendo, es el que grupo de villanos de Johnny solo son villanos porque sus poderes los metieron en problemas en el peor momento posile, como la primera vez que Jhonny los usa en público y casi media ciudad termina muerta, y porque a causa de eso no consiguen trabajo, y son muy flojos para trabajar de verdad, cosa que me parece una ridiculez, pues teniendo en cuenta todo el trabajo que deben hacer para escapar de la policia, bien podrían dirigir esa energía y excesiva cantidad de pensamiento creativo para usarlo en cosas buenas y productivas que no los lleven a caer en la carcel, como Kasey, por ejemplo.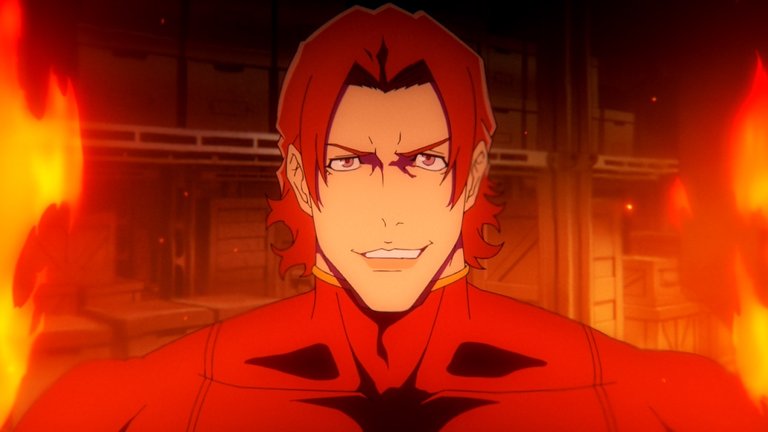 Kasey is the best of the story, the best of the villains, because although she could dominate the world with her power, I will not tell you which one, she does not do it, she studies, works, and for many years she has not used her power because people began to move away from her because she was labeled as a weird shit that should not be trusted at all, and it is when that was revealed that she turned them into shit because she did trust them, and that they betrayed her thinking that way about her was very harmful, until she got Johnny, who accepted her from day one for what she was and never thought badly of her, they have a good relationship, although Johnny is shit from time to time.
Alright, there you have the trailer, go watch it so you can listen to Alpha and enjoy it by watching the intro, as I'm off to watch the Euphoria episode, although I'm hesitating whether to do it right now, as I can use the excess energy I have to do other things, as I know Euphoria drains my energy with so many emotions represented on the screen. And no, don't watch the series with children, it's too strong for them, with teenagers over 15 years old yes; oh, I forgot to tell you about a superhero who is worse than all the villains, but you won't need to, you'll find that out in the series.

Kasey es lo mejor de la historia, la mejor de las villanas, pues aunque ella podría dominar el mundo con su poder, no les diré cuál, no lo hace, ella estudia, trabaja, y hace muchos años que no usa su poder porque las personas comenzaban a alejarse al catalogarla como una mierda rara a la que no había que tenerle nada de confianza, y es cuando eso era revelado que ella los volvía mierda pues ella sí les tenía confianza, y que la traicionaran pensando así de ella era muy dañino, hasta que consigió a Johnny, que la aceptó desde el día uno por lo que era y nunca pensó mal de ella, ellos tienen una buena relación, aunque Johnny sea una mierda de vez en cuando.
Muy bien, ahí tienen el trailer, vayan a verla para que escuchen Alpha y la disfruten viendo la intro, pues yo me voy a ver el episodio de Euphoria, aunque estoy dudando si hacerlo ahorita, pues puedo aprovechar el exceso de energía que tengo para hacer otras cosas, pues sé que Euphoria drena mi energía con tantas emociones representadas en la pantalla. Y no, no vean la serie con niños, es muy fuerte para ellos, con adolescentes de más de 15 años sí; ay, olvidé hablarles de un superheroe que es peor que todos los villanos, pero de eso no hace falta, ya se darán cuenta en la serie.