This weeks featured card in Splinterlands Share Your Battle Challenge is Dragon. You have the option of picking as many Dragon cards as you want so I used 3 of them.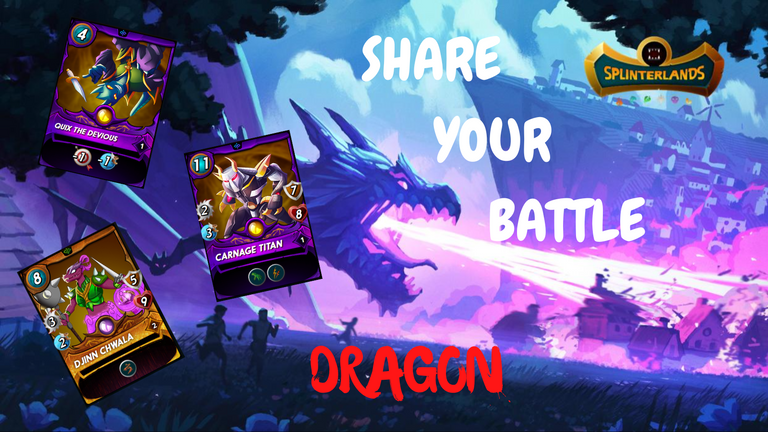 This Weeks Featured Cards:
Dragon
1st Card Quix The Devious
Addition: Chaos Legion
Mana: 4
Level: 1
Summoner
Ability: -1 Range attack and -1 Speed

2nd Card Djinn Chwala
Addition: Chaos Legion
Mana: 8
Level: 2
Attack: 3 Melee
Speed: 2
Armor 5
Health: 11
Ability: Thorns

3nd Card Carnage Titan
Addition: Chaos Legion
Mana: 11
Level: 1
Attack: 2 Melee
Speed: 3
Armor 7
Health: 8
Ability: Reach and Double Strike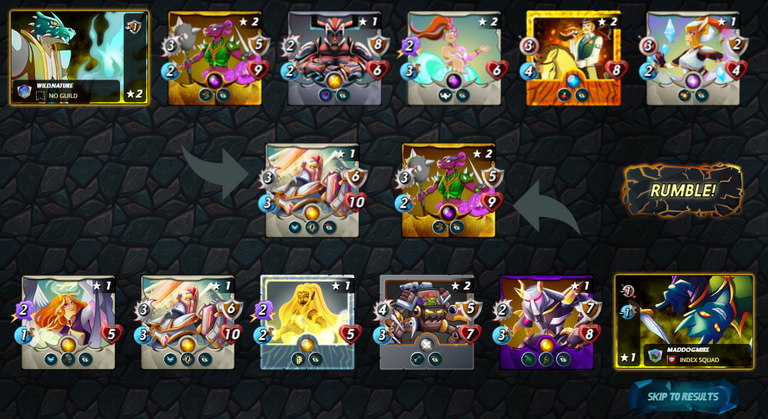 This was a 99 mana cap battle with the rule Opportunity meaning all monsters can attack from any position and target the monster with the lowest health first.

My Line Up
Summoner
I used Quix The Devious who gives -1 Range attack and -1 Speed to all opposing monsters. I have this summoner at level 1 so I was able to use level 3 Common cards, level 2 Rare and Epic cards and level 1 Legendary cards. This is a solid summoner, you don't always get mush out of the -1 range attack but the -1 speed is very helpful.
1st Position
I Put Djinn Chwala with the Thorns ability doing damgage in retaliation of melee attacks she receives. This is a 8 mana card and has 9 health, 2 speed, 5 armor and 2 melee attack. This is a solid tank being most people put melee in the first position so she can take a few hits and deal out some good damage.
2nd Position
I used Carnage Titan with the Reach ability meaning it can do melee attacks from the second position and Double strike meaning it gets to turns every round. This is a 11 mana card and has 8 health, 3 speed, 7 armor and 2 melee attack. This is a beast of a monster to back up your tank when you have enough mana to play with.
3rd Position
I went with Goblin Mech with the Piercing ability which if the damage done is greater then the amount of shield the remaining damage targets health. This is a 10 mana card that has 7 health, 5 armor, 4 melee attack and 3 speed. This is a powerful card that I normally use in the first position but since all monsters have the opportunity ability I put it in the middle of the line up.
4th Position
I used Bila The Radiant an 8 mana card with the Life Leach ability which increases a monsters health every time it deals damage to an opponent. It has 5 health, 2 speed and 2 magic attack. This is a good card I was hoping would get a few attacks off and build up it's health some so it would be harder to kill.
5th Position
I put Uriel The Purifier with the Flying making it harder to hit and the Recharge ability meaning it attacks ever other round and does 3x the damage. Uriel is an 11 mana card with 10 health, 3 melee attack, 6 armor and 3 speed. This is a great card that is hard to hit and really packs a punch when it's turn to attack comes around.
6th Position
In the final position I threw in Adelade Brightwing a 7 mana card with The Flying and Repair abilities making it hard to hit and restoring some armor to the monster whos armor took the most damage, with 5 health, 2 magic attack and 1 speed. Being I used several cards with armor I thought this would be a good card for the back of the line up.

This was a tough battle, we both went with Dragon and Life and we even had a few of the same cards but the power of the cards I had luckily gave me the advantage to win the battle. Check out my battle here.
I hope you enjoy the battle and maybe even get some ideas in some of the strategy of the game. See you next time.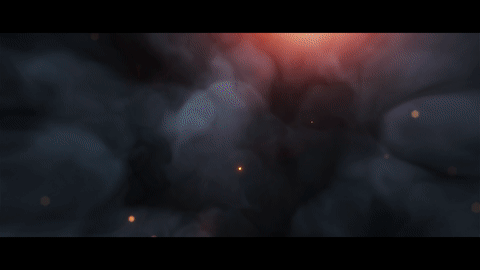 ---