Joel knocking over the winning drop kick to secure the 1995 World Cup. I was lucky enough to be invited to a function at Twickenham in 2015 where the 1995 World Cup winning team were having lunch.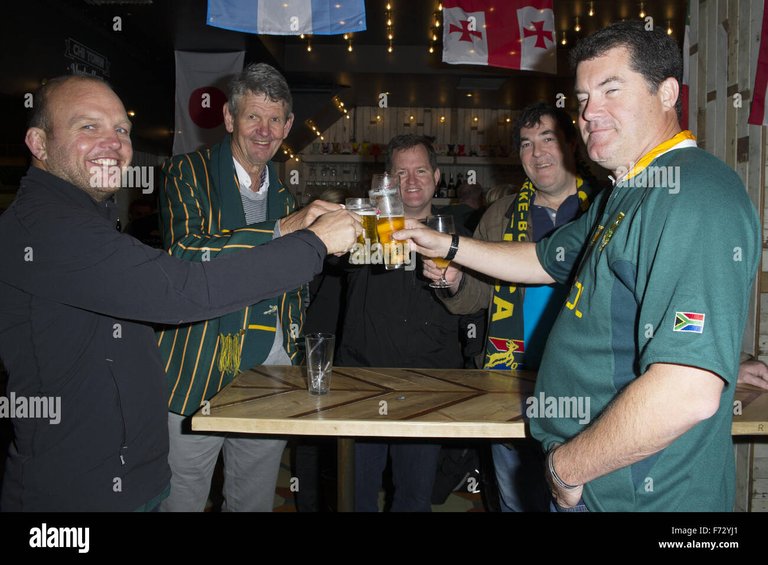 Here is good looking me second on the right at that function. As you can see Alamy had the rights for this so no photos were allowed. Morne Du Plessis the team manager and head of Adidas for South Africa is the older guy and second on the left. He is a rugby legend in South Africa and is a Laureus award winner in their hall of fame. The others in the photo are sports businesses being Gilbert and Gray Nicholls.
I have been lucky to play with many household names of yesteryear in my rugby and cricketing career. Work also afforded me to get into places others wouldn't normally be allowed and have met many sporting greats over the years.
When I worked for a certain tobacco company I was a promoter which opened many doors for specific functions. Once a week I would host a ladies night at one of the nightclubs and this became so popular clubs were phoning me to be added to the waiting list. This was just me doing my job how it should be so had no idea what the other promoters were up to, but they weren't getting calls like this. I had wangled an unlimited supply of stock for my events and it was all about having a good time.
One of my contacts was an ex Sharks player who owned a hire car company and it just so happened we played rugby together for a few seasons. His golf day got me in with the travel companies who were in attendance and that opened up so many more invitations.
That year the travel agents had booked a large restaurant along with the Sharks rugby team and I was now part of the function. I must admit I have seen some wild things in my life but these ladies were seriously another notch up on the wild side. I find it amazing what the affects of alcohol can do to some people.
That night I got chatting with Joel Stransky who I had met before being the night I broke my ankle. Actually technically someone broke it for me as it was deliberate and I was only a spectator. Those that don't know who Joel is he is the guy that did the famous winning drop goal in extra time in the World Cup final of 1995.
Joel back then played rugby but was also a promotional rep for Freemans Breweries. He asked if we could team up and do promotions together as this would help him out using my bookings. Not giving too much away we did a number of high profile promotions over the next few months which were ticket only venues by the time we finished.
I think back now and find it funny as we haven't stayed in contact but like in most cases when you do meet up it is like yesterday. I find that with all my sports contacts and why meet ups are that much more special. Whether it is on a plane (John Allen - Scotland) or in a super market which has happened on may occasions with so many ex team mates. The world is a small place and you just never know who is going to walk through the door next.
Others see them as sporting stars, but I see them as sporting colleagues and mates as that is exactly what we are.