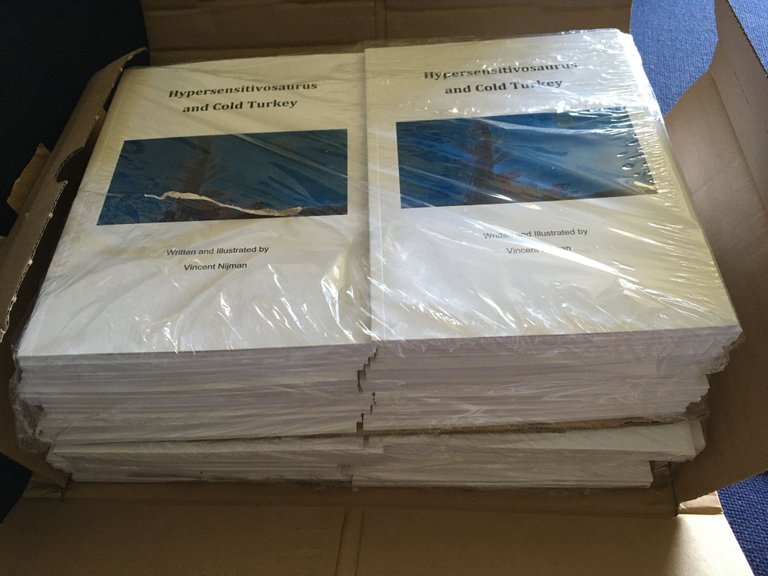 Today,
5 weeks after finishing a perfectly imperfect version of my book and handing that to my mom on her 70th birthday, 9 days after she started drinking from a Hypersensitivosaurus and Cold Turkey mug and took a mug shot selfie and 8 days after I ordered and paid for the books to be printed, 50 printed copies of Hypersensitivosaurus and Cold Turkey arrived at her doorstep.
The book delivery took place 2 days later than planned ( due to a malfunctioning printer, according to the printing company ) and the box with 50 books was dropped outside my mother's house, this afternoon, when my mom was out visiting friends in another city.
Apparently, the neighbor, who had been informed by my mom that someone might deliver the package at their door ( as my mom would probably not be home ), heard my mom's doorbell ring, around 2PM ( the 'joy' of semi-detached houses! ).
She then expected her own doorbell to ring next, but nothing happened.
So, a little later, my mom's neibhbor, let's call her A., because her name starts with a B ( just kidding, an A ), stepped outside of her house and discovered the book box ( kind of sounds like boom box ) outside my mom's front door.
A then took it back inside with her, to protect the cardboard and paper from the possible Dutch rain, as well as from book burglars, trying to sell Hypersensitivosaurus books on the black market.
Meanwhile, I had received an email, here in Portugal, that the books had been delivered 'in my mom's mailbox', which surprised me, as she doesn't have a mailbox ( not a literal one, that is ) and the slit in her front door ( no naughty thoughts please ), meant for mail, is way too small for a package like this.
Unlike my mom, I don't panic in these kinds of situations, and I expected everything to work out.
I asked my mom, after she had arrived home and had informed me that no box ( nor books ) had arrived, if she had checked on the neighbor?
and then I learnt what happened with the delivery ( as described earlier on )
So, after collecting the box with the books at the neighbor, A., the books ended up in my mom's house and the photo, attached, is what the opened package looks like.
I called my mom on the phone and talked about the book, how it felt, how it looked.
She said she liked the colors and shared this pic: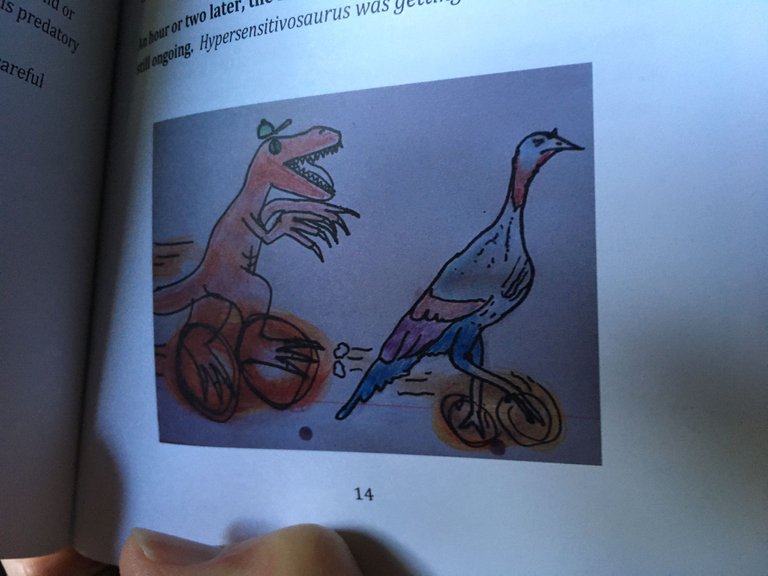 and this one: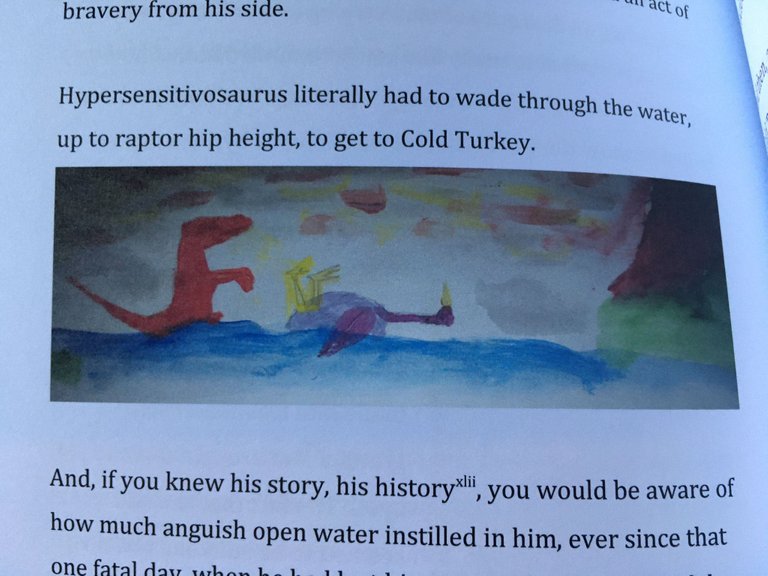 She told me that it looks good, overall and that she likes the ( way the ) colors look. She also liked its size.
Great news!
I also chatted a little bit with her about ways to hand out the books, reach out to people, and tried to decide on how many copies I'd like her to ship from The Netherlands to Portugal.
I am thinking of half of the total amount ( 25 ), the rest will be handed out to family and/ or sold to friends and acquaintances, in The Netherlands.
After the books have arrived here, depending on the amount of animo/ interest and how I feel about the physical book myself, I will decide on whether I go for another print and whether I like to produce it at the same company.
So if you're waiting for a copy, you'll need to be just a little more patient. I will update you all again, as soon as the 25 or so copies arrive at my place in Portugal and will then start shipping out signed prints to those of you who are actually interested in a physical paperback copy.
Let me know in the comments, if you haven't already told me ;<)
TO BE CONVINUED...