Hello, Hiveians!
I wanted to make my first post on Hive, and while I'm at it, I might as well make it a #caturday post. 😺


Leaving Steem Behind
I have decided to leave Steem behind and use Hive pretty much exclusively. Over on Steem, I have pulled all my delegations and have started to power down all my accounts.
I will try to sell most of my Steem and buy Hive instead. If I succeed at that, I'll be able to give out decent upvotes since I'll have double my Hive Power more or less.
I have made an account at ionomy.com, and since they have listed both Steem and Hive, I think it's going to be a good place to trade my Steem for Hive. They also have an affiliate system. Here's my affiliate link if you want to give it a try, too: https://ionomy.com/en/aff/474ce65536515ac9b3d38272400e522f.
There isn't much movement on the market yet, but it hasn't even been open for a whole day yet, so we'll see how it goes in the coming weeks.


The Caturday Community
I will continue to run the Caturday community on here. I invite everyone who is interested to subscribe to this community and post your best cat related material here.
Let me know if you would like to get a title next to your name when you post in this community, and I'll add it for you.
I'm still going to be active in the Caturday Discord Server, and I'll continue to look at the posts that are promoted in there. I will prefer posts that are on the Hive blockchain. I'll still look at the Steem posts, but since I'm powering down over there, my upvotes won't be worth much after a while.
I'll resume my CAT tipping as soon as Steem Engine gets ported over to the Hive blockchain and @cat.tips and the whole @catnet project resumes.


Some Caturday Photos
What's a #caturday post without at least a few cat photos?
Last weekend I visited my friends again, and I took the opportunity to take a few photos while I was there.


Oscar was lying on top of the reclining chair.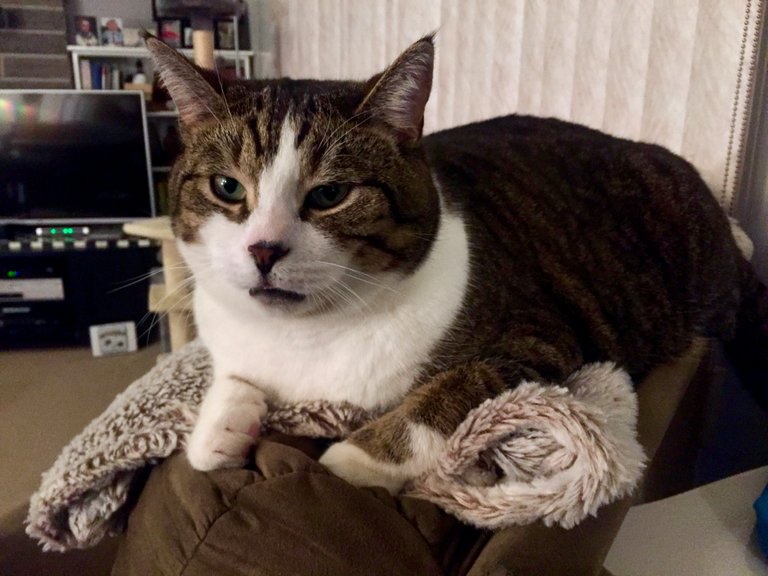 After taking that photo, I sat in the chair, and while Oscar was purring loudly behind my head, Skimmer decided to come roll on the floor in front of me.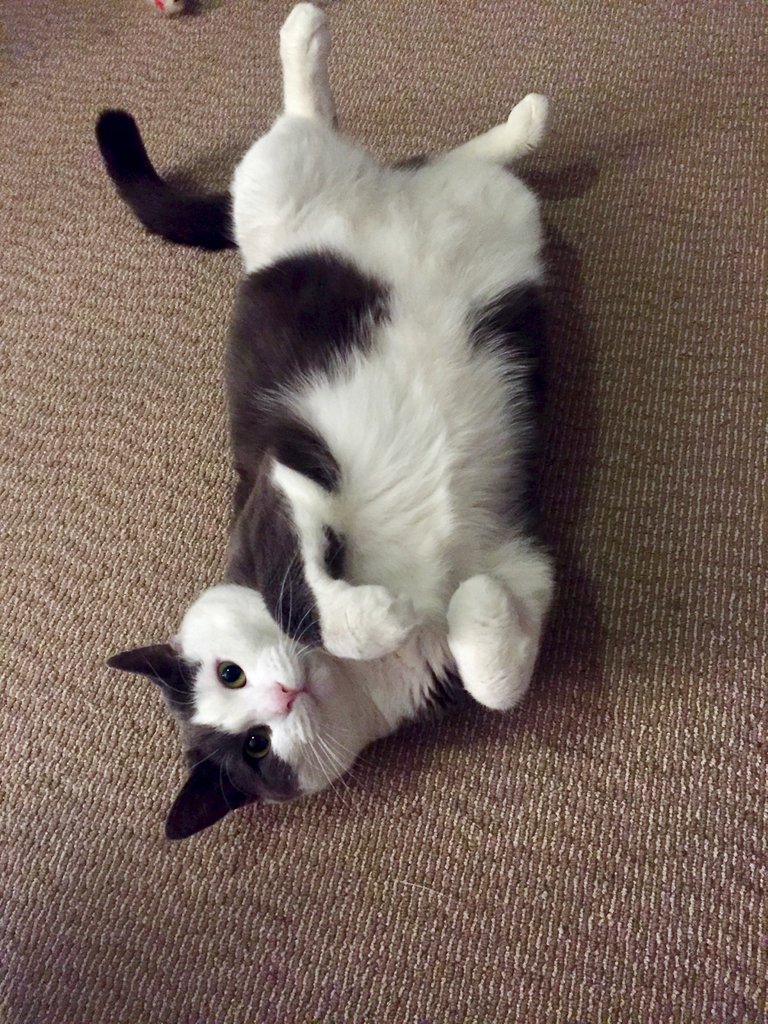 So me being who I am, I tried to annoy her with my foot, but she seemed to enjoy it instead of being annoyed.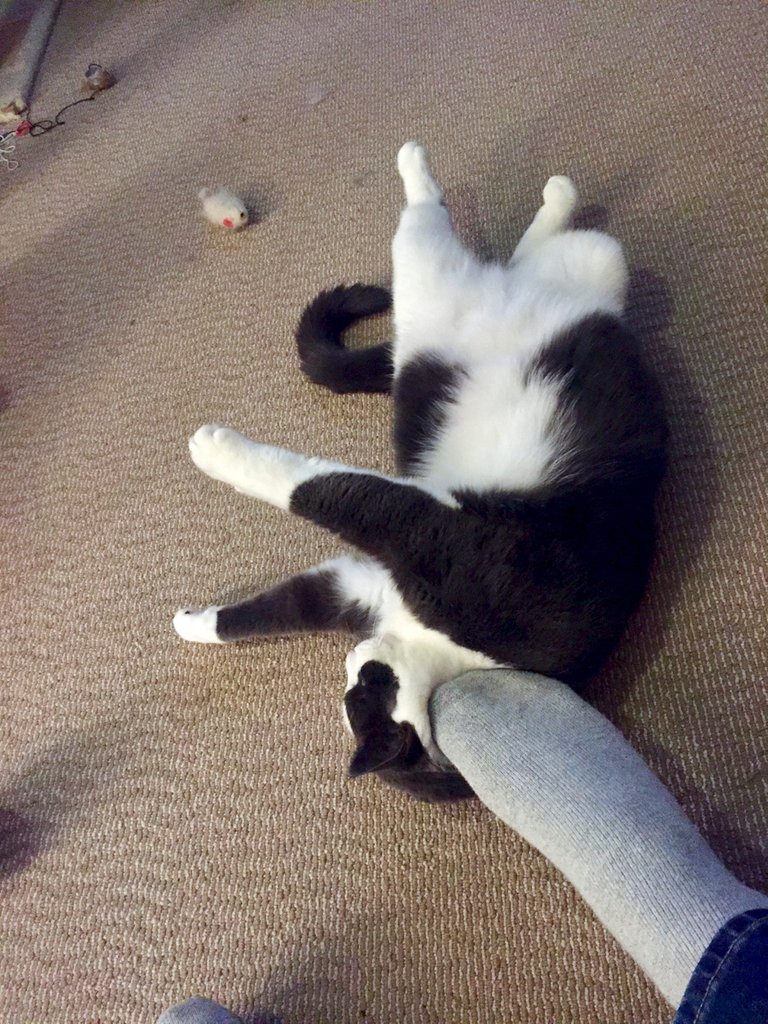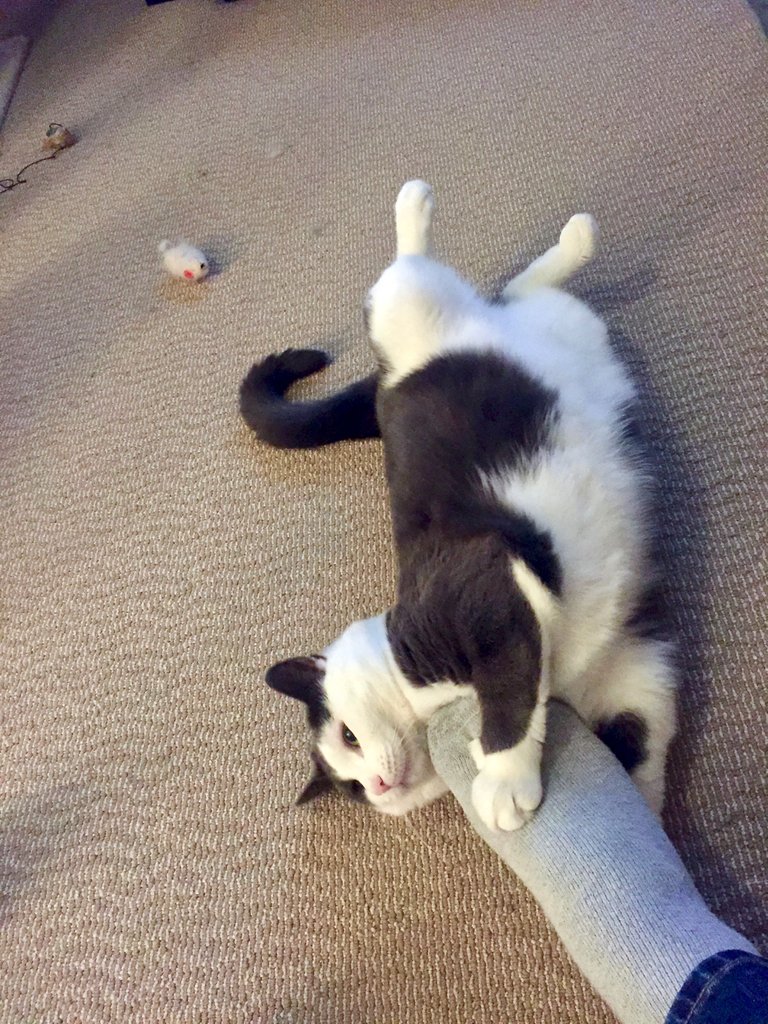 There's always some cat action going on whenever I visit there. You can't get bored when you have three cats roaming around and getting into all sorts of shenanigans around you 😁. They have a third cat, but she didn't show up this time.
Well, that's all, folks!
All photos were taken with my iPhone 6, and enhanced in Apple's Photo app that come with Mac OS X.
Thanks for reading, and happy Caturday!
---
---
Looking for an easy way to buy Bitcoin or Ethereum in Canada? Try Shakepay.
If you use my referral link, we both get a $10 bonus after you buy $100 worth of crypto.