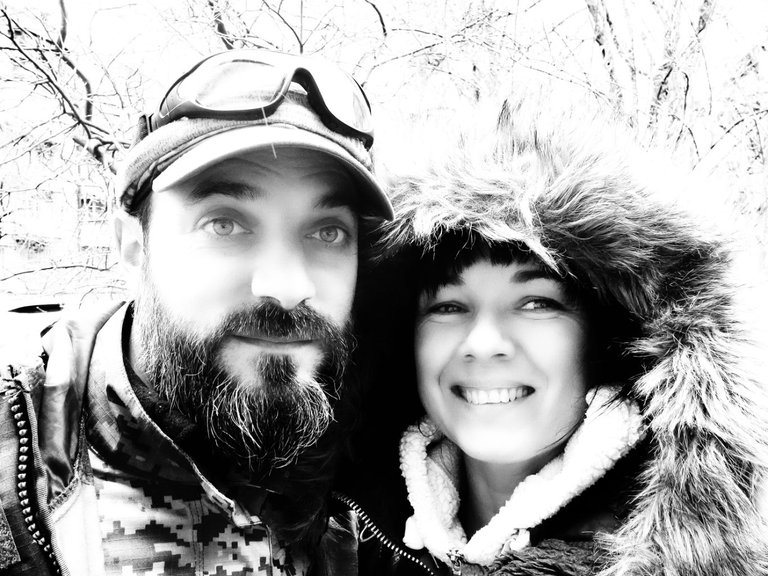 Hello, friends!
Today is a rainy day, but not gloomy at all, because Nick was let to go home until tomorrow morning. We are both happy 🖤
I heard explosions several times today. This is demining.
I was going to drive him around the city so he could see our Kyiv at least from the car window, but the rain spoiled everything. So we went home to bake an apple pie and cook homemade food. I remember, anything but potatoes. 😁
Now everyone is just talking about expecting something much worse. Russia is accumulating forces and equipment for a decisive blow. Where will this blow be? China is joining the information war on Russia's side, which means there will be many new lies. Ukrainians have been accustomed to lies and fakes since Soviet times, but how will other nations and their politicians react to this?

Meanwhile, I keep supporting our defenders, THANKS TO YOU. Since my last report, your donations, tips, and upvotes (as post payouts) amount to UAH 51,477 + 655 USD. I am grateful to everyone! 💖
I'd like to mention all donors and personally thank them. 🙏🙏🙏 Any amount means a lot to me, because it's more than just "funds", it's a sign of your support and kindness, which is just priceless at this trying time.
@dswigle @ellenripley @flemingfarm @padreelferenco @achimmertens @palimanali @silversaver888 @priyanarc @borepstein @bulldog-joy @blind-spot @mespanta @olga.maslievich @davedickeyyall
❤❤❤
So, what we got.
6 pairs of sneakers, 3 pairs of each green and black.
9 sets: body armor, helmet, backpack, unloading. Big luck! 😎👍
The balance is 655 USD which I will spent the next week for tourniquets (hopefully) and/or some gear (if we can find it). I'd like to do it ASAP as I'm afraid there's no much time left...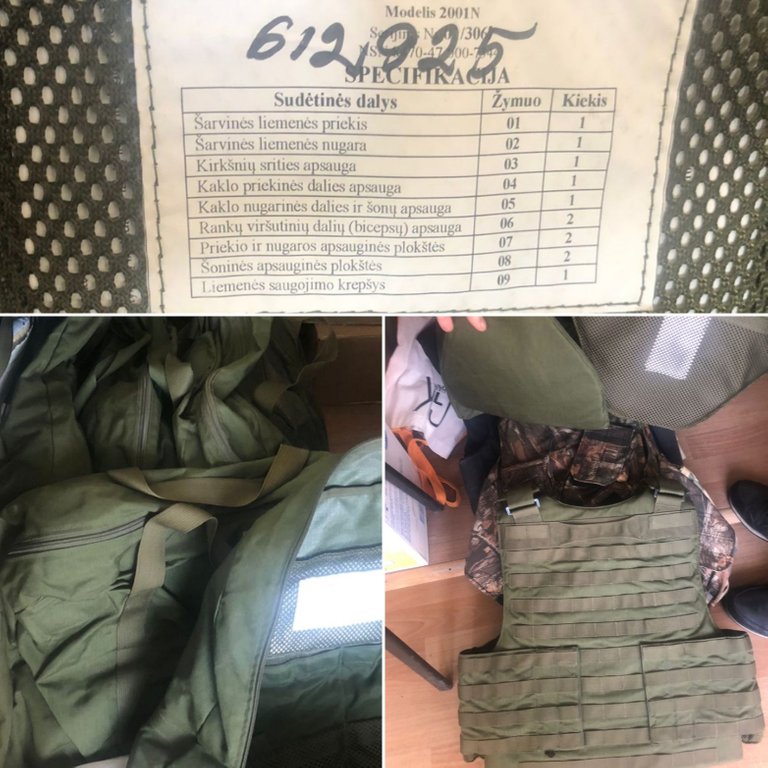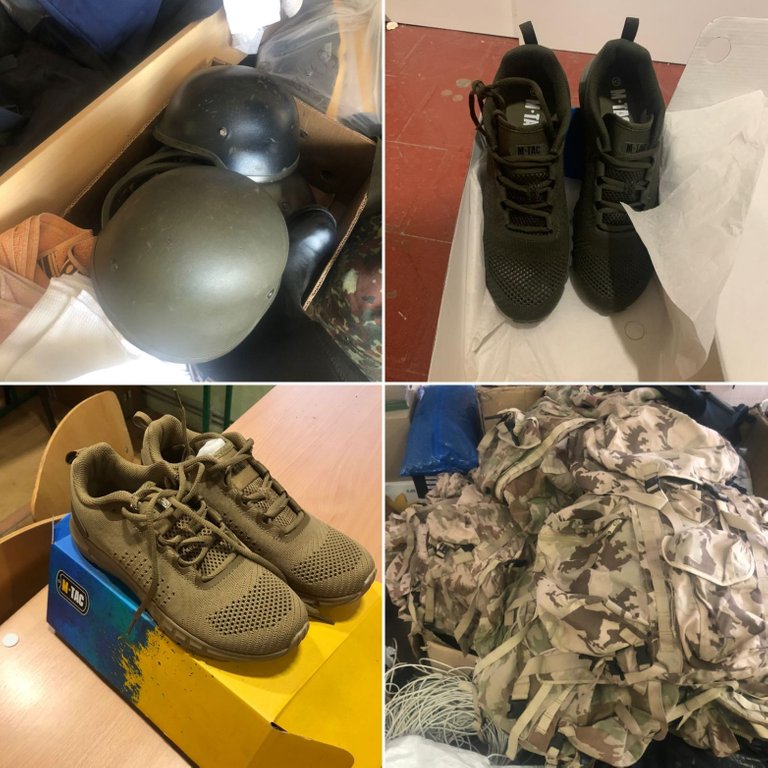 Two days ago it was very warm and sunny.☀️ I met a girl named Xenia, with whom I became friends during the first two weeks of the war in the volunteering center. We went to pick up her forgotten things, and then took a walk in a square park, where I used to collect dozens liters of water for our center, as much as I could squeeze in my car.
That's all that's left of the volunteer center, where I practically lived for the first two weeks after the war start. It looked like a big hive that never slept. Kitchen, medical unit, warehouse. I was very impressed by these people, their self-sacrifice, dedication and optimism.
When I first arrived, there were very few volunteers, and many military guys, and they kept arriving every day. Air alarms were quite common, and it was really dangerous, because every day we learned that a missile or its fragments hit some areas of Kyiv.
We put tables in a row. Then placed plastic buckets with hot food on them, sliced ​​bread, disposable utensils. Sometimes there was food for vegans. And when everything was ready, one of us shouted "Lunch!" or "Break-fast!" or "Din-ner!". And a long row lined up in front of us immediately. When I first heard the air raid siren during the food distribution, I was confused. I wouldn't be surprised if all or almost all of them went down to the shelter. But none of guys left. The long line of eyes looking at me, they wanted to eat. And I stayed. To be honest, the "shelter" was not very reliable either. This is how I overcame my horror of air raids.
Previously, the air raid could last for several hours. This meant that not one missile flew in our direction, but many missiles. And they are shot out one by one, over and over again. Now the sirens are short, from 15 to 30 minutes. This means that one missile is approaching, maybe two. Sometimes I hear phantom sirens, I think it's not just me.
My friend is a psychologist. She lost all her clients, and have no job now. Though she says demand for some specializations has now risen dramatically. Especially for psychologists who work with raped people, here in Kyiv. I wrote "people", not "women", and this is not a mistake. It turns out that there are raped underage girls and boys. Sometimes I ask myself - is there a limit?
You ask how I'm holding up. My psychological and therefore physical condition is constantly changing. In the first days and weeks, I believed deeply in my heart that it would not last long. I did not assume anything beyond this thought. I counted the horrible days, and my mind did not accept the fact that an open, unmotivated and brutal war in the 21st century could last a long time. Until recently, I didn't think it was possible.
And then more and more different sources suggested that the war would last longer. Longer - it's 3 months maybe. This was a horrible figure, and I could not accept the fact that such assumptions are not made by the enemy, but by our side. I didn't even want to read these messages. It was very painful. It seemed that the inner string, which is at maximum tension for almost a month, simply can not stand and break. "Those who think it will end very quickly give up first. Then those who think it will never end. Survivors are those who do not plan or make assumptions, but live one day." So I forced myself to re-read again and again, skipping through what analysts and psychologists wrote. I must survive.
And recently it turned out that I was not completely honest with myself. Deep down, I was hoping for a notional 3 months. Summer will come and everything will be fine again. I am still waiting for it to end, and I cannot accept this reality in which I am. So now I have another challenge ahead - learn to live literally today and now. I still don't quite understand what that means. Stop dreaming about how I will travel to distant lands again, visit new countries and islands. About get-togethers with friends. About how to move to a new, large and beautiful apartment. How I will walk with Nick in the botanical garden, or wander the streets in search of graffiti, or the first flowers, or something else. Sitting across from each other in a restaurant and talking ... What were we talking about before the war?
---
While I was writing this, Nick fell asleep on the couch in front of the TV. Let him enjoy the warmth and comfort of home while he and I have a chance. Who knows what will happen tomorrow. We have to live here and now.